Primed for Postseason Play
CORAL GABLES, Fla. – The University of Miami women's tennis team came a long way during the course of the 2021 regular season.
Following a 3-5 start that included two shutout losses, the Hurricanes went 9-2 the rest of the way, with both setbacks coming in 4-3 fashion against teams currently ranked in the top five.
Miami (12-7, 8-5 ACC) is currently ranked No. 19 in the ITA Coaches Poll and No. 23 in its computerized rankings entering the ACC Championship. The former mark is its best position of the season and highest since Feb. 25, 2020.
"They've just truly come together as a group. They're tight, as a unit," Miami head coach Paige Yaroshuk-Tews said of her team's progression. "These seven girls have a great amount of respect for their leader, Estela [Perez-Somarriba]. They have a great amount of respect for one another. They've raised their level. They've raised their work ethic."
Over the course of the season, Yaroshuk-Tews—aided by associate head coach Alex Santos and volunteer assistant coach Maci Epstein—has seen her players develop in numerous ways. Some of that stems from a conversation she feels led to a change in mindset.
Yaroshuk-Tews and her staff addressed the team about hard work. They shared how someone can be providing that effort, but needs to do so with purpose and intelligence.
Beyond that, they began with the "brutal physicality of the sport" which includes chasing down balls and competing harder than your opponent. However, Yaroshuk-Tews also made it clear that it takes more than that to succeed. One needs to then be able to think through situations in difficult positions, such as when you are on the short end of a tough match.
Ultimately, Yaroshuk-Tews got her players to buy in, to believe in the coaching from her, Santos and Epstein. Every single player on the team completely accepted that.
"The way I run the team—the girls will tell you—you're in or you're out, but there is no one foot in, one foot out," Yaroshuk-Tews shared. "Number one, the girls that we have here made a decision … we are all in. Number two, their work ethic, they pressed the times-three button. Number three, they started having success. So they're like, 'Wow, she might know what she's talking about. This is fun. We're actually getting close. Holy smokes, we can play with teams that are top-10 in the country. This is unbelievable.' So, now we're having more fun and we're working hard and we're playing together as a team. And then, before you know it, it becomes a habit … but truly, we went through kind of a transformation, I would say, as a program."
As Yaroshuk-Tews mentioned, her players saw they could hang with any team in the country. Only once since Valentine's Day have the Hurricanes lost by more than a point, while also racking up win after win during that stretch.
Miami, though, still finished 1-4 in one-point decisions against top-12 foes. The team consistently battled to the bitter end, but still fell short on all but one occasion.
While the growth that shows compared to an early 4-0 loss at then-No. 20 UCF and a 7-0 setback soon thereafter at top-ranked North Carolina is impressive, it does leave room for improvement. Yaroshuk-Tews recognizes that and knows what it will take to turn some 4-3 defeats against elite teams into 4-3 victories.
"I think that each student-athlete needs to be incredibly independent on match day," she said. "We need to make sure that we're using our coaches for coaching, for X's and O's, for anything technical that needs to be adjusted, for strategy. We can't be using coaches on match day to coach emotions. We're still very young as a team, so at times, we need to be there for the emotional aspect of it.
"But the better teams—and sometimes the teams [against whom] we've come up with 4-3 losses—they're spending their time focusing on more X's and O's, more strategy, and we're trying to calm down or trying to get our head in the right place so we can make those decisions," Yaroshuk-Tews continued. "We're doing a better job of that now, but we need to be … a little bit more independent and responsible. I think it will make a world of difference in a match."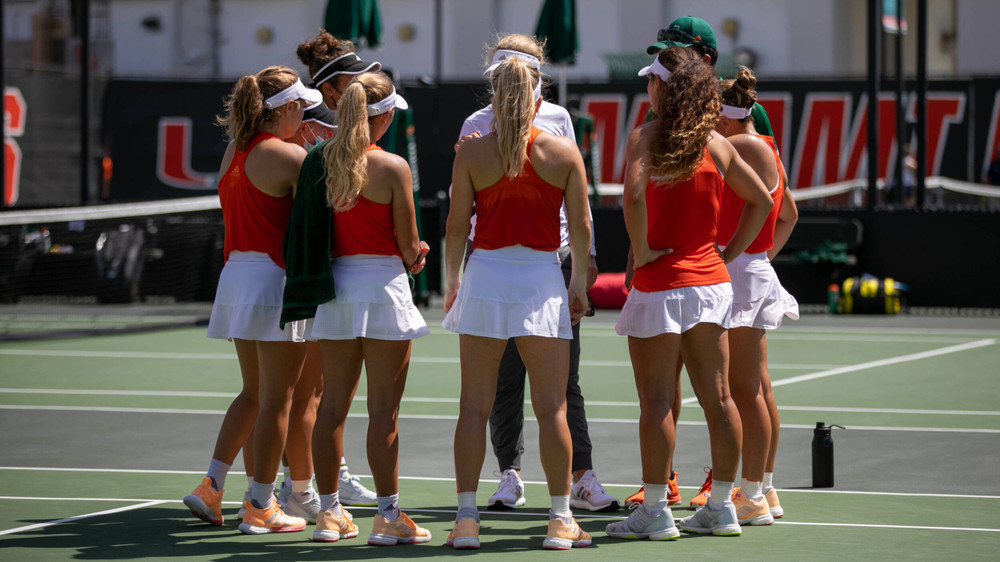 The Hurricanes certainly could face a number of highly-ranked teams in the postseason, both in the ACC Championship and in the NCAA Team Championship.
However, Miami is not looking ahead to any top-10 foes down the road. Rather, the team is focused on its first postseason task: Notre Dame.
The seventh-seeded Hurricanes are scheduled to play the No. 10-seeded Fighting Irish Thursday at 12:30 p.m. in Rome, Ga. The match, as well as all others—barring weather issues—in the ACC Championship, will take place at Rome Tennis Center at Berry College.
Miami is 14-11 all-time against Notre Dame, including 2-0 at neutral sites and 10-1 over the last 11 meetings. The latter mark includes a 7-0 victory at the Neil Schiff Tennis Center just over a month ago, on March 19.
"We cannot pull a rookie move and think because we [won, 7-0, against them] at home that we can overlook Notre Dame. I'm smart enough to know that Notre Dame is very talented and they've got a lot of good players," Yaroshuk-Tews said. "The team—we spoke about it Monday—needs to realize that we were probably one of their first outdoor matches. Now, they've been playing more outdoor tennis. I told the girls they're going to look very different and much better than when we saw them in Coral Gables. They're a good doubles team, they play smart doubles. We have to be ready to play."
Indeed, the Fighting Irish, ranked No. 49 in the ITA Coaches Poll, do have multiple standout doubles pairs. Ally Bojczuk and Julia Lilien form the ninth-ranked tandem in the nation, while Cameron Corse and Page Freeman check in at No. 26.
Additionally, Freeman is No. 114 in the ITA singles rankings for Notre Dame, which owns an 11-12 (4-9 ACC) record on the season.
Miami, meanwhile, has two ranked singles players, led by Perez-Somarriba, a fifth-year senior, at third overall. Freshman Isabella Pfennig follows her at No. 17 on the list.
The Hurricanes also have two ranked doubles pairs, with second-year freshmen Diana Khodan and Maya Tahan at No. 24 nationally, followed by Perez-Somarriba and Pfennig at No. 34.
It is one player not featured in the rankings, though, whom Yaroshuk-Tews feels could have a particularly big impact on Miami's success in the ACC Championship.
"If you look at our wins and losses, if Daevenia [Achong] can get some W's on the board, I think we can go very far in this tournament. I'm not telling you something I haven't told her," the two-time ITA Southeast Region Coach of the Year said. "Daev is actually playing good tennis. [She has been] a little inconsistent, but she's striking the ball well and she's playing well. And like I told her, nobody cares about the regular season anymore. Actually, nobody cares about the regular season, really ever. It's all about the postseason play. So, I believe in her. I believe in her tennis. I believe in her experience. And honestly, I believe Daev is going play good tennis and [she will play] big tennis in the big moments. If she does that and if we keep everybody else in line, I think that we can go pretty darn far."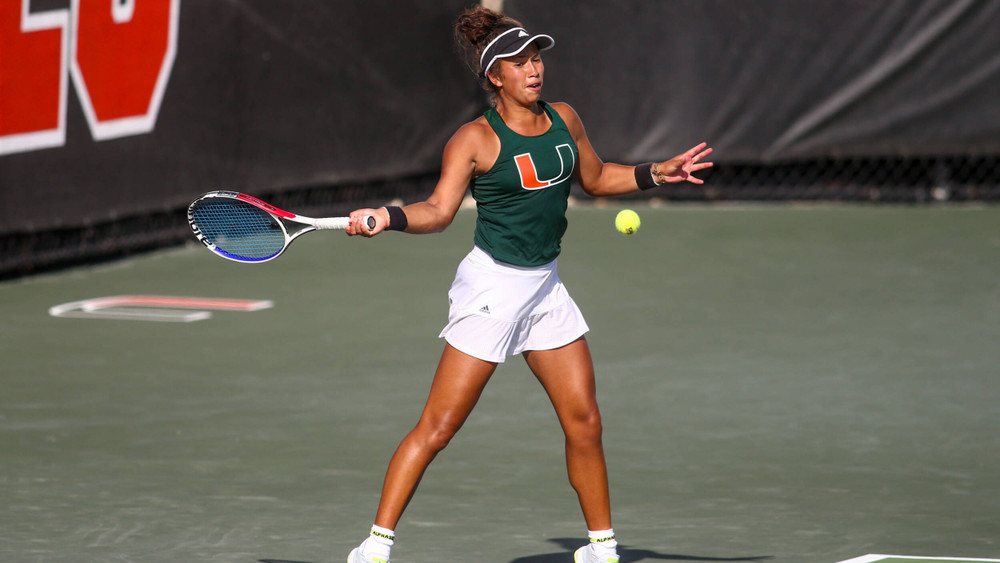 Regardless of what year it is or which players she has on her team, Yaroshuk-Tews knows what it takes to make a run in the ACC Championship.
The 20th-year head coach owns a 19-14 record in the event, dating back to 2005 when Miami joined the league. In 11 of Yaroshuk-Tews' 15 appearances, she has led her team to at least the semifinals, while advancing to the title match six times and claiming the crown in 2013.
This year, though, does present a bit of a different element as for just the third time since the Hurricanes joined the ACC, they will not be in the Tar Heel State for the event.
The location, however, does not change the overall keys to success in a conference tournament setting.
"I feel like whenever we've gone into North Carolina, we obviously have a little more of a fan base against us," Yaroshuk-Tews remarked. "We have to be a little more resilient, a little more oblivious to the surroundings. When we go into Georgia, I think it's more of a neutral setting for all of the teams. Obviously, with COVID, it's probably even more neutral.
"Listen, I think we tend to have more success at an ACC tournament or an NCAA tournament because we're applying things that we've learned, we're being held accountable, we're getting better, we're peaking at the right times," she continued. "I think these girls are excited to play. I think they're excited to go to their conference championship at a beautiful facility. And I think that when you're excited and healthy in April, I think you can do damage. I've seen over the years, sometimes you get to April and teams get dinged up, teams are a little burnt out. That's not us right now. We're ready to play, we're ready to go, we're playing our best tennis of the season."
Live stats for all ACC Championship matches throughout the week will be available HERE.
To keep up with the University of Miami women's tennis team on social media, follow @CanesWTennis on Twitter, Instagram and Facebook.