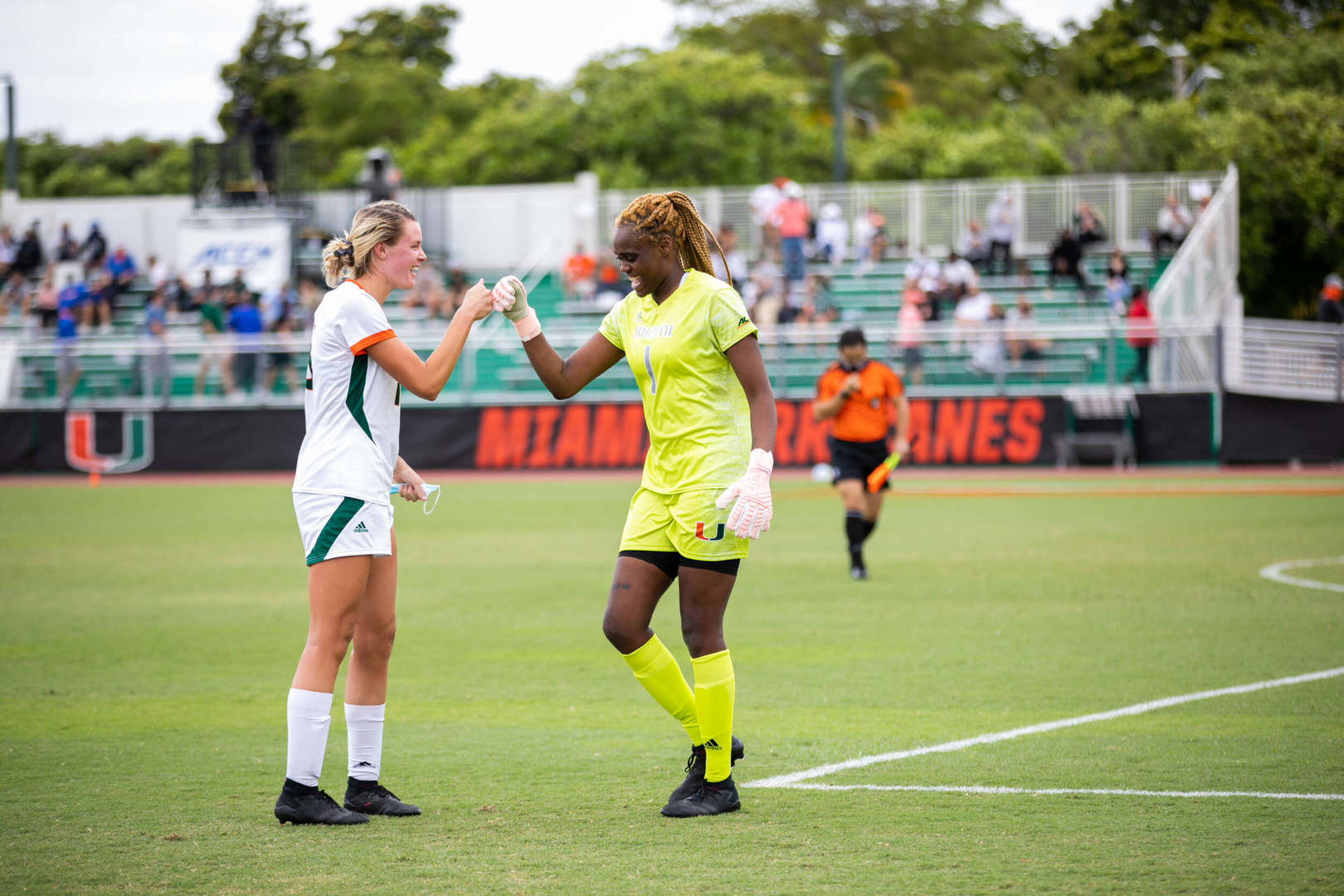 CORAL GABLES, Fla. – The timing in and of itself raised eyebrows.
When women's basketball coach Katie Meier texted her team just before April Fool's Day to ask if any of the Hurricanes would be willing to serve as a goalkeeper for Miami's soccer team that weekend, the players couldn't help but wonder if some sort of prank was afoot.
It didn't take long, though, for the Hurricanes to realize their coach wasn't joking.
With two of its goalkeepers unavailable for the final game of the season, the Miami women's soccer team was in a bind and running out of options when soccer coach Sarah Barnes asked Meier if any of her players had any kind of soccer experience.
Already, Barnes had reached out to the on-campus club soccer team with no success. And though several of her players had told her that volleyball player Priscilla Hernandez had played goalkeeper in high school, there wasn't much she could do to help that weekend, given that Miami's volleyball team had a match of its own.
As she waited to hear back from Meier, Barnes faced a tough decision: either put a field player in net and hope for the best or cancel the match, an option no one wanted, especially given all that the Hurricanes had already endured during a challenging season unlike any other.
It was a decision that ultimately never had to be made.
Just before a virtual meeting with her team, Barnes learned two members of Miami's basketball team – forward Naomi Mbandu and guard/forward Moulayna Johnson Sidi Baba – could help at practice that week and Mbandu was available to take the field against Florida that weekend.
Crisis averted in a most unexpected way.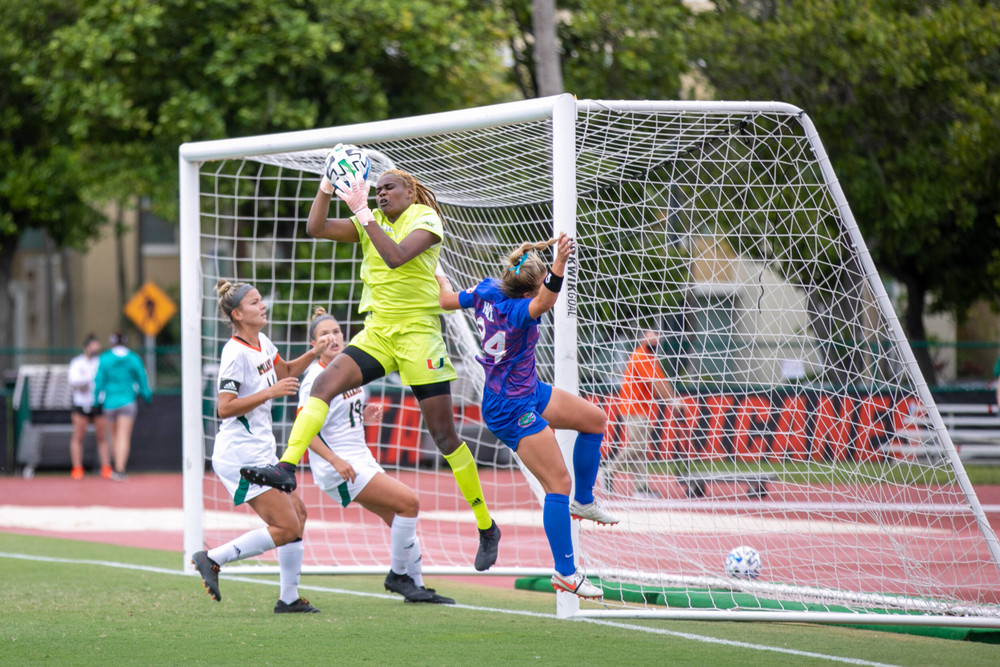 "I was so thankful and so appreciative that both MJ and Naomi came out. Their willingness to put themselves outside their comfort zone and do that in a pressure situation, for people that they really don't know well, was so generous and inspiring," Barnes said. "I think we were all so grateful. That was certainly my first thought when I heard from Coach Meier. I was also really proud of my team. I think it would have been easy for them, especially in light of the kind of season we've had and being so young, to just kind of look at the situation and say 'Yeah, I don't think we should play' and walk away from that pressure and they didn't…Right from the start, the attitude was 'We want to play. We don't have a keeper? How can we solve this?'"
For Mbandu, the chance to try her hand at the sport she grew up watching was somewhat of a no-brainer.
Though she'd never played competitively, the 6-foot-2 junior from France felt confident her basketball background would help her on the pitch. After all, she'd just spent an entire basketball season playing out of her natural position on the court, so she was already comfortable taking on a new challenge, especially one that would help some of her fellow student-athletes.
"I was not nervous, at all. I was just excited," Mbandu said. "For me, it was a new experience. I was just excited to discover this new sport…I was just ready to play. I was ready to do anything they were asking me. I was pretty confident."
Miami's soccer players, for their part, did their best to help their new keeper feel comfortable.
Defenders Selena Fortich and Delaney Brown, in particular, were so involved in helping Mbandu avoid uncomfortable situations that they caught Meier's attention. And all of the players were more than willing to answer any questions Mbandu had, both at practice and in the game.
As for the game itself, though Florida did win 2-0, Mbandu did make a pair of saves, which set off some fierce celebrating in the stands at Cobb Stadium where her basketball coaches and teammates cheered her every move.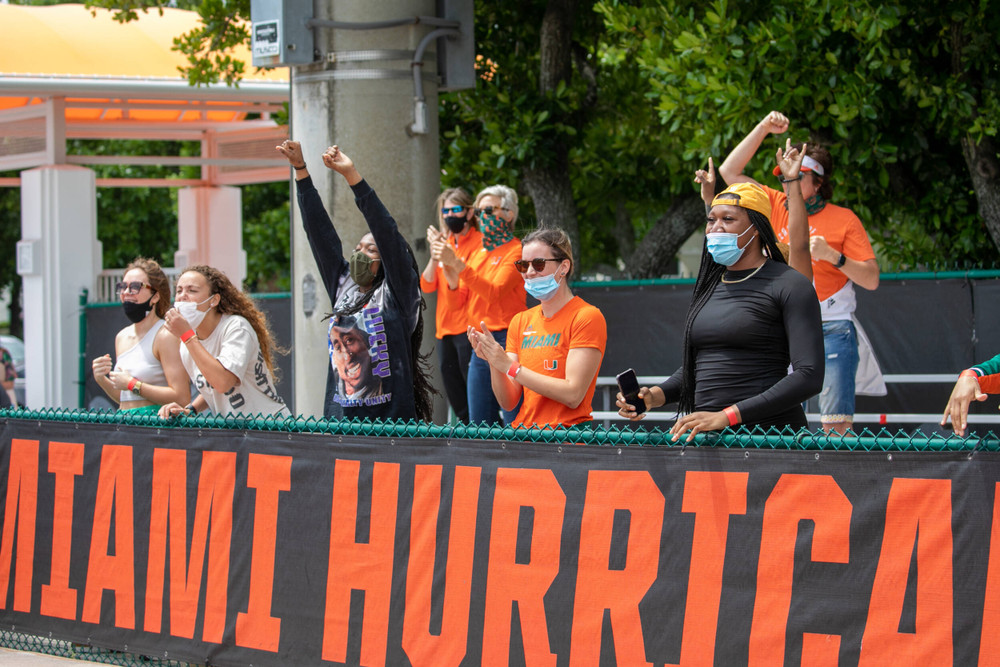 "My teammates were screaming and I was just so happy," Mbandu said. "In my head, I was like 'Oh, my…I did a good thing.' It was funny. But I felt loved. I felt so loved by my teammates and you know what? They never stopped screaming. I was like 'Wow. Aren't they tired?' They had a lot of energy…They kept screaming my name and I was just so hyped."
Added Meier, "I've got to tell you, I think I was the most embarrassing cheerleader of them all. It had been a really long time since we'd been able to do an event together [because of the COVID-19 pandemic]. But we had our masks on, we followed protocol, it was an outdoor event and we were just able to gather together…All of us just organically showed up at the same time and it was so much fun. There was so much joy, like we had a common cause. We were excited. We were cheering. We just needed it, as much as soccer needed it. We all got a lot out of it."
For both Miami's soccer and women's basketball teams, that April 3 match won't be forgotten anytime soon. It was a moment that linked two programs and proved, in Barnes' mind, how tight-knit the Hurricanes are across the board.
"I think for our team, just looking at what Naomi did, the courage and the fearlessness she showed, for them to see that in her, it's always important for athletes to see other athletes doing that," Barnes said. "So often, you're watching things like that on TV and they got to experience it in the moment with her. That's pretty special…It was like, 'Let's go attack this' and that's what great athletes do…from a soccer standpoint, I hope our players take away that they are very capable. To play Florida without an experienced goalkeeper and have no fear is really great for our girls. And basketball, I think that competitiveness, that bravery, that fearlessness, sure they'll see that in Naomi and hopefully, that makes them feel a little bit inspired in that way.
"And for all of us, this community is so important in creating a better athletic department. When we know each other and we're all cheering for each other and we're all pushing each other, everybody gets better. I hope we can continue to have that kind of relationship between the two teams and that we continue to try and develop that with all the teams here because I think it's so important for the department as a whole."