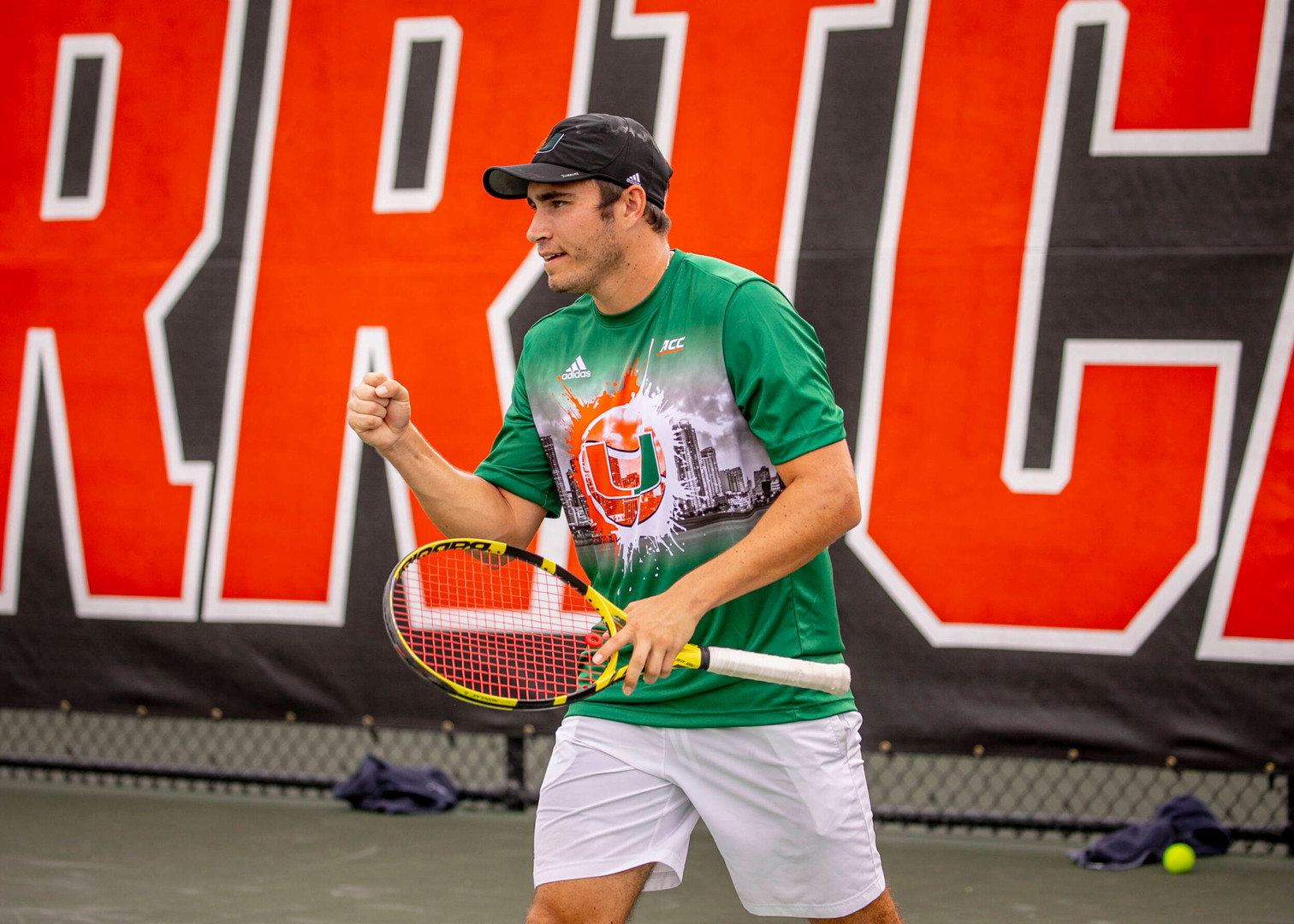 CHARLOTTE, N.C. – The University of Miami men's tennis team capped its 2021 regular season campaign with a dominant road victory over Charlotte, 6-1, Sunday afternoon.
With the win, the Hurricanes (8-9, 4-6 ACC) enter the ACC Championship as the nine-seed and will open up play Thursday at 2:30 p.m. against Georgia Tech at the Rome Tennis Center in Rome, Ga.
On Sunday, Miami's top doubles pair quickly gave Miami the advantage, when No. 32 Franco Aubone and Benjamin Hannestad defeated Henry Lieberman and Leo Menezes, 6-1.
On court 2, Charlotte's Ignasi de Rueda and Ben Wayand earned a 6-3 win over Adria Soriano Barrera and Oren Vasser to even the tally.
In the deciding doubles match, Bojan Jankulovski and Stefan Milicevic outlasted Cole Brainard and Vanja Dobrnjac, 6-2.
The Hurricanes later carried momentum into singles, claiming five opening sets and quickly winning three matches.
In the first match to conclude, Jankulovski bested Lieberman, 6-2, 6-2, moments before Milicevic topped Wayand, 6-3, 6-1.
Playing No. 4 singles, Vasser clinched the team victory with a 6-2, 6-2 win over Menezes.
Following the clinch, Charlotte got on the board when No. 103 Reuda came back to defeat No. 34 Soriano Barrera, 3-6, 6-3, 6-0.
Meanwhile, in his final regular season match as a collegiate athlete, Stephen Madonia took down Brainard, 4-6, 6-4, 1-0 (10-6), to give Miami the commanding 5-1 lead.
On court 5, Aubone defeated Dobrnjac, 6-3, 5-7, 1-0 (10-6), to complete the 6-1 triumph for the Hurricanes.