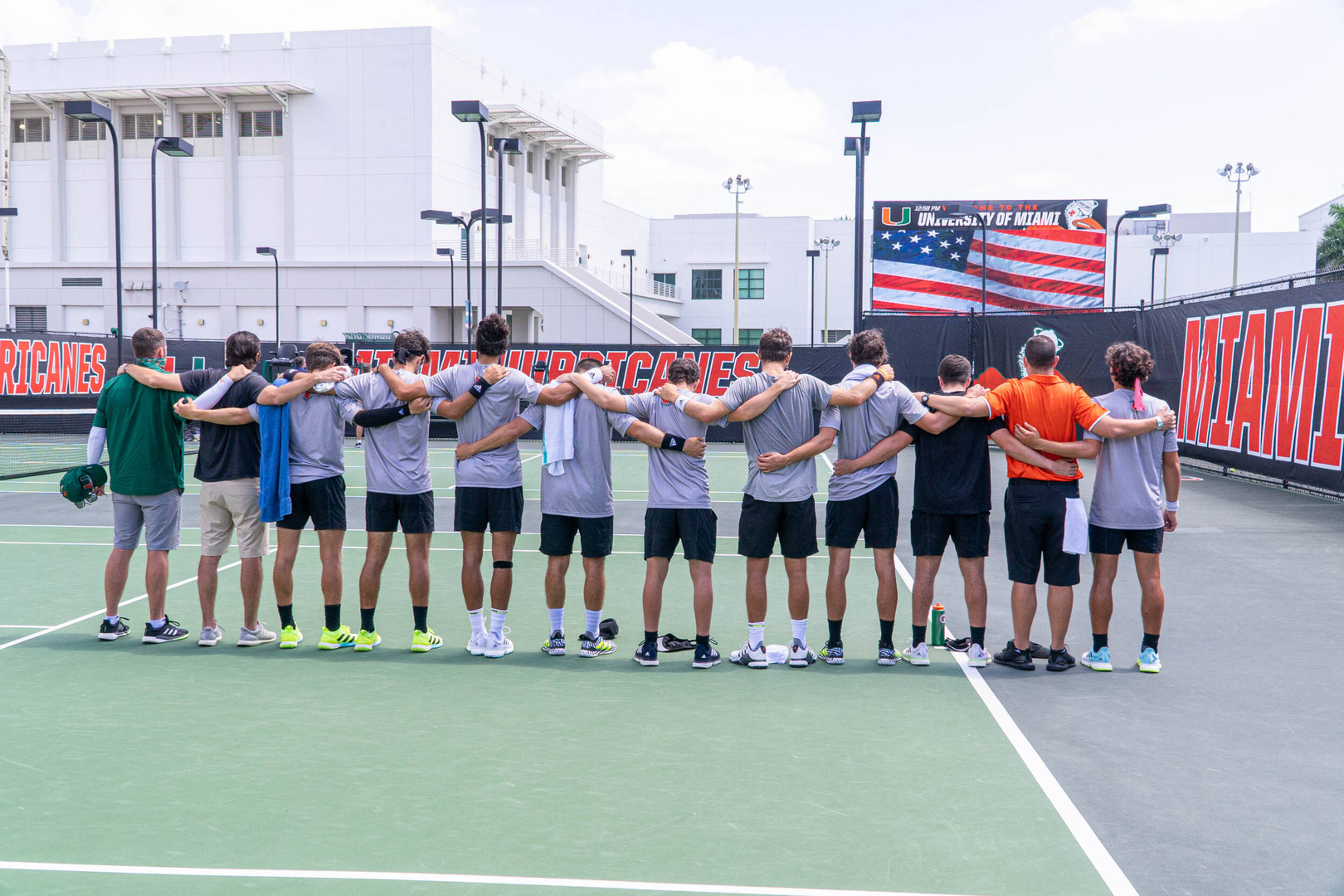 CORAL GABLES, Fla. – The University of Miami men's tennis team was all set to build off a top-30 win over South Florida with a pair of home matches against Louisville and Notre Dame.
Instead, the matches were postponed due to positive COVID-19 tests, subsequent quarantining and contact tracing within the program. The continuation of ACC competition was put on hold.
Now, Miami will not return to its home court until Sunday, senior day for the Hurricanes, against Boston College. In the meantime, the Canes will hit the road Thursday night and face off against in-state rival Florida State in Tallahassee, Fla. At 5:30 p.m.
While his team is dealing with a situation it has never had before during a season, Miami head coach Aljosa Piric expects his players to be locked in Thursday night.
As Miami looks to extend its two-match win streak against the Seminoles, Piric and his team are only focused on getting a win on Thursday and putting everything else behind them.
"Win. Just win," Piric said. "I told the guys before we made this trip, 'It is very easy both in life and in this sport to latch on to excuses. We are all guilty at times of latching on to excuses in order to make ourselves feel better. It is easy to latch on to the excuse of COVID, not practicing, not competing, but that cannot be the case. We cannot make excuses. We have to embrace this situation, grow from it and go out and beat Florida State.' A successful day will be to win. Anything outside of win will not be successful. That is how we are looking at it."
Entering the match ranked No. 45 in the ITA Coaches Poll and No. 46 in the ITA computerized rankings, the Hurricanes sit at 4-7 (2-4 ACC) on the year.
Individually, the Hurricanes are led by No. 27 Adria Soriano Barrera in singles and the nation's 31st-ranked doubles tandem, Franco Aubone and Benjamin Hannestad.
Meanwhile, Florida State enters the contest with a 7-12 (1-7 ACC) mark, most recently besting FAU 4-3 on Friday. The Seminoles are led in doubles by Marcus Walters and Loris Pourroy at No. 73.
Despite the records, Piric expects a tight match between the rivals, with the doubles point being a key to gaining early momentum.
"Doubles, as always, will be crucial," Piric said. "Especially on the road against a school like Florida State. I don't care what their record is or what they have done. You look at their squad and you can see how talented they are. Florida State is very good team, a very talented team and they are very well coached.  The doubles point is going to be crucial.
"Now, I do think we can go in and win four singles matches, but at the same time, that doubles point gives you a little bit of momentum, having that win at your back," Piric added. "It is very important, I think it is going to be a very close match and that it will come down to the wire. So, yes, I think the doubles point will be key."
Thursday night's match will be broadcast live on ACC Network Extra, with live stats made accessible HERE.