History Written on Day Two of Florida Relays
GAINESVILLE, Fla. – History continued to be changed for Miami track and field on Saturday as seven different events hold new top five times or marks.
On the final day of the Pepsi Florida Relays, six track events and one field event had historic performances.
Alfreda Steele registered a personal-best 100m dash time at 11.26 seconds, which improved Miami's No. 3 mark in program history. The time currently ranks as the seventh-fastest time ran in the NCAA this season and second-fastest in the ACC. Sophomore Jacious Sears also recorded a personal-best time in the event with her time of 11.46 to finish sixth.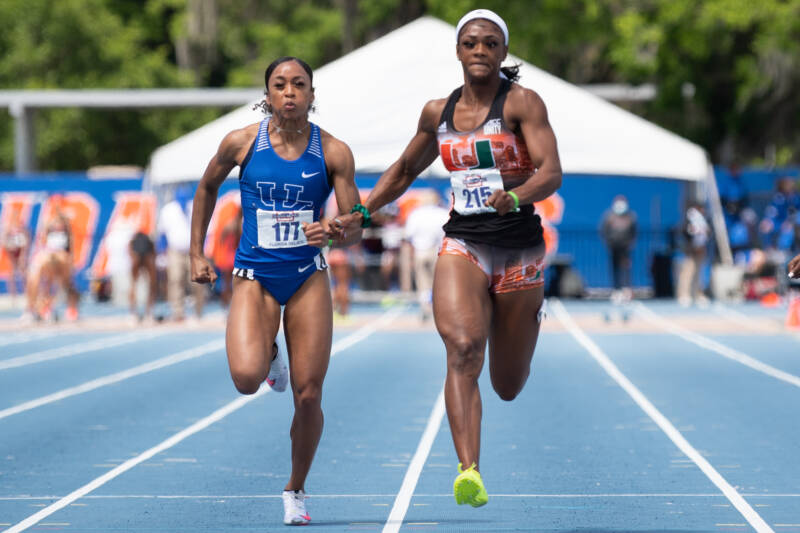 For the second weekend in a row, senior Emma Langlois etched her way on to Miami's all-time list in the women's 3000m. Saturday's time of 9:51.06 moves her two spots up to No. 5 all time after a 13-second personal best time. Langlois finished fifth overall in the event.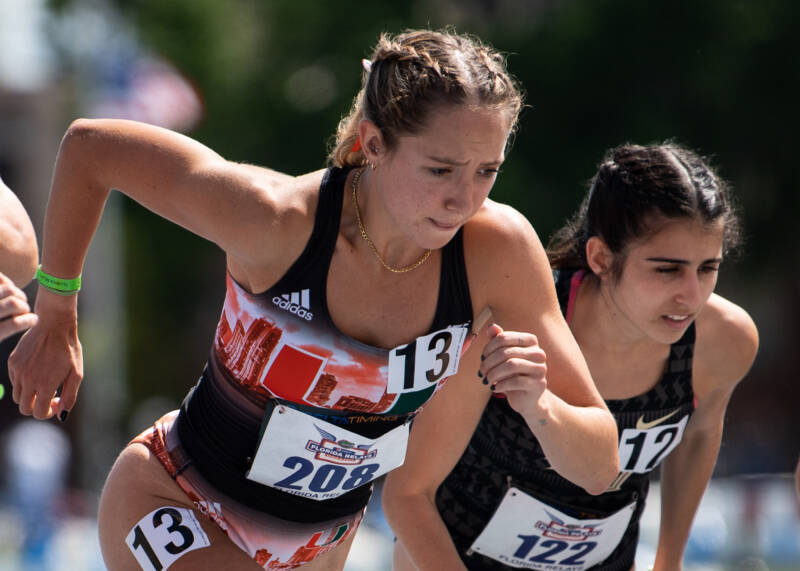 The women's 4×100 relay finished second overall and tied the fourth-fastest time in school history. Sophomore Lauryn Harris, Steele, Sears and Tiara McMinn combined to run a time of 43.56, which also ranks as No. 4 in the NCAA this season.
Selina Dantzler was the lone field competitor to break into the top five with her personal-best mark of 16.20m in the women's shot put. The mark is the fourth-farthest throw at UM and is the first time the Germany native has cracked 16 meters in her collegiate career in the event.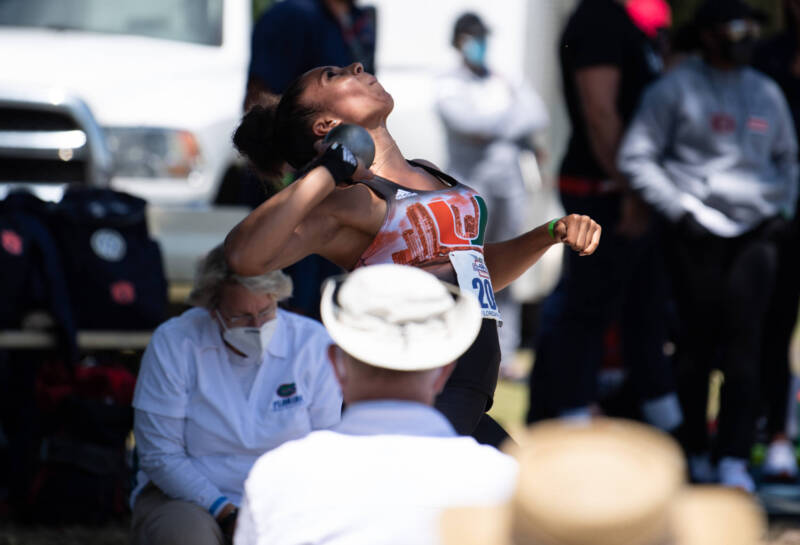 Two freshmen continue to make a name for themselves early on in their collegiate careers as Oskars Bambals and Solomon Strader each posted a No. 5 time in their respective events. Bambals' time of 1:51.08 in the men's 800 earned him a fifth-place finish and is the first Cane to crack the all-time list since Tim Harris in 2008. Strader closed out the top 10 competitors in the 400m dash with his time of 47.06m bumping Breon Mullings' time of 47.24 posted in 2017.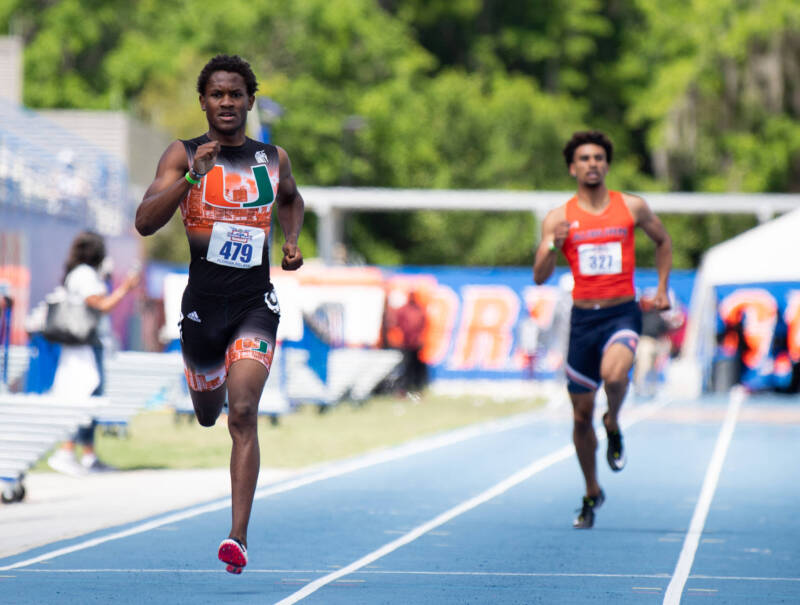 The final event to make Miami history was the final event of the day as the men's 4×400 relay finished fifth overall with a time of 3:08.52. The time ran by McKinly Brown, Asa Burke, Bambals and Strader ranks as the fifth-fastest time in program history. Brown is now a part of two top five times for Miami, after helping break the program record (3:06.75) in 2019.
Miami made more noise on the track as four Canes reached the hurdles finals. McMinn opened her outdoor hurdles season with a third-place finish and a time of 12.92 seconds. Michelle Atherley finished sixth at 13.26, while Harris set a personal-best time of 13.30. On the men's side, Xavier Coakley finished eighth in the 110 hurdles at 14.30 seconds.
Kayla Johnson finished third in the women's 800m and a time of 2:04.79, while freshmen Sierra Oliveira and Natalie Varela finished at 2:09.08 (10th) and 2:14.57 (19th), respectively.
Freshmen Blanca Hervas (54.28), Moriah Oliveira (54.31) and Kennedy Brace (55.48) all competed in the women's 400m, while Ryler Gould joined Strader in the 400m and finished with a time of 49.59 seconds.
Debbie Ajagbe began the field events with a fifth-place finish in the hammer with a mark of 58.93 and a sixth-place finish in the shot put at 15.80m.
Taylor Wright competed in the women's high jump and finished with a mark of 1.70m. Russell Robinson and Kevin Snyder closed out the field events in the triple jump and finished with marks of 15.66m and 15.07m, respectively.
The Canes return home for its third and final home meet of the season on April 9-10 for the Hurricane Alumni Invitational.