A Giant 'U' Family: From the Hardwood to the Pitch
CORAL GABLES, Fla. – In a year unlike any other, crossover season takes a whole new approach Saturday afternoon at Cobb Stadium.
Ahead of the 2020-21 season finale against in-state rival Florida, the University of Miami women's soccer team received a pair of helping hands in goal from women's basketball student-athletes Moulayna Sidi Baba and Naomi Mbandu Friday morning.
Participating in training for the Hurricanes final spring tune-up, Mbandu, a junior forward on the basketball team, is eager to make her goalkeeping debut against the Gators.
"Practice was hard and intense. I had to jump everywhere and was diving, but I liked it. The coaching staff and players were awesome. They made it easy to understand our job," Mbandu said. "I'm so excited to be in goal for an official game. It's a new experience which I like, so I'm just excited and happy to be part of the team."
---
Not having a goalkeeper eligible to participate against the Gators, Miami head soccer coach Sarah Barnes and her staff knew they had to think outside of the box ahead of the team's season finale.
"The fact that we're playing this game, given the pandemic and roster changes is a tribute to the players' desire to compete and challenge themselves," Miami head soccer coach Sarah Barnes said. "I'm also happy we are able to play because it's the last opportunity for [Florida head] coach [Becky] Burleigh and her staff to coach at UF.
"We were looking at every possible way to find a goalkeeper – we tried to contact the club team, volleyball has a former goalie, but they're competing tomorrow as well, but then [head women's basketball] coach [Katie] Meier put it in her team's group chat and had several players who wanted to help our team," Barnes added. "The basketball team and staff wanted to do whatever they could to help us out and make this game happen, so we are all truly grateful to Naomi, Moulayna and their program."
Familiar to a sport cross-over situation as UM soccer student-athletes Tara Schwitter (2013-14) and Lauren McAdam (2007-08) previously suited up for the 2011 AP National Coach of the Year's basketball team, it was never even a question for Meier wanted to help anyway she could.
"This has been the most quintessential, UM family moment. It was a matter of me saying, 'hey team, Coach Barnes needs a goalie for this weekend' and within five minutes a couple players said they were willing to do it," Meier said. "They went the very next day to meet the coaches and practice. Not only are they willing to help, but they are also so excited for the opportunity."
Bringing size, athletic ability and a willingness to compete, Mbandu is ready to put her rebounding and blocking skills to the ultimate test.
Averaging 8.0 points and 4.7 rebounds in 2020-21, the 6-foot-2 newly acquainted goalkeeper sees some familiarities between being in front of the net and underneath the rim.
"We have to bend our knees and be ready to move on defense in basketball, which is the same case for being a goalkeeper," Mbandu said. "We also have to talk and communicate a lot, too."
Mbandu's and Sidi Baba's communication skills, energy and raw athletic ability were three of the things that also stood out the most for the soccer program's third-year head coach.
"Naomi and Moulayna bring great energy and confidence to the field," Barnes said. "Obviously, it's a different sport and the situations a goalkeeper finds herself in are different from basketball, but they can catch the ball and are good with those above their heads.
"What really stands out is that they're competitors. They want to do well, they're working at it, listening, making adjustments and they celebrate every save, which brings a ton of energy to the team," Barnes added. "I wish we could've had more time for them to acclimate, but it's been great to have them be a part of our program."
Despite never playing soccer competitively growing up, Mbandu is not new to the sport both playing and watching games with her brothers in France.
So, with her teammates knowing her love for the sport, they all immediately suggested her for the job.
"Coach Meier texted us in our group chat and asked if anyone could play soccer. I actually didn't really answer, but everybody said, 'Naomi, you should do it.' I found out that I could be a part of the soccer team and was very excited," Mbandu said.
Despite not being able to join Mbandu at Cobb Stadium Saturday afternoon, Sidi Baba helped give some pointers to her junior teammate based on her previous experience playing in Sweden growing up.
In addition, she played a critical role in helping the Hurricanes complete necessary scout work for the Gators.
"It was a cool opportunity and experience, to be a goalie at practice," Sidi Baba said. "It was something new and different."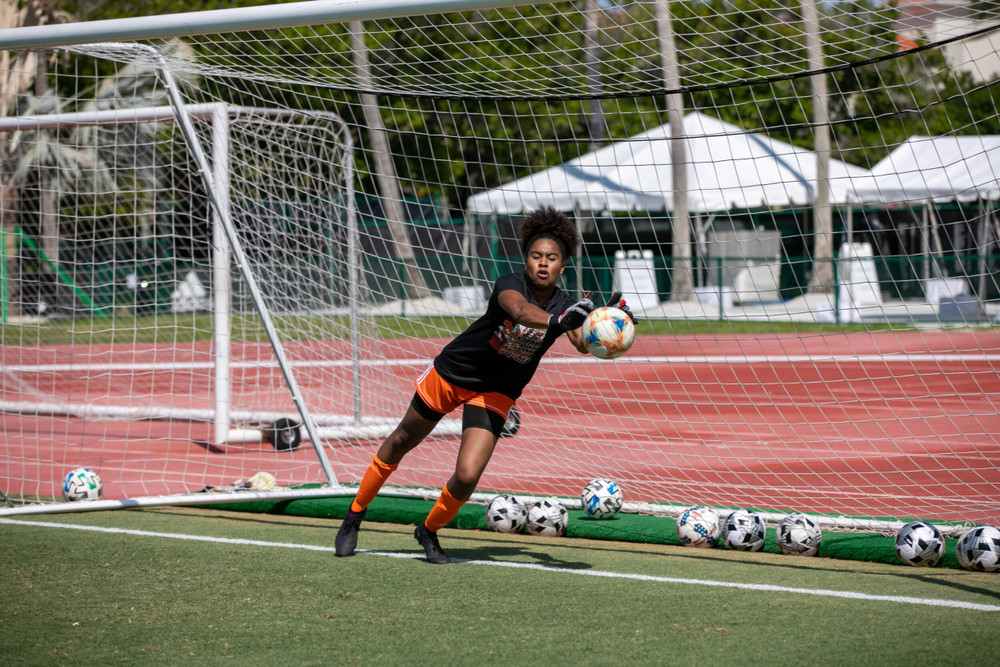 ---
As the soccer team prepares for its final match of the spring, Barnes has continued to see exponential growth out of her young Hurricanes squad, with all but one upperclassmen, junior defender and captain Selena Fortich, taking the pitch in the spring.
And with summer training and the 2021 fall season on the horizon, she is looking for the added development to continue.
"We want to see the players push the tempo defensively starting with our front-six," Barnes said. "They need to read the game and understand the risk versus reward of each situation. A commitment to get to the ball first and keep it is important every single day.
"Their awareness on the field and willingness to commit to being more dangerous in the attack has improved significantly this spring," Barnes continued. "That's improved our composure and decision making. We've improved in 1v1 situations. There's been a lot of growth that we want to continue to develop."