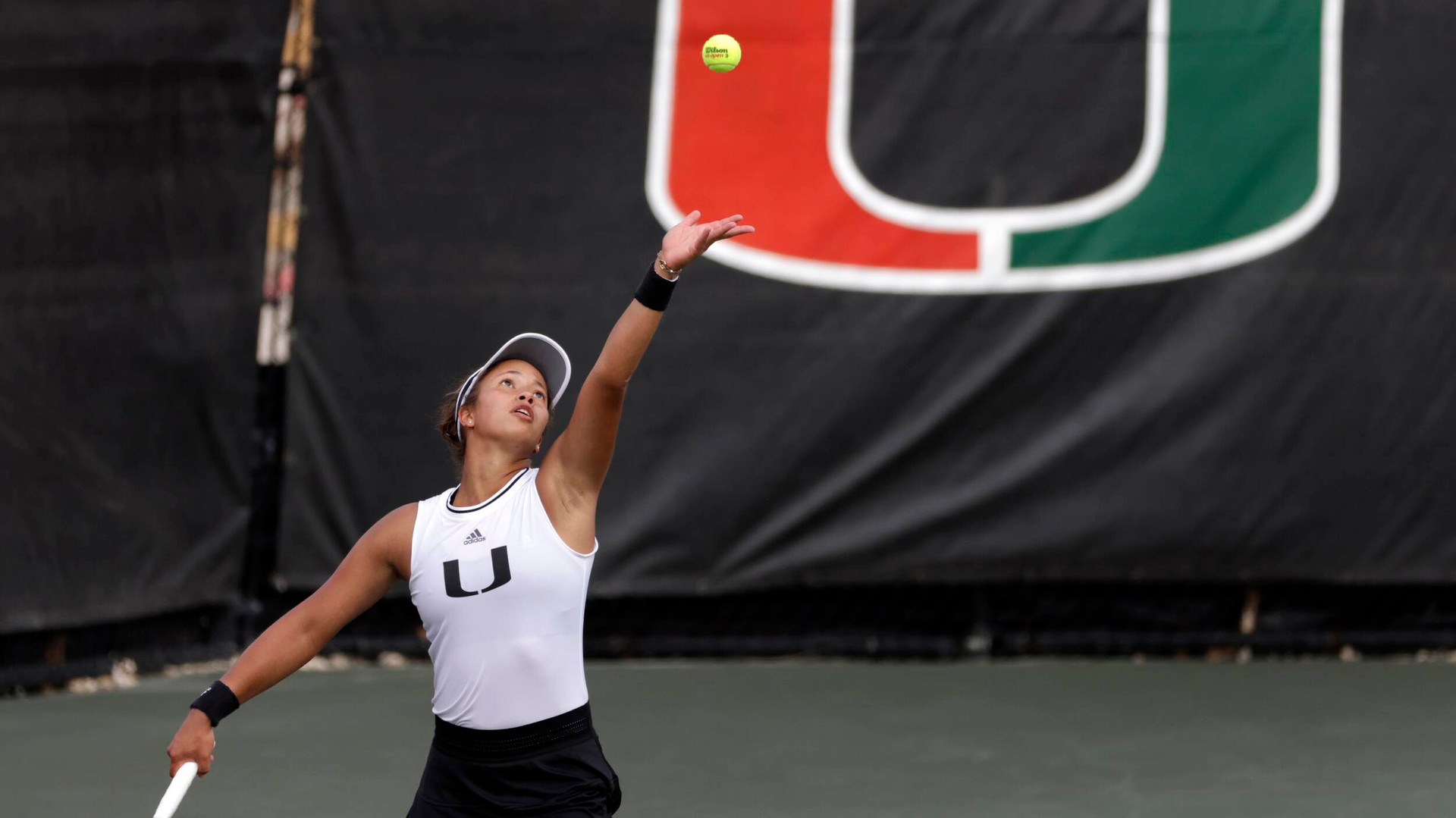 CORAL GABLES, Fla. – The University of Miami women's tennis team is starting to heat up.
After starting the season 3-5, with all five losses on the road against top-20 teams, the Hurricanes have won five matches in a row over the last two weeks.
Miami is now ranked No. 29 in the ITA national rankings, its best mark of the season, after its recent run of strong outings.
"I think, as a team, we've just been going out there, working hard and just competing well," third-year sophomore Daevenia Achong said. "In these five matches, we just needed to get in there and compete because we knew it was not going to be easy, we'd have to work for it. I think, as a team, we did a great job of staying calm and staying very disciplined."
In addition to the team's mentality, another prime reason it has started racking up wins is the play of its doubles pairs.
Miami (8-5, 5-3 ACC) has earned the opening point in all five of its contests during this streak, after dropping it in four of the previous six affairs.
Achong, who played in the NCAA Doubles Championship as a freshman in 2019, credits the Miami coaching staff for the team's improvement.
"We've been focusing on doubles a lot this season with Paige [Yaroshuk-Tews], Alex [Santos] and Maci [Epstein]," Achong said. "I think it's just been working out in our favor. We've been changing up some formations, playing a little differently. I think it's been working out well for us and it's making the other teams a little bit more uncomfortable."
Achong has settled in at the No. 3 doubles position alongside second-year freshman Florencia Urrutia.
The two had never played together in a match until March 12 at then-No. 50 Syracuse when Miami started its winning streak, but they have gelled quite nicely.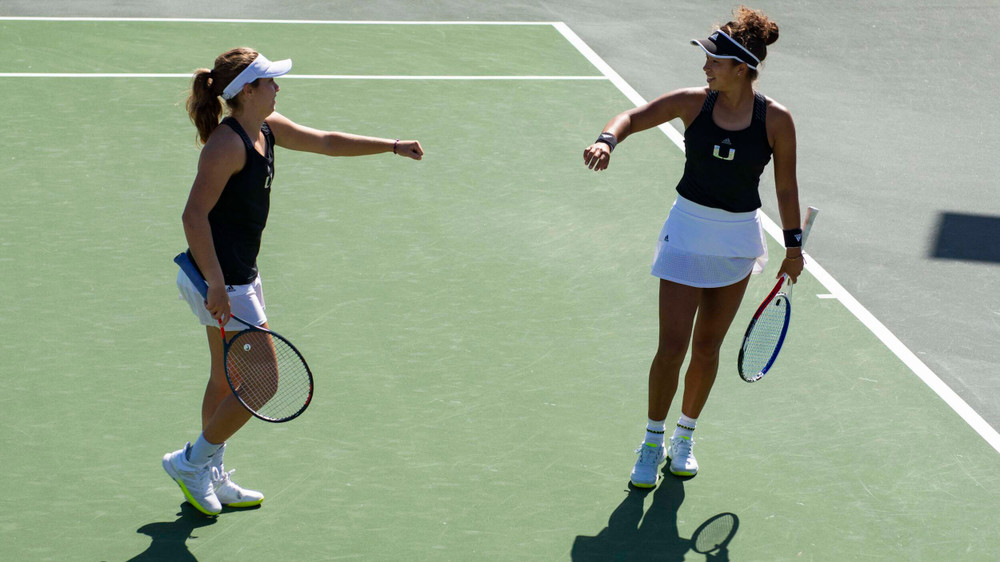 Achong and Urrutia are 4-1 as a tandem thus far. That ledger includes a 6-2 victory over Louisville's Dina Chaika and Chelsea Sawyer Sunday afternoon at the Neil Schiff Tennis Center in the Hurricanes' most recent victory, a 6-1 overall decision.
"I think our games just go very well together," Achong said of the pairing. "[We both have] good serves. We try to play a lot of formations. Especially at three, I think it's important to play very smart and intense because you're going to see a lot of different [types of] teams there.
"When we play our game and we play smart and we're calm, I think that's what makes us a great team," Achong added. "Flor and I just know each other very well. I think that's important when playing, so we know how we both feel and can help each other in many ways. We move well together."
Much like her team as a whole, Achong has also started to get on a hot streak on the court following a slow start to the season.
After opening the spring ranked No. 87 nationally, Achong dealt with a few losses to begin her campaign. However, she has started to come around.
In the Hurricanes' victory over Louisville, she topped Raven Neely, 6-4, 6-4. Two days prior, in a 7-0 sweep of then-No. 47 Notre Dame, Achong rolled past Ally Bojczuk, 6-0, 6-1.
"I think I just played some better tennis and my mindset was just in a better spot. Obviously, Paige, Alex and Maci having been coaching us—and me—pretty well," Achong shared. "I think, in those matches, I just played more of my own tennis. I was playing two absolutely different players … so I think adjusting my game a little bit definitely helped with that. I think [it was about] being focused on my game instead of being too focused on the other players."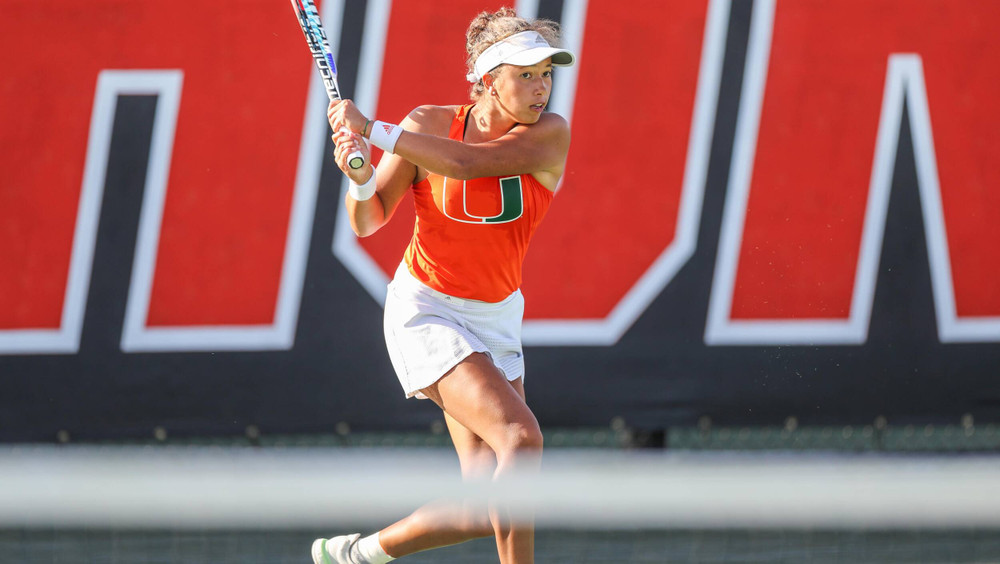 Another boost for Achong—as well as all of her teammates—during the last three wins of the streak is that the Hurricanes finally got to play at home.
With the 2020 season cut short due to the COVID-19 pandemic and Miami's first 10 matches of this spring all away from home, it had not played at the Neil Schiff Tennis Center in 383 days.
That changed when the Hurricanes topped USF, 5-2, last Wednesday and followed that with the triumphs over Notre Dame and Louisville.
"I think, for our team, it was great to be back home after … a year," Achong said. "So, obviously, we were all very pumped and excited. I think it was just very important to stay calm, though, and not get too excited; just stay humble and disciplined. I think it worked out very well. So, [we need to] continue to do this. We have two great matches coming up this weekend."
Indeed, Miami does have two difficult tasks up next on the docket. First, it hosts No. 26 Wake Forest Friday at 11 a.m. and then faces No. 11 NC State Sunday at 2 p.m.
The contests were initially scheduled for exactly one month prior, but were postponed. Now, they are part of a seven-match homestand for the Hurricanes.
Achong, the second-most senior player on the Miami roster, knows what her team must do to carry its recent momentum into its outings against the Demon Deacons and Wolfpack.
"We need to have a great week of practice—solid, disciplined, hard-working, focusing on the things we need to improve and the things we have been doing very well," Achong remarked. "Obviously, these two matches are great opportunities. We are playing at home, so I think we need to go into those matches with a great mindset, playing great tennis and competing hard. I think that's the key."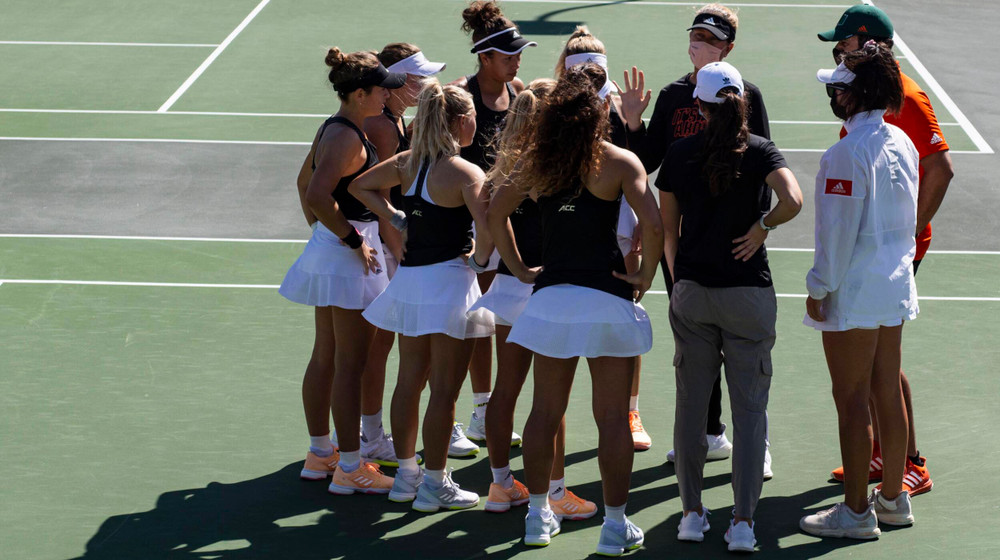 Wake Forest is 9-6 (5-3 ACC) on the season after winning five of its last six matches, including three in a row. The Demon Deacons sport three ranked singles players in Carolyn Campana at No. 12, Anna Campana at No. 32 and Anna Brylin at No. 117.
In addition, Wake Forest has two ranked doubles pairs, led by Carolyn Campana and Eliza Omirou at No. 23. Brylin and Brooke Killingsworth follow them at No. 28 nationally.
Miami is 21-1 all-time against the Demon Deacons, including 11-1 at home, and has notched 17 consecutive wins in the series. The two sides did not meet last year because of the abbreviated season, but the logged a 6-1 home victory over then-No. 14 Wake Forest on March 31, 2019, in the last meeting.
NC State, meanwhile, heads to Coral Gables with a 12-3 (6-2 ACC) ledger on the season. Just like Miami, the Wolfpack is riding a five-match winning streak.
Anna Rogers leads a trio of NC State players in the ITA singles rankings, checking in at fifth in the country. Alana Smith places No. 27, while Adriana Reami is No. 101.
In doubles, Reami and Jaeda Daniel comes in at seventh nationally to pace a trio of ranked pairs. Rogers and Smith hold the No. 14 position, with Lexi Keberle and Abigail Rencheli at No. 47.
The Hurricanes are 17-1 all-time versus NC State, including a perfect 9-0 at home. In the most recent matchup, Miami logged a 4-2 victory over the then-ninth-ranked Wolfpack in the ACC Championship quarterfinals on April 19, 2019, in Chapel Hill, N.C.
Just like Wake Forest, NC State is one of the teams Miami did not play in 2020 due to the season getting cut short. That lack of familiarity, though, is not something Achong is concerned about.
"Honestly, for me, it's not [a problem]. I just think every team deals with that," the 2019 Second Team All-ACC performer said. "I think it's pretty even, I would say. I really don't have a problem with playing a team I didn't see last year. It's been a long time and everyone had a different year, a different season. It really doesn't matter."
The Hurricanes have two ranked singles players entering the weekend, with fifth-year senior Estela Perez-Somarriba at No. 10 overall and freshman Isabella Pfennig coming in at No. 34.
Miami also has two ranked doubles duo, led by Perez-Somarriba and Pfennig at No. 22 nationally. Second-year freshmen Diana Khodan and Maya Tahan follow then at No. 37 on the list.
Live stats for Miami's contest against Wake Forest can be found HERE, while live stats for its match versus NC State will be available HERE.
Fan attendance at the Neil Schiff Tennis Center for Miami home matches will be limited to immediate family members of the participating teams.
To keep up with the University of Miami women's tennis team on social media, follow @CanesWTennis on Twitter, Instagram and Facebook.