Steele and McMinn Advance to NCAA Indoor Finals
FAYETTEVILLE, Ark. – Alfreda Steele and Tiara McMinn advanced to their respective event finals at the NCAA Indoor Track and Field Championships on Friday night.
McMinn, who holds Miami's program record in the event at 7.95 seconds, finished seventh in the prelims to advance to the finals. McMinn ran a time of 8.13 seconds, tying her third-fastest time this season.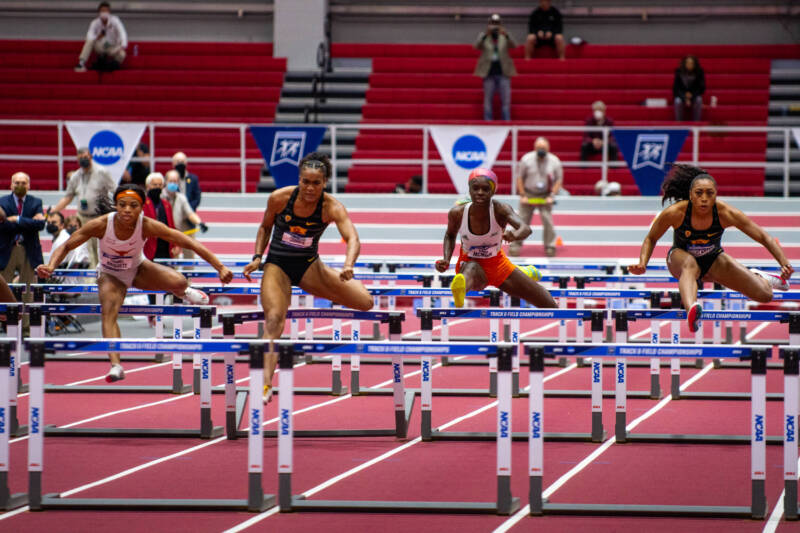 This weekend's competition marks the third-straight season the Miami native has reached the NCAA indoor Championships.
Steele showed out in lane one, running a personal-best time of 7.23 seconds in the 60m dash prelims. Friday's race marked the first time Steele has reached the Indoor Championships in her career. The graduate student's time moves her into sole possession of the third-fastest in program history. She was previously tied with sophomore Jacious Sears with their times of 7.25 seconds.
Senior Kayla Johnson finished her third trip to indoor NCAAs, finishing 14th in the women's 800m with her time of 2:09.57. Her time earned her USTFCCCA Second Team All American honors.
Steele is scheduled to compete in Saturday's final at 6:10 p.m., and McMinn will close out the competition at 6:30 p.m.