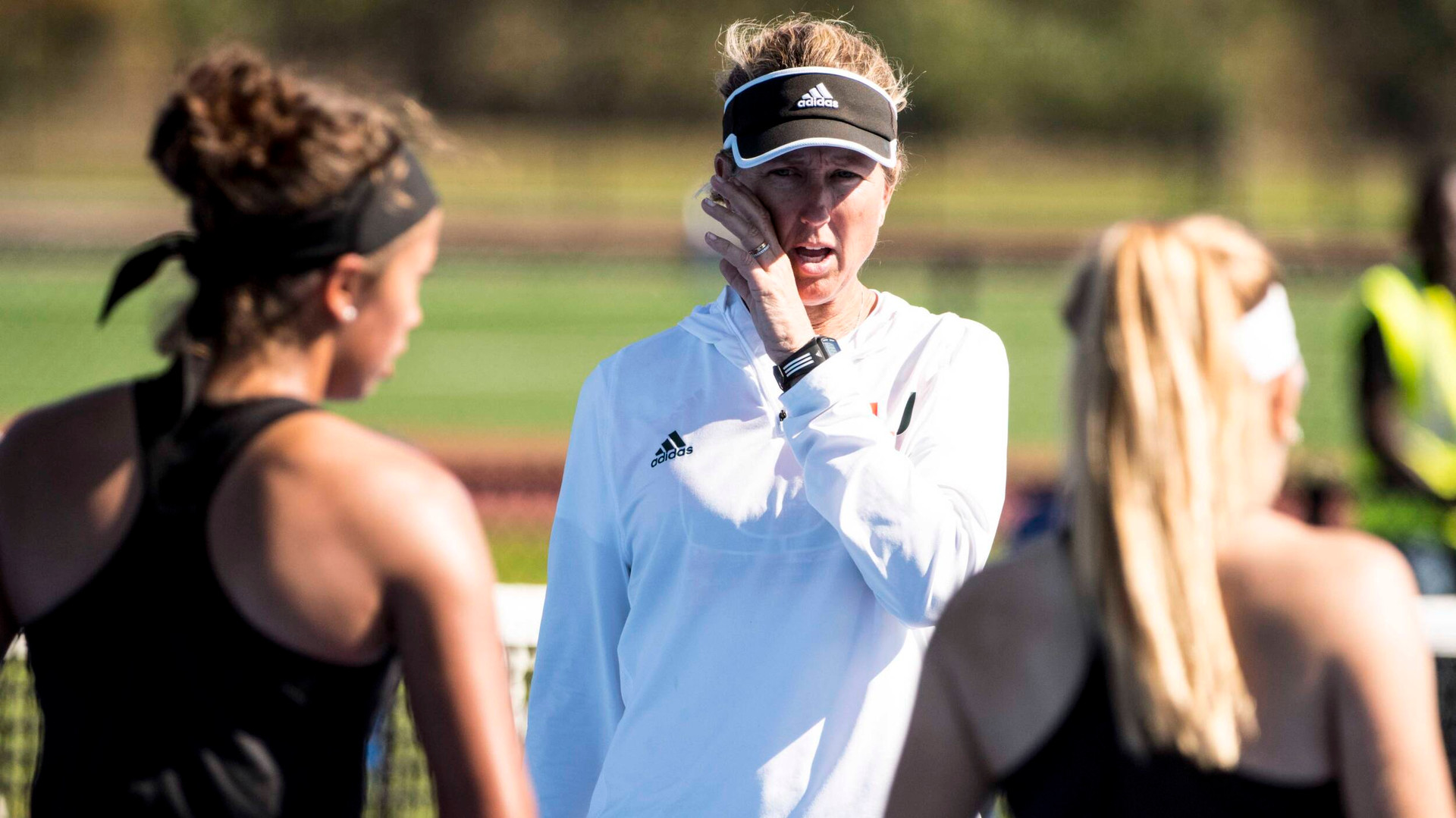 CORAL GABLES, Fla. – The University of Miami women's tennis team was all set to finally begin its home slate last weekend at the Neil Schiff Tennis Center.
The Hurricanes' scheduled outings against Wake Forest and then-ninth-ranked NC State would have been their first at home in over a full year.
Instead, the matches were postponed due to positive COVID-19 tests, subsequent quarantining and contact tracing within the program. The start of the home season was put on hold.
Now, Miami will not begin its home slate for an additional 17 days, with the first such match coming March 17 against USF.
In the meantime, the Hurricanes will play four more matches on the road, all in ACC play. The first two are this weekend, as Miami travels to eighth-ranked Duke and top-ranked North Carolina for back-to-back affairs, Saturday and Sunday, respectively.
While her team is dealing with a situation it has never had before during a season, Miami head coach Paige Yaroshuk-Tews expects her players to be locked in this weekend in the Tar Heel State.
"If we play it smart, we'll realize that whether we're playing with five, six or traveling with seven, we shouldn't change our approach," she said. "A dual result is just that, but we're going to have a lot of good individual opportunities in front of us. If approached with the correct mindset, these matches can help us get some team results on the board that we need in the next few weeks."
The task at hand, regardless of the outside circumstances, is certainly a difficult one for any team. Facing two top-10 teams on the road is a difficult proposition.
However, to Yaroshuk-Tews, the opponent should not be Miami's focus, just as it should not be if her team was playing weaker competition this weekend.
"Our preparation doesn't change," the two-time ITA Southeast Region Coach of the Year said. "Every weekend, we have to prepare to play great tennis."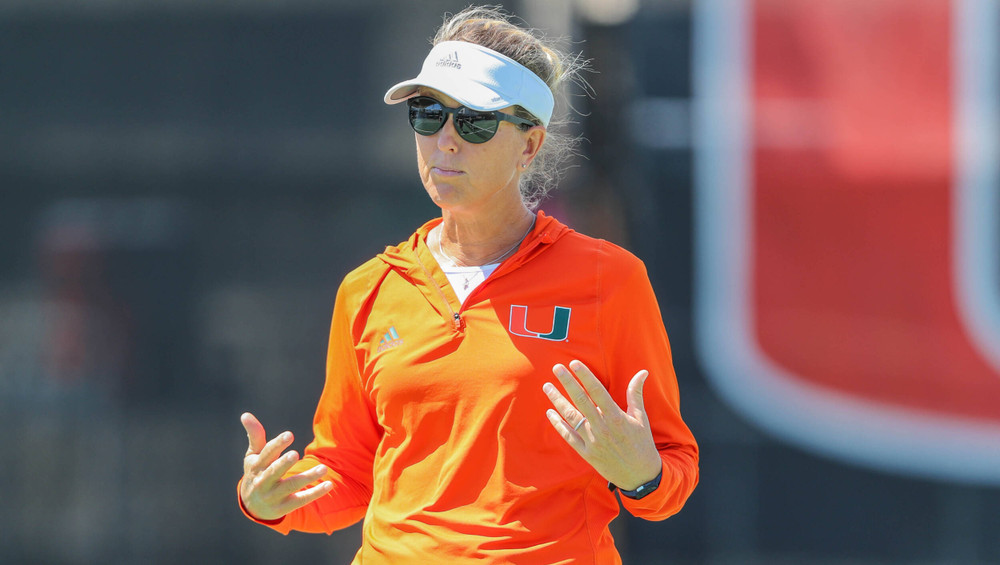 The Tar Heels are 11-0 (2-0 ACC) on the season and claimed the ITA National Team Indoor Championship crown in early February.
North Carolina has seven ranked singles players, including three in the top six. Alexa Graham places third, followed by Sara Daavettila fourth, Cameron Morra sixth, Makenna Jones at No. 49, Alle Sanford at No. 53, Elizabeth Scotty at No. 79 and Fiona Crawley at No. 120.
In addition, three North Carolina doubles duos are in the ITA rankings. Daavettila and Graham check in at third nationally, followed by Jones and Sanford at No. 15 and then Morra and Scotty at No. 45.
Miami sports a 14-18 all-time record against the Tar Heels, including a 3-6 ledger on the road. North Carolina won the most recent meeting, 6-1, on March 23, 2020 in Coral Gables.
The Blue Devils, meanwhile, are 7-1 (2-0 ACC) thus far in their 2020-21 campaign. Their lone loss a 4-3 setback at Georgia Tech, an identical result to Miami's outing in Atlanta.
Duke boasts six ranked singles players, led by Kelly Chen at eighth in the country. Georgia Drummy comes in at No. 28, with Chloe Beck at No. 29, Margaryta Bilokin at No. 44, Karolina Berankova at No. 95 and Meible Chi at No. 111.
In doubles, Beck and Chen come in at No. 34 on the ITA list, while Berankova an Drummy check in at No. 56 overall.
The Hurricanes are 12-18 all-time versus the Blue Devils, including 3-6 on the road. The two sides did not meet last season after it was cut short because of the COVID-19 pandemic. Duke, though, notched a nail-biting 4-3 road win on Feb. 24, 2019, in the last matchup.
"They're both tough opponents who are well-coached," Yaroshuk-Tews said of the Tar Heels and Blue Devils.
Although the Hurricanes have only played six matches headed into their North Carolina trip instead of the scheduled eight, Yaroshuk-Tews has still managed to develop a good sense of where her team is at.
No. 30 Miami (3-3, 1-1 ACC) has faced four top-25 foes, all away from home, on the young season, giving the 20th-year head coach ample opportunity to evaluate her group.
"I think we've shown improvement. Unfortunately, in some spots, we've had so much ground to gain," Yaroshuk-Tews said. "We can only make up so much time in a season. That's on each player. We need to enter the season ready to go, not ready to prepare to go."
The Hurricanes currently have three ranked doubles players, led by fifth-year Estela Perez-Somarriba at second nationally. Third-year sophomore Daevenia Achong holds the No. 87 spot and second-year sophomore Selma Cadar places No. 102. Miami does not have any ranked doubles duos.
One player besides those three who has made her mark early in this season is second-year freshman Florencia Urrutia.
The Santa Fe, Argentina, native is 3-2 in singles play, including 2-1 at the No. 4 spot, and 4-2 in doubles action. She has played four of her six doubles matches at the top position, splitting those, while also going 2-0 at the No. 3 position.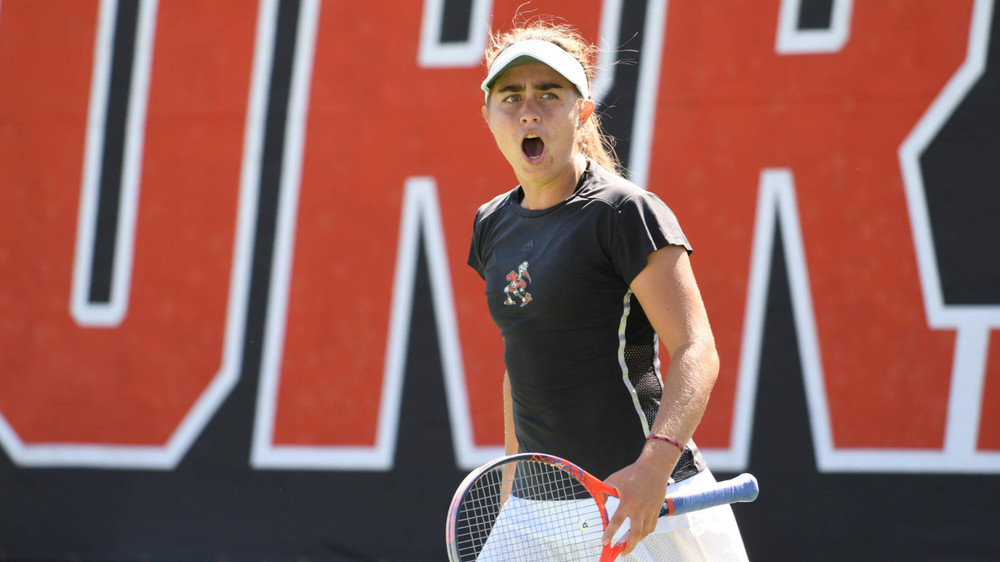 Urrutia, whose first season of college tennis ended just two months after she arrived in Coral Gables last year, certainly still has aspects of her game to refine, but the talent is clearly there.
"Flor has a huge impact on this program. She's a passionate kid that loves representing The U," Yaroshuk-Tews said. "She's still a little rough around the edges, but we're working on that. She's truly an enjoyable kid to work with."
Urrutia and the Hurricanes will play North Carolina Saturday at noon at the Cone-Kenfield Tennis Center in Chapel Hill, N.C. They will then make the short drive to Durham, N.C., to take on Duke Sunday at noon at Ambler Tennis Stadium.
Live stats for Miami's meeting with the Tar Heels can be found HERE. Live stats for the Hurricanes' outing against the Blue Devils will be HERE, with live video available HERE.
To keep up with the University of Miami women's tennis team on social media, follow @CanesWTennis on Twitter, Instagram and Facebook.