Harden Has Career Night in ACC Tournament Loss
GREENSBORO, N.C. – The Miami women's basketball team (11-11, 8-10 ACC) exited the Atlantic Coast Conference tournament in the second round, falling to the Virginia Tech Hokies (14-8, 8-8 ACC), 72-64, at Greensboro Coliseum on Thursday.
For the third time this season, redshirt junior Destiny Harden recorded a new career high in scoring, leading all players with 27 points in the contest. Harden added 11 rebounds and three assists to her stat line for her fourth double-double of the season.
Sophomore Moulayna Sidi Baba joined Harden in double-figures, totaling 13 points and eight rebounds for her second double-digit game of the year.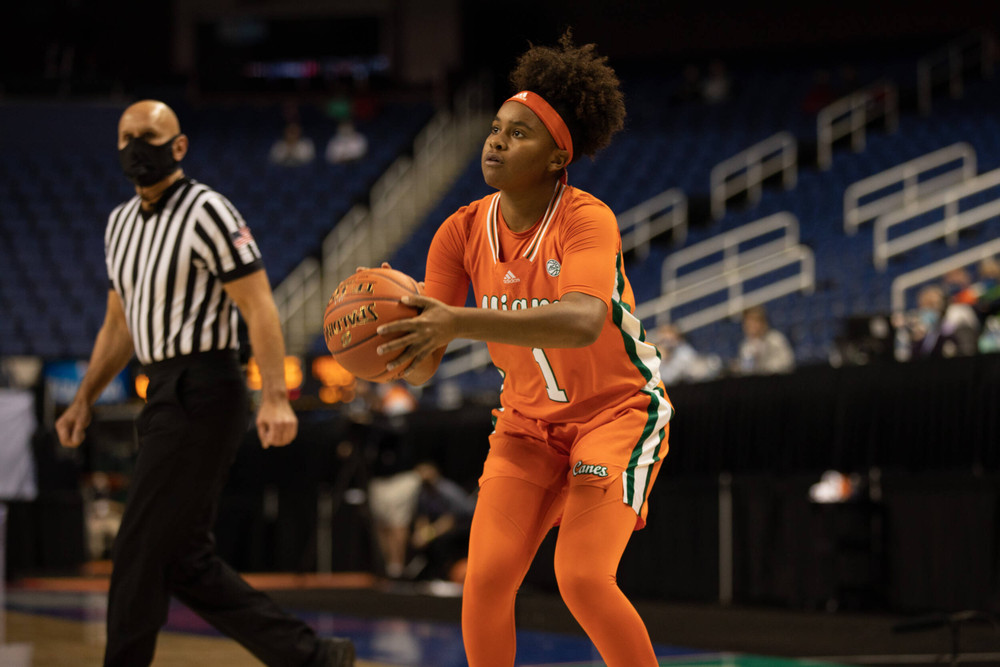 The Canes shot 40 percent from the field in the first quarter, including a trio of buckets from Harden, but the Hokies recorded four threes in the frame to take a 24-12 lead after one.
Senior Taylor Mason went to work in the second quarter for Miami, totaling seven points on 2-of-2 shooting and a pair of free throws. The Canes knocked down their first threes of the game in the second, one off the hands of Mason and the other from junior Karla Erjavec.
However, the Hokies narrowly outscored the Canes 19-16 in the quarter to take a 15-point lead, 43-28, into the locker room.
For the fourth straight game, Harden recorded double-digits in the second half, pouring in 19 points in the final 20 minutes. The forward accounted for 13 of Miami's 19 points in the third quarter, cutting the Hokies' lead to 12 heading into the final 10 minutes.
All 13 of Sidi Baba's points came in the second half, none bigger than a 3-pointer with 38 seconds to go to pull the Canes' to within seven of the Hokies. Time ran out on Miami's comeback and Virginia Tech held on to take the 72-64 victory.