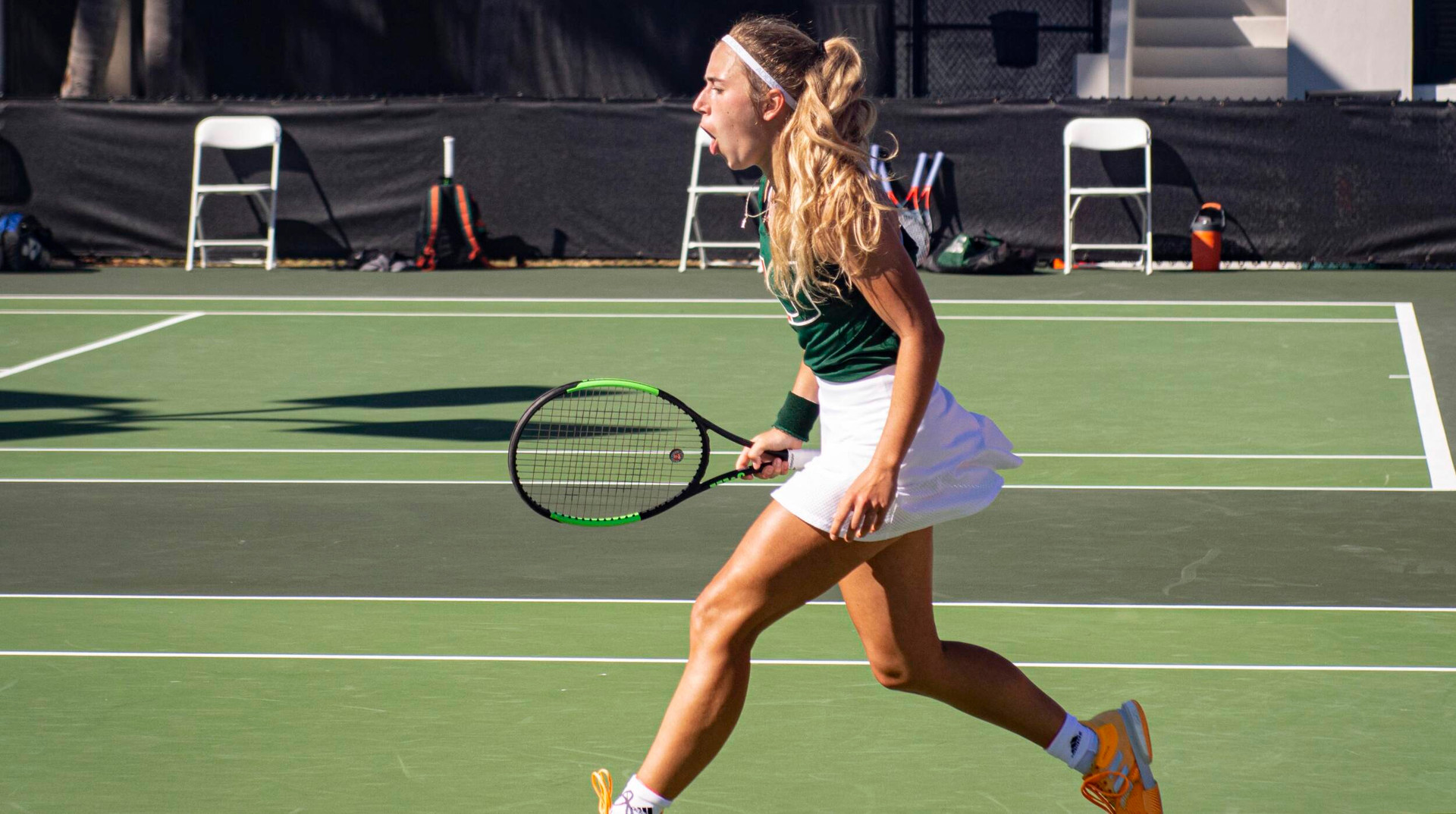 CORAL GABLES, Fla. – It would be hard to put together a better script for the start of Isabella Pfennig's college career than the one she has written herself.
A freshman on the University of Miami women's tennis team, Pfennig is 5-0 in singles and 4-1 in doubles through six matches, all of which have come on the road.
After dazzling over in her first taste of conference play, she was named the ACC Co-Freshman of the Week last Tuesday. Pfennig did not know she won, though, until a family member saw the news on social media and shared it with her.
"My brother sent it to. I was like, 'Oh, okay!'" Pfennig remarked. "I was really happy, of course, but I will try not to focus so much on that. But, of course, it means a lot and it shows that hard work pays off."
Something else Pfennig says she does not think about a lot is her success so far this season. To her, it is in the past.
Instead, she approaches each outing looking forward, with the same goal in mind every time she steps foot on the court.
"When I play a match, I just try to win to get a point for the team because that is what counts in the end," Pfennig shared. "So, I try to help the team. Every match I play, I want to win, but of course, you never know how it will go before."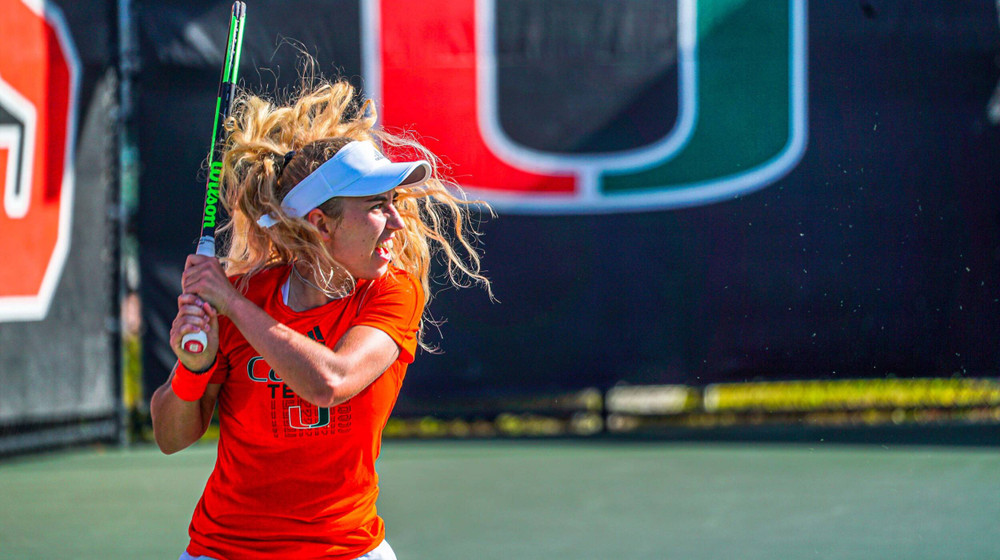 Pfennig's stellar play en route to ACC accolades came in a 4-3 setback at then-No. 12 Georgia Tech and a 7-0 win at Clemson.
Competing at the No. 3 singles spot Saturday against the Yellow Jackets and facing a ranked player for the first time, Pfennig registered a 3-6, 6-4, 7-6 (7-5) victory over No. 123 Gia Cohen.
Despite the position next to her name and the ranking next to that of her opponent, the Gauting, Germany, native did not change her mindset at the Ken Byers Tennis Complex.
"Paige [Yaroshuk-Tews] always tells us every position counts the same," Pfennig said. "So, no matter if you're playing one or six, every position gets one point. You have to play the position you play and you try to win. So, honestly, I don't care about what number I'm playing at. I just try to win."
A day after debuting at No. 3, Pfennig did so one spot higher, as she played at No. 2 in the sweep of the Tigers. The first-year Hurricane tallied a 6-3, 6-3 triumph over Jenna Thompson to keep her unblemished singles ledger intact.
That outing came just 23 days after Pfennig played at No. 6 in the Hurricanes' second match of the season, a 4-3 neutral-site win over then-No. 23 Ole Miss.
While Pfennig is not concerned with where she plays in the lineup, she does think starting lower down has been beneficial to her early development at the college level.
"I think in the beginning, it was good for me to see how college tennis works because it's different than normal tournaments in Germany," Pfennig shared. "But, as I said, I think Paige is doing a great job and she knows what she's doing. So, I trust her."
Along with to her adjustment to college tennis, Pfennig has also had to get used to both life as a college student and living abroad over the past several weeks. Fortunately, her teammates helped her do just that.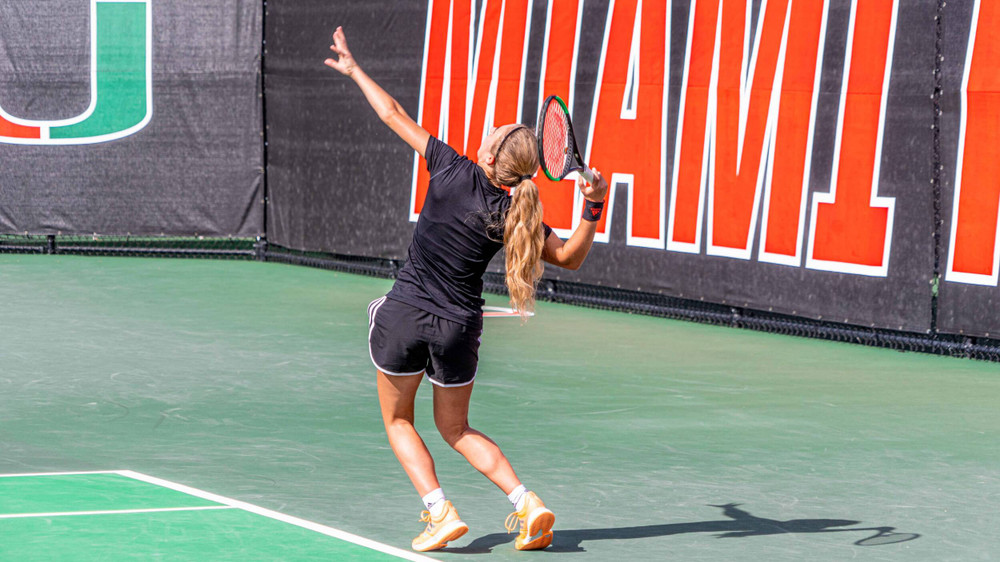 In fact, spending so much time alongside her fellow Hurricanes prevented Pfennig from thinking about home all that often and allowed her to settle in, in Coral Gables.
Now that she is nearly two months into her tenure at The U, Pfennig is able to reflect a bit on the changes she had had to make to get used to her new life, tennis aside.
"I think it's pretty cool because you start getting independent. At home, my mom was cooking for me. She did lots for me," Pfennig said. "She was basically cleaning the house. Of course, I tried to help, but I was really busy with school and practice. Now, it's all on my own. So, of course, on the one hand it's kind of annoying that you have to do everything on your own, but on the other, you feel kind of proud that you're able to handle everything without your parents."
When Pfennig first arrived in Coral Gables, the only Hurricanes also on campus were Daevenia Achong, Maya Tahan and Florencia Urrutia. Naturally, she spent "a lot of time" with them and they, in turn, helped her make that initial transition.
Since then, another teammate, Estela Perez-Somarriba, has also made her mark in assisting Pfennig, but the rest of the team has continued to be there for support.
"Stela helps me. She tries to tell me about her experiences, which helps me a lot," Pfennig said. "I think it's just a group of effort. I love everybody around me. I think everybody is really, really cool and helps me a lot."
In addition to helping her off the court, Perez-Somarriba has also started to work more closely with Pfenning on the court. That is because the two are now doubles partners.
The other aspect of Pfennig's claim to ACC honors this week came with the duo's performance together, as they lost just one game in two matches.
Saturday, they logged a 6-0 win against Cohen and Sophia Sassolli in their first match as a pair. The next day, they topped Ali DeSpain and Mackenzy Middlebrooks, 6-1.
"Honestly, when Paige told us in practice we should try to play together, I was like, 'Uh, are you sure?' Because Stela, I look up to her as a person, but also, of course, what she has achieved the last couple of years," Pfennig said of the reigning NCAA singles champion. "Then, during the matches, luckily, I was able to concentrate on tennis and not think about who I'm playing with. The vibe was really good.
"Stela is very focused [and I am] too. I think that was what matched pretty well between us," Pfennig continued. "She helped me when I did some stupid mistakes. She was like, 'No worries, keep going.' She was very positive. So, I think that was a great atmosphere on the court."
With all she has accomplished, the one thing Pfennig has yet to do is play a match on Miami's home court at the Neil Schiff Tennis Center.
After the team's scheduled home-opening weekend was postponed, Pfennig now has a bit longer to wait, but there is no doubt she is looking forward to the opportunity.
"I'm really excited to finally play there," Pfennig said. "I've been practicing there for two months now on those courts. So, I can't wait to play a first home match on those courts."
Many standout players have made their mark on the Neil Schiff Tennis Center courts and Pfennig just might be next in line.
To keep up with the University of Miami women's tennis team on social media, follow @CanesWTennis on Twitter, Instagram and Facebook.