Ajagbe Defends ACC Field MVP and Shot Put Title
CLEMSON, S.C. – Debbie Ajagbe remains the ACC Women's Indoor Field MVP and shot put champion after Saturday.
The senior crushed the hearts of her competitors in the shot put, jumping from fourth place to first in her final throw of the day. Ajagbe's winning mark came at a season-best mark of 16.74m. She ended the weekend scoring 16 points to Miami's team score after her bronze medal performance in the weight throw.
"She had a heck of a weekend," director of track and field Amy Deem said. "To see her come back and step up again and do it on her last throw, again, just shows the competitor in her and her desire to be great."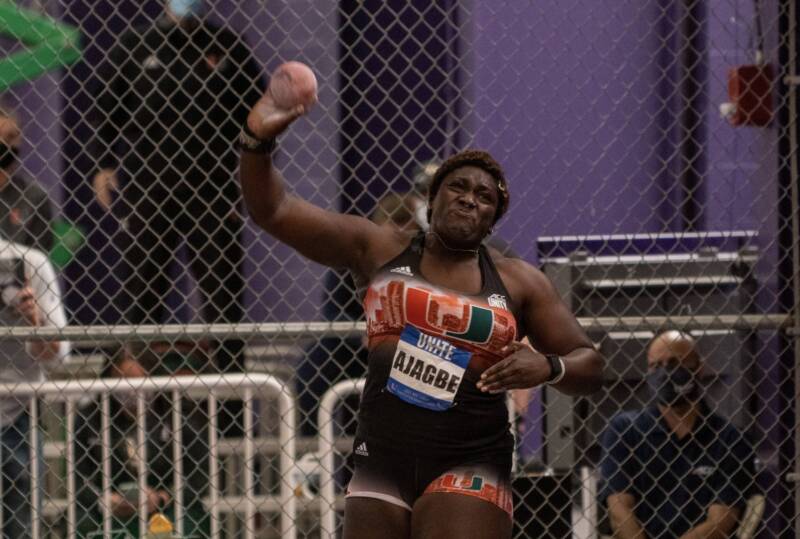 Miami's women finished second overall with 85 points behind Florida State who posted 95. The men finished 10th with 27.5.
"I'm really pleased and I'm so proud of this group who never stopped fighting," Deem said. "They've been so focused since August and have done everything they've can to put themselves in this position today. We fell a bit short, but I'm as proud of this group as I am of any group because the young kids get it. They came out and fought and the older kids really stepped up and took their turn being ACC champions. I couldn't be more pleased."
The Canes finished with three events wins on championship Saturday led by Tiara McMinn in the 60m hurdles, Ajagbe in the shot and the women of the 4×400 relay.
McMinn, now a two-time gold medalist in the event, posted a season-best time of 8.00 seconds. Her time ranks as the fourth-fastest time in the NCAA.
"To see her work through the season and trust in the process has been great," Deem said. "I think she's going to run a personal-best at NCAAs and she's really hitting at the right time. I think it's going to lead right into the outdoor season."
The women's relay composed of Lauryn Harris, Moriah Oliveira, Kayla Johnson and Sierra Oliveira, closed the day with a time of 3:37.35 to take home the gold medal to end the meet.
"I'm really pleased to basically have three freshmen on your relay is always special," Deem said. "They never got intimidated and kept fighting and won it at the end. It's what I really like about this team right now."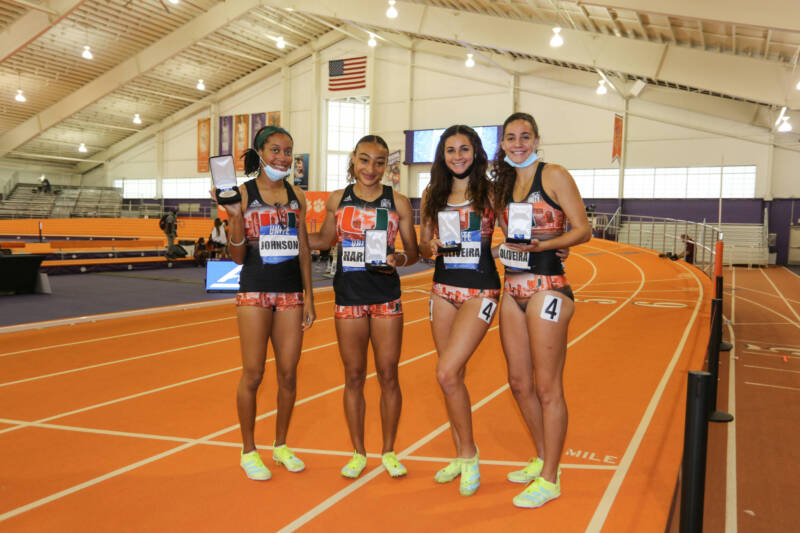 Along the way, Alfreda Steele finished second in the women's 60m matching her personal-best time of 7.25 seconds to score eight points. Sophomore Jacious Sears added four ppoints with her fifth-place performance at 7.40 seconds.
Harris added three more points with her sixth-place effort in the hurdles with her time of 8.30. Harris combined to score 21 points after helping the relay, finishing second in the long jump and her hurdles effort.
Johnson put on another program-record performance in the women's 800m, besting her previous record from Thursday's prelims to finish fourth, overall. Johnson finished with a time of 2:03.80, which ranks in the top 10 of the NCAA.
"I'm really proud of Kayla and Freda," Deem said. "Kayla has had a tough season, but it was great to finally see her do what everyone knows she's capable of doing and compete. Freda is also right there and running two personal bests and going to the national championships is huge."
Hannah Hall added two team points finishing seventh in the women's shot put with her mark of 15.31m.
The men's side featured freshman Oskars Bambals reaching the podium in his first ever conference meet with a third-place finish in the men's 800 with a time of 1:49.29. Sophomore Jeffrey Williams finished his indoor season with a big personal-best mar of 17.90m.
"I was happy for Jeff and Oskars today," Deem said. "Whenever a freshmen gets in in this league is always great and makes you excited for the future."