Miami Outshines Wake Forest on Senior Day
CORAL GABLES, Fla. – The Miami women's basketball team (10-10, 7-10 ACC) held off the surging Wake Forest Demon Deacons (11-10, 8-9 ACC) to come away with a 69-67 victory on Senior Day at the Watsco Center.
"That's a huge win against Wake Forest, an NCAA [tournament] team," head coach Katie Meier said. "They have great leadership as well and we knew it was going to be a close game. Every time we play Wake it is close."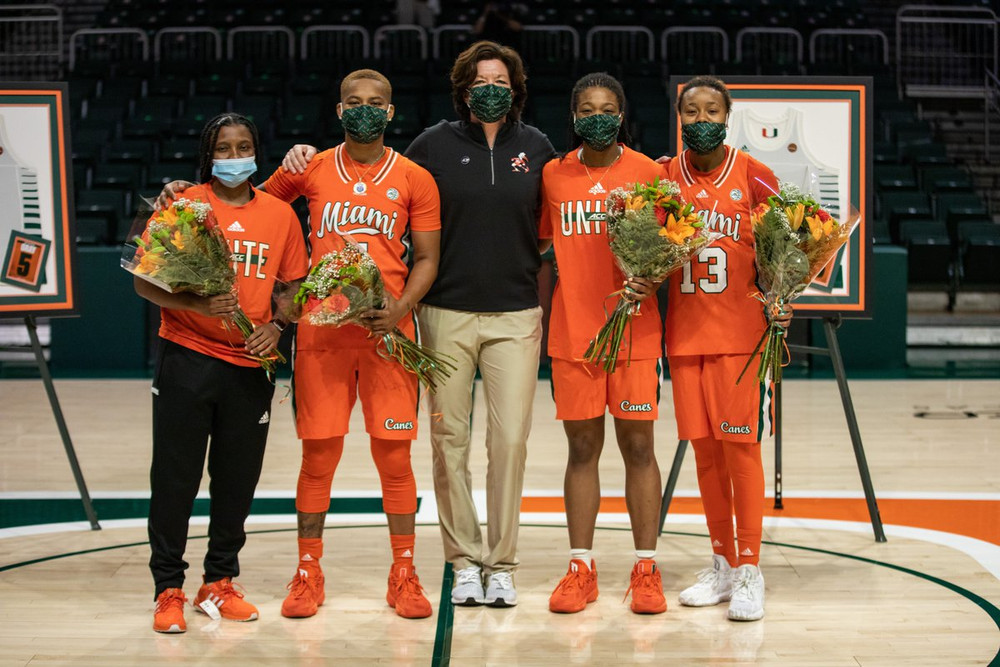 Four Canes scored in double-figures in the game, including seniors Kelsey Marshall and Endia Banks, who tallied 12 and 11 points, respectively.
"Those four very special [seniors] are just gritty," Meier said. "And that's what they have been the whole time they have been here. When the game got gritty like that, I felt really comfortable and confident in them because that is what they do."
Redshirt junior Destiny Harden paced the Canes in scoring, pouring in 15 points, to go along with five rebounds and two assists. Junior Naomi Mbandu joined the aforementioned trio in double-figures with 12 points in the contest, none bigger than her go-ahead layup with 23 seconds to go in the fourth quarter.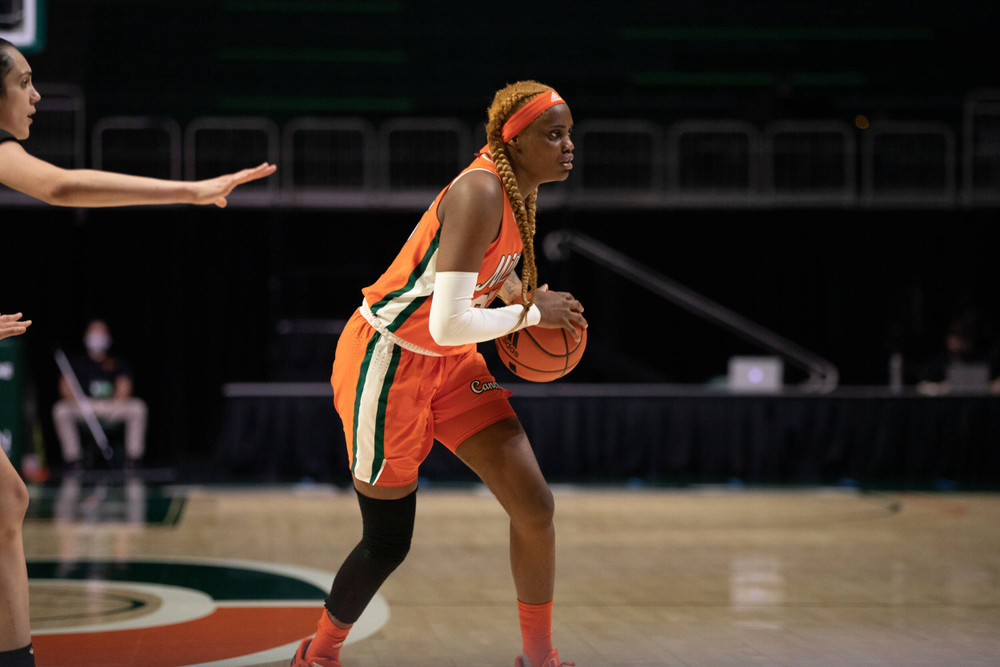 While the Demon Deacons struck first on an and-one play, the Canes quickly found their momentum embarking on a 9-0 run to take an 11-7 lead halfway through the quarter. Miami continued to attack the inside, with 10 of its 18 points in the frame coming in the paint.
Wake Forest took its first lead of the game at the 3:16 mark in the second quarter thanks to a 7-1 swing in favor of the Demon Deacons. However, freshman Nyayongah Gony came ready to play off the bench, knocking down a pair of 3-pointers in the final two minutes of the first half to put Miami back on top, 32-28.
The third quarter was full of back-and-forth basketball as each team poured in 21 points in the frame. Harden took over for the Canes, recording seven points on 3-of-3 shooting in the third quarter alone. Seven different Miami players scored in the frame, giving Miami a 53-49 lead heading into the final 10 minutes.
The Demon Deacons climbed back into the game with a 7-0 run in the fourth to make it a one-point contest with 4:55 remaining. Wake Forest took the lead on a layup by Ivana Raca, but Mbandu responded with her biggest scores of the night, putting in back-to-back layups to give Miami a 3-point lead with 23 seconds to go.
The Canes knocked down 3-of-4 shots from the free throw line in the final 10 seconds to clinch the 69-67 victory.