Arreaga and Wright Earn Gold at ACCs
CLEMSON, S.C. –  Canes and champions went hand in hand on the opening day of the ACC Indoor Track and Field Championships.
"I'm really excited after today, we had a lot of season bests and two ACC champions and got kids to the national meet," director of track and field Amy Deem said. "I'm really excited. You want to come to the championships and get personal bests and quite a few of those happened today. I think we started the weekend off well and hopefully the rest of the team will build off the energy today."
Taylor Wright remained undefeated on Clemson's track in the women's high jump, winning her third event of the season with a season-best mark of 1.79m.
In his historic career with the Canes, Kevin Arreaga added his first gold medal at an ACC Championship after posting a season best mark of 21.26m in the men's weight throw. On his third attempt, Arreaga jumped from fifth place with a mark of 19.32m to first at 21.14m and maintained the lead all the way through.
Sophomore Jeffrey Williams finished 13th with his season-best mark of 18.30m.
On the women's side, Debbie Ajagbe found her way back to the podium for the second-straight year in the weight throw. The senior finished third with her season-best mark of 21.76m, which ranks ninth in the NCAA. Junior Hannah-Sophia Hall finished seventh with her personal-best mark of 19.53m. The pair scored eight points to Miami's team total.
Freshman Oskars Bambals continues to climb Miami's all-time top five list in the men's 800m, running a career-best time of 1:48.78. Bambals now holds Miami's second-fastest time behind Tim Harris's time of 1:47.99. Bambals will compete in the 800m final on Saturday with the second-fastest time of the prelims.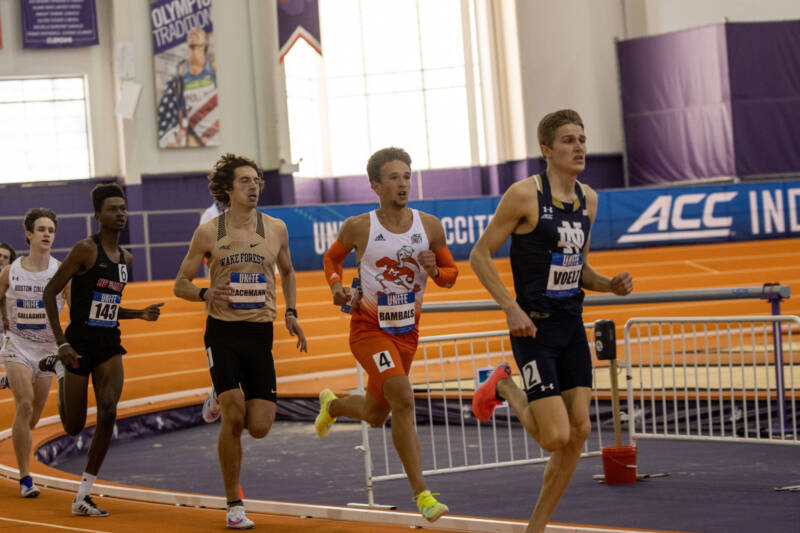 The Canes had two women advance to the 800m finals with senior Kayla Johnson improving her program-record time to 2:05.18 to finish second overall. Freshman Sierra Oliveira boasted a career-best time of 2:07.81 to advance to her first ACC final. Fellow freshman Natalie Varela also boasted a collegiate best in the event with her time of 2:11.12.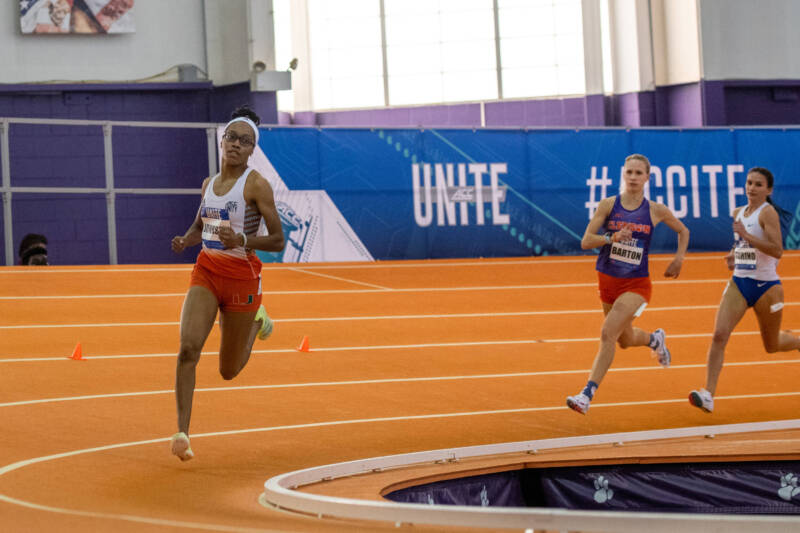 Freshman Jalen Gordon closed out day one of the championships with a personal-best time of 22.24 in the men's 200m.
After day one, Miami's women are in the third place with 18 points and the men in ninth with 10.5.
The Canes will return to action at 11 a.m. in the men's long jump as Kevin Snyder and Russell Robinson take the track for the first time this weekend.
"Tomorrow is a big day to advance," Deem said. "It's all about advancing. We have a lot of running events, so we need to go out there and run and compete with confidence. I'm looking for people to improve, score and advance to Saturday."