Aubone and Hannestad Win ACC Doubles Team of the Week
CORAL GABLES, Fla. – Franco Aubone and Benjamin Hannestad of the University of Miami men's tennis team garnered ACC Doubles Team of the Week accolades, as announced by the conference office Tuesday afternoon.
The nation's 22nd-ranked doubles pair helped the Hurricanes clinch both advantageous doubles points over the weekend, as Miami opened the league year 2-0 with wins over Georgia Tech (6-1) and Clemson (4-3).
"It means a lot to Franco and I to get this award after putting in hours of tactical work, as well as polishing up a few execution errors in big moments," Hannestad said. "The last two matches Franco and I have played with better intentions and reconnected with last year's outstanding court position. It's great to see our efforts haven't gone unnoticed and we are excited for what's to come."
"I have always said that we complement each other really well on the court," Aubone said. "I felt it from the very first time we played together. So, it's great to see that we can help the team and hopefully this award gives us the confidence we need to keep improving our game."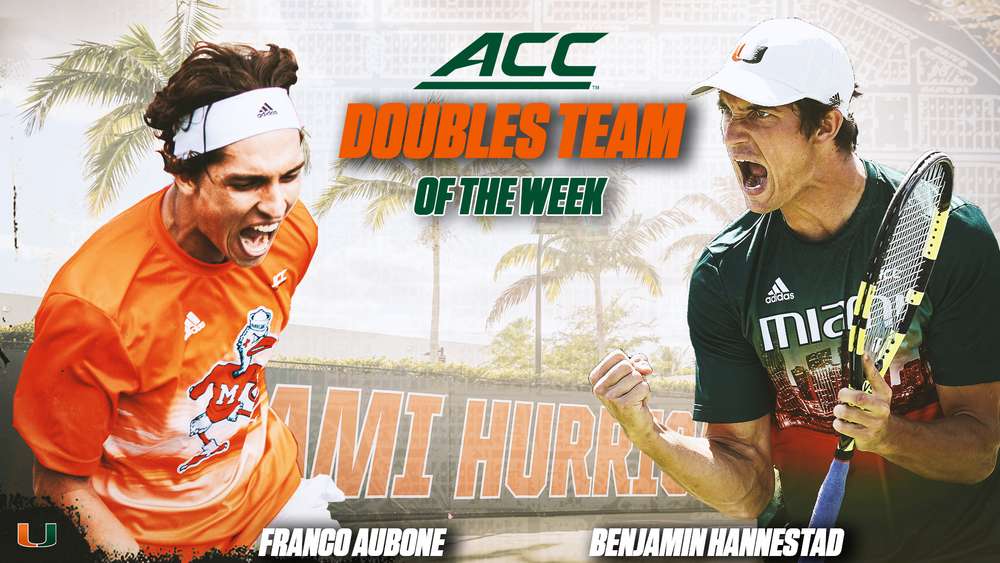 In the ACC opener on Friday, Aubone and Hannestad faced off in a top-40 doubles matchup, taking on Georgia Tech's Marcus McDaniel and Pablo Schelcher, ranked No. 31 by the ITA.
Following a win on court 3 by Bojan Jankulovski and Stephen Madonia, Aubone and Hannestad clinched the doubles point with a 6-3 triumph.
Two days later, the Hurricanes hosted the Tigers at the Neil Schiff Tennis Center in a back and forth affair.
What proved to be the deciding point in the contest, Aubone and Hannestad overcame a 2-3 deficit against Teodor Giusca and Yizhou Liu to earn the 6-3 victory.
"Doubles is about mastering minor details, especially in college when a match is only one set," Hannestad said. "When the pandemic hit us in March, it left us with a long break from matches and finding the match rhythm hasn't been easy for any tennis player out there. Franco and I, as well as the team, have been working on adjusting some minor details in our doubles games that has gotten us back on track. We didn't start this season where we left off last year, however we are getting our experience back from every match we play and it feels good to be competing next to Franco again."
Up next, Miami is set to host FGCU Saturday at 1 p.m.
"I don't want to speak for Franco on this matter, but we are currently just focusing on doing the right things on the court and playing the game the way we want to play it. This is because, if we execute like we know we are able to, then we can create issues for any doubles team in the country," Hannestad said. "Therefor, my goal for us is to keep growing as a doubles team and focus on what we can control, while helping put points on the board so we can win team matches all together. It's the spring semester which means it's tennis season and it's all about the team in the end"