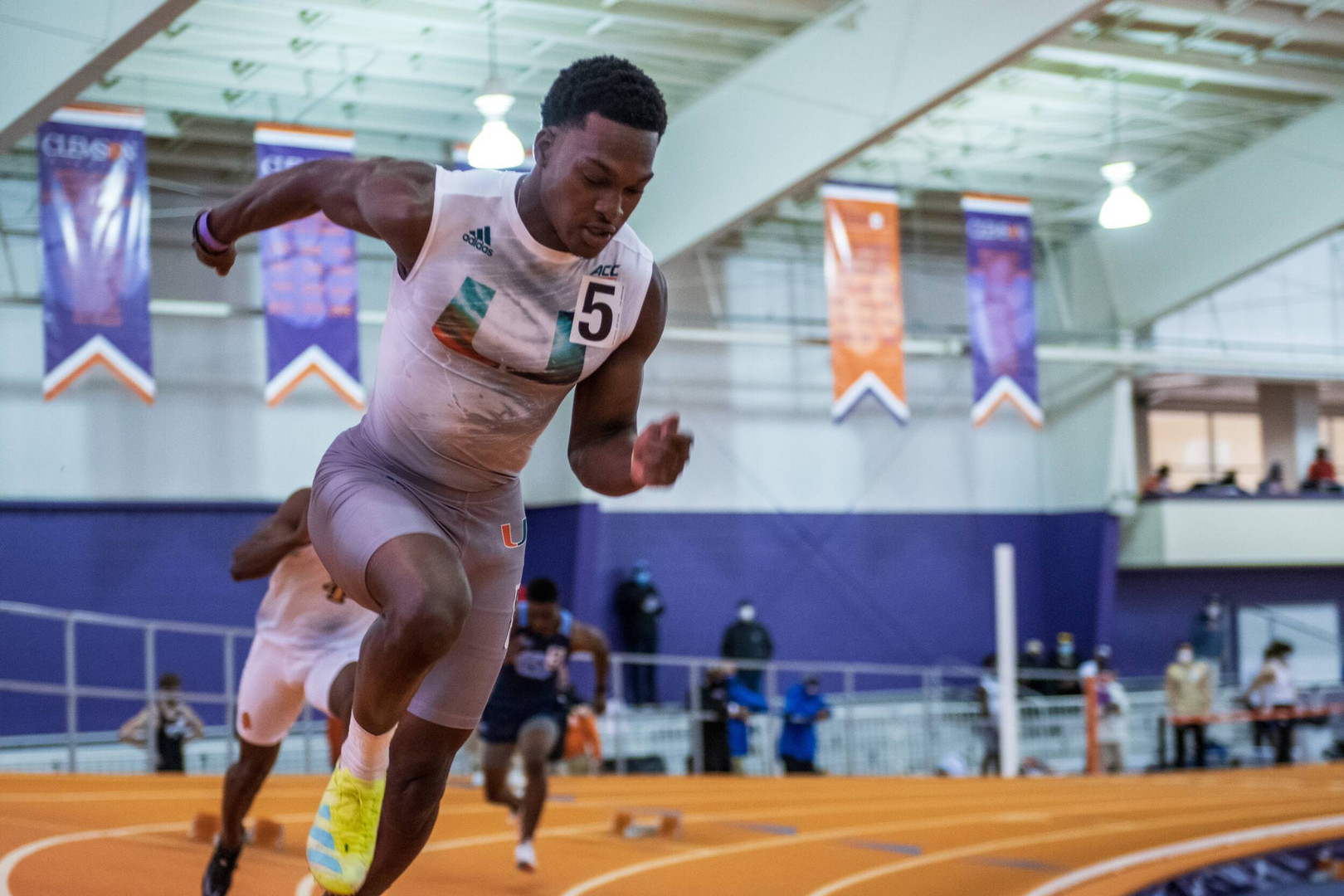 CORAL GABLES, FLA. – There were no butterflies, no nerves, no pre-race jitters.
As Khamal Stewart-Baynes stepped onto the track for his first competitive race in two years, there was a sense of gratitude – and plenty of excitement.
Stewart-Baynes channeled those emotions into a performance that quickly added his name to the Hurricanes record book.
At last weekend's Tiger Paw Invitational, Stewart-Baynes posted a 47.37 in the 400 meters, a time good enough to rank third in Miami history. A day later, he and teammates Solomon Strader, Ramy Berberena and Oskars Bambals combined to run a 3:08.63 in the 4×400-meter relay, breaking a 25-year-old Miami record in the process.
For most, that would be considered a successful Hurricanes debut, especially since it came after a two-year break prompted by a transfer, a series of injuries and the COVID-19 pandemic.
Stewart-Baynes, though, believes he can – and will – do better moving forward.
"I was just thankful to be out there and be able to compete. Going out there and competing for the first time and getting some rust off felt good," Stewart-Baynes said. "Being third in the record book feels good too, but I feel like that's not good enough. It's not where I want to be right now. I know I can do a lot better. I'm just excited for all the upcoming meets."
The Hurricanes are excited to see what's ahead for Stewart-Baynes, too.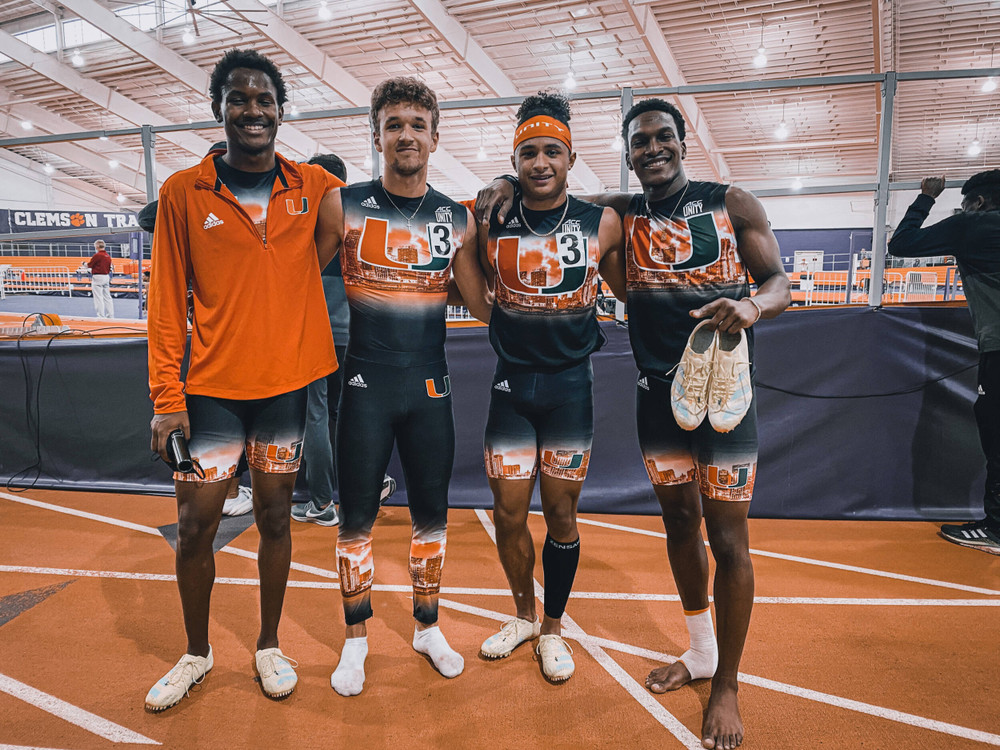 The sprinter, who hails from St. Vincent but grew up in Canada, joined the Hurricanes after a successful junior college career at Western Texas College. His first year at Miami, he sat out to satisfy NCAA transfer requirements and continue rehabbing hamstring and Achilles injuries that had hampered him a season earlier.
Any hopes of getting back on the track during his second year as a Hurricane were dashed last spring when the Covid-19 pandemic halted college sports across the country.
As disappointing as that may have been, though, Stewart-Baynes tried to remain optimistic.
The pandemic, he noted, gave him more time to rest and get his body right, a task that he found easier thanks to the support of his Miami teammates, coaches and athletic training staff.
"I was battling injuries throughout the last two years, so I just felt like I had more time to prepare. It was like 'Okay, now I can really focus on my body and getting in shape and being the best I can be when I am able to compete,'" Stewart-Baynes said. "Me just being me, I always believe in myself. I've always dealt with injuries and I always come out stronger. I just make sure I work on my body and just stay focused on what I need to do. I want to go to the Olympics, so being focused on that, that's what really helped me."
That dream of representing Canada is part of the reason Stewart-Baynes is at Miami.
During the recruiting process, he understood competing against top-notch collegiate athletes across the United States would help him improve ahead of the Canadian Olympic trials. And he connected quickly with all of Miami's coaches, particularly Amy Deem, the Hurricanes' director of track and field who has plenty of Olympic coaching experience herself, and sprint coaches Diego Flaquer and Michael DeHaven.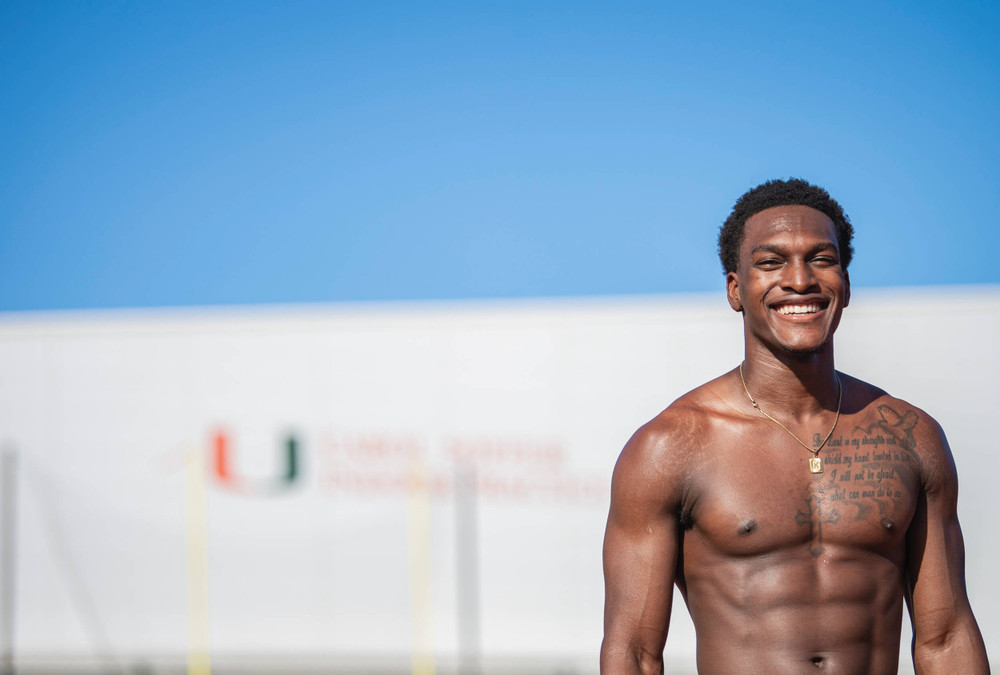 "You know, credit to Coach DeHaven and Coach Flaquer, who did a great job of initially, building a relationship with him," Deem said of Stewart-Baynes. "Then when he came in on the visit, I just really clicked with him and I knew we were going to support him and stand behind him [during the transfer process]. I just knew he was going to continue to grow and mature he's got a great relationship with all of us. I really think he's going to flourish in this environment and just continue to build confidence here. And he's doing well in every aspect, academically and athletically. I'm excited about his future."
Added Flaquer, "At the end of the day, I think he's a pretty resilient kid. I think he knows that when he's down to race, he's pretty mentally locked in. 'I've got to go. I've got to compete.' He knew there were some things he had to address as far as injuries and stuff, but he used his time wisely to take care of his body and get in shape. … And I think he saw in us, that the men's program is going in the right direction.. The weather helped and I think the small classes where he'd be able to get a lot of attention and a lot of academic support all lined up and we were a perfect fit for him."
Stewart-Baynes is inclined to agree.
"Every day that I'm out here, I love it," he said simply.
Now, the sprinter who once upon a time only tried out for his high school track team in order to get out of class earlier than some of his classmates, is ready to take what's next – on the track, in the classroom and beyond.
"I just take it race by race," Stewart-Baynes said. "Every race, I get better. I notice some things I need to work on and the next race, I'll just take it there. I try to build on every race, to be honest. It feels good to put my name in the record books because I put in a lot of work here. … It really does feel good. The coaches believe in me and they know what I'm capable of. It feels good to make them proud and see the work pay off."