Team Effort Lifts Canes Past Eagles
CORAL GABLES, Fla. – The Miami women's basketball team (9-10, 6-10 ACC) used a dominant second-half performance to defeat the Boston College Eagles (5-10, 1-10 ACC), 77-60, Thursday night at the Watsco Center.
"We were waiting around for a spark on offense, so we just started focusing on defense and getting stops against a very good Boston College team," head coach Katie Meier said. "When we started rebounding on defense and got ahead, we found ourselves."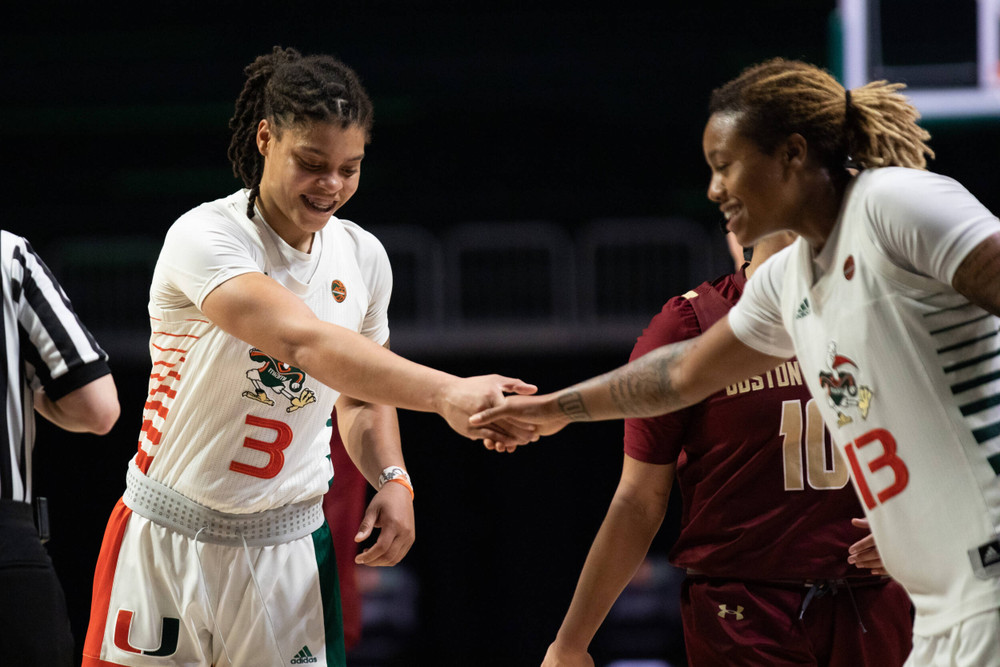 It was an all-out team effort for Miami as five different Canes scored in double-figures in the contest. Redshirt junior Destiny Harden led the offensive brigade for Miami, tallying 20 points and nine rebounds. Harden's 20-piece ties her career high and is her third 20-point outing of the season.
Senior Endia Banks finished the night with 11 points and 10 rebounds for her second career double-double. Her classmates Kelsey Marshall and Taylor Mason, as well as junior Karla Erjavec, joined he in double-figures with 11 points apiece.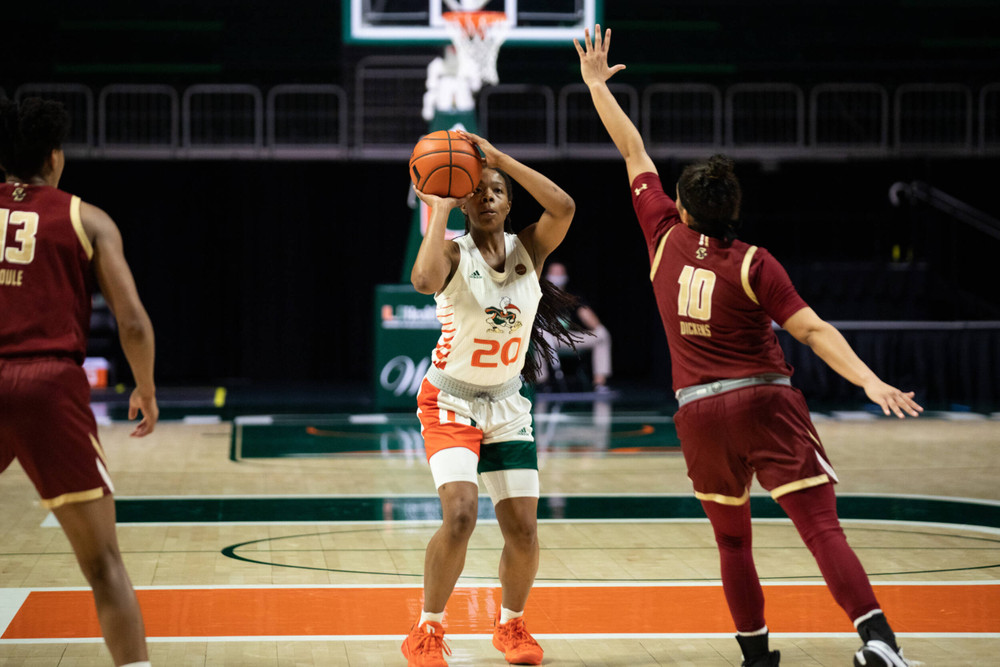 Boston College took an early 12-3 lead in the opening quarter, but the Miami defense locked down, holding the Eagles to just five points in the final five minutes of the first. A trio of Canes knocked down a 3-pointer in the quarter to cut the Boston College lead to four, 17-13, at the end of one.
Erjavec ignited the Canes' offense in the second quarter, tallying nine points on 3-of-5 shooting in the frame. As a team, Miami posted a .438 clip from the field to match Boston College with 20 points in the frame.
The Canes came out of the locker room on a mission, embarking on a 6-0 run to take the lead for the first time in the game. Harden was instrumental in the Canes' third-quarter success, tallying six points and five rebounds in the frame. Miami outscored Boston College 17-11 in the quarter to take a two-point lead into the final 10 minutes.
The Eagles recorded the first bucket of the fourth quarter, but Marshall responded with a step-back jumper to spark a 10-0 Canes run. Marshall took over in the frame, totaling eight of her 11 points in the fourth quarter alone. The Canes were relentless in the final minutes of the game, outscoring Boston College, 27-12, in the fourth.