Miami Focused on Game Ahead
CORAL GABLES, Fla. – It has been a long stretch of games for the Miami women's basketball team as the Canes are set to play their fourth game in eight days on Thursday.
Miami is one of just three ACC teams that have played four conference teams in an eight-day stretch this season.
Because of the two-day turnaround, the Canes have to put their 67-56 loss to Georgia Tech behind them and focus on the task ahead, besting Boston College at the Watsco Center.
Something Miami hopes to carry into Thursday is the season-best performance from junior Karla Erjavec.
"Karla was really focused and paid attention to the details of the game plan and the schemes of Georgia Tech," head coach Katie Meier said. "She had the mental sophistication to find the shot for herself or share the ball. I thought she played a really great offensive game."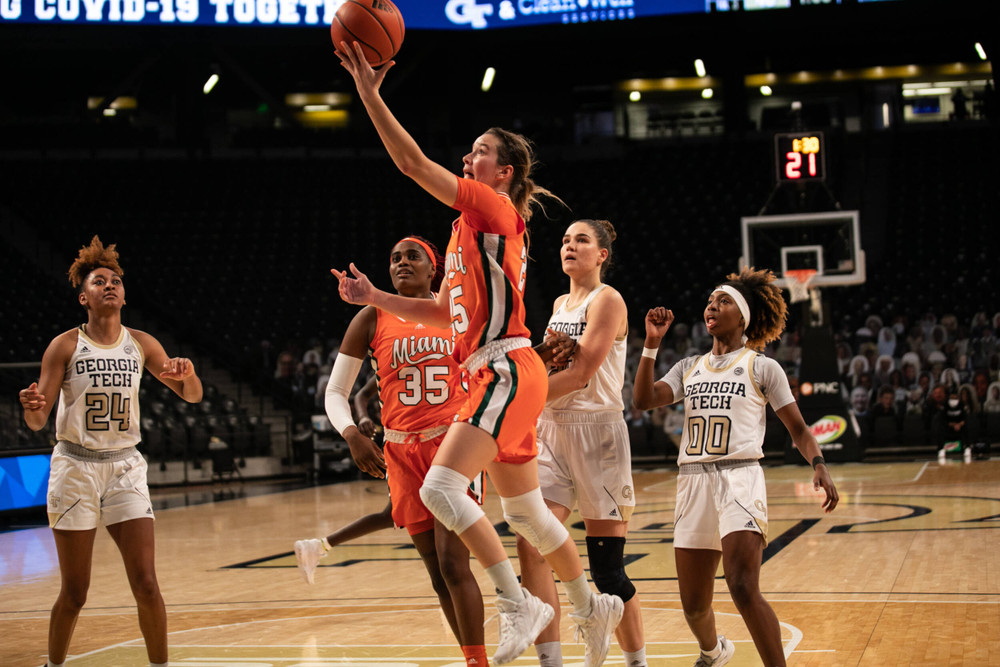 Erjavec finished the game with a season-high 13 points to go along with five assists and two rebounds. Over the last four games, Erjavec is averaging a team-best 4.3 assists per contest.
The key for the Canes heading into Thursday's contest is to maintain their focus for a full 40 minutes.
"We were scrapping and doing what we could against Georgia Tech," Meier said. "But we lost our focus in those lulls when we weren't scoring and we can't afford to do that."
Miami holds the advantage in the series history with Boston College, emerging victorious is 28 of 45 contests. When playing in Coral Gables, Fla., the Canes are 16-5. Miami has come out on top in eight of the last 10 meetings.
Tipoff is set for 8 p.m. and the game will air on ACC Network Extra with Kyle Sielaff and Alex Schwartz on the call. Fans can also listen to the game on WVUM 90.5.