Canes' Comeback Falls Short at Florida State
TALLAHASSEE, Fla. – The Miami women's basketball team (8-9, 5-9 ACC) fell short of the Florida State Seminoles (8-5, 7-5 ACC), 67-59, Sunday afternoon in Tallahassee, Fla.
The Canes' bench came to play, accounting for 30 of Miami's 59 points in the contest, paced by senior Taylor Mason, who recorded her third double-digit effort in the last four games with 13 points. Redshirt junior Destiny Harden joined her in double-figures with 12 points.
Down as much as 18 in the game, the Canes shot 48.1 percent in the second half to narrow the lead to seven in the fourth quarter but could not complete the comeback. Freshman Nyayongah Gony poured in a career-best three 3-pointers in the contest.
Harden knocked down the first bucket of the game for Miami, but the Seminoles countered with a 10-0 run to take the lead. The Canes got contributions from Kelsey Marshall, Sydnee Roby and Jamir Huston in the final three minutes of the quarter, but trailed Florida State, 18-8, after one.
Miami cut the Seminoles' lead to seven at the 6:49 mark in the second on a 3-pointer by Gony. Despite a trio of threes in the quarter, the Canes entered halftime down 35-21.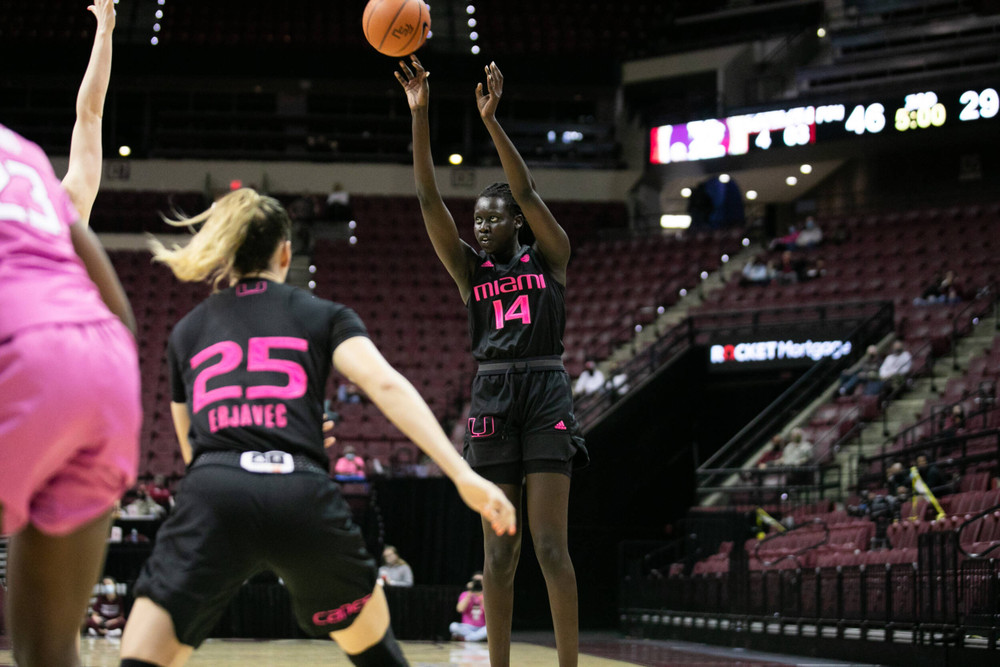 Florida State attacked the paint coming out of the locker room, recording back-to-back layups to stretch its lead to 18. However, the Canes continued to battle, embarking on a 10-2 run in the final three minutes of the third to outscore the Seminoles, 25-18, in the quarter. Miami's run was highlighted by back-to-back 3-pointers by Gony and junior Naomi Mbandu.
Both teams got off to a slow start in the fourth, as the score remained tied at two for the first five minutes of the frame. The teams traded baskets through the remainder of the quarter, but the Seminoles posted a 14-13 edge in the frame to cap the victory.