Men's Relay Break 25-Year Record
CLEMSON, S.C. – The men's relay of the Miami track and field program broke a 25-year old program record to conclude the Tiger Paw Invitational on Saturday. 
Solomon Strader, Khamal Stewart-Baynes, Ramy Berberena and Oskars Bambals combined to run a time of 3:08.63 to hold Miami's top time in program history. The time ranks as the 18th-fastest time in the NCAA. Miami's women of Blanca Hervas, Moriah Oliveira, Kayla Johnson and Sierra Oliveira ran a season-best time of 3:39.13 and finished third, overall.
"It was a great way to finish the meet off," director of track and field/cross country Amy Deem said. "The men's team was so competitive and they really went for it. They've been working really hard and it was a lot of fun to watch and I'm really happy for them. I'm also proud of the women who ran a season-best and I know they're capable of more."
Miami's field athletes took care of business, winning three events, including sweeping the weight throw.
Senior Kevin Arreaga claimed the men's event with his season-best throw of 21.19m. It's the first time Miami's program record holder has thrown over 21 meters this season. The mark ranks as the 16th-best in the NCAA this season. Senior Debbie Ajagbe took first place on the women's side with her season-best mark of 20.80m, which pushed her into the top 20 of the NCAA at No. 15.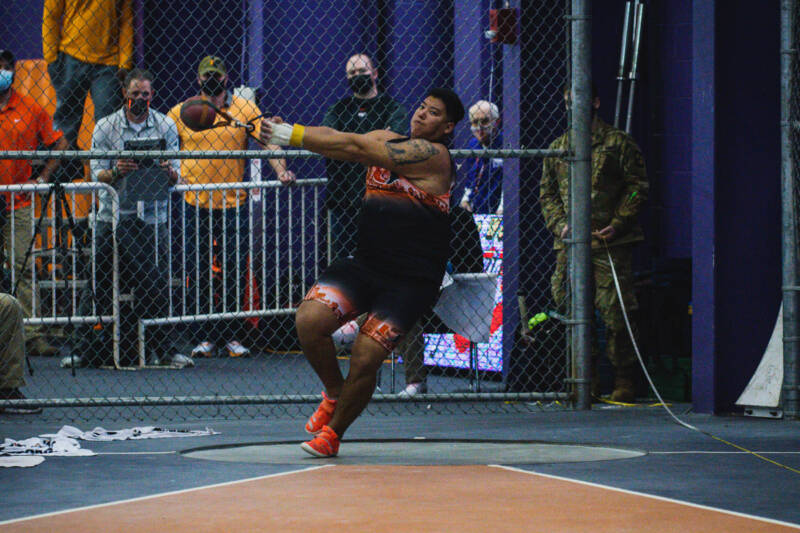 "I think we had a really strong showing in the weight throw today and I was really proud of Debbie and Kevin," Deem said. "It's nice to see them really putting it together at the right time."
Junior Hannah Hall registered a personal-best mark of 19.13m to finish sixth overall.
Sophomore Taylor Wright won her second high jump event on Clemson's track this season, this time with a height of 1.77m. Wright cleared both 1.67m and 1.72m on her first attempts and needed just two chances at 1.77 to take the event.
"She's right there for that big jump and I know she really wants that next big jump," Deem said. "It's right there, a win is great, but we know she'll do better when it counts."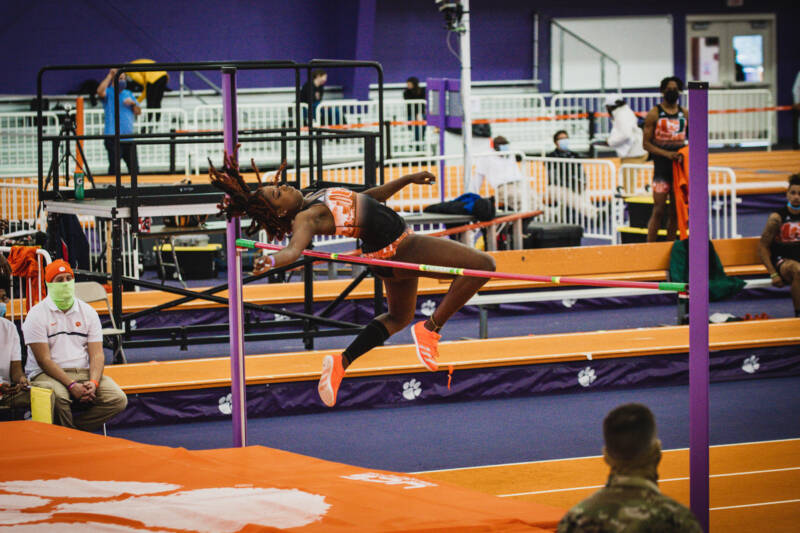 The men's triple jump had three Canes jump better than 15 meters. Sophomore Justin Forde led the squad with his third-place finish at 15.59m. Fellow sophomores Russell Robinson finished fifth at 15.48m, while Kevin Snyder finished eighth with a season-best jump at 15.18m.
Johnson got the track events started on Saturday, posting a top-10 finish in the women's 800m with a time of 2:09.28 to finish ninth. Freshmen Sierra Oliveira recorded a personal-best time of 2:10.34 and Natalie Varela added a collegiate-best time of 2:15.73.
Bambals improved his personal best and Miami's third-best all-time 800m time to 1:50.81 to finish seventh overall.
Freshmen Ryler Gould and Jalen Gordon ran a 22.53 and 22.56 in the men's 200m, respectively. Sophomore Jacious Sears finished seventh on the women's side at 23.71.
Miami returns to Clemson for its third and final time this indoor season on Feb. 26 – Feb. 27 for the ACC Indoor Track and Field Championships.
"We were solid across the board today and even in the events we didn't do as well as I thought we could do, I still feel like we'll put it together at the right time," Deem said. "In two weeks, we'll put on a really strong showing."