Stewart-Baynes Cracks Miami's 400m Top 5 List
CLEMSON, S.C. – Two years was worth the wait to see Khamal Stewart-Baynes debut for the Miami track and field team.
In his first collegiate race with Miami, Stewart-Baynes broke into the programs all-time top five list in the men's 400m at No. 3 with his time of 47.37 seconds at the Tiger Paw Invitational.
Five freshmen also competed in the event with Solomon Strader finishing close behind with a time of 47.96, Ramy Berberena at 48.78, Oskars Bambals at 48.94 and Ryler Gould and Jalen Gordon finishing at 49.60 and 50.35, respectively.
On the women's side, freshmen Moriah Oliveira and Blanca Hervas both boasted top-10 finishes in the event. Oliveira finished sixth with her time of 54.47, while Hervas finished just behind in seventh with a time of 55.12.
Graduate student Alfreda Steele finished third in the women's 60m dash with her time of 7.35 and freshman Jacious Sears finished seventh at 7.38 seconds. Sears will return to the track tomorrow for the women's 200m dash, an event she won in the last outing at Clemson with a time of 23.65.
Senior Tiara McMinn finished sixth in the women's 60m hurdles with an NCAA top-10 time of 8.13, while Lauryn Harris finished with a time of 8.51. McMinn's time is now tied for the seventh-fastest time in the even this season.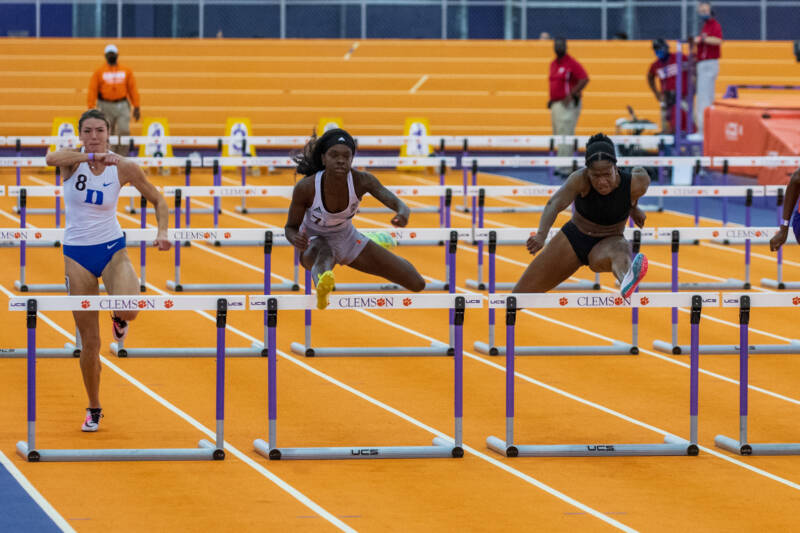 Closing out the track events on the women's side, freshmen Natalie Varela and Sierra Oliveira competed in the mile. Varela posted an 11-second personal-best time at 5:06.82 to finish 12th, while Oliveira came in at 5:19.14.
Colin Wilson made his first appearance in Clemson in the men's mile with his time of 4:32.55, concluding the track events for day one of the meet.
Miami competed in just two field events on Thursday in the men's long jump and women's shot put. Sophomore Russell Robinson finished sixth overall in the long jump with a mark of 7.33m, just shy of his season best 7.34m recorded at Texas Tech.
The Canes posted three, top-10 finishes in the shot put with Debbie Ajagbe finishing fifth (15.61m), Selina Dantzler in sixth (14.99m) and Hannah Sophia Hall in seventh at 14.85m. Kristina Rakocevic finished 12th at 12.80m.
Miami returns to the Tiger Paw Invitational, beginning with the men's weight throw and triple jump and women's high jump at 11 a.m., and women's 800m at noon.