Miami Drops Home Contest to Virginia Tech
CORAL GABLES, Fla. – Despite an efficient second half of basketball, the Miami women's basketball team (8-8, 5-8 ACC) could not complete the comeback against the Virginia Tech Hokies (11-7, 6-7 ACC), falling 75-55, Thursday night at the Watsco Center.
Redshirt junior Destiny Harden tallied her third career double-double in the contest, totaling 20 points and 12 rebounds. Seniors Kelsey Marshall and Endia Banks joined Harden in double-figures, tallying 15 and 11 points, respectively.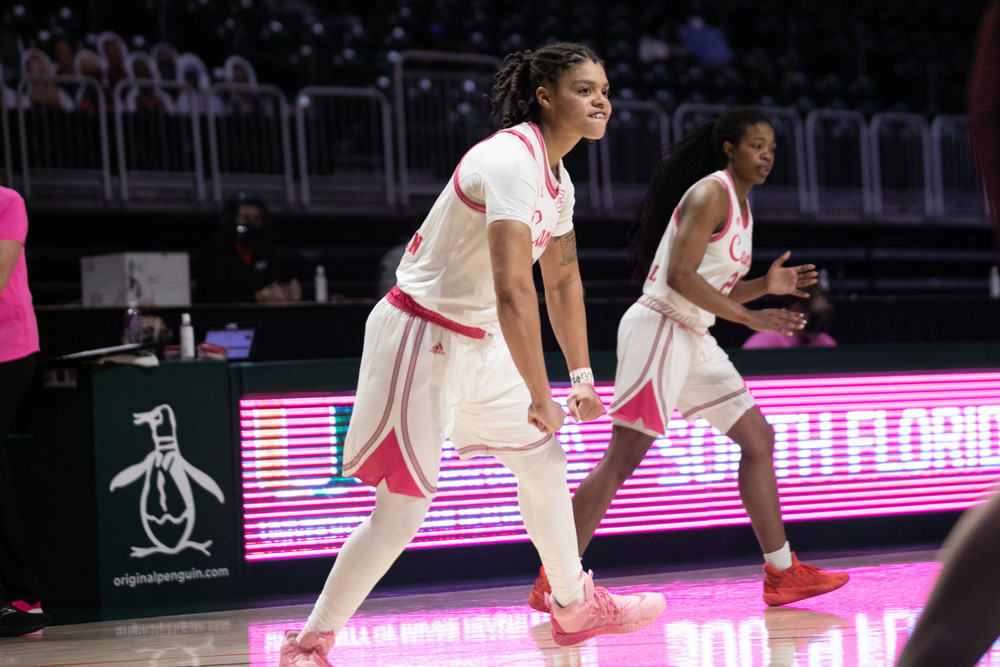 Miami jumped out to an early 6-2 lead thanks to a trio of buckets in the paint, but Virginia Tech responded with an 11-3 run to take a 6-point lead, its largest lead of the quarter. Harden and Mbandu paced the Canes with five points in the first frame.
The Hokies extended their lead to a then-game-high 18 points midway through the second quarter thanks to a 44 percent shooting effort. However, Miami closed the frame with back-to-back layups to cut the Virginia Tech lead to 14 at the halfway mark.
Four Canes accounted for all 27 of Miami's points in the first half, paced by Marshall who totaled nine of her 15 points in the first 20 minutes.
Miami kicked off the second half with a pair of 3-pointers to pull to within 10, but the Hokies countered with a 7-0 run to put the lead back up to 17. Following the media timeout, the Canes went to work, outscoring Virginia Tech 14-8 in the final five minutes of the quarter. Harden finished with seven points and four rebounds in the third quarter to reach double-double status.
The Hokies scored 10 straight points to start the fourth quarter and held onto the lead for the remainder of the game, despite the continued effort from Harden, who added six points and one rebounds to her stat line in the fourth.