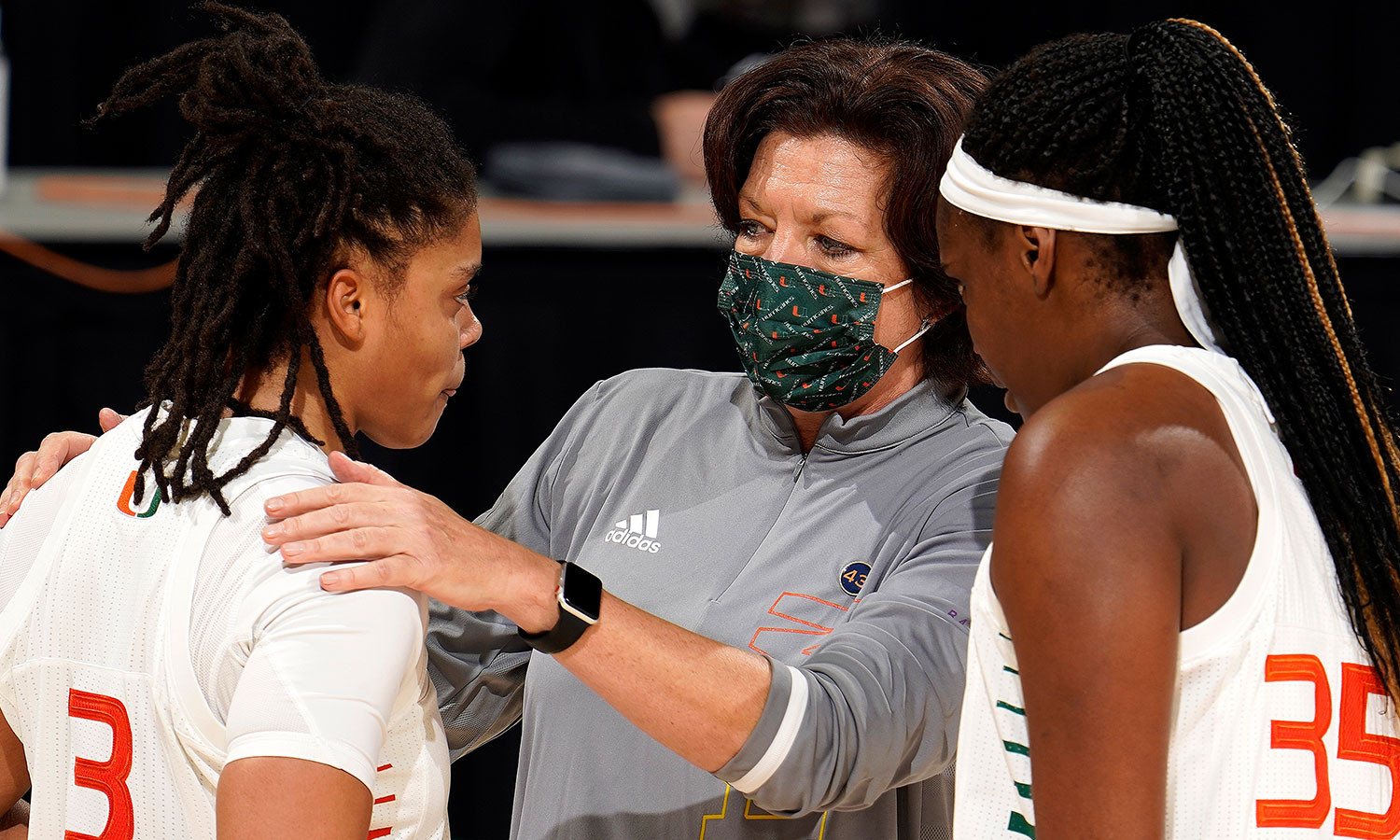 CORAL GABLES, Fla. – The hugs. The encouragement. The support in some of her darkest times.
When Endia Banks thinks of the impact Katie Meier has had on her life, on her basketball career and on her time at the University of Miami, it's what the veteran head coach has done away from the court that has made the biggest impression.
"She has been one of the best mentors in my life so far," Banks said of her relationship with Meier. "I've gone through a lot with my family, losing both of my grandparents who meant the world to me and she's taught me how to cope and how to think of all the positive things they taught me. She reminded me that I have to keep getting better for myself and set an example for my sisters.
"It's always given me comfort just to know that I have somebody I can lean on as a coach and as a mentor. She's always made me feel comfortable and able to open up to her if I needed to."
Banks isn't the only Hurricane to have connected with her coach in such a personal way.
During Meier's 16-year tenure at Miami – one that last weekend was highlighted by Meier notching her 300th win as a Hurricane in Miami's 68-53 victory over Florida State – the coach has made it a priority to treat her players and staffers as family, not merely cogs in a basketball machine.
And that, those players and staffers say, is why Meier has been as successful as she's been.
"It's not just about basketball with her. She cares about how we are after basketball and what we're going to be as adult women. She wants to put us in the best place so we can be successful and the only way you're going to do that is by being a family," said Morgan Stroman, who played for Meier, was a part of three Hurricanes' NCAA Tournament teams and is now Miami's Assistant Director of Operations. "Coach really pushes for that, that bond with each other. She wants to make sure the relationships are cohesive and that's what you need within a family and a system."
It's an approach that has helped make Meier and the Hurricanes consistent winners.
With Meier at the helm, Miami has made 11 postseason appearances, including 10 straight from 2009-2019. She has led the Hurricanes to nine 20-win seasons, produced 25 professional players, while five of her former players have been WNBA draft picks and six have been recognized as All-Americans.
In 2011, Meier was named the AP Coach of the Year and after leading the United States to a gold medal in the 2013 FIBA U19 World Championship, she was named the 2013 USA Basketball National Coach of the Year. In 2017, she was inducted into the UM Sports Hall of Fame.
Yet some of those who know her best say it's not the trophies and individual accolades that matter most to Meier – a fact driven home by how quick Meier was to note after Sunday's win that her milestone win belonged not just to her, but everyone in the program.
The coach, they say, wants success for everyone around her.
"If you look at Katie Meier's resume, first, she's probably one of the smartest people I've ever been around. She's got gold medals. She's been National Coach of the Year … So many people have egos out the door and that's not her," said Octavia Blue, a former star for the Hurricanes who now serves as the Associate Head Coach on Meier's staff. "She's always mentoring the younger people on the staff. She loves to teach. She's always grooming people to be coaches and helping them succeed in areas where they want to succeed in this business. That's been really cool for me, watching her work and taking information from everyone. If someone was cleaning the Watsco Center and they had a point for her on how to beat Florida State, she'd take it. That's one of the coolest things about her with the resume she has."
Added Stroman, "I think of her just being a role model, especially in the women's basketball community. … She's given me responsibility, she's held me accountable. I was able to take on more within the game because of Coach Meier."
And Meier's impact extends beyond the court at the Watsco Center.
One of the most recognizable ambassadors for the University, the coach is a fixture at events across campus. She has forged close bonds with more than a few of her fellow coaches and is often seen cheering their teams on when her own isn't playing. And in conjunction with a 2014 contract extension, Meier donated $75,000 to women's athletics at Miami and challenged women's sports fans across South Florida to do the same. The challenge is still ongoing.
There's little doubt Meier has an appreciation for the University and community around her. That appreciation has also made an impact on her players past and present.
"She would do anything for Miami and I feel like it's just great to have her in this position. We're all just very appreciative of her," Stroman said. "She's going to ride or die for Miami. She wears it on her chest, goes out there and gives her all every single time we have something. I just think it means the world to her."
For her part, Meier would say there's a reason her affinity for Miami runs so deep.
The school, she notes, has welcomed her and supported her from the start.
"I think [winning 300 games] is more so a testament to the University than it is to me. The fact that they are so committed to my program and to me and my vision and my principles and my values that they've kept me around this long," Meier laughed. "That's truly it. The staff and the players certainly show up every day and give their best and are proud Hurricanes, too. But you don't get good people unless you have people that allow you to hire good people. And I just think through the years, it's really important that at the University of Miami, from the President's office to the Athletic Director's office to the Senior Women's Administrator on down has always given the nod in the meetings I'm not in. … It helps having people say [women's basketball] is important to us. It's all a byproduct of that."