Miami Dominates the Paint in Victory Over Florida State
CORAL GABLES, Fla. – The Miami women's basketball team (8-7, 5-7 ACC) used an electric second-half performance to best in-state rival, the Florida State Seminoles (6-5, 5-5 ACC), 68-53, Sunday afternoon at the Watsco Center.
"It was a great team effort," head coach Katie Meier said. "They earned it and worked hard and stayed faithful. I'm really proud that we came out against a big rival, didn't panic and trusted each other."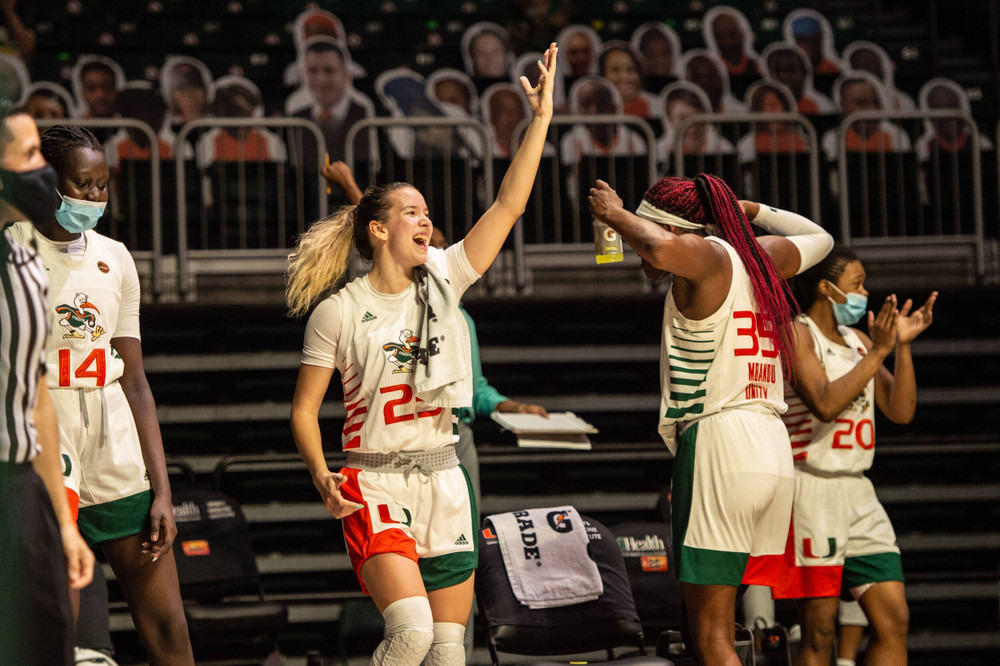 Four Canes scored in double-figures in the game, paced by junior Naomi Mbandu who finished the afternoon with 16 points. The Tarbes, France, native shot 7-of-11 from the field and added seven rebounds and four assists to her stat line. Seniors Taylor Mason (15), Endia Banks (12) and Kelsey Marshall (12) all joined Mbandu in double-figures.
Redshirt junior Destiny Harden dominated the boards for the Canes, hauling in 12 rebounds for her third-career double-digit rebounding effort.
With the three-ball not falling, Miami was aggressive inside against the Seminoles, totaling 48 points in the paint, which is a new season high for the Canes. Miami has tallied 30-plus points in the paint six times this season.
It was a slow start to the game for both teams as neither shot better than 30 percent in the first quarter. However, the Miami offense started to click in the second frame and the Canes outscored Florida State, 15-13, to cut the deficit to two at halftime.
Miami came out of the locker room on a mission, embarking on a 9-2 run to take its first lead since the first quarter. The Canes knocked down their first eight shot attempts of the frame and finished the quarter shooting 84.6 percent (11-of-13). Banks and Mbandu came alive for Miami, totaling eight points apiece in the third to give the Canes a 48-36 lead with 10 minutes to go.
The Canes continued their offensive attack in the fourth quarter, putting up 20 points on 9-of-16 shooting. Six different Cane tallied a bucket in the frame, including a pair of scores from Harden, Mbandu and Mason. Miami more than doubled its shooting percentage from the first half to the second half, increasing its clip from .286 to .714.
Miami held Florida State to a season-low 53 points to cruise to the 68-53 victory.