The Opportunity to Improve
CORAL GABLES, Fla. – Miami's track and field culture, coaching staff, success and weather are second to none.
All of that was noticed by sophomore transfer Lauryn Harris when looking for a new place to call home.
"Even through the phone, I definitely could tell the coaching staff would really care about my development and my success, rather than just solely caring about me being able to score points," Harris said. "Just through those small conversations, I felt like this was a great program for me as far as coaching and being able to develop my skills."
Harris being both a hurdler and a long jumper was just what director of track and field/cross country Amy Deem and staff were looking for.
"From the first time we spoke, I felt Lauryn would be a great fit for the program," Deem said. "She learns quickly and I am excited about her future."
Harris brings her own deck of success after just one indoor season at the University of Pennsylvania. Not only does she boast the Quakers' top time in the 60m hurdles (8.38) and the second-best mark in the long jump at 5.98m, but she was also a 2020 Ivy League Indoor Heps team champion.
"I was pretty happy once I got the record, but it wasn't something I went into the season hoping to get," Harris said. "I was just happy to see that I could make a difference and get on the board at Penn, which gave me a little bit of confidence going into the rest of my collegiate career."
Now at Miami, training under the direction of Deem, Harris is looking to improve her time and hone in on her technique.
"I am definitely confident that my time is going to come down drastically," the Cheltenham, Md., native said. "I see the work that she's done with Tiara [McMinn] and just how she's helped her to progress and I can see that same type of progression happening for me."
Training with the likes of McMinn, who reached the 2020 NCAA Indoor Track and Field Championships with a program-record time of 7.95, and 2019 NCAA Indoor Pentathlon Champion Michelle Atherley, Harris is both inspired and sometimes intimated of the success.
It's a challenge and a luxury that Harris believes will only make her better as the season progresses.
"I just put it in perspective that [McMinn] is an amazing hurdler and that if I just keep working at it, keep working to get up there and run with her, that I'll be great, as well," Harris said.
The Cane returners have taken the young sophomore under their directions, helping Harris adjust to the life in Miami and also become acquainted with the ins and outs of track practice.
Atherley was a big part in Harris's transition period, helping her navigate classes and getting to know her new teammates.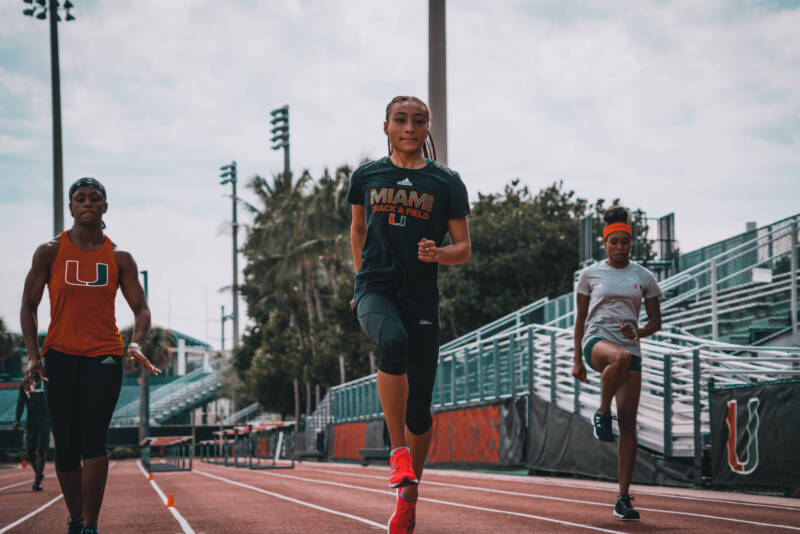 "I was her contact outside of the coaches and helping her adjust to Miami and kind of shared the team dynamic  before she got here," Atherley said. "I think she fits in really well because she's a hard worker, she's really talented, a kind person and everyone vibes with her."
Harris credits the duo on being technically sound in the hurdles and helpful if she struggles during certain drills, providing tips they noticed on the track. It's a welcome adjustment having such strong training partners.
Now, a year removed from the track due to COVID-19, Harris has an indoor meet under her belt as a Miami Hurricane. Harris reached the 60m hurdles final and finished seventh with a time of 8.45 seconds at the Bob Pollock Invitational in Clemson, S.C, last weekend.
"I was really nervous going into it, but definitely excited," Harris said. "I felt physically ready, but the mental aspect of being away from competition for almost a year was a very nerve-wracking experience."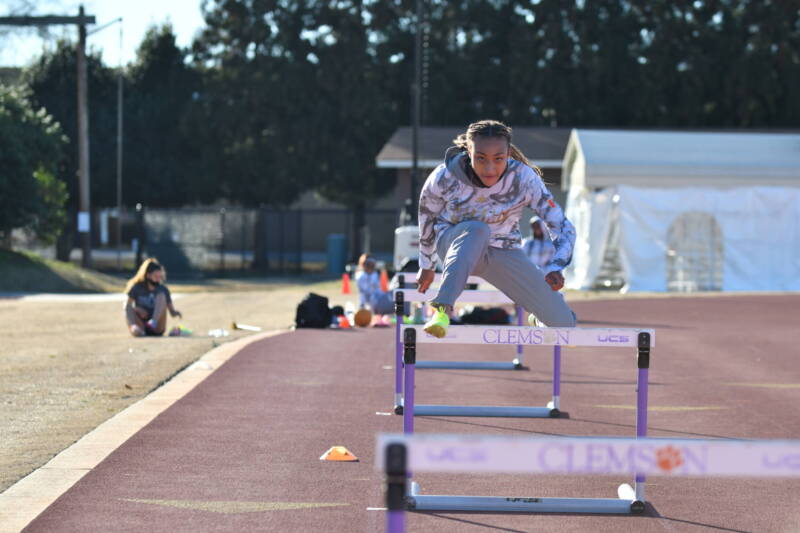 After an unfamiliar year, Harris is happy with the way she performed and is looking for her next chance to step out on the track.
Miami returns to Clemson on Feb. 12 for the Tiger Paw Invite and Harris is looking for a PR in the hurdles and a chance to debut on the runway in the long jump for the Canes.
Down the road, the goal is scoring at ACCs for the historic Canes women's squad.
"It's a humbling thought [being on Miami's women's team], but it definitely motivates me to want to be my best every time that I step out on that track," Harris said.