A Test of Effort and Guts
CORAL GABLES, Fla. – Effort. That is what head women's basketball coach Katie Meier expects from her team the moment they step foot in the gym or on a court.
The effort was lacking in the Canes in their game at Syracuse on Jan. 17, a 99-64 loss for Miami.
"The seniors knew what mood I would be in after our Syracuse loss because of the lack of effort displayed," Meier said. "But we're getting better after some really hard days of practice and tough meetings."
The Canes' effort was put on display against Pittsburgh as Miami found itself in a 23-point hole in the first quarter of the game. It was time for a gut-check and the Canes came through.
"I can't even tell you the amount of faith the team had to have and the amount of guts that we need to display to win that game," Meier said. "I really challenged the seniors after our last performance and told them that they needed to dig deep and they stepped up."
Miami's remarkable comeback was led by seniors Kelsey Marshall and Endia Banks, who finished the night with 21 and 13 points, respectively. Marshall eclipsed the 20-point mark for the third time this season, knocking down five 3-pointers, while Banks reached the 300-assist mark in her career with six dishes against the Panthers.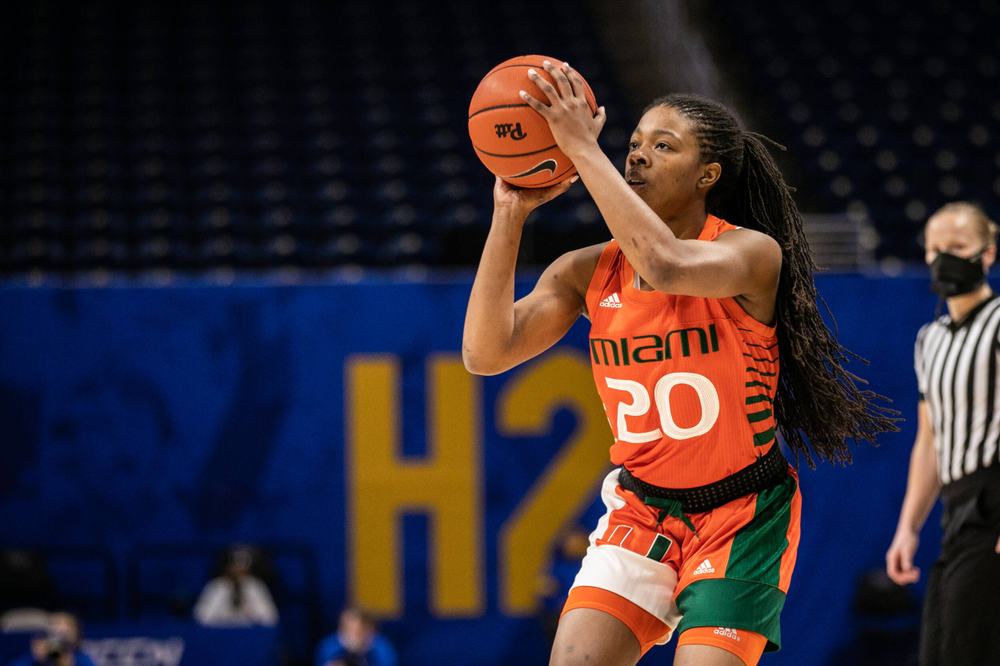 Endia was a hero," Meier said. "She almost had a double-double and there were a couple offensive rebounds that were crucial. Kelsey was reliable and hit big shots, which was huge for us."
Junior Naomi Mbandu joined Banks and Marshall in double-figures, tallying 15 points to go along with seven boards in the contest. Mbandu tallied six of her 15 points in the second quarter alone, a critical piece of the Canes' first half comeback.
The Canes' resiliency and effort were on full display against Pittsburgh and it was everything Meier could have hoped for.
"No matter if we had won or lost this game, that comeback was all I have ever wanted to see from this team," Meier said. "That type of effort is Miami basketball."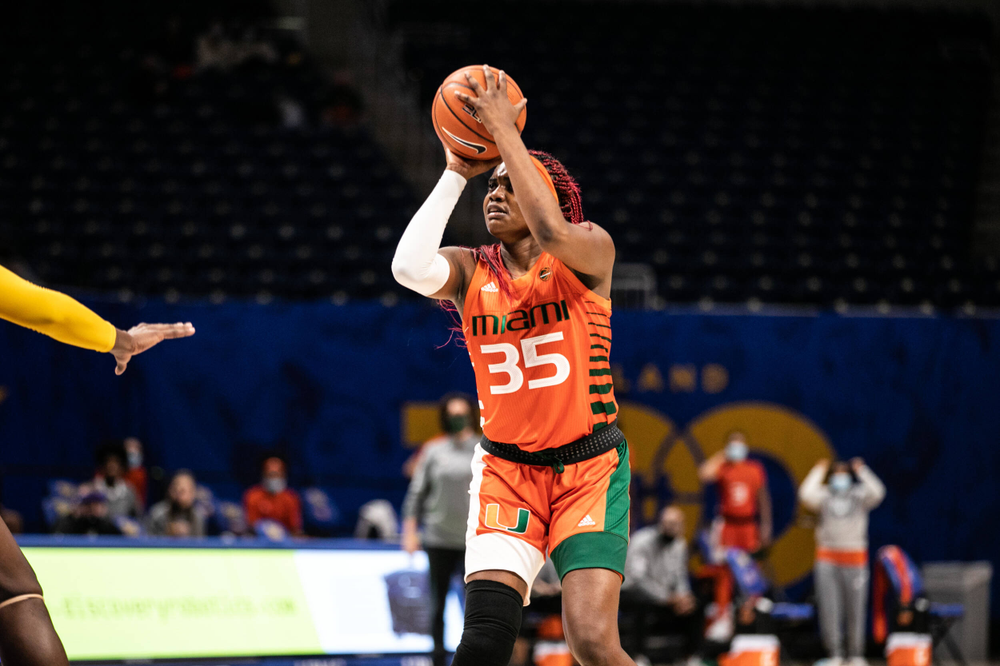 It will take the effort of the entire team on Tuesday to knock off the best team in the nation, the No. 1 Louisville Cardinals.
"Playing Louisville will be exciting," Meier said. "They have some fans in the building and they're the number one team in the country. We haven't had that type of a task this season."
The last time Miami stepped foot inside the KFC Yum! Center, it came away with its best win program history, a 79-73 victory over No. 2 Louisville on Feb. 17, 2019.
The Canes and the Cardinals have only met seven times before in program history, with Louisville holding the 5-2 edge. Both of Miami's wins have come when playing in Louisville and the Canes will look to add another tally to that column on Tuesday.
Tipoff is set for 4 p.m. and the game will air on ACC Network with Pam Ward and LaChina Robinson on the call.