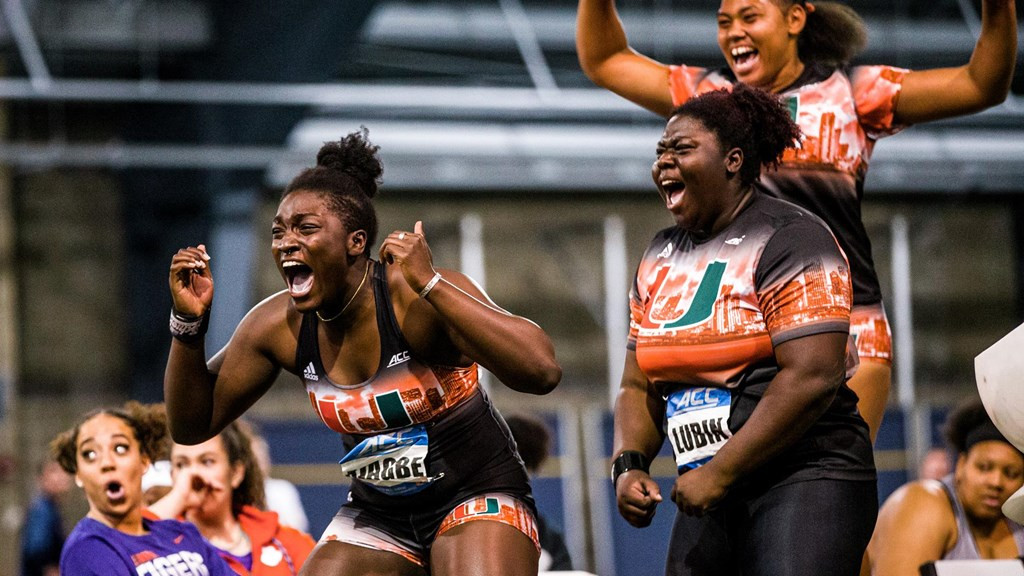 CORAL GABLES, Fla. – The weeks after the world seemingly turned upside down were some of the hardest she could remember.
Her daily routine, upended. Her training sessions and workouts, gone. And her chance to compete for a national championship evaporated in an instant, mere days before she was scheduled to throw on one of her sport's biggest stages.
Debbie Ajagbe and three of her Hurricanes teammates –  Kevin Arreaga, Tiara McMinn and Raheem Chambers –  were already in Albuquerque preparing for the NCAA Indoor Track and Field Championships last March when the coronavirus pandemic brought sports – and pretty much everything else – to a complete stop.
Dazed and unsure when they'd be able to compete again, Ajagbe and the Hurricanes returned to Miami, eventually learning along the way that not only was their indoor championship meet canceled but so was their upcoming outdoor season.
Ajagbe – the ACC Field MVP Performer of the Year – understood why drastic measures had to be taken, but that didn't make her new reality any easier to accept.
"I guess it was just kind of, for me, very traumatic. I've been doing track and field since I was 10 or 11 years old consistently. I always had a season and to have that big break in my routine really tested how I saw myself," said Ajagbe, who only weeks earlier had won both the ACC weight throw championship and the ACC shot put championship. "Yes, I am definitely more than a track athlete, but I didn't realize how comfortable I was in my routine. Go to practice, go to school, go to meets. I really had to take some time to be okay with not competing and be okay with the fact that it was okay to focus on school and find other things that excited me and made me feel comfortable, even during a pandemic."
That's exactly what she did. But now, ten months later, finally it's time for Ajagbe and the Hurricanes to get back to competing.
This weekend, Miami will take part in the Red Raider Invitational in Lubbock, Texas. For the first time since March, the Hurricanes will sprint, throw, leap and hurdle. They'll line up against fellow track athletes from programs across the country and while they expect things will look markedly different than they did last year, they're excited about the possibilities in store.
They're also not taking anything for granted.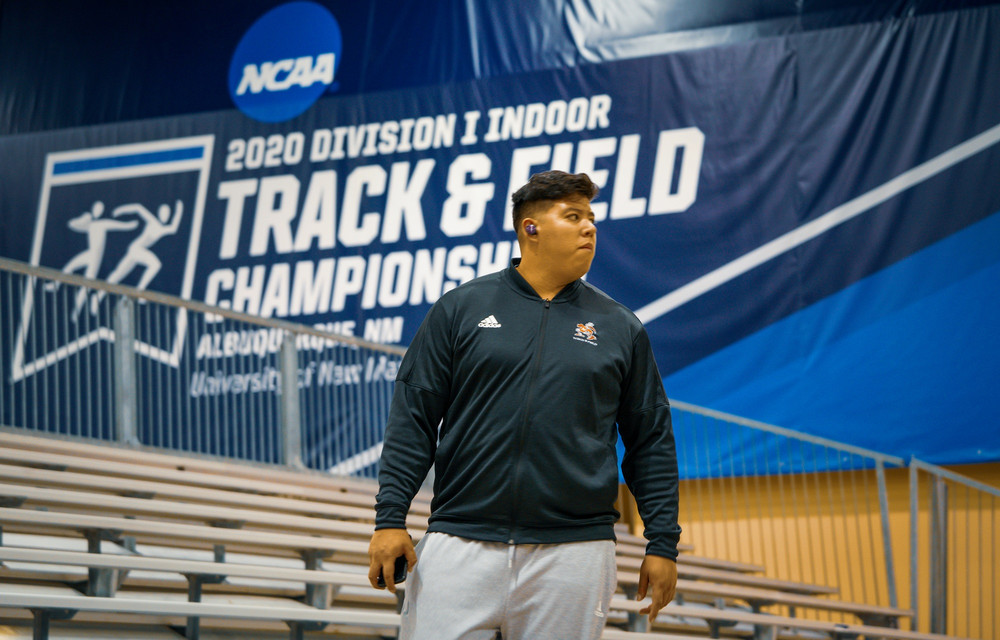 "I was so happy, so, so happy to know we'd be able to compete again. I know right now the situation is still complicated, with masks and everything else. But I'm happy to get the hammer or the weight and be able to compete against other people who were working for that same moment last year, too," said Arreaga, who last year set a new personal best and a Miami record with his 21.82m in the weight throw. "I really thought the situation was going to be longer than it is right now. So, having this opportunity, having this extra motivation, it means a lot for me."
Added McMinn, whose 7.95 in the 60-meter hurdles last spring not only tied a personal best but a Miami record, "Right now, I'm taking everything one meet at a time. Each time I come in, I have different goals I want to achieve. Mentally, [the last year] has gotten me to a place I know I always have to be prepared for the what-ifs. I feel stronger right now and I've been working harder than ever."
During their time away from the track – and each other – many of the Hurricanes say they gained a new appreciation for their sport and their teammates.
Some – like McMinn and sprinter Raheem Chambers – were able to train for their specific events in their own neighborhoods. Others – like Arreaga and Ajagbe – found things a little tougher because of the not only the nature of their events, but the pandemic itself.
Arreaga spent five months in his native Spain, where he tried to limit exposure to the outside world as much as possible in order to protect his grandmother, who lives with his family. Ajagbe couldn't exactly find a place to throw, though she did try to work out as much as possible.
For Chambers, who will be competing when the outdoor season begins later this spring, the unexpected pause from competition was a sort of blessing in disguise.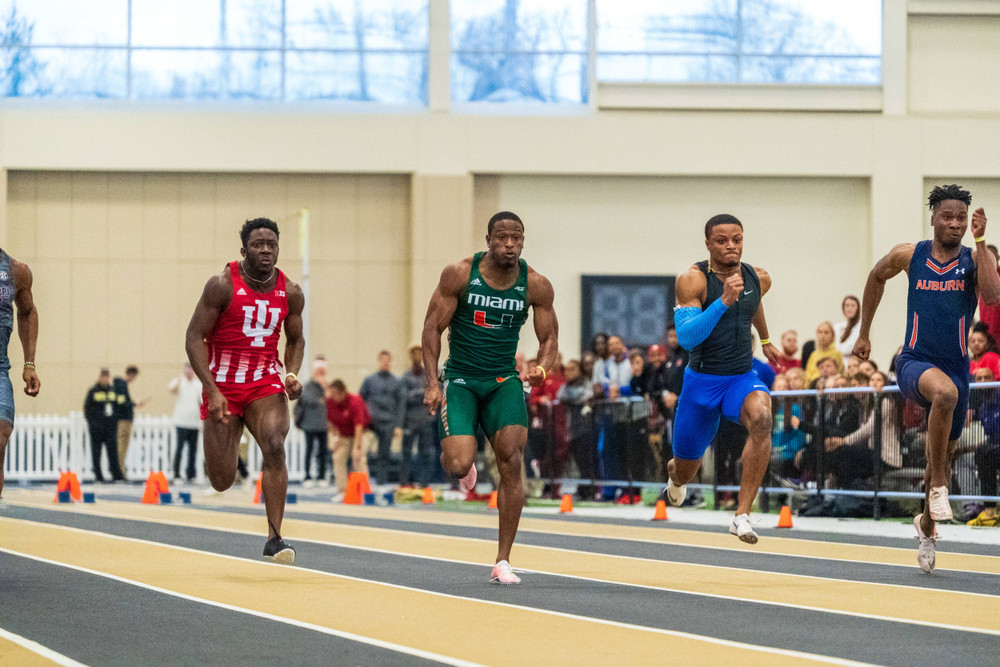 Though he had hoped to compete for a spot on the Jamaican national team and perhaps earn a spot in the since-postponed Olympics, it didn't take long for him to realize his body needed some rest. After taking an eight-week break from training, he returned to the track in September, rejuvenated and refocused, his eyes set on his final outdoor season and the Olympics beyond.
Motivation, he expects, won't be a problem for him – or any of his teammates this season.
"Every time I'm practicing, if I'm tired, if I feel like I can't go, that image from that day, that's what fuels me. That's one of the things that really motivates and pushes me," Chambers said. "I see how determined I was, how hard I worked and how I was really in a good position to win the indoor championship. To have that taken away, it really hurt. Now, it's something I'm using to fuel me, to keep me going. When it's time for me to compete for outdoor, I know I will compete to the best of my abilities."
Added Ajagbe, "I would say there's definitely a drive. Even last year, I felt like I had a lot to prove. I was definitely an underdog. … I just want to show people I know what I'm doing and I have the ability to throw PRs whenever I need to and it wasn't just a fluke. I think proving to others – and proving to myself – that last year wasn't a one-time thing."