Consistency Key For Canes
CORAL GABLES, Fla. – Not only are the Canes looking to get back in the win column on Sunday, but they are also eyeing the first season sweep of the North Carolina Tar Heels in program history.
Miami has faced North Carolina twice in a season on three separate occasions but has never bested the Tar Heels twice in the same year.
However, in order to complete the season sweep, the Canes will need to fix some weaknesses that showed up in the 63-60 loss to Wake Forest.
"Last time we played North Carolina, the three-ball was really important for us," head coach Katie Meier said. "We obviously did not have that last night, so we need to take smarter shots against North Carolina."
While the Canes shot just 35 percent from the field against Wake Forest, junior Naomi Mbandu was a bright spot on offense, knocking down 6-of-11 shots and recording a new career-high with 16 points in the contest.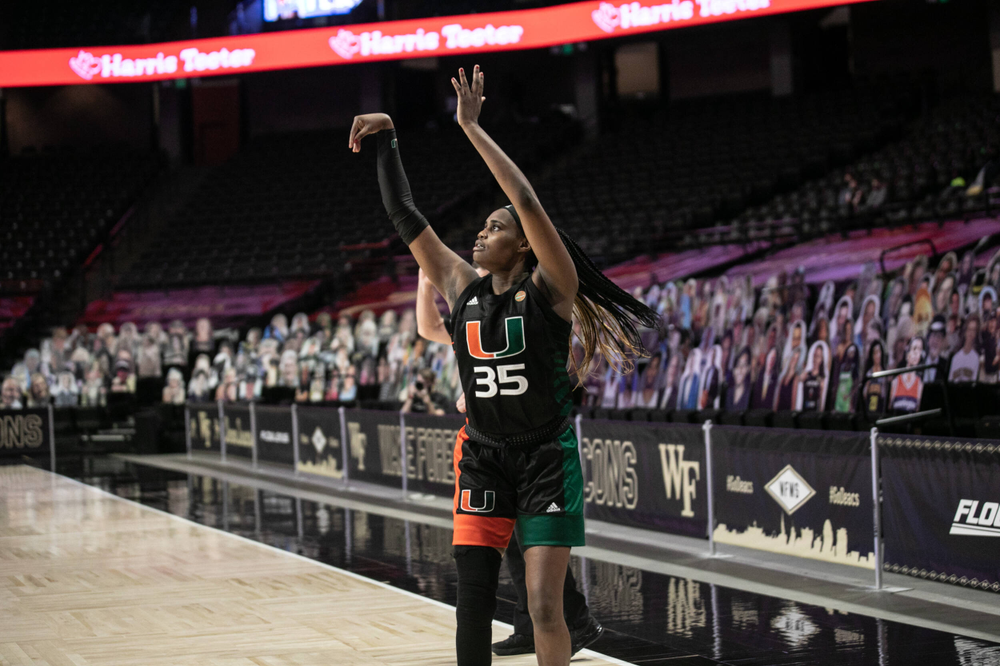 "[Naomi] is doing everything that we need to win basketball games right now," Meier said. "She has a great poise and calmness to her game and was just phenomenal against Wake Forest."
Miami will need another all-around performance from Mbandu, along with offensive and defensive contributions from its senior guards, if it wants to leave Carmichael Arena with a victory on Sunday.
On the defensive side of the ball, the guard duo of Taylor Mason and Endia Banks have been aggressive on the boards. Mason has led the Canes in rebounding in four straight games, including Thursday night's contest where she hauled in seven rebounds.
The Canes will face a Tar Heel team that averages 49.9 rebounds per game on Sunday. Despite a Miami victory earlier this season, North Carolina still leads the all-time series 14-11. When playing at Carmichael Arena, Miami holds a 4-5 record.
Sunday's contest will tipoff at 1 p.m. in Chapel Hill, N.C., and will air on RSN. Fans can also listen to the game on WVUM 90.5.