Jan. 5 | 8 p.m. | ESPN
Watsco Center | Coral Gables, Fla.
Miami (4-4, 0-3 ACC) vs. North Carolina (6-4, 1-2 ACC)

CORAL GABLES, Fla. – Saturday's matchup with Clemson followed a familiar script for the University of Miami men's basketball team.
For the third time in just eight games this year, the Hurricanes fell behind by 12-plus, only to rally back and either take the lead or pull within one.
Dec. 8 against Purdue, Miami (4-4, 0-3 ACC) turned a 20-point deficit into a four-point win, 58-54. Tuesday at No. 24/RV Virginia Tech, the Hurricanes trailed by 17, including by seven in the final minute, before cutting the deficit to one in a two-point setback, 80-78.
Against the Tigers, Miami trailed by 12 early, but turned that into a six-point lead before ultimately falling by one, 66-65.
No matter the result, the Hurricanes have proven beyond a doubt they do not give up regardless of the odds.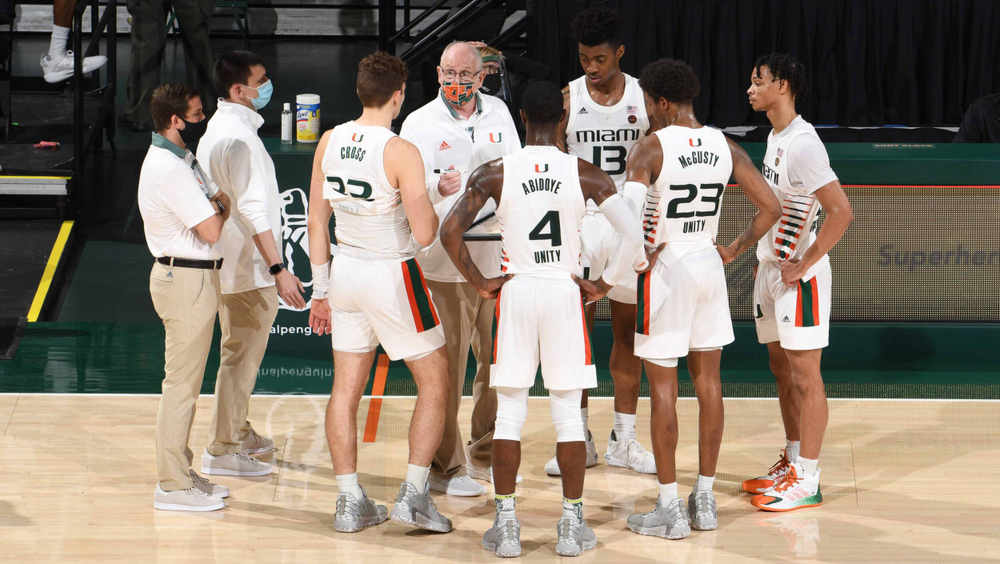 "Adversity tends to develop character and we've had so much adversity," Miami head coach Jim Larrañaga said. "We've had so many things to overcome and the challenges are too numerous to mention. Each time we have a new set of circumstances to deal with, it seems like the guys pull together and give us as chance to win.
"We were very fortunate against Purdue; we made our free throws down the stretch and were able to win that game," Larrañaga continued. "At Virginia Tech, we had a very nice look at a three that would have won the game. Yesterday, against Clemson, we were down one and we had a chance to score and win the game right at the end. So, we've battled back from being down. It would be much better if we could play from out in front for once."
Six players scored at least nine points for Miami in the setback against the Tigers, with Isaiah Wong's 13 points leading the group. Freshman guard Earl Timberlake had 11 points and eight rebounds, while sophomore guard Harlond Beverly and senior guard Elijah Olaniyi both notched 10 points.
Freshman forward Matt Cross scored nine points and posted seven assists, the most by a Hurricane since March 2019, while redshirt senior guard Kameron McGusty added nine points of his own.
Of those six players, three of them are in their first year on Miami's roster and two others are in their second. Due to the bevy of injures the Hurricanes have faced—another element of adversity this season—many young and new players have seen an increased role.
Larrañaga, a two-time ACC Coach of the Year, thinks playing these types of games have benefited those players. However, when the results begin to improve, he feels it will be even more of a help.
"Once you start winning those close games, it tends to build a lot of confidence within the team that they have the ability to make the big shot or make the big free throw or get the big stop," Larrañaga explained. "All these guys have been put in that situation. We've won one and lost two, but we're probably going to be in 10 or 15 more of them."
The lone player to log at least nine points against Clemson who is in at least his third year with the Hurricanes is McGusty. It was his first action since Dec. 12, when he suffered a right hamstring injury within the first five minutes of the Hurricanes' matchup with FGCU.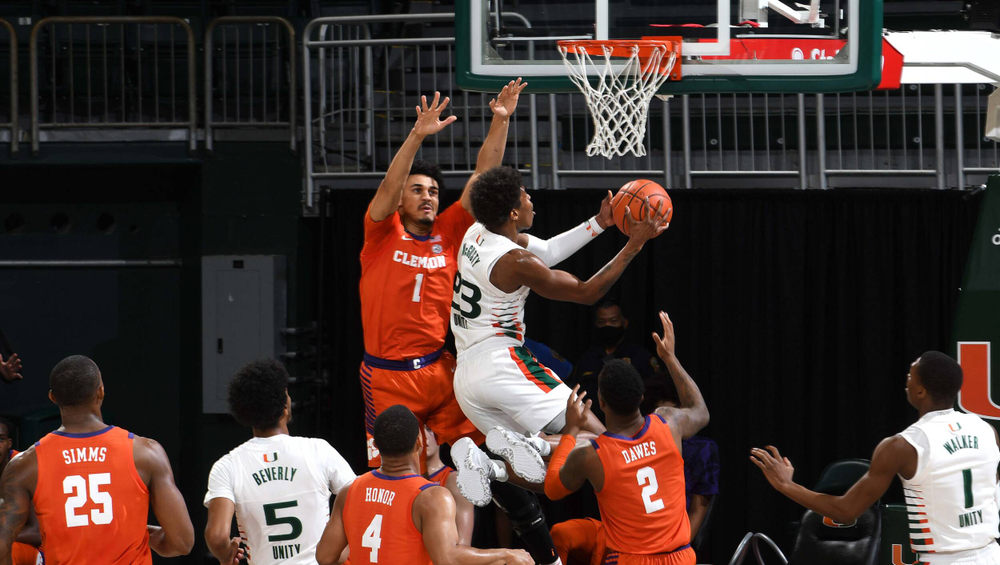 A Katy, Texas, native, McGusty is seven points away from 1,000 in his career and his presence back on the hardwood is significant for Miami.
"Kam is such an important part of our program," Larrañaga said. "He can shoot the three. He's good attacking the rim. He plays hard at the defensive end of the floor. He's not 100 percent; that's the unfortunate thing. He's still nursing a hamstring pull. He won't be able to practice today and probably will do very little tomorrow. [We are] hoping he can be ready for North Carolina on Tuesday."
The Tar Heels are indeed next for the Hurricanes, as Miami welcomes the six-time NCAA champions to the Watsco Center for an 8 p.m. matchup Tuesday night.
The Hurricanes are 8-25 all-time versus North Carolina, including 3-9 at home, but have found significant success in the series under Larrañaga.
Miami is 6-9 versus the Tar Heels since 2011-12, when Larrañaga got to Coral Gables. That is the third-most wins of any team against North Carolina during that stretch. Miami is also one of only four schools with at least four wins by 10-plus over the Tar Heels in that span and one of just two with multiple wins by 15-plus.
The Hurricanes dropped the most recent matchup, a 94-71 road setback on Jan. 25, 2020, in a game they played with just six scholarship players, half of whom were freshmen. It marked Miami's fourth straight loss in the series after taking six of the prior nine outings.
"Over the first seven years, we just had a lot of good players and those guys matched up very well," Larrañaga said. "The battle for the first seven years was kind of even, but they've dominated the last two years."
This year's edition of one of the nation's most storied programs will head to Coral Gables with a 6-4 (1-2 ACC) record after playing seven Power Five foes within its first 10 games.
The Tar Heels, like Miami, are coming off a one-point decision Saturday at home. However, in their case, it was a 66-65 win over Notre Dame.
North Carolina boasts five McDonald's All-Americans on its roster, including four in its freshman class. The Tar Heels also have the ACC Preseason Player of the Year in senior forward Garrison Brooks.
Sophomore forward/center Armando Bacot is currently the leader in points (11.4) and rebounds (8.2) per game for Roy Williams, the fifth-winningest coach in Division I history.
"They're such a big team, such an incredibly good offensive rebounding team," Larrañaga said. "They have four big guys that are bigger than anybody that we have, other than Nas [Brooks]. Their size, skill and speed in the open court have always been a real challenge. Not only for us, but for everybody that plays Carolina."
The Tar Heels were picked fourth in the ACC preseason poll after registering a 14-19 (6-14) ledger during the 2019-20 campaign.
Tuesday night's contest will be televised live on ESPN HERE, with Dan Shulman and Dick Vitale on the call.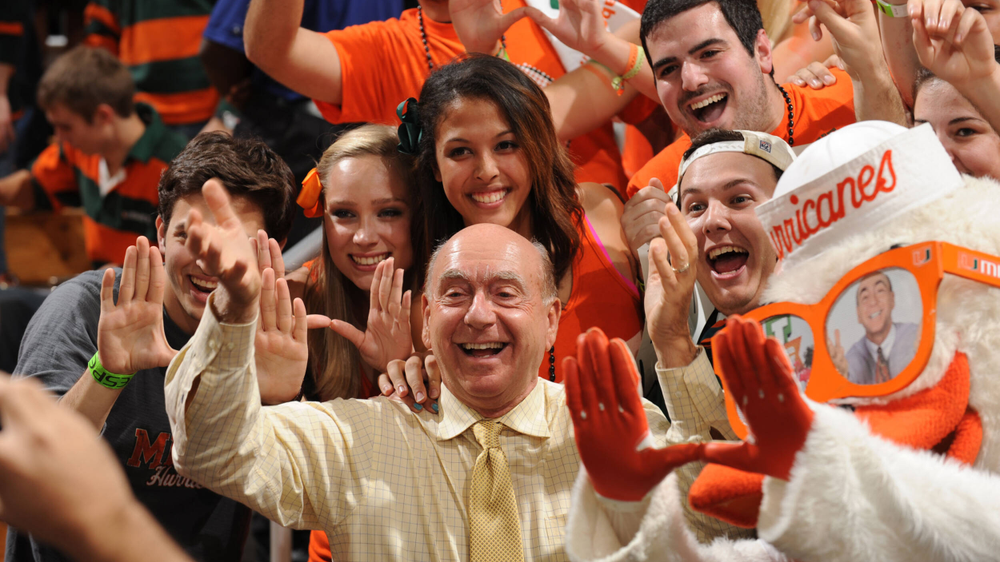 Joe Zagacki and Danny Rabinowitz will have the radio broadcast on 560 The Joe WQAM HERE, while action can also be heard on WVUM 90.5 FM HERE and in Spanish on WMYM 990 AM HERE. Live stats for the contest can be found HERE.
Following its outing against the Tar Heels, Miami hits the road to face NC State Saturday at noon, with action set to be televised live on RSN from PNC Arena in Raleigh, N.C.
To keep up with the University of Miami men's basketball team on social media, follow @CanesHoops on Twitter, Instagram and Facebook.
The 2020-21 Miami Hurricanes men's basketball season is presented by First National Bank.