CORAL GABLES, Fla. – Nearby and accessible golf facilities, an opportunity to receive a great education and be around trustworthy coaches were three of the prerequisites needed to be checked off for one of the world's most highly-touted women's golf recruits in making her final college decision.
In the lead-up to signing a National Letter of Intent on Feb. 1, 2020, the University of Miami made an everlasting impression on Nataliya Guseva. It is now a place she looks forward to calling her home for the next four years.
"I was interested in several Universities and many were interested in me, but the first time I met John [Koskinen] and Patti [Rizzo], I just felt like I was at home with my parents. Just talking with them like I had known them for many years," Guseva said. "When I visited the University of Miami with my older sister, we just felt like we were a part of a family and after the visit we were sad we had to leave Miami. I remember my sister and I cried because we didn't want to leave. So, I was impressed with the University and the recruiting process, and both my family and I knew Miami was the place for me."
Guseva is set to bring a champion's mindset to Coral Gables in January, as she is the winner of eight events since the fall of 2018. In total, she placed among the top-10 in 22 of 33 counted tournaments during that span.
After returning to competition in July, following a five-month hiatus due to the ongoing COVID-19 global pandemic, she finished among the top five in five consecutive tournaments. Highlighting the impressive run included consecutive titles at the Campeonato Internacional de Andalucia Sub-18 and PGA Catalunya Amateur Cup in September.
Overall, Guseva ranks No. 78 in the World Amateur Golf Ranking prior to even swinging a club at a collegiate tournament and is expected to add a competitive edge to a veteran UM squad.
"Most exciting is what an amazing player she is. She is one more great player added to our squad this year which will make it the strongest squad I've ever had since I began coaching," Rizzo said. "I first saw her playing in the Doral-Publix Junior Classic. She was very impressive and mature for her age. She's very well-rounded, sophisticated, smart and talented. She is the whole package that every coach dreams about. Her sister and boyfriend came on her visit and we all clicked right away. I adored them all."
Sharing Rizzo's joy, Koskinen also remembers watching Guseva for the first time in Doral, Fla., where she placed second, just behind Paula Schulz-Hanssen, the ninth-ranked amateur in the world.
"It took literally one swing to know that I wanted her on the team," Koskinen said. "Her game is so good that basically every school wanted her…but we got her."
Prior to her success on the fairway, the first sport Guseva competed in involved a racket and a net. However, an injury caused her to step away from tennis, which was when her aunt and uncle introduced her to the game of golf.
"The first time I remember playing golf, it was with my aunt and uncle nine years ago when they took me to the Czech Republic," Guseva said. "And then my mom and I started playing together, before my father started buying clubs because he wanted to play with us as well. And right away he could see how good I was and how I could play professional golf, but that my first goal was to play in college and find a University where I could achieve all the goals that I have. And I found that.
"I am really close with my family," Guseva added. "Every holiday or celebration we are together and when I am not with my parents, it is hard. So, I try and surround myself with people that I can connect with on that level, which is why John and Patti are so important. And as I said, my parents were also impressed with the University and trust that John and Patti can take care of me and we know that it is going to be a perfect fit."
Along with her coaches, Guseva is looking forward to arriving in Miami and having face-to-face interactions with her Miami teammates and creating a family atmosphere with each of them.
"The first thing that I want to do is get along with the girls, meet them in person and just start practicing and competing with them because I love to play with and for a team," Guseva said. "It isn't going to be completely new, since I have experience with the Russian team, but I just want us to try and be like a family by fighting and competing for one another and do what is best for each other.
"We are chatting through Instagram and WhatsApp, so we are always communicating with one another, but it's just not the same," Guseva continued. "I also know Sara [Byrne] pretty well. When I was choosing Miami, we were talking with each other a lot about the University and her thoughts on Miami. So, she also helped a lot with the process. I just know we are going to all get a long really well."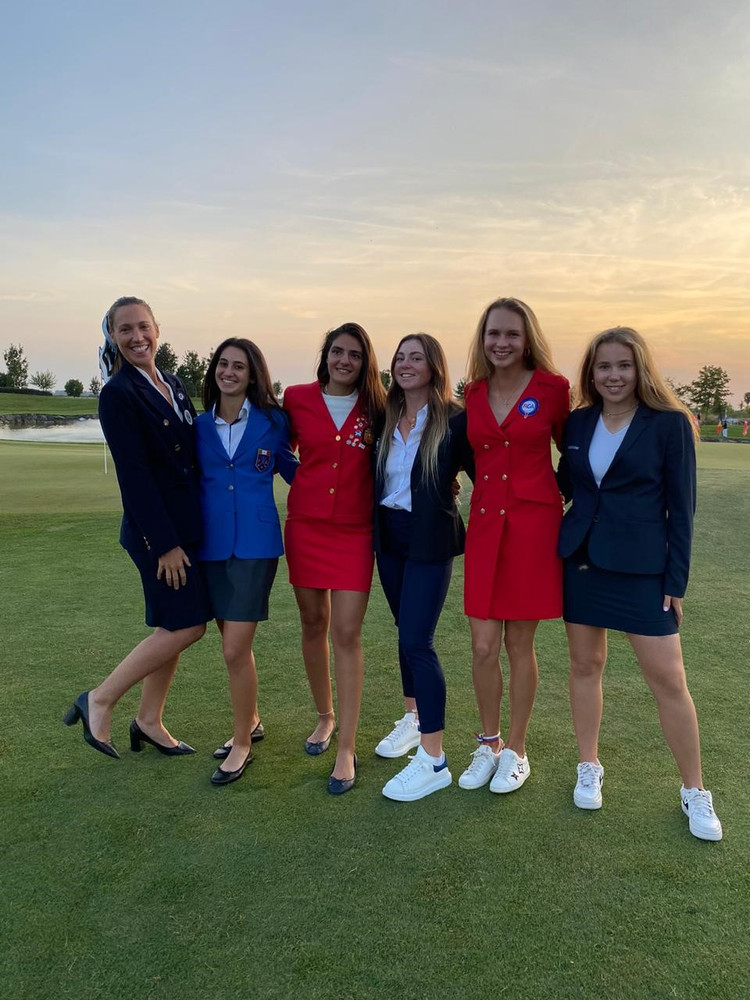 Being a team player is a trait Guseva takes pride in and got a lot of experience with in September when she was named captain of the Russian golf team at the 2020 European Girls Team Championship.
At the event, the quartet of young women placed sixth, the nation's top-finish since 2001 (fourth), the only other year Russia cracked the top-10.
Individually, Guseva tied for ninth at one-under-par (71).
"That was awesome. It was actually my first opportunity to be the captain of my team and we finished sixth," Guseva said. "So, we played pretty well and all the teams from Europe were very impressed because from Russia it is not very common—it is almost exotic in golf—but this year we proved what we were capable of and that we also have good golfers in Russia.
"It felt pretty awesome to play as a team," Guseva added. "For me the best feeling is to play with a team and to play with a group and say we are the best, our team is the best. And I am looking forward to playing alongside my new teammates at Miami and we are excited to work toward our high expectations and goals."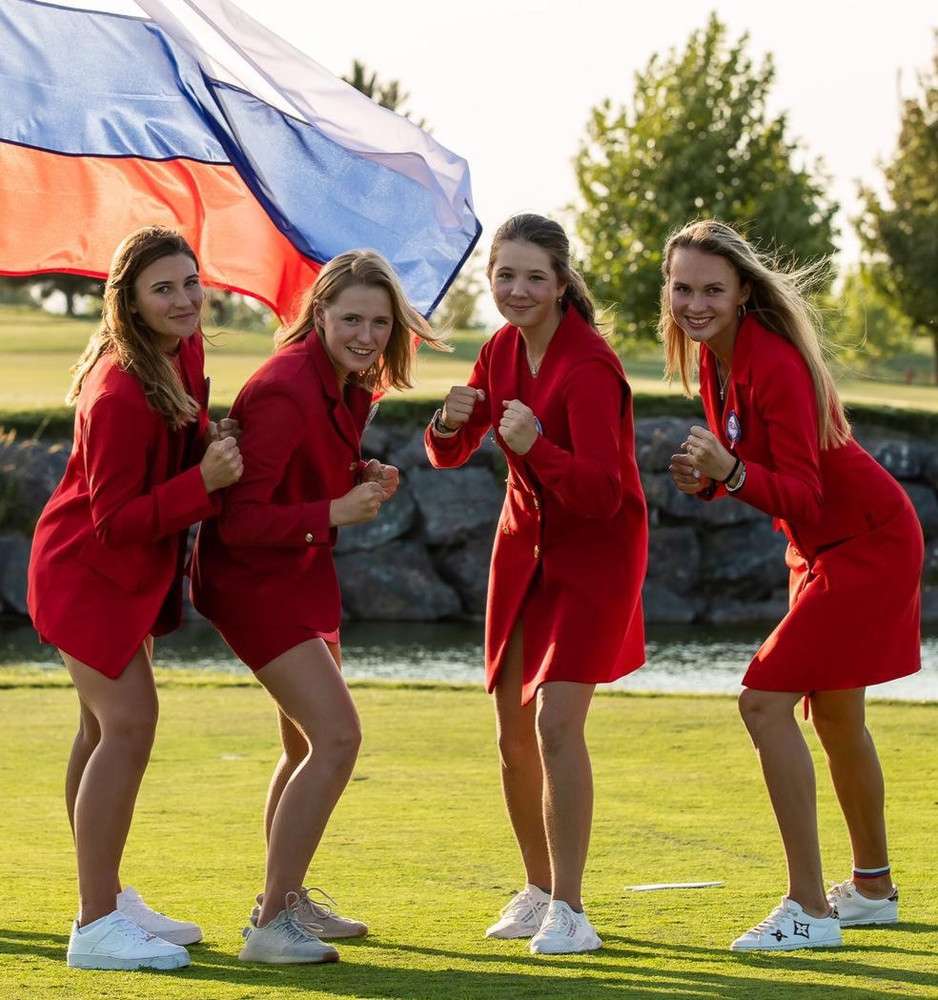 Currently training in Spain, Guseva is looking forward to play alongside a trio of top-200 amateur players in the world at Miami, led by senior Renate Grimstad, the reigning Dinah Shore Trophy Award winner and WAGR's 86th ranked player. Following closely behind are sophomore Anna Backman and junior Kristyna Frydlova, ranked 143rd and 161st, respectively.
Rounding out the Hurricanes' highly-touted lineup are senior Macarena Aguilera, second-year golfers Daniella Barrett, Morgan Pankow and Franziska Sliper, as well as Byrne, a freshman.
"Our first goal is to reach the NCAA Championship and with having Renni back, along with everyone else playing so well, that is a goal we know we can accomplish," Guseva said. "But not only make it, our No. 1 goal is to win it all."
Koskinen added, "I truly believe that with Nataliya and Sara joining the team this year, we have a legitimate shot at winning at all. We are extremely deep and have a lot of players who are not afraid to go low."
With the team's eyes set on collegiate golf's biggest prize, Guseva is also preparing to continue to make improvements to her individual game in order to achieve her goal of playing on the LPGA Tour.
"My plan is to finish my four years at Miami and study psychology. Then, as soon as I am ready, play on the Tour," Guseva said. "I had the discussion with Patti and John and they want to help me reach my highest levels so I can reach my ultimate goal of playing on the LPGA tour. So, I will try and turn pro as fast as I can, but will be working on continuing to improve, win tournaments and help our team reach our goals.
"I am going to work a lot with Patti and John on the technical part of my game," Guseva added. "There are always improvements needed to be made in the short game."
When dissecting Guseva's level of play, there is nothing that particularly stands out to Miami's assistant coach in order to be tweaked, but instead helping her achieve her goals and help her continue to mature as a student-athlete will be at the top of the list for Koskinen.
"Her golf swing is extremely good fundamentally," Koskinen said. "I think the place that coach Rizzo and I can help her the most is on the course, making good decisions and possibly teaching her to see things that she may not have noticed otherwise. When you get a really elite player it comes down to making sure they are crossing their t's and dotting their i's during the round."