Team Effort Powers Miami This Season
CORAL GABLES, Fla. – Team basketball. That is what the Miami women's basketball team is going to be playing this season and it is already evident through its first two games.
The Canes have had a different leading scorer and leading rebounder in each of the games and six different Miami players have posted double-figure outings this season.
On Saturday, sophomore Moulayna Johnson Sidi Baba took up the scoring mantle for the Canes, pouring in a career-high 17 points, including a 3-of-5 effort from 3-point range. On the boards, senior Taylor Mason had a career outing as well, hauling in 10 rebounds, which set her up for her first career double-double, as she also tallied 10 points, five assists and four steals in the contest.
"What a performance by Taylor Mason," head coach Katie Meier said. "She was very calm and settled in and was just phenomenal [on Saturday]. I couldn't take her off the court."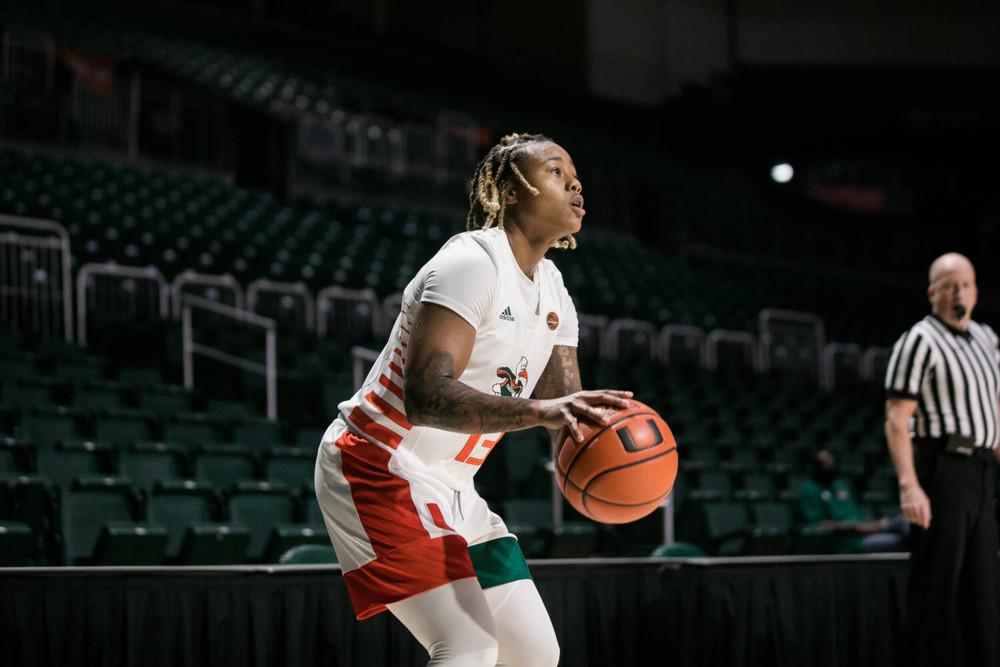 With support from scoring regulars like Kelsey Marshall (13 points) and Destiny Harden (12 points), the Canes cruised to an 81-39 victory over North Florida. But beyond the top scorers, Miami has been supported this season by great bench play and an overall team effort.
"We have great players in all positions on our team," Mason said. "You never know who to close out on short or who to close out on high because all of us can score."
That shift in mentality came about for two reasons—added length in the swing group and the absence of Mykea Gray due to injury.
"Some of the off-the-ball stuff that we are doing is very different than we have done in years past," Meier said. "When you have a talented guard [like Mykea] and you have some good screeners, you are going to initiate your offense through the ball screen with the guards. We are not doing as much of that now."
Instead, the Canes have focused more on off-the-ball action, utilizing not only their stronger guards in Mason and senior Endia Banks, but also the height at both forward positions in Johnson Sidi Baba, Harden, Nyayongah Gony and Naomi Mbandu.
"We do not have that one dominant player who, no matter who is guarding them, is going to score anyway," Meier said. "But that is okay because I love our basketball IQ. We have a team that is willing to share the ball and make the extra pass, which is so important because when you have a team where everybody is capable of double-figures, it will depend on the matchups."
Johnson Sidi Baba is one of the players whom Meier talks through new plays and ideas with because of her high basketball IQ. A "Swiss Army knife" type of player, according to Meier, Johnson Sidi Baba has the mind of a point guard and the ability to play almost every position on the court, something she demonstrated on Saturday.
The Stockholm, Sweden, native is just as comfortable passing the ball as she is driving to the rim because she is confident in her teammates' abilities.
"We are a hard team to scout because we have people that are capable of doing a lot of things," Johnson Sidi Baba said. "We are a fast and strong team going into the paint and we can shoot, so it is hard for defenses to guard us."
Miami's next opportunity to play team basketball comes on Thursday when the Canes host the Florida Atlantic Owls for the first time since 2012. FAU enters the contest at 1-0 after besting North Florida, 91-83, on Monday.
The Canes are a perfect 17-0 against the Owls, with 13 of the 17 victories coming at home. Miami has only faced FAU three times under the direction of Meier but has beaten the Owls by an average of 25 points in those games.
Thursday's contest will tipoff at 7:30 p.m. and will air on ACC Network with Alex Schwartz and Megan Perry on the call. Fans can also listen to the game live on WVUM 90.5.