Miami Hosts Jacksonville for Season Opener
CORAL GABLES, Fla. – Following a unique offseason full of surprises and uncertainty, the 2020-21 season is finally here for the Miami women's basketball team. The Hurricanes host the Jacksonville Dolphins at 1 p.m. on Wednesday for the season opener.
Tipping off its 49th season on Wednesday, Miami is 39-9 all-time in openers, including 14-1 under head coach Katie Meier.
This season is a special one for Meier, as it marks her 20th year as a head coach (16th at Miami). Over the last two decades, Meier has coached five All-Americans and six WNBA draft picks, while 25 players have gone on to play professional basketball overseas.
But more than that, Meier has developed her players into strong women.
"What makes [Katie] a phenomenal coach is that she's a phenomenal person and genuinely cares for the young people that come into our program," Director of Athletics Blake James said. "She develops the young women into individuals that are ready to go out and really contribute to society and I think that's a real credit to her."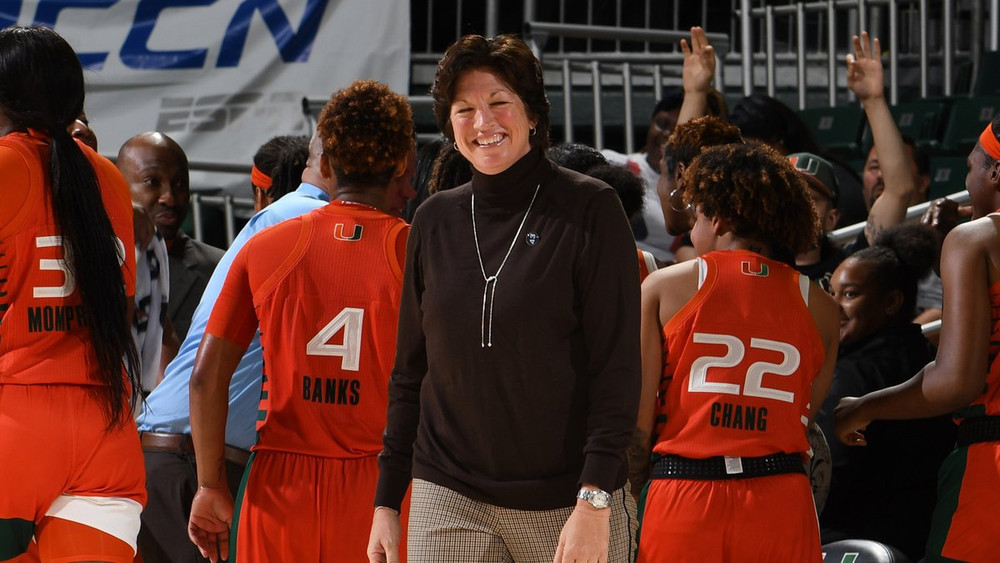 When the Canes take the court on Wednesday, it will be a mix of old and new faces. Miami is anchored by a trio of senior guards in Endia Banks, Kelsey Marshall and Taylor Mason. With the absence of senior Mykea Gray, who is out for the season with a torn ACL, Marshall returns as Miami's leading scorer (11.4).
"I'm just really excited," senior Kelsey Marshall said. "It's been a long time since we last played an actual game, so it will be good to just be out on the court again."
The new faces come in the form of freshman Nyayongah Gony and junior Naomi Mbandu, both of whom have impressed Meier during their short time at The U.
"I have not given them a break since they have gotten on campus because the expectations for them are so high," Meier said. "They have the potential and talent to not only be stat stuffers, but more importantly to be glue players. They are both very bright players with high basketball IQs and have just been playing with joy lately."
The returners and the newcomers will have the chance to show off their hard work from the summer in the season opener against a scrappy Jacksonville team.
The Dolphins bring back an experienced duo in seniors Jada Perry and Alexis Pierce. Perry was unanimously named to the ASUN Preseason All-Conference team, while Pierce brings added veteran experience to the team.
The Canes and the Dolphins have met twice before in program history, with each team walking away with a victory. Most recently, the Canes came out on top, 65-36, on Dec. 6, 2014.
"We are just going to have to play good team defense and team basketball," Marshall said. "We'll have to move the ball around, play at a fast tempo and just get Miami shots."