CORAL GABLES, Fla. – Manny Diaz grew up cheering on the Miami Hurricanes. Not just the ones in helmets and shoulder pads, but also those on the hardwood.
A Magic City native, Diaz remembers watching the Hurricane men's basketball team back in the 1980s at the James L. Knight Center and Miami Arena.
"Rooting for the Hurricanes is something I've been doing for a large part of my life," Diaz said. "And the neat thing is when you do get to know the personalities and the coaches, like 'Coach L' and coach Caputo, and you see what solid people [they are] and how the program is on such solid ground over there, you always want to root for good people. When you've got good people at your hometown school, it makes it even more fun."
Now in his second year as the Miami head football coach after three seasons as defensive coordinator, Diaz continues to support the Hurricane basketball program.
He also picked up a tip early in his Miami tenure from Chris Caputo, Miami's associate head basketball coach, that has proved beneficial in shaping his team.
"When I first got here back in 2016, the topic of transfers came up with Chris and he mentioned how they had, had great success with transfers," Diaz recalled. "Transfers had not really become a big thing in college football yet, but it was coming. What Chris mentioned was how student-athletes are very often looking for different thing after they've been in college for a couple years than when they are coming out of high school. And that Miami is a very, very attractive destination for someone with that mindset."
Few college football programs have embraced the transfer portal like Miami, but the basketball program was, as Diaz alluded to, years ahead.
When Jim Larrañaga, with Caputo at his side, came to Coral Gables in 2011, the Miami roster featured a trio of transfers who helped teach Caputo the lesson he would eventually relay to Diaz a few years later.
"I've always felt like Miami is such a great location for transfers. We sort of learned it a little bit early on when we inherited Kenny Kadji and Trey McKinney Jones and Malcolm Grant," Caputo said. "Those guys were older, mature, good players—all-conference level players. And then we started to figure out, the … environment here may be a little bit more conducive to a guy who's older."
The Hurricanes' interest in bolstering their roster through transfers only intensified after Larrañaga had a conversation with Fred Hoiberg, then the head coach at Iowa State.
The Cyclones, at that point, were utilizing transfers like almost no other team in the nation and they were doing so quite effectively.
"He shared with me his philosophy about recruiting transfers," Larrañaga said. "And the way he explained it was, 'I don't think we're going to be able to beat Kansas or Texas or some of the other high-profile programs in our league for a McDonald's All-American, but I think if we have older guys—juniors and seniors—dominating our roster, that we have a good chance to be very competitive.' Because a 21- or 22-year-old will play with a great deal of confidence against an 18-year-old, no matter how talented that guy is."
Larrañaga quickly picked up arguably the best transfer in Miami basketball history, landing Shane Larkin from DePaul. The guard from Orlando, Fla., went on to be the ACC Player of the Year in 2012-13, helping the Hurricanes sweep the league titles and reach the Sweet 16 that season.
From there, the staff continued to stay on the lookout for more transfers who could come in and make an impact. After that successful 2012-13 campaign, they added Sheldon McClellan from Texas and Angel Rodriguez from Kansas State.
Those two helped guide Miami to another Sweet 16 berth in 2016 on a roster that also included Kamari Murphy and Ivan Cruz Uceda, who joined the Hurricanes from Oklahoma State and Harcum College, respectively, in 2014.
Those are just a few of the many transfers Larrañaga, Caputo and the Hurricanes have utilized during their time in Coral Gables.
"The combination of being older, more experienced and, in some cases, having a year off where they could really work to develop their games and become the type of players that we felt like they could be, [all of that helped]," Caputo said of why transfers have worked so well for Miami. "And then it was a way to supplement your high school recruiting, where you set out to get a certain amount of high school players, you try to get guys that you feel like can make an impact at this level. If you go three-of-five like most people, or three-of-seven, then you need [to give out] two more scholarships. Instead of dropping down in terms of tier of high school recruit, you supplement with a transfer."
Both Larrañaga and Diaz feel their success with past transfers has helped them sign new ones. Diaz has even had former ones connect with players of interest in the portal.
The draw for older players to come to Coral Gables goes well beyond that, though, regardless of the sport.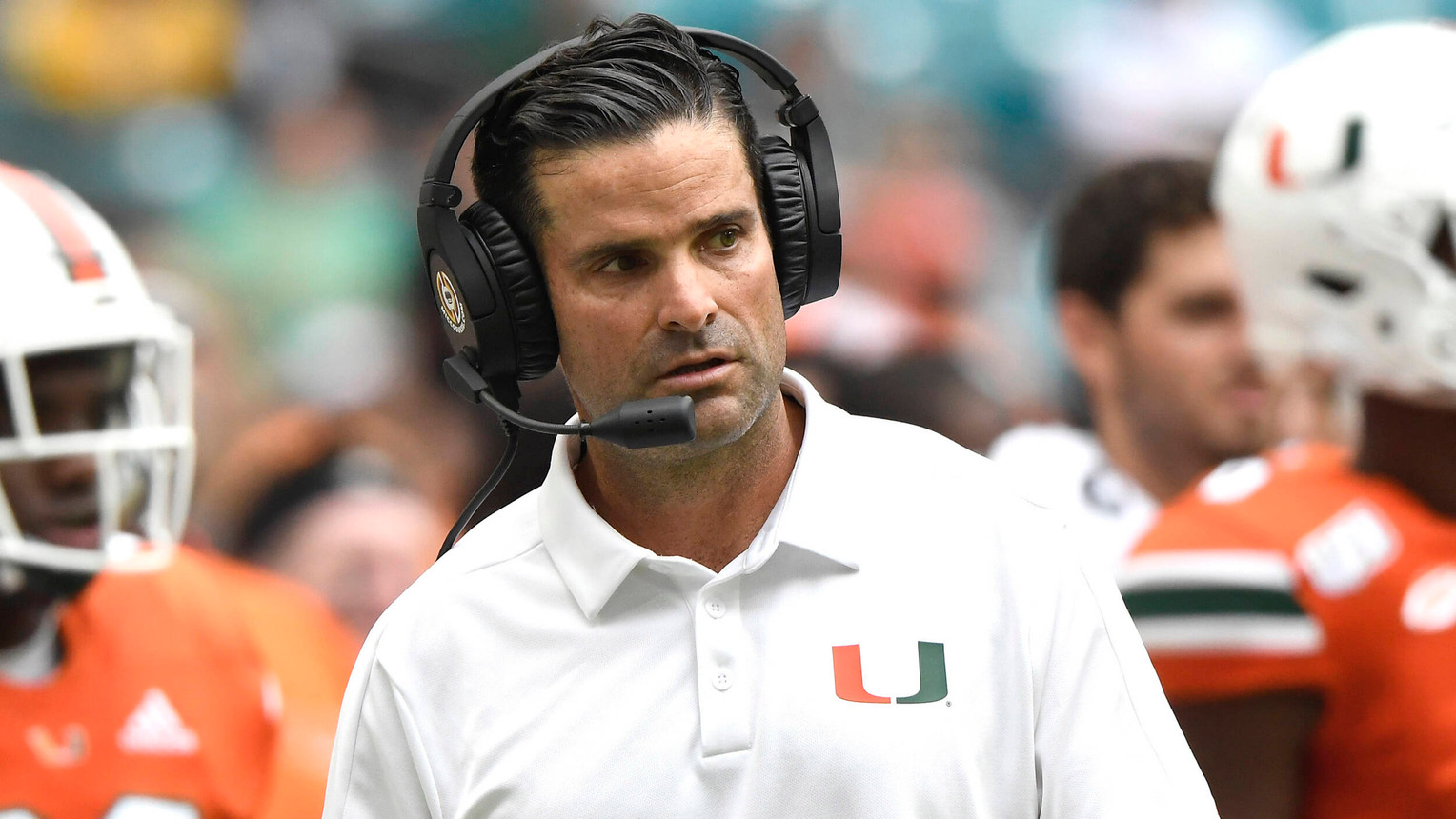 "The way that I think it through is when they're coming out of high school and they can be really influenced by a 48-hour unofficial or official visit, you can make anything look like it's amazing in 48 hours," Diaz shared. "I think when they really spend time on a college campus somewhere and then they come see everything that Miami has to offer, I think at that point, I think they really understand that this a great, great place; not just a great school and a place where you can compete for championships, but a great environment to live in. We can really increase your brand, which is so important now."
Many of the attributes that make Miami an excellent spot to be appeal to recruits of all ages, both at the prep and collegiate level.
To Caputo, those positives are just heightened when it comes to an individual with less time left remaining to make the most of a college student-athlete experience.
"Miami is a great location for all sports for high school students. That's never going to change," Caputo said. "The best high school athletes in the country in any sport should consider Miami for a number of reasons. But in addition to that, we think it's a uniquely great situation for transfers, as well."
While colleges recruit high school players for years before landing a commitment, they sometimes have just weeks, or even days, to garner the pledge of a transfer. Although the evaluation process is sped up, it remains imperative for the coaches to fully vet the players they are going after to ensure they are a fit.
Sometimes—such as in the case of Murphy—the coaches already know the player and have a relationship from pursuing him in high school. Other times—like with Rodriguez, Zach Johnson, Keith Stone and Joe Thomas—it is a local recruit whom the staff is well aware of and has connections to.
No matter the situation, though, the coaches do their due diligence before bringing in a new player, even in a warp-speed recruitment.
"You have to do a lot of research. You have to talk to a lot of people—people who have been around that person. You have to find out what they're looking for, you have to find out why they're leaving the place that they came from," Diaz explained. "And you have to find the right fit. This is not fantasy football where you're just adding stats to your team. You're adding a person to your locker room and if they're not the right person, it could have a negative effect. We've been right more than we've been wrong, but that's something we're always very conscious of."
When the assessment is indeed correct, the transfers have the ability to not only help on the court/field, but also off it. Diaz cites the players he refers to as Miami's first high-profile transfer and most recent high-profile transfer to demonstrate the type of impact older players can have outside of the stat sheet.
The former is Adrian Colbert, a defensive back who came from Texas in 2016, and the latter is D'Eriq King, who joined the team from Houston this year and is currently its starting quarterback.
"We were trying to rebrand what it meant to play defensive back at Miami from 2015 to 2016. We were trying to set a [new level] of toughness in our secondary and bringing in Adrian Colbert and the toughness … and physicality that he played with, I thought inspired all of the other defensive backs," Diaz said. "And then, fast-forward to this year, bringing in D'Eriq King and, in addition to all of his hats on the field, just who he is off the field and his leadership and his ability to connect with everybody in the locker room has transformed our team into a much more [tightly-knit group] than we were a year ago."
The third player in ACC history to throw for 400 yards and rush for 100 yards in a single game, King is part of an extremely talented group of transfers on Miami's football roster now.
King owns three ACC Quarterback of the Week accolades, while Jaelan Phillips (UCLA) has two ACC Defensive Lineman of the Week plaudits and Quincy Roche (Temple) sports one. Bubba Bolden (USC) is a two-time ACC Defensive Back of the Week and Jose Borregales (FIU) has one ACC Specialist of the Week distinction.
"I think for them, it's always going to be about the 305, the tri-county area, the state of Florida," Caputo said. "But transfers have been a wonderful way, it looks, for them to supplement their roster."
The Miami basketball program, too, has once again supplemented its own roster with transfers. Three of the Hurricanes' 12 scholarship players began their careers at other Division I schools.
One of them, Kameron McGusty, made a big impact last year in his first season after sitting out. The former Oklahoma Sooner averaged 12.5 points and 4.0 rebounds per game in 2019-20, scoring 20-plus four times for the Hurricanes.
Caputo thinks the Katy, Texas, native could be poised for a McClellan-esque redshirt senior season. Larrañaga, in part due to McGusty's clean bill of health after dealing with multiple injuries over the past two years, also feels the 6-foot-5, 190-pound guard is in for a big campaign.
"Right now, he's shooting the ball the best [he has] since he's been here," Larrañaga said. "He has gotten himself in great shape. He's running the floor and has shown more consistent athletic ability. He's certainly more experienced in our offensive and defensive schemes. So, I think he's heading towards an outstanding senior year."
Nysier Brooks, who came to The U from Cincinnati, is set to take the court for Miami this year after sitting out the 2019-20 season.
A 7-foot, 240-pound redshirt senior center from Philadelphia, Brooks will aid the Hurricanes in some areas the team struggled last year.
"Nysier is very strong, has a great physical presence. He's also very much a vocal leader. He loves to talk on defense," Larrañaga shared. "He's a really popular player amongst his teammates because he's so friendly and engaging. Nas is someone we're counting on to be a major contributor at the defensive end of the floor and in rebounding at both ends of the floor. We think he can be an outstanding receiver of bounce passes and lob passes in around the basketball that could lead to dunks. We're also working very hard with him on his jump hook so he has a bread-and-butter shot and a bread-and-butter move to get that shot so he can contribute mightily at the offensive end. But his greatest contribution is going to be the energy he brings every day."
One transfer whom Hurricane fans will not see on the court this year is Elijah Olaniyi, who joined the team this summer from Stony Brook. A 6-foot-5, 205-pound senior guard Olaniyi will redshirt this season in accordance with NCAA transfer rules.
Although the Newark, N.J., native might not be appearing in games in 2020-21, he is still expected to have an impact on the team's success.
"First of all, Elijah is kind of the same size of the players that we've had that have enjoyed so much success. Starting with Durand Scott and Rion Brown, a Sheldon McClellan, a Davon Reed, Bruce Brown, Lonnie Walker," Larrañaga said. "They're all in that 6'5, 6'6 range with long arms, great jumping ability, have the ability to shoot the three, but are also good going to the basket. He's a very serious competitor.
"He gives a great effort every day in practice and we're going to need that because the teams we play in the ACC are so gifted at that position, we need Elijah to kind of be the best player for our opponent in preparation for that game," Larrañaga continued. "I think he's going to provide that. With a year of experience under his belt, I think he'll be ready to really contribute next year."
With transfers playing a pivotal role for both the Miami football and basketball programs, it is clear the conversation Diaz and Caputo had years ago has proven correct and both individuals have recognized just that.
"As time has gone on," Diaz said, "we've probably had some conversations where we circle back to that initial talk and the affirmation that, that was true."