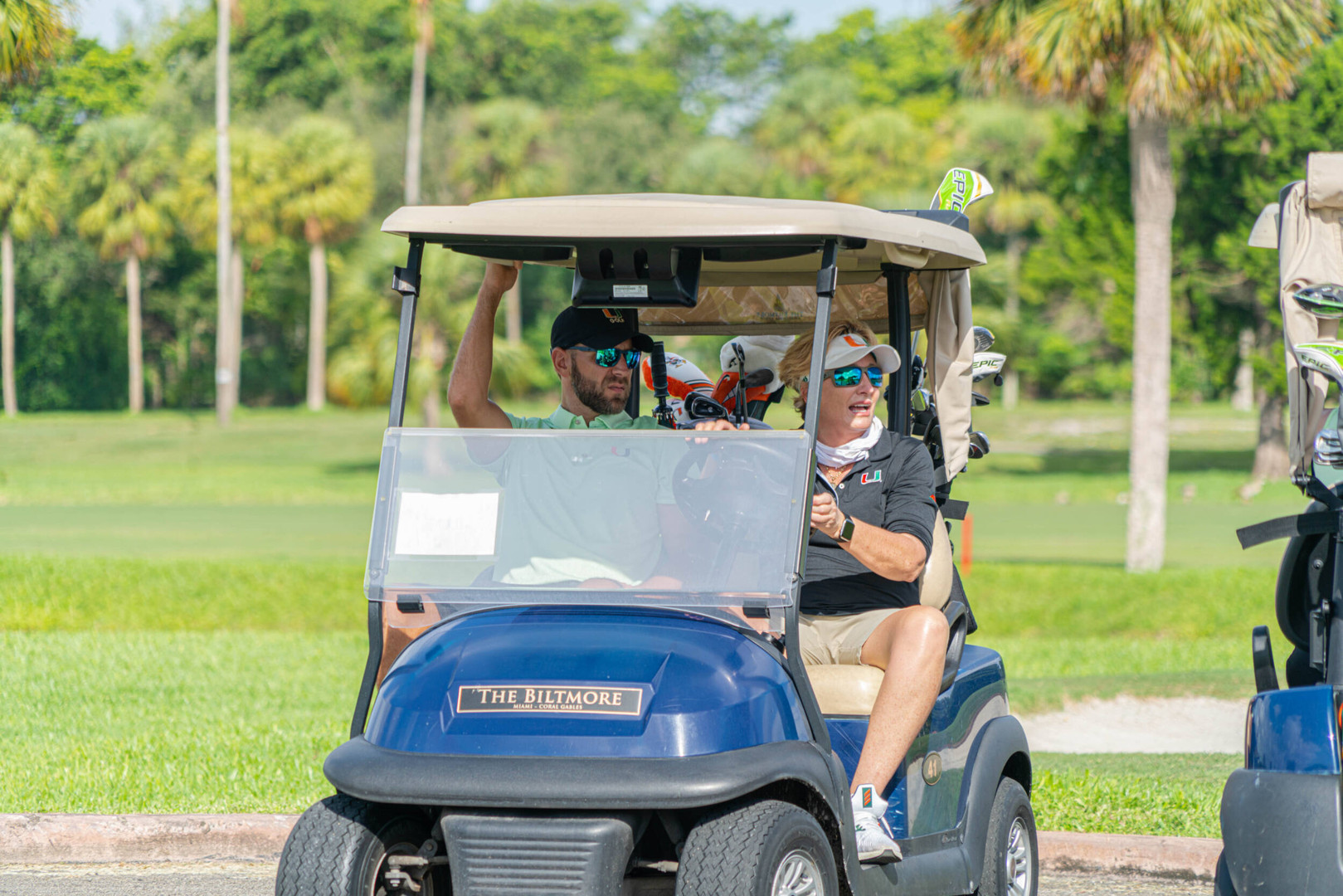 CORAL GABLES – Opposites attract.
A phrase often used in science involving protons and electrons, as well as in relationships, has proven true at the University of Miami.
A bond that sprouted 12 years ago at Barry University continues to strengthen year in and year out, as head coach Patti Rizzo and assistant coach John Koskinen are set to enter their 11th spring leading the Hurricanes' golf program.
Born to be a golfer, Koskinen has experienced it all, both good and bad. After being cut by the Michigan State golf program as a redshirt freshman, he returned after a summer of regaining his confidence to register the team's lowest scoring average as a redshirt sophomore. Working at a golf course following graduation, the Baraga, Mich., native later made a run on the PGA Tour, experiencing all the ups and downs as a professional.
Meanwhile, never even considering the sport of golf growing up, an ankle injury at the age of 15 forever changed the course of history for Rizzo, who from the moment she swung her first club began to dominate the playing field.
"John had to deal with and knows what it is like to struggle," Rizzo said. "I was very fortunate. I never struggled, I was one of the lucky ones, I know that and I thank God every day. But I was one of the lucky ones. As soon as I turned pro I signed with IMG, I had endorsements, I had money, I had a new car. Everything I wanted and needed I always had as a pro. I stayed in the nicest hotels, sponsors booked my transportation.
"But John struggled," Rizzo continued. "He stayed in a room with four guys, he slept on the floor. Their qualifying school was three segments, ours was one. He tried playing mini-tours, he had some success, but also failures. He understood the struggles of the mental game. I think it helps him relate to the players when they have rough days, mental blocks or they don't have financial backing. So, he can put things in perspective, and he can say, 'Hey, this is why you need your degree. This is what happened to me.' He is very helpful."
Different paths. Different personalities. Different situations. But also, one common goal and an unbreakable bond.
"They complement each other so well," fifth-year golfer Macarena Aguilera said. "They teach us the same values and help guide us on the golf course, in school and even life."
Following a dominant amateur and collegiate career at UM before collecting wins on the U.S. and Japanese LPGA Tours, in 2004 Rizzo conversed with Barry's athletic director, Michael Covone, who asked if she was interested in coaching the Buccaneers.
"I didn't even know how to pay a bill," Rizzo said after she ultimately accepted the coaching position. "IMG managed me and gave me a credit card, so I didn't have to worry about purchase orders growing up. I didn't know where anything was. It was like a crash course on coaching. But they were very mentoring and I will always be appreciative of Barry. That athletic department supported me every way and I wouldn't be where I am without them.
"I was without an assistant my first five years, so I had to do everything on my own. But my last year there, they said I could share an assistant with the men's team and that is where John came in," Rizzo added. "So, John showed up and he was OCD about everything, which is what I needed because I am so not OCD. So, I was like, 'I need someone who is structured and who is orderly,' so John and I hit it off great that year."
Koskinen had a professional career highlighted by two appearances in the U.S. Open, in 2006 at Winged Foot, and 2007 at Oakmont. He also competed on the Hooters Tour summer and winter series, finishing second on the 2006 winter series money list. However, in 2009, Koskinen was starting to get a little run down as a player, so when a former teammate at Michigan State mentioned an opening at Barry, he jumped at the opportunity.
"Working for Patti is easy. She is so laid back and easygoing. She is truly the best boss I could ever hope for. I was surprised how much I enjoyed coaching the women's program that first year. The girls were fun to travel with, and I was impressed with their work ethic and talent," Koskinen said. "At the end of the year, Patti pulled me aside in the parking lot at Regionals to inform me she was taking the job at Miami. She enjoyed how well we worked together that first year and asked if I had any interest coming with her. I told her, 'Absolutely.'
"Patti has and always will be the type of person who believes everything happens for a reason and everything will work out in the end," Koskinen added. "I, on the other hand, need to feel like I have a bit more control over certain situations. She would absolutely use the term OCD. Voila, we are a match made in heaven."
Together, they have led the Hurricanes to seven consecutive NCAA regional tournaments, earning back-to-back trips to the NCAA championship in 2016 and 2017, Miami's first such accomplishments since 1992.
"Patti is one of my best friends. I consider her my family," Koskinen said. "We have been through a lot together both personally and professionally and she has always been there for me. I think we work well together because we are very opposite personalities when it comes to work issues. You can't have two chefs in the kitchen. She allows me to take control over certain situations and steps in when she needs to. I think our mutual respect for each other has allowed us to go on for this long. In our 12 years together, we have never raised our voices at each other one time. Not many partnerships can say that."
"We are in the cart a lot together when the team is competing and we just have a lot of laughs," Rizzo said. "He has just been great for me. I can't quite figure out if he is like part my son or part my best friend, because he is right there in that in between age. I am like, I either had you really young or I have a young best friend. We definitely love each other very much."
For fifth-year golfer Renate Grimstad, she noticed the bond the duo shared from the moment she visited.
"I remember when I met them the first time and they showed me around the Biltmore and campus. They seemed very close back then, but once I started and got to know them better, it hit me how close they are," Grimstad said. "They have a very special bond which is hard to really put into words, but it's obvious that they're close beyond just their coaching duties for us. They care about each other, and they bring the same mentality to practice every day when they're with us. It brings us all much closer."
Echoing Grimstad's remarks, fourth-year golfer Kristyna Frydlova and Aguilera have treasured every moment they get to spend with Rizzo, Koskinen and their teammates.
"Coach John and coach Patti are both really amazing and we are so lucky to have them guide us through our college experiences," Frydlova said. "Just traveling for tournaments is always so fun with them; I love seeing them work together. Seeing how compatible they are projects onto the team and I believe it makes the team bond very strong. I couldn't have asked for better coaches and I will always remember many of the valuable golf and life advices I got from them."
"One of the best anecdotes I have is when we taught coach Patti a dance on TikTok and it became a way to celebrate a birdie," Aguilera said. "It was a nice moment we all bonded and laughed over. They have taught me a lot throughout these past four years. I couldn't have asked for better coaches."
Looking back on their 12-year bond, one memory that sticks out to Rizzo that she still laughs about today involves an in-house acting gig composed by Koskinen.
"We have a lot of laughs. We were dying to get a new van for so many years and [Senior Associate AD / Compliance] Craig [Anderson] was our supervisor at the time and we were driving to a tournament and everything in the van was broken," Rizzo said. "The mirror in the van fell off, the side view mirror had a crack, when we tried to roll the window down, it squeaked really, really bad and one of our headlights was out. So, I had said to John, 'Let's make a video and send it to Craig on why we need a new van.'
"John jumped at it and was an incredible actor," Rizzo continued with a laugh. "I laughed so hard and still laugh watching it again, I was crying. He was like, 'So, what do you think of our lovely University of Miami golf van?' Pushes the button and the window makes a horrific noise and the mirror goes down in the front. And then he goes, 'Let's go check out the lights now.' The light was out, it was hysterical."
Enjoying the laughs they share, Koskinen cannot get enough of the stories Rizzo tells and the lessons she teaches.
"My favorite thing about Patti is listening to her tell stories of her past," Koskinen said. "She will write a book one day. Some of the stories are truly unreal. We tell the girls on the team that when they win a tournament, Patti will share her Las Vegas story. They have to earn that story because it's so good."
Reaching new heights as a senior before the ongoing COVID-19 pandemic put a halt to the 2019-20 campaign, Grimstad set the program mark for scoring average in a season, earned WGCA All-American status and garnered the prestigious Dinah Shore Trophy award. With all of the accomplishments, she is thankful for both Rizzo and Koskinen's leadership over the past four years.
"I've always considered them as my American parents and because our team is so small they have meant a lot for me personally outside the course as well," Grimstad said. "Coach John is probably the most talented and caring person I've ever known and the last year he pushed me to start believing in myself and getting the job done to win tournaments. I wouldn't be where I am today without his help and guidance, which I'm forever grateful for. As for coach Patti, she has taught me so many valuable lessons about life and how to tackle challenges. She has personal experience about life on the LPGA, which is extremely valuable to everyone on the team. Coach John is always there to help us with the technical stuff, such as swing and practice drills, whereas coach Patti helps with simplifying golf for everyone on the team and enjoying the process.
"I could write a book about both of them and what they do for us, which we have to learn not to take for granted. I have so many fond memories of them and it's very hard to pick a few to mention, but when we made it to Nationals in 2017 it changed the tone and atmosphere on the team," Grimstad said. "Coach John has been my guardian angel at tournaments more times than I can count and I've had some really tough conversations with coach Patti that helped me through adversity. With the pandemic and the uncertainty of when we'll see them again, I keep holding on to all the good times we've had and I really miss them now."
With the fall semester coming to a close, the golf team is anxiously awaiting the start of spring competition, where they once again hope to laugh in person with one another.
No matter who you ask on the team, they are excited for what the spring could bring and everything they hope to achieve.
"The players on the team keep getting better and better every year," Koskinen said. "It has taken a lot of hard work, but I believe we are finally getting to the point where the most elite players in the world are now considering us as an option for their golf career. When we took the program over, that was not even a consideration. The program was in really bad shape. It's been fun to watch the progress over the last 10 years. This spring will be the strongest team we have ever had. There is no limit to what this team can accomplish."