CORAL GABLES, Fla. – Despite not being able to compete as a unit this fall, these unprecedented times have not stopped the University of Miami golf team from making an impact on the greens.
In preparation for the 2021 spring season, the Hurricanes are continuing to put in the work in both the classroom and the golf course.
Making the most of their opportunities, the Canes have been competing individually overseas in prestigious tournaments, while also making adjustments and improvements to their techniques.
Overall, the Hurricanes have combined for 12 top-10 finishes, seven top-five results and a pair of victories since courses across the globe were reopened in June.
Five of the Hurricanes are back home in Europe – Anna Backman (Finland), Daniella Barrett (Finland), Renate Grimstad (Norway), Kristyna Frydlova (Czech Republic) and Franziska Sliper (Norway) – while three Canes are back with head coach Patti Rizzo and assistant coach John Koskinen practicing at the Biltmore Hotel and Golf Course.
"It's been nice getting back to practice and in a bit of a routine with [Macarena Aguilera, Sara Byrne and Morgan Pankow]," Rizzo said. "They are all hard workers. They look good and are excited for the spring to come. But, it is definitely a bit lonely without the whole team here. So, we are just staying in the groove until we can all be together."
Fresh off a career-year – capturing her first collegiate victory, setting the program season scoring average mark, claiming WGCA All-American status and earning the Dinah Shore Trophy Award – Grimstad competed in the U.S. Women's Amateur Championship in her first tournament since play halted.
"Playing the U.S. Am was a dream come true," Grimstad said. "In hindsight, I realize that my expectations were a bit too high coming into the tournament. Because I had such a good year going before COVID-19, I expected my game to be at least as good as it was heading into that tournament, even though I hadn't competed since March. The first nine holes put me behind and I knew I had to play solid the next 27 holes to make the cut. I ended up playing really solid those holes and felt like I found my form, but a few expensive mistakes and the nerves of competing at such a big event unfortunately got the best of me that week."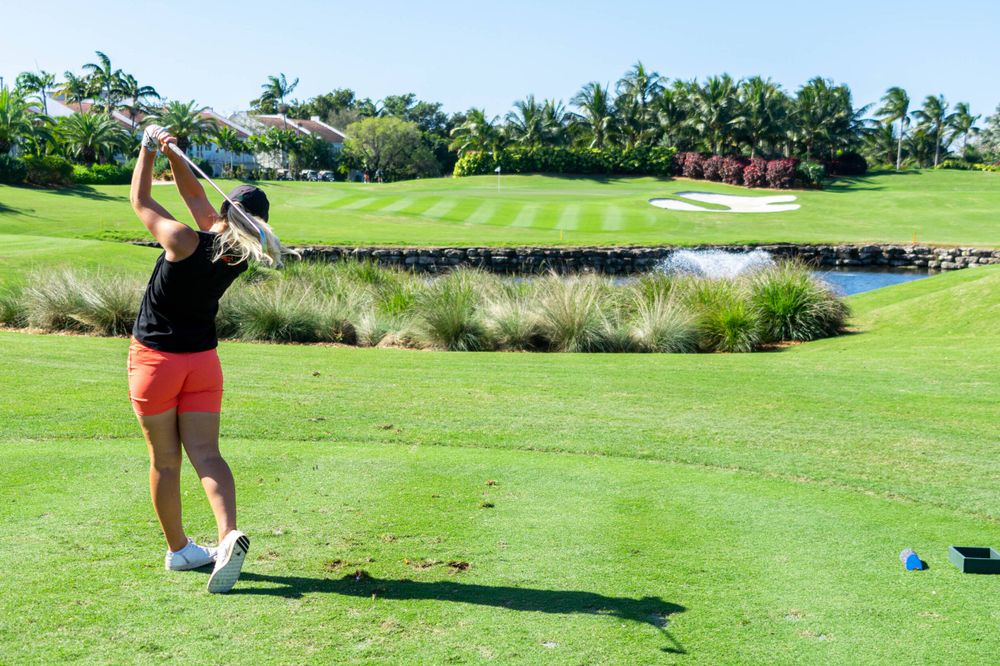 The senior later returned to Bergen, Norway, and has since competed in a pair of events.
The top-100 WAGR golfer secured a seventh-place finish at the Garmin Norgescup, while sitting atop the leaderboard at four-under in the opening round of the Garmin Miklagard Open.
"Similar to the U.S. Am, I was visibly nervous and shaking the first round of the Garmin Norgescup 4, which cost me a lot of shots," Grimstad said. "But I was able to find the rhythm in the second and third rounds, shooting 72-72, and making few mistakes. I guess what made the difference for the U.S. Am and the Norgescup 4 was that I didn't make as many birdies as I'm used to. During the first round of Miklagard Open this week, I felt like I was able to give myself more chances and take advantage of them, which resulted in eight birdies and a 68."
Meanwhile, back home in Prague, Frydlova had an action-packed summer both on and off the golf course.
Away from the fairway, the junior worked in a clinical biochemistry lab in July, helping with COVID-19 testing and processing the results during an internship experience.
"It was great to obtain some experience in what I study, when I had the time, and to help the lab assistants and doctors which have been really busy since all of this started," Frydlova said.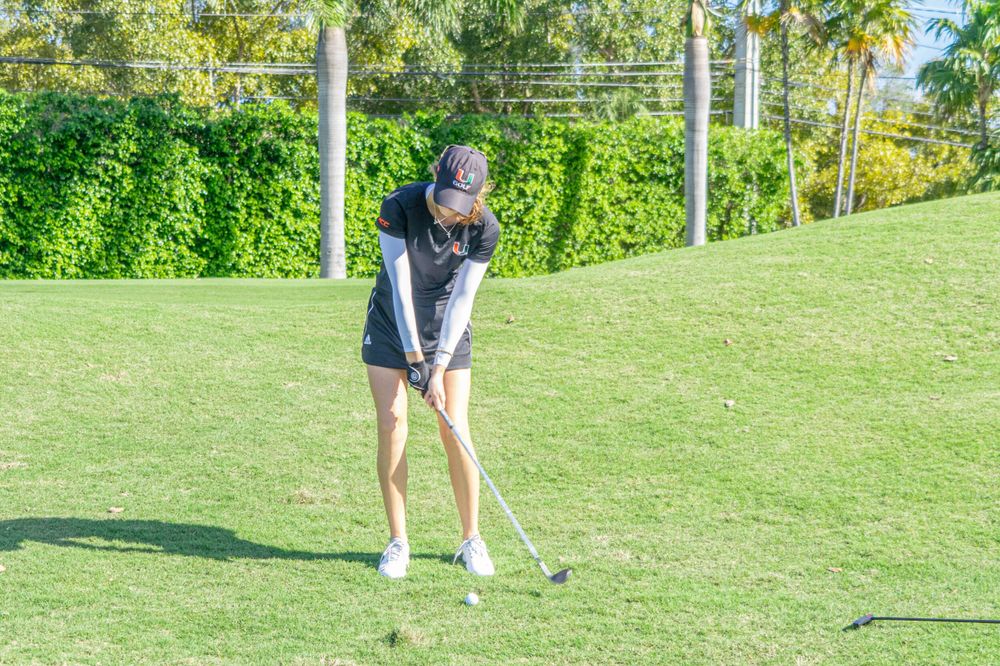 Away from the lab, Frydlova got off to a fast start, placing third in the Czech Amateur Tournament in June, her first tournament since the Hurricane Invitational.
Overall, she secured a trio of top-three finishes this Summer, while securing the gold medal at the third Czech Amateur tournament, winning by four strokes.
"After everything that happened, I actually had a pretty eventful summer," Frydlova said. "I played tournaments at home with good competition, since all of the girls who also play college golf were home. We also had two professional tournaments and I was really happy about shooting one under overall in a Ladies European Tour event in Prague. I also got to compete in a European Team championship with my country in Sweden and I won a Czech Amateur Tour tournament.
"All of these results kind of reassured me about my game after the long break," Frydlova continued. "Next week I am going to play my last tournament, which is the European ladies' individual championship, so I am focusing my practice on that at the moment, I think it's great that we still get to play with everything that's going on."
In Finland, Barrett added a win to her resume on August 22 on the Finnish Tour.
Opening the event with a four-under, 69, the Turku, Finland, native jumped out to a commanding five-stroke lead on the competition, a lead she would not look back on. Overall, the freshman finished three-under 216, seven-strokes ahead of second place.
Along with the first-place finish, she added two more top-10 finishes on the Finnish Tour.
"I was very happy to finally get my game together," Barrett said. "I had seven birdies and an eagle in the first round and ended up playing four-under. It was good to see that it was possible to make so many birdies and that I could save myself after making bogeys. I certainly missed playing with the team and not having any tournaments abroad, instead I was only playing in Finland, so winning the Finnish Tour was very nice and gave me more confidence in myself.
"Currently I am working on getting my body stronger and making sure my swing is in good shape for the Spring," Barrett continued. "Wedges have been my main focus this year, so I'm happy to see some improvements in that area."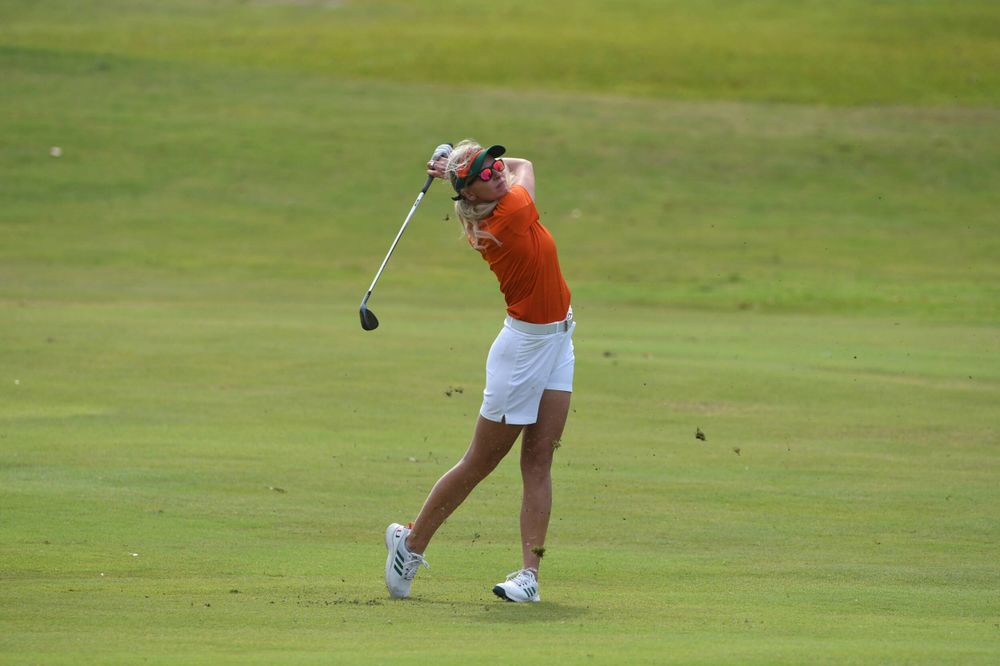 With a pair of collegiate victories in less than a year and a half of competition at Miami, Backman quickly returned to form back home in Finland since tournament play resumed.
In five tournaments, the Vääksy, Finland, native secured four top-10 finishes, just missing the achievement in all five, placing 11th in the Finnish Tour finale.
"It's been a lot of fun to be able to compete back home, especially now that I know I won't be playing college golf for another couple of months," Backman said. "I had three top-five finishes with two of them being runner-up spots in Finnish championships – match play and an open championship.
"I am saving the wins for when I'm playing for UM," Backman continued with a laugh. "With the tournament season completed here in Finland, I am now just going back to work on my technique in order to send the ball with a straighter flight."
Joining Grimstad back home in Norway, Sliper has competed in a pair of Garmin Norgescup events, placing 10th and 15th. After a round of play at the Garmin Miklagard Open, the Stavanger, Norway, native sits in second-place, just two strokes behind her senior captain.
"It's been good to be back home for the summer and to play some tournaments so that I could have something to practice and prepare for," Sliper said. "For the offseason I'm trying to keep it going and staying motivated by thinking of the tournaments ahead. I've also been working a lot on my short game. For this offseason, I'm working on my consistency and minimizing the errors in my game, as well as gaining some extra length and speed."
Here in Coral Gables, Byrne is getting acclimated to her surroundings while taking the opportunity to learn from a pair of veterans, Aguilera and Pankow. The freshman from Ireland will get her first tournament test Oct. 5-6, while looking to apply everything she has been learning at practice.
"The first couple weeks here have been great," Byrne said. "Maca has helped me settle in so much. She has shown me the ropes around here, as well as helping me understand what to do and of course what not to do. Our first practice was the first time I had met Morgan and since then we have gotten along great. As for coach Rizzo and coach Koskinen, they also have just been amazing.
"Next week's tournament will be my first time playing since arriving in Miami, so I'm just looking forward to the experience," Byrne continued. "I'm currently working on a few technical things with my swing and the drills coach Rizzo and coach Koskinen have planned for me, I think, will help me a lot."
Whether the Canes are practicing at the Biltmore or competing in their home countries, the team is making the most of their opportunities as they prepare for the upcoming spring campaign.