The Honorable Andrew Bain
As a youngster growing up near the Atlantic Ocean, Andrew Bain had the dream of one day becoming a marine biologist – a sort of new-age Jacques Cousteau, he figured.
He was fascinated by the idea of exploring the waters around Florida, studying life in reefs and caverns and underwater caves.
But as he grew older, a problem presented itself.
"I quickly found out when I was in fifth grade and I was 5-foot-10 and as big as my dad that that probably wasn't going to be a viable option," the former Hurricanes offensive lineman laughed. "Those little spaces weren't going to be a real thing for me."
Football, though, became an option. And football eventually brought him to the University of Miami, where a business law class and a professor helped change his life.
After taking that one class, Bain wound up adding a business law minor to a course of study that already included majors in psychology and African-American studies. By the time he graduated from Miami in 2007, he knew that once his football career was over, he'd enroll in law school.
That's exactly what he did, graduating from the Florida A&M University College of Law a few short years later. And earlier this year, Bain was appointed a judge in Florida's Ninth Judicial Circuit, which serves Orange and Osceola counties. His appointment came after he'd served seven years as an Assistant State Attorney in the same circuit.
Now, the football-player-turned-judge says he hopes his journey can help inspire not just the current Hurricanes sitting in the same meeting rooms he once occupied, but youngsters from his Pompano Beach neighborhood who, like him, never imagined a legal career was possible.
"My dad grew up in Florida City and Homestead, working the fields and doing things like that," Bain said. "Then a generation later, he has a son that went to college, graduated from college, got a doctorate degree in law, became a practicing attorney and is now a judge. There's no way my grandmother could even dream about something like that or my grandparents at all.
"That's where my immediate thoughts went to, after I was appointed and then to my kids, because, basically, they will never know nothing of the kind of childhood I grew up in and that my parents grew up in. They'll be so far removed from that. I was trying to figure out a way to explain all this to them, how we got here. … Those were my first thoughts after my appointment."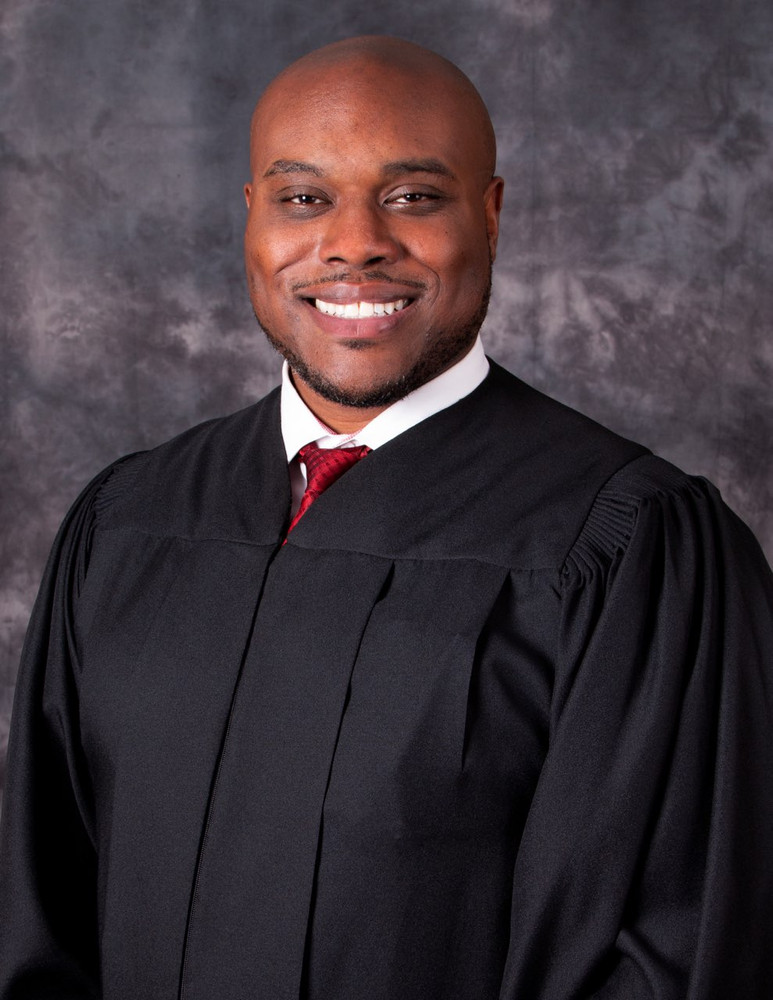 It's been a journey Bain concedes he could never have imagined taking when he was playing football at Pompano Beach's Blanche Ely High School.
During his time at Blanche Ely, Bain saw the need in the community around him. He saw fellow students struggling to keep up with their studies, while others made regrettable decisions that, in some cases, he said cost his peers their lives.
It was then that Bain knew some day, in some way, he wanted to positively impact those around him and it's where the idea for a tutoring and mentoring program was born.
His reach now, Bain knows, is far bigger and he understands that in both his previous job as a prosecutor and now as a criminal judge, he is likely to encounter people facing some of the darkest moments of their lives.
That doesn't mean, though, there isn't hope.
"There's nobody perfect in the world. We've all made terrible mistakes. We're all definitely sinners. But, you're going to get a fair judge. You're going to get somebody that's going to faithfully apply the law as written. You're going to get somebody that's dedicated to the interest of the community and the betterment of that community," Bain said of the kind of impact he'd like to have from the bench. "It's going to be the individuals in that community who decide to make changes. … That person has to decide they want to make a change, and if they do, we should be there as a community to support that change."
Positive support, especially the kind Bain says he received at Miami, made a difference for him.
As a student-athlete, he took advantage of opportunities to network with people both in and outside the Hurricanes football program. On the field, hard work and discipline were rewarded with playing time and he says many of the habits he learned as a Hurricane still guide him today.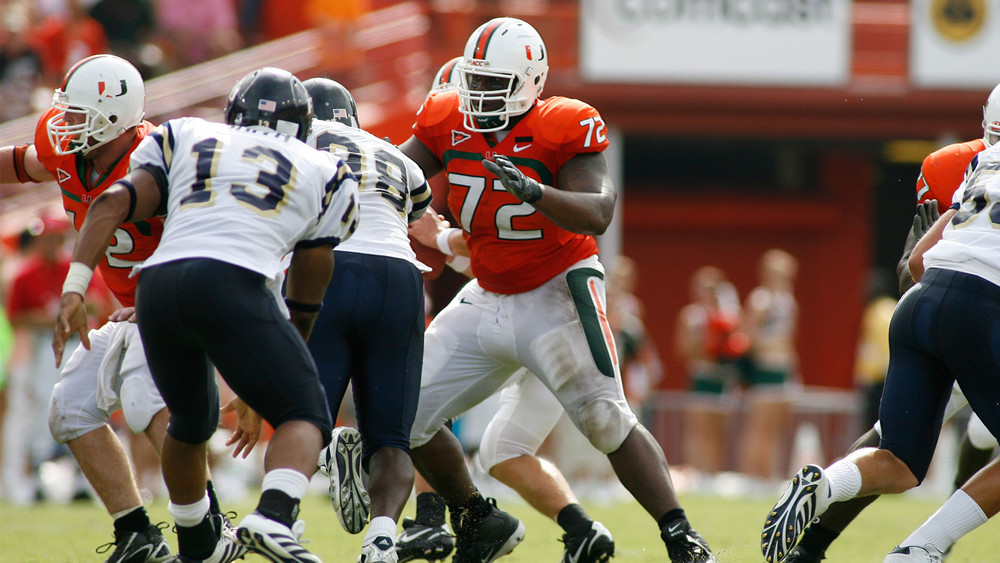 Just as he did during his days as a football player, Bain rises before dawn to either get in his daily workout or to start preparing for court. The husband and father of two still sounds like an athlete when he talks about how he won't be outworked or how determination brought him to this point in his life. And mementos from his Hurricanes career hang in his office as a reminder of the journey he's taken.
He believes strongly that in much the same way Miami changed his life, the University can do the same for the current Hurricanes.
"I remember going to workouts early in the morning. I remember struggling to get to class. I remember the pain. I remember all the things that go along with this process, but if you're willing to sacrifice your immediate comfort for success, for your goals and for everything that comes along with it, then there's no telling what you can do," Bain said. "Maybe someone in that meeting room is going to be a great CEO or a great judge or a great attorney or a great community leader, the pastor of a church, a rabbi in a synagogue. But, you're going to be great at whatever you decide to do, if you decide to be great. Make that decision in your mind to be great today. If you make that decision on a daily basis, God will give you a measure of grace that day to be great. So go do that. Go be great."