CORAL GABLES, Fla. — As every basketball player knows, eventually the ball stops dribbling. But just because they are no longer running up and down the court does not mean that a player's ties to the game are over.
For nine Canes, the move was familiar; just a little further up the bench, from player to coach.
These Canes have gone on to coach at all different levels. Kym Hope and Krystal Saunders are just up Biscayne Blvd., at Johnson and Wales – North Miami, serving as the head coach and assistant coach, respectively.
Albrey Grimsley coached at both the NAIA (St. Thomas University) and the Division I (Central Florida) level, while Diane Barnes and LaToya Cunningham are coaching high schoolers across the nation.
Two Hurricanes returned to their roots, Octavia Blue and Morgan Stroman. Blue serves as the Miami associate head coach and Stroman assists in player development, both mentoring the current generation of UM players.
The Canes coaching club gained another member this month when Shawnice Wilson was named an assistant coach at St. Francis University on Sept. 11.
"I told so many people around me that I would never coach because of the high demand, as far as time," Wilson said. "But as I got older and further in my career, I realized the necessity for all the time the coaches put in and I understood that piece about basketball. Here we are now, and it's definitely been fulfilling."
Wilson, or "Pepper" as she was affectionately referred to during her time as a Cane, played at Miami for two seasons, averaging 7.7 points and 5.3 rebounds in 64 games played. Upon graduating, the post player competed professionally overseas for five years, including stints in Spain, Italy and Sweden.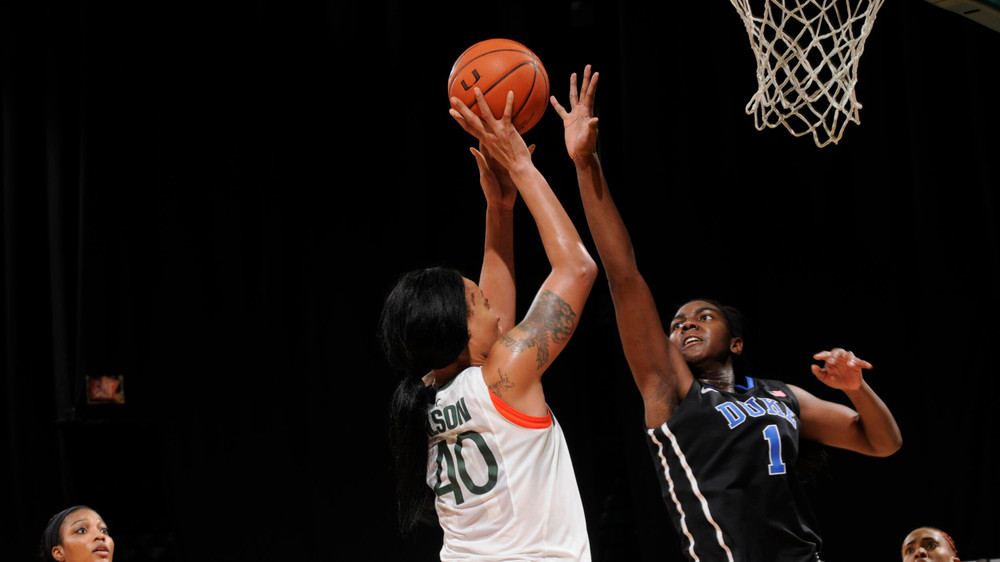 Prior to accepting the coaching position, Wilson worked as a teacher counselor and ran a basketball skills training camp, "Pep's Post Skill Development, LLC," working to improve athletes' conditioning, fundamentals and overall basketball skills.
While coaching was not something she had planned on pursuing in college, the lessons she learned from head coach Katie Meier and the assistant coaches stuck with her.
"Coach Meier's energy, that is the one thing that screams at me," Wilson said. "Katie Meier was consistent with her energy and consistent with displaying her passion. She would preach to us about life lessons that you learn on and off the court and I find myself reiterating those same lessons."
Along with bringing a high level of energy to practice every day, Meier strives to show her players that coaching is a viable career option if they have the passion and dedication.
"My players see me, and they know that I am treated fairly and with respect and that our administration is all about equality," Meier said. "We've shown here that we can graduate every kid and build a great family atmosphere, while still having a great balance in our lives."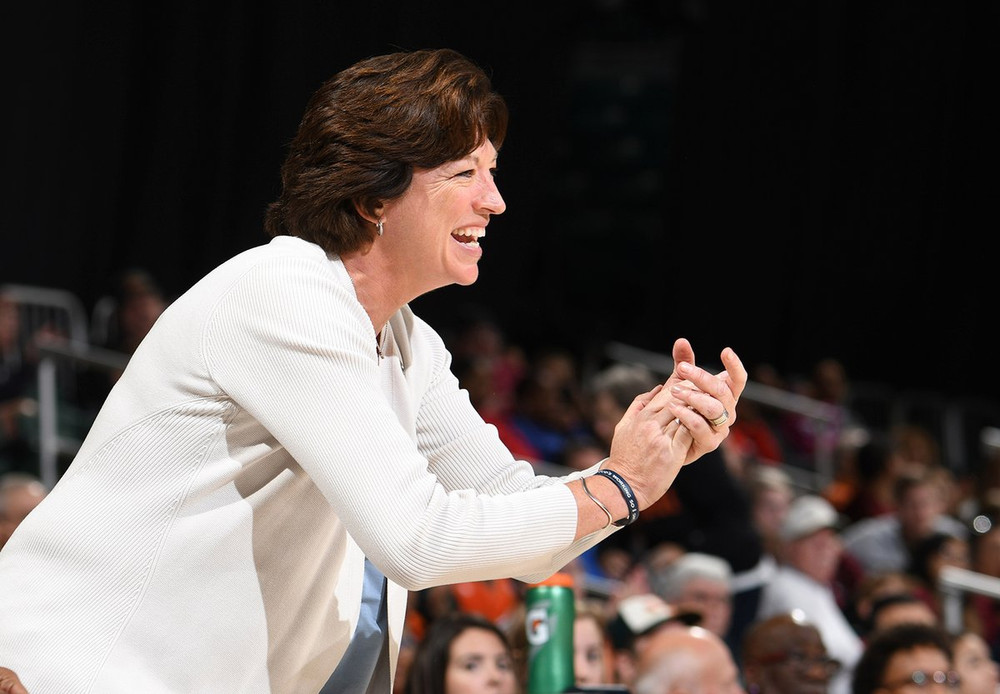 Meier commends her "loyal and hard-working" assistant coaches for being strong examples for the players.
"They've been successful and heard and respected," Meier said. "They are all about the U and working hard and giving players all the time that they need."
For Wilson, Blue's is always in her mind.
"Coach Blue's voice stays in the back of my head when I'm coaching these players because there were a lot of great things that I picked up from her," Wilson said. "I hope to be as impactful, if not more, to these players as my coaches were to me."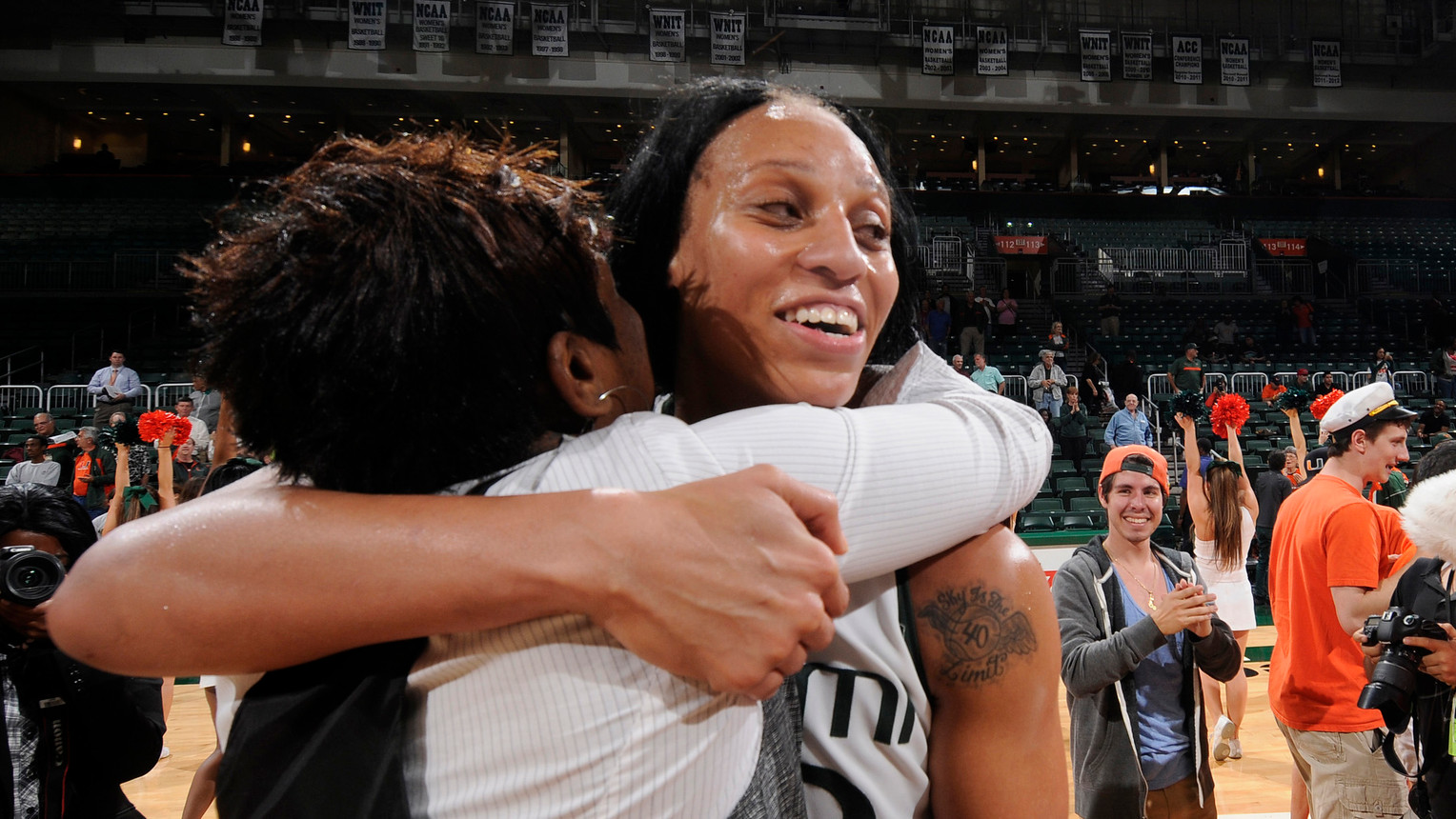 The Canes players that have joined the coaching ranks were fortunate to not only learn from the experiences of their coaches, but also from their own personal experiences as players. Hope, Saunders and Wilson know exactly what is needed from their players because they've been in their shoes.
"I think it's important for the players to be able to connect and relate to coaches," Wilson said. "I was a very hard-working player so I can demand that from the girls because I've been in their situations."
Like every new coach, Wilson's goals for the first couple months are to learn as much as she can about the program and the players. She is looking forward to learning the ins and outs of coaching including how to pull the best from her team.
Meier has no doubt that Wilson will be an exceptional assistant coach.
"Pepper has an amazing presence and knows how to command respect," Meier said. "She never made excuses as a player and will be a great inspiration as a coach."
Each coach has had their own unique road to joining the coaching ranks, but they all have one thing in common – it all started as players at The U.