Achong Ascending into Leadership Role
CORAL GABLES, Fla. – Estela Perez-Somarriba is the unquestioned leader of the University of Miami women's tennis team. There is no disputing that.
The 2019 NCAA singles champion is the winningest singles player in program history and has the utmost respect of her teammates.
However, as gifted as she is, Perez-Somarriba cannot lead alone.
Cue Daevenia Achong, Miami's talented third-year standout from Geleen, Netherlands.
"I want to take some pressure off Stela," she said. "Because if not, she has to do too much on her own and that will take a toll on her at some point."
As the No. 2 player in the lineup and the lone Hurricane besides Perez-Somarriba with over a season of college experience, no one is more capable of helping take some of the burden off the Spaniard's shoulders than Achong.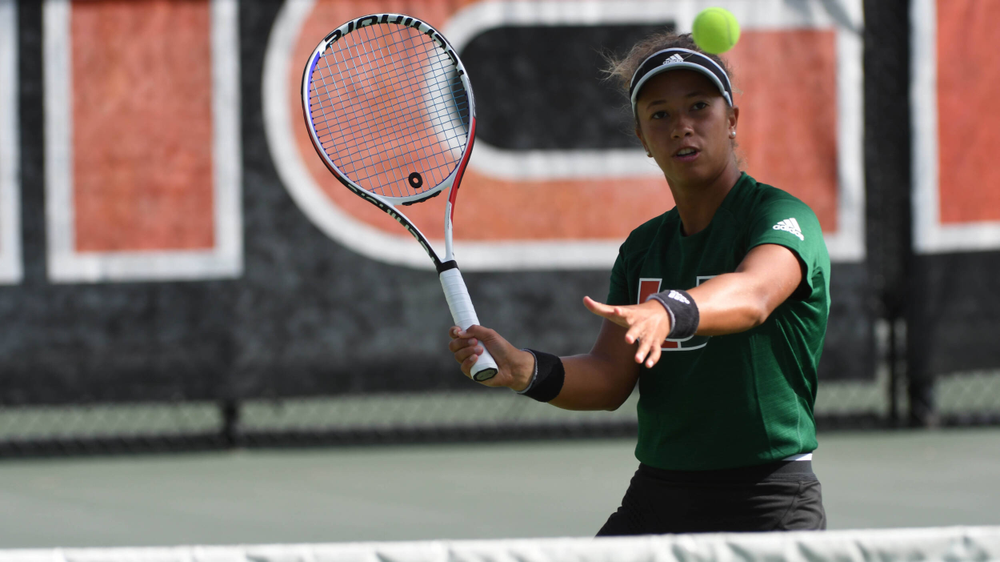 On a young team featuring just two players—Achong and Perez-Somarriba—who have played a full collegiate season, a second leader in the locker room is vital.
"I think it's important, besides Stela, that there is someone that can also carry out that example role," Achong said. "So, I think I need to step up there, definitely."
Achong, who was one of the only three non-freshmen on Miami's roster in the abbreviated 2020 season, has already been leading by example since the time she got to Coral Gables.
In fact, when Achong arrived mid-year in January 2019, she immediately impressed her soon-to-be national champion teammate with the way she carried herself.
"She was so calm about just playing number two as a freshman. She was so open-minded, so tough. She didn't complain at all. She adapted so well to the new environment," Perez-Somarriba said. "That was very surprising to me and that says a lot about her, not just as a person, but as a tennis player and how much she wanted to learn and improve and everything. I remember playing doubles with her in her first dual match and she actually was the one calming me down."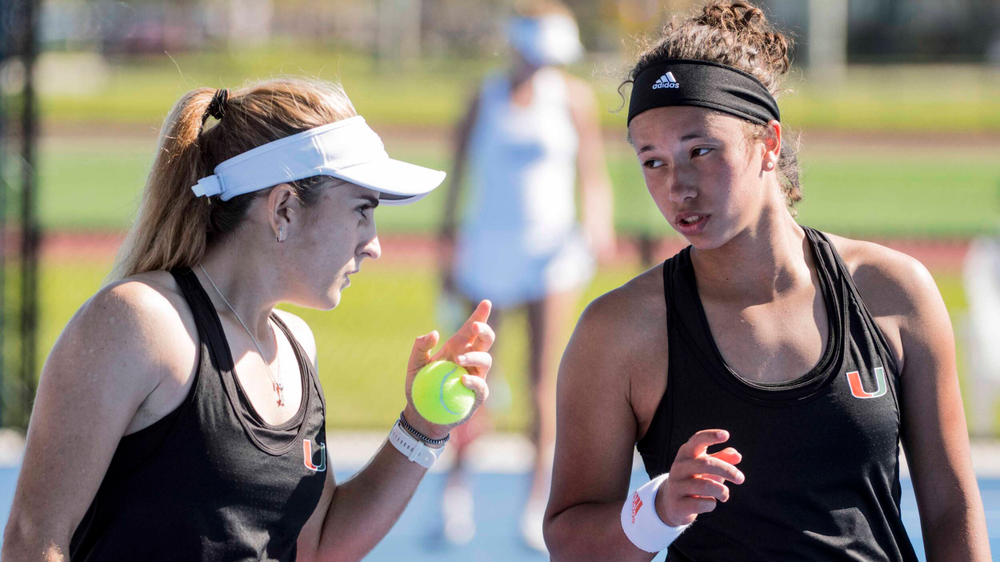 While Perez-Somarriba will certainly retain her role as the primary vocal leader, Achong knows it will be imperative to increase her voice moving forward.
That is something the 5-foot-8 right-hander feels just fine about and is ready to fully embrace.
"I'm a person that can talk in an easy way," Achong explained. "So, I don't have a problem saying things to other people or helping teammates, that kind of stuff. I'm not afraid to say something."
Perez-Somarriba also described Achong as easy to talk to, but that is not the only reason she feels her teammate has the ability to assert herself as more of a vocal leader.
Achong's words and actions over the past 21 months, since she arrived at Miami, have demonstrated she has the capacity to do just that.
"Sometimes she's just being the moderator, kind of, between members of the team. She has been in tough positions in matches on many occasions and she's been able to get the 'W,'" Perez-Somarriba said. "She he has shown the rest of the team that she's really tough, that she can accomplish great things. Leading by example, that's big, and she's done it a few times. She doesn't know how to create drama. She's such a nice, respectful person that for the rest of the girls, that's very inspiring. She, basically, embraced the culture of the program since day one."
Achong, who returned home to the Netherlands in mid-August and has been working with a personal fitness coach five days a week over the past month, has laid out some goals for herself in 2021. She hopes to earn a spot in the NCAA Singles Championship, as well as potentially return to the NCAA Doubles Championship, which she reached as a freshman in 2019.
Most of all, though, Achong wants to see her team succeed as a group. She knows both her play and her leadership will be factors in making that happen, as well the Hurricanes' bonds with one another.
"I think as a team, we can get really far [in the NCAA tournament] if we keep improving, working on our relationships together and making the bond really strong," Achong shared. "I think we have a really good team together right now."
Although the players are spread all over the world, they have remained in close contact both via group Zooms and individual conversations, furthering their strong connections.
"I think it's important, besides Stela, that there is someone that can also carry out that example role. So, I think I need to step up there, definitely."
When they return to campus for the upcoming season, they will be ready to compete and they will have more than just a national champion to look up to. They will have someone who has learned from her for nearly two years.
From the way Perez-Somarriba carries herself, to her discipline and toughness, to her intensity, to the way she holds her teammates accountable, Achong has observed a great deal.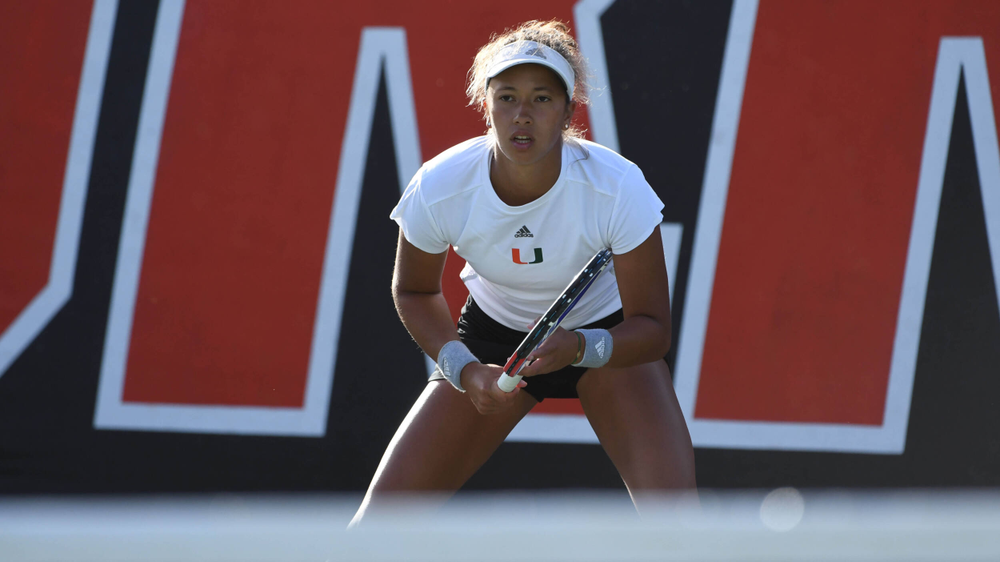 The two have also discussed how they can work together as leaders to help make the Hurricanes as strong as possible.
"We basically talked about ways of influencing the rest of the team, having an impact on the rest of the girls, either by talking to them [or] by showing them videos of college tennis, in many different ways," Perez-Somarriba said. "…She supports everything I say and sometimes she's the one that needs to talk to somebody. We kind of divide the work between the two of us and she's always willing to do anything to help everybody and I just love that about her."