CORAL GABLES, Fla. – After months of uncertainty, the University of Miami soccer team is ready for its moment.
A day removed from watching their peers return to the gridiron and tackle UAB Thursday night, the Hurricanes arrived at Cobb Stadium for their final tune-up prior to Saturday's non-conference season opener against Clemson at 6:30 p.m. in Jacksonville, Fla.
Beginning with the annual beep-test on Aug. 4, the Hurricanes trained diligently over the past month in hopes of a fall season.
"This summer was definitely a grind. Whether it was most of the team who were able to get here early, or a couple that had to arrive a little later, [it did not matter], we all grinded this summer and dug deep.  We pushed each other and stayed in contact in order to have a great preseason," senior defender Lexi Castellano-Mugica said. "For me, the biggest takeaway was communication and staying in touch with the team.  Even though we weren't able to be with each other, we still were motivating one another."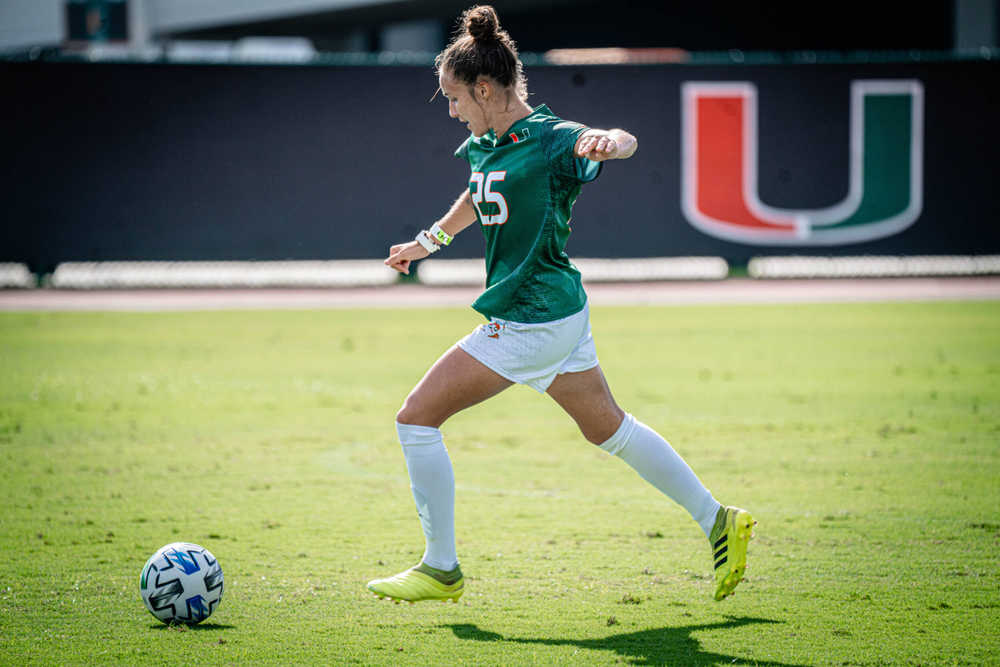 Now, just eight days after the Atlantic Coast Conference officially announced the 2020 slate, Miami is eager to face its first opponent since closing out the 2019 campaign at home against third-ranked North Carolina.
"I'm most excited to get the season started," senior defender Morgan Asmussen said. "We are super grateful to be part of a conference like the ACC that was able to create a plan for us to be able to compete in a time like this. It's going to be good to get out there and compete and show off what we've been working on this preseason."
Honoring five teammates 317 days ago during senior night, Miami's newest quartet of seniors – Asmussen, Castellano-Mugica, Tia Dupont and Michelle Giamportone – is ready to follow in their footsteps as they are prepared to lead the Hurricanes one last time.
"Knowing the season is officially here is extremely exciting for me and I honestly am just ready to start competing after we've had a month or so of just practicing and scrimmaging each other," Dupont said. "It's great to know that all the hard work is hopefully going to pay off. I am most looking forward to being able to play with my other senior teammates and just being able to hopefully carry over some of the late momentum we had at the end of last season into this year and being able to show everyone our true potential."
In the final three matches of 2019, Miami faced three top-15 opponents – No. 15 Clemson, No. 12 Louisville and aforementioned UNC – going 1-2 in a trio of back-and-forth matches.
After topping the Tigers at Cobb Stadium in an overtime thriller, 3-2, the Hurricanes came up just short against the Cardinals, 1-0. On Oct. 31, Miami held a 2-1 advantage midway through the second half against the eventual NCAA runner-up Tar Heels, off goals by Dupont and Giamportone.
Unable to make an impact alongside her teammates on the pitch after suffering a season-ending injury during the 2019 spring season, Castellano-Mugica is ready to re-join her classmates on the playing field Saturday night.
"I'm super excited for this season. With all of the ups and downs, I'm just very grateful for everyone working behind the scenes to really make this happen," Castellano-Mugica added. "It also means a lot to me because I just recovered from a huge injury and it's my last season. To still be able to play with the team and make the most of this circumstance is something I'm very grateful for."
Adapting to the ever-changing world around them, three words on the back of the team's practice shirts have remained true through these unprecedented times.
Selfless. Disciplined. Competitive.
Three core values established prior to the start of the 2019 campaign, they remain a key contributor in how the 2020 Hurricanes carry themselves and are attributes the upperclassmen have been instilling in the newcomers.
"I have been extremely impressed with the way the underclassmen have adapted, especially the freshmen with this being their first year and them dealing with everything going on with coronavirus," Dupont said. "Since we are predominantly a younger team, many of the underclassmen have stepped up and have been willing to fill in new positions that they have not previously played and have done extremely well in them.
"Our core values are how we approach every training session and competition, and since we've only had training sessions so far, I believe that myself and the other upper classmen have done our best to make practices very game like and compete with each other the way we will with our opponents," Dupont continued. "The discipline that we have had to show the past few weeks to stay engaged during sessions even when we have not been playing outside competition is one of the hardest things we've had to conquer, but I believe we did well with it and we are definitely ready and looking forward to starting our ACC run this upcoming week."
After the non-conference tilt with the Tigers, the Hurricanes will welcome the Louisville Cardinals to Cobb Stadium on Thursday for the ACC opener.
For third-year head coach Sarah Barnes, Saturday night's match is about seeing how the team plays in high-pressure situation for the first time this fall.
"Clemson is a tough, pressing team so we will learn a lot tonight about how we compete against top programs in the ACC," Barnes said. "This preseason period has been great for development and the time created the opportunity for a more detail-oriented preparation. And we're grateful for the opportunity to play this fall. Our administration and president [Dr. Julio Frenk] have worked tirelessly to keep us safe and make this season possible."
Asmussen echoed her coach's remarks and believes the extra couple weeks of training has made a major impact within the locker room.
"During the longer preseason, we've developed a lot and we really took advantage of having more time," Asmussen said. "We've been able to build our game fitness from scrimmages, get some nerves out from the new players, get a hold of our shape and build confidence early on. It's a huge jump from high school to college soccer so having this extra time period to help the freshmen has been great. It's been nice to see the freshmen fill big roles within the team already. This team has been the most high-speed I've seen in the past four years, which is super exciting. This season is going to be a little different but our goal is to take advantage of each game and build the momentum moving forward."