Family and Football Come First for Roberts
CORAL GABLES, Fla. – Shanda Roberts can laugh about it now.
When her youngest son, then 10-year-old Elijah Roberts, first asked for permission to play football, Shanda was hesitant to give her blessing.
She worried her son's grades might suffer. She feared he might get hurt. She wondered if the physical, rough and tumble sport would really be a good fit for him, as opposed to any other activity he might try.
But Elijah was insistent. He wanted to play football. He promised he'd get his homework done before every practice. He insisted he would be safe and responsible on the field.
Eventually, Shanda Roberts relented and as she signed her son up for his first Pee Wee league, she told herself that perhaps, if she let him play, Elijah would eventually decide on his own that football wasn't for him and that would be the end of it all.
She couldn't have been more wrong.
"I thought, 'Let him get beat up a couple of times and maybe he'll decide he wants to do something else.' But that didn't happen," Shanda Roberts chuckled. "Once he started, I saw how passionate he was. He would get his homework done just so he could go to practice. He did everything his coaches asked him to do. And then I realized I had to nurture football for him because he was so passionate about it. He was absolutely determined to play."
It didn't take long for Roberts' determination to make an impact on his entire close-knit family.
Soon enough, his parents and all six of his siblings were spending every weekend at the park, cheering for Roberts and his teammates during his youth league games. Once he started playing high school football, they made their presence known from the stands, particularly when he won a state championship at Miami's Christopher Columbus High School.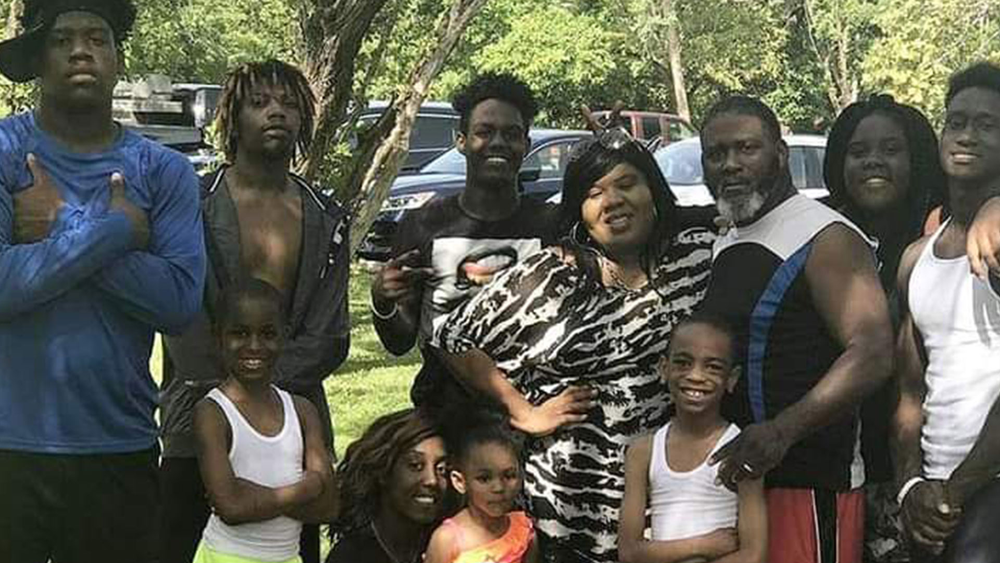 Now that Roberts' college career is getting underway, his family intends on being there every step of the way, something that will be a whole lot easier because Roberts will be playing for his hometown Hurricanes, just 25 minutes from where he grew up.
The 6-foot-4, 275-pound defensive lineman wouldn't want it any other way.
"It means a lot to play at home," Roberts said. "I've got a lot of family and friends who are from Miami and they'll be able to see me at games, instead of just on TV. That really, really meant a lot, to be able to stay home and be around a lot of close friends and family. That's one of the things I've honestly been waiting for the most, to just run out that smoke and have that 'U' on my helmet. There's a lot of meaning to all that."
Miami's tradition and history is something Roberts learned in bits and pieces throughout his childhood.
Though his father, George Roberts Jr., is a passionate fan who was "ecstatic" when Roberts committed to the Hurricanes, Roberts himself wasn't exactly a Miami fan. As a kid, he didn't really have a favorite team and though he'd watch as much football as he could, he focused more on the games themselves than who was playing.
It wasn't until he got older that he began to realize the kind of impact former Hurricanes greats like Calais Campbell, Ray Lewis, and Ed Reed had not only at Miami, but in the NFL.
And the more he learned about Miami's tradition and saw how close current and former Hurricanes players were, the more intrigued he was about the possibility of joining the program.
It was during the recruiting process, when he saw the atmosphere Manny Diaz and his staff had created, that he started to feel like Miami might be the best fit for him, though programs like Florida, Florida State, Georgia Tech, Michigan, Nebraska, North Carolina, Oregon, Pittsburgh, Tennessee and others were plenty interested.
He connected, too, with Miami's recruiting staff, so much so that now, when his playing career ends, the sports administration major would like to work in a football recruiting department.
Before that, though, Roberts says he's got plenty to accomplish and lots to learn.
He expects that playing alongside veterans like Quincy Roche, Jaelan Phillips, Jonathan Ford, Nesta Silvera and Jahfari Harvey will be a learning experience he won't be able to match anywhere else.
That's something he doesn't take for granted.
"I've learned so much in two months from all those guys, not even just the coaches. They don't mind helping and whenever I have questions about the scheme or anything I need help on, they'll help me and show me the things I can do better," Roberts said. "They'll tell me where to place my hands and where to move my feet. They're making me a better defensive lineman and I really appreciate those guys."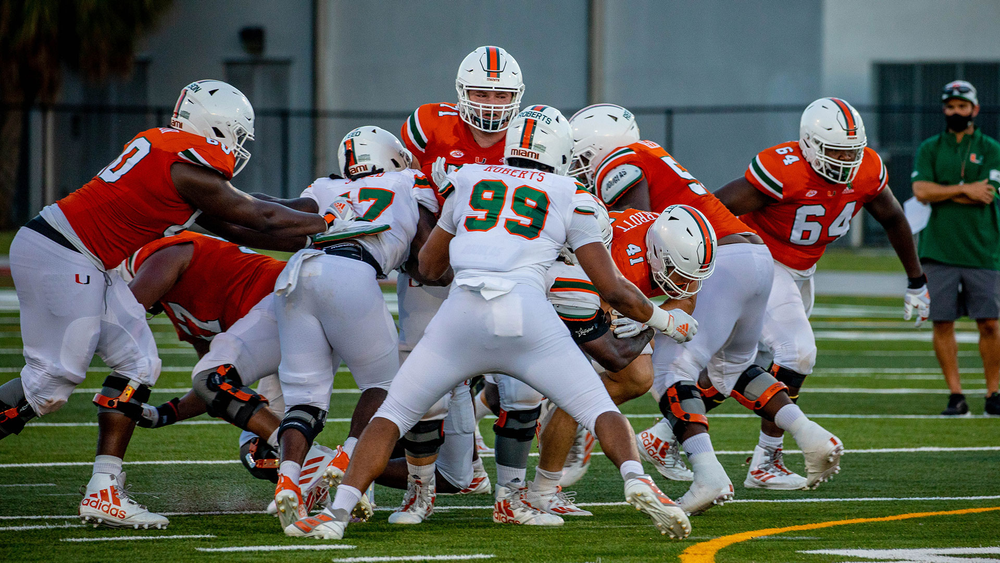 Teammates and coaches have noticed the same drive Roberts' family noticed when he began playing.
He's made plays throughout preseason camp and has earned him praise from Miami defensive coordinator Blake Baker, who noted Roberts has been among the Hurricanes' most consistent freshmen, especially given that he's been used at two positions.
"I really like Elijah. He's got a blue-collar attitude. He comes to work every day. Really heavy-handed," Baker said. "We're playing him both inside and outside, at defensive end and defensive tackle. But, he creates a lot of knock-back with his hands and he's slippery as a pass rusher. … I've been really impressed with Elijah. I think he's done a really fine job for us. And one thing I'll say about Elijah is…he does a great job soaking up all the knowledge around him, but I think he has a ton of leadership qualities. He doesn't say much, but when he speaks, he already turns some heads, even amongst the upperclassmen. When he speaks, people listen…he has that personality, that leadership aura about him."
That Roberts has already made an impression at Miami is no surprise to Shanda Roberts.
Growing up in a home with seven children, Elijah Roberts found his own ways to stand out, using his sense of humor to serve as the emcee for family talent shows. He found ways to make his voice heard and to even convince his mother he could play the game he knew he'd love.
Neither of them have looked back since.
"He's very passionate about whatever he believes in and I feel like when he puts his mind to stuff, he'll do what he has to do," Shanda Roberts said. "He's always changed himself, always. Even when he was home during quarantine, he was getting up every day and working out or running around a field. … I remember him telling me, 'No, mom, I can't take any days off. I can't take a break. If I take a break, someone else is going to work harder. He's going to make sure that he has done whatever he can to accomplish his goals."
Added Roberts, "Besides my family, I would probably say my biggest motivation is the fair of failing. I don't want to fail. I don't want to live my life in regret and wonder what could have been and what should have been. So every day, I take it one day at a time and I just attack the day. Then, when the day is over, I go to sleep, I wake up and I do it all over again because I know if I stop, I'm letting myself down. I'm letting people down. And that's something I don't want to do. … I want to be the guy who said, 'I did this. I did that. It was hard, but I pushed through it.'"