Jankulovski Gained a Whole New Tennis Experience
CORAL GABLES, Fla. – First introduced to the game of tennis at the age of nine, it was love at first sight of a racquet for Bojan Jankulovski.
For 12 years, the fourth-year student-athlete on the University of Miami men's tennis team excelled on the opposite side of the net of his opponent, but had never experienced the game from a coach's perspective.
This offseason, the Skopje, Macedonia, native was exposed to this role, spending 12 weeks at the Woodway Country Club in Darien, Conn., as the director of junior tennis.
"The director of the country club, [Chuck Milot], has been working there for over 20 years and the funny thing is, our head coach, Aljosa [Piric], used to work there with him," Jankulovski said. "So, I submitted my resume and received the opportunity to be interviewed by the director, Chuck Milot, thanks to a recommendation by Aljosa."
Following a successful interview and beginning to work out the details for when he would join, communication was put on hold due to COVID-19, as the club was forced to shut down for a couple months.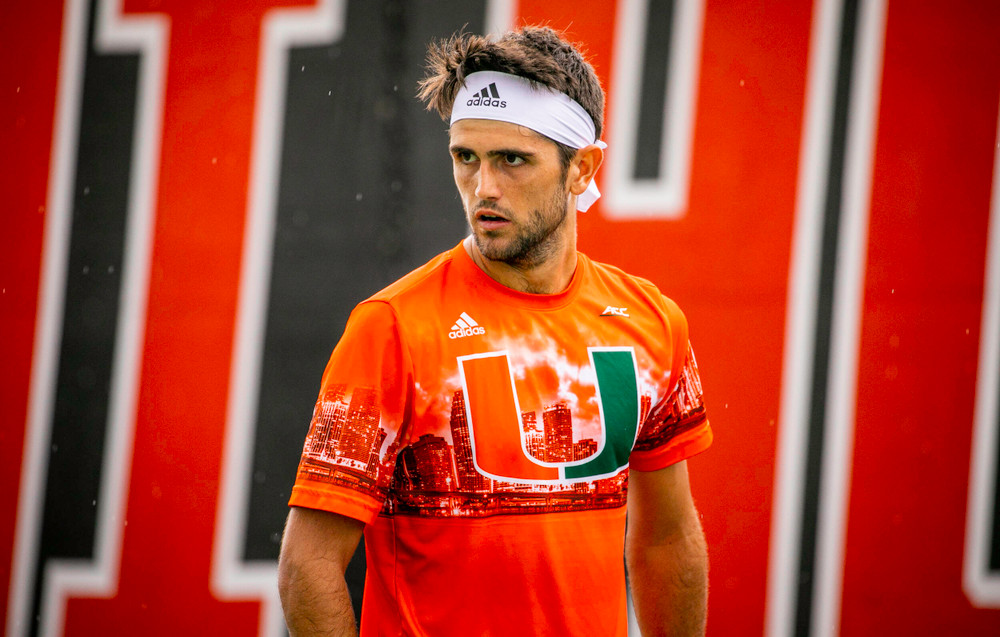 Unsure of the restrictions that would be set into place once Woodway reopened its doors in May, Jankulovski grew wary, but tried to maintain a positive attitude.
"I had to make a decision if I would be going or not because how it works is that you would be paid hourly and all the other instructors and coaches had already been working there for a while. For me, it was going to be my first [time there] and I didn't have any clients," Jankulovski said. "Also, I knew in the beginning there was only going to be private lessons and if I couldn't guarantee any, then there was not going to be a point to go. But I talked to the director and he explained how the restrictions would hopefully slow down and things would hopefully get as close to being back to normal as possible."
Ultimately making the decision to head north for the summer to the Constitution State, Jankulovski had the opportunity to work with individuals of all ages and with multiple levels of experience.
And this opportunity to gain a whole new perspective of being an instructor rather than a player was something that stuck out to the senior.
"For me, it was so rewarding to see some of my clients go from not being to hold a racket when they started in May, but by the beginning of August they could actually rally. It was just rewarding for me," Jankulovski said. "It felt good because they were working with me the whole summer and I knew how hard they were working and could see how much they improving. All of them were really happy and I feel like I made so many important connections.
"And almost all of those members at the country club work in New York and they are very successful and powerful people," Jankulovski continued. "So, just spending time with them every single day, it was just an incredible experience. Obviously, I taught them about tennis, but I was also learning from them; where they went to school and how they got to where they are. It was amazing."
Four years after making the move from Selo Gluvo, a modest village on the outskirts of Macedonia's capital, Skopje, Jankulovski has continued work toward perfecting his non-native language, English. And the opportunity to hone in on his communication skills was one of his favorite aspects of the entire experience.
"I have never shied away from talking, but I always feel like I struggle at first when I meet new people. But with the chance to meet new people every single day, in the beginning it was a little tough, but as the weeks went on I just was starting to feel so much more comfortable meeting people, making connections and making that first good impression," Jankulovski said. "In that job, it is really important that people like you, so they want to come back and continue working with you. Like in every job, there is competition. There were five coaches and I was the youngest and the only one without any previous experience. So, I felt like I had to do extra so people would like me and want to come back and continue taking lessons from me."
Working long shifts, beginning with a personal 5:30 a.m. workout every morning to stay in shape, Jankulovski would then head out to the court to teach the fundamentals to children before having individual lessons with older men and women. Overall, he worked every day over the 12-week period gaining all of the experience he could. And the work did not go unnoticed.
"In the end, I definitely felt rewarded," Jankulovski said. "I mean, they have asked if I could come back next summer and the members had a going-away party for me. It was just an amazing experience. I was happy and they were happy."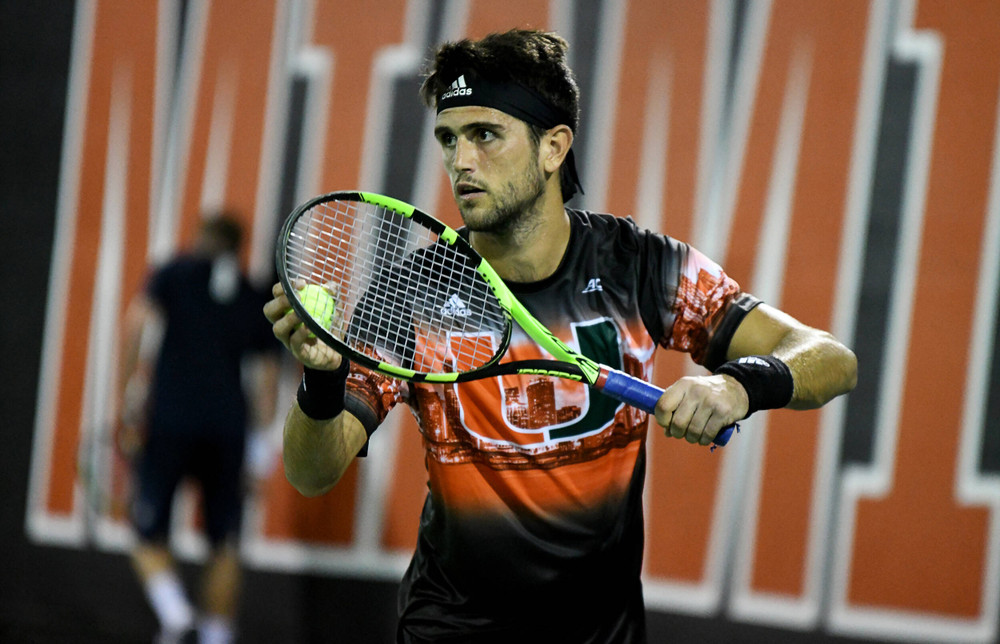 Now back on the UM campus, two weeks into his seventh semester at Miami, Jankulovski is looking to take what he learned from the coaching side of his job and apply it to his training in preparation for the 2021 spring season.
"It is completely different thinking as a coach, compared to thinking as a player. Thinking as a coach, you look at a player's techniques and try to emphasize what they are doing right, but also touch on an area where you can see improvements be made," Jankulovski said. "I feel like I can implement some of the things I learned as an instructor in my own game. For example, I am now thinking more. Like, if I make a mistake, I think about why that is and how I can correct it for next time.
"And obviously, we don't have a fall season, but I think this experience helped make me more mature and I am hoping to showcase that maturity on off the court even more than I used to," Jankulovski continued. "This is my senior year, possibly my last year here, so I just want to make the best out of it. Have a great season and give it the best that I can and hope for the best, just because last season, even though our season got suspended, we were on a great run and I really think we could have done some great things, on a big scale, at NCAAs."
Before the season was disbanded due to the COVID, the Hurricanes (10-2, 3-0 ACC) were inching back towards the top 20, most recently topping then-No. 25 Florida State, 4-0, to extend their win streak to six matches.
Heading into the spring of 2021, Miami returns six seniors Pablo Aycart Joya, Benjamin Hannestad, Jankulovski, Stephen Madonia, Tatsuki Shimamoto and Adria Soriano Barrera, along with junior Franco Aubone. In addition, the Hurricanes welcome graduate transfer Stefan Milicevic, junior transfer Oren Vasser and freshman Patrick Sebastian.
"Prior to this upcoming season, we were certainly considered a young team outside of Dane [Dunlap] and Stephen. But, I think this season, we have no excuse. We can't say, 'Well we are a young team without much experience.' We are definitely a veteran squad and we have to show that maturity as a team," Jankulovski said. "We lost a couple key players, but we also added Oren, Stefan and Patrick, and I have had the chance to meet them and they are very hard-working players. So, I think our team has a ton of potential, but it is on us to reach the goals we set."
In an unorthodox year with NCAA fall tennis tournaments cancelled due to COVID-19, Jankulovski is taking the time to work on his leadership skills.
"What I want to focus on this fall is becoming a better leader. I know I have the leadership skills, but I haven't been showing it as much as I would like to," Jankulovski said. "And with a couple new guys coming in, myself and the other seniors have to make sure that we make them feel comfortable and really show them what Miami is all about and what our core values are as a team."