Athleticism, Potential Setting DTs Apart
What struck Quincy Roche upon his arrival to Miami was more than just the obvious.
The American Athletic Conference Defensive of Player of the Year a season ago, Roche had seen his share of talented players during his time at Temple. So it wasn't just the size and athleticism of Jaelan Phillips, or the clear talent of the up-and-coming youngsters at defensive end, which stood out during spring football.
It was on the interior, too.
"When I got here, I saw how much depth we have in the room as a whole," Roche said. "Not just at defensive end, but at defensive tackle. I think we're two or three deep at every position on the line. I've never seen anything like that, as far as the whole line is concerned. I'm really excited."
According to Roche, the talent was everywhere in the defensive line room – not just on the edges. Todd Stroud, now in his second year as defensive line coach, agreed with Roche's assessment and thinks he has a uniquely consistent trait that bodes well for the defensive tackle position this fall.
There is a lot of athleticism in that group. Probably, top to bottom, I would say one of the more athletic groups. If you look across the country, I would say our defensive tackles are going to be near the top of that group.

Todd Stroud on Miami's defensive tackles
Among Miami's top returners at the position are senior Jonathan Ford, junior Nesta Jade Silvera and redshirt sophomore Jordan Miller. Early on in camp, they've been pushed by a talented group of second-year players, including redshirt freshmen Jason Blissett, Jared Harrison-Hunte and Jalar Holley.
That's not to say the room doesn't look different. Gone are Pat Bethel, who started 25 games over the last two years, and Chigozie Nnoruka, who played in all 13 games in his lone season after transferring to Miami from UCLA. Also gone are Miami's top-four defensive ends by production from a year ago.
But the tone in the voice of Stroud and defensive coordinator Blake Baker has been nothing but excitement as they monitor the progress of a talented group.
In his first year as a starter, Ford totaled 18 tackles, 3.5 tackles for loss and three sacks with one forced fumble in 2019. Silvera, who missed the first four games of last season after undergoing foot surgery during preseason camp, finished with 19 tackles and one sack over the final nine games.
Stroud was impressed with the way both players handled themselves during the months of quarantine between spring practice and the first fall camp session in early August.
"For these big guys, I think the biggest challenge during the pandemic, for a couple guys that are 300-plus pounds, it was managing body weight and both of them did a terrific job," Stroud said. "Jade came back and he was about 300 pounds. Jon was a little heavy when he came back…he's down to 322. He'll probably [play] at 315, but both those guys are moving around very well and progressing, as you would expect."
With ample game experience, Stroud expects both players to take a significant leap heading into 2020.
"For Jon being a senior and Jade being a third-year guy, they're both veterans now, they've taken snaps," Stroud said. "They know what to expect and they did a great job with their bodies over the quarantine."
To Baker, Miller – who saw action in all 13 games last season and totaled 12 tackles and 2.5 tackles for loss – should play an important role.
"They're all quick twitch, they can move," Baker said. "Jordan, the bigger of all the defensive tackles, he's a plug inside and he creates knockback, which we look forward to on our defense. I'm excited about that group."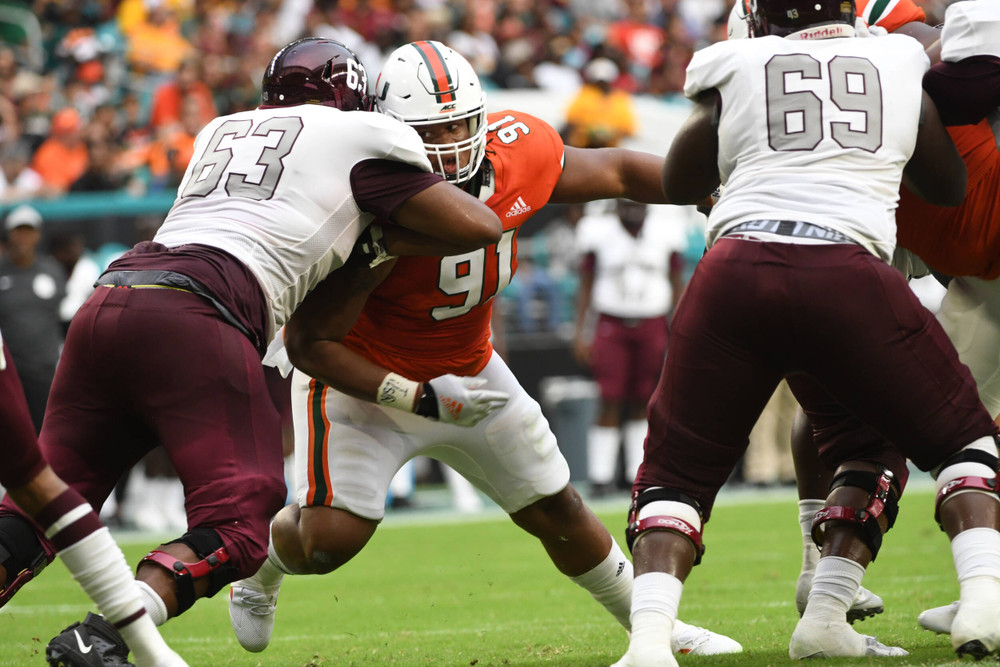 After a year of learning and adapting their bodies to the rigors of college football, there will be more opportunities for Miami's young defensive tackle trio as they head into their season seasons.
Harrison-Hunte, ranked the No. 2 player in the state of New York by ESPN and No. 3 player in the state by Rivals, played in just one game a season ago. Blissett was a four-star prospect by Rivals and 247Sports, while Holley was a top-40 defensive tackle nationwide by Rivals. They combined for just four appearances last fall.
Harrison-Hunte had a highlight reel-worthy takedown of elusive freshman running back Jaylan Knighton in the second scrimmage of the preseason. Blissett can play inside and outside, according to defensive coaches, while Holley is another option on the interior.
With the consistent push from underclassmen, there's no settling for any of the more senior players in the group. Baker said around week two or week three of camp is when "the cream of the crop" rises to the top.
"I mean really from top to bottom, nobody at that position has locked on a starting role. Those guys are pushing each other," he said. "Now I think we have a lot of talent in that room and I've said that before, but I think they're all playing pretty well. To say one guy is completely dominating and taking over, that wouldn't be fair, but none of them are playing bad either"
Baker said that, regardless of who emerges from the defensive tackle race, Miami's depth at the position will be crucial as it progresses through a season full of unknowns.
"Now they've got to put it all together. I'm not saying that they're going to be one of the best defensive tackle units in the country. They still have to put that on tape, but they have the potential to be that," Baker said.