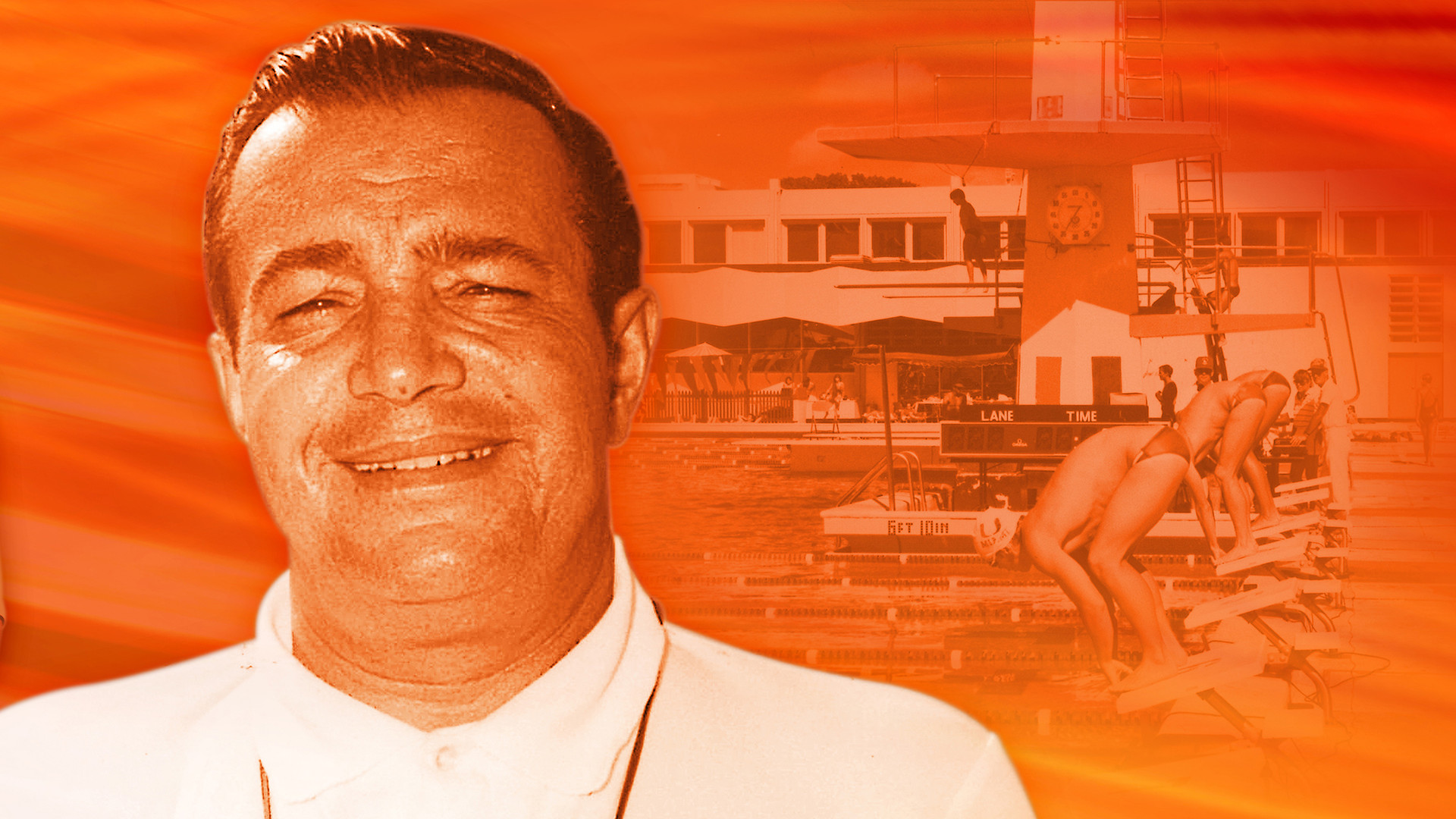 To head swimming coach Andy Kershaw, the legacy of Bill Diaz far supersedes any record times or NCAA championships – though there were many during his 14 years as head coach at Miami.
"When you start talking about a legend like Coach Diaz, and someone who meant so much to so many people, that responsibility really starts to take shape," Kershaw said. "It's something that needs to be recognized and something you hope you can uphold. The more I hear about Coach Diaz, the more it sinks in that upholding that is about working with the people and creating that connection, and re-defining that role of 'coach,' the way he did."
Diaz, who passed away in 2014, was recently included among the 10-member 2020 Florida Sports Hall of Fame induction class. The group is also highlighted by Tiger Woods,  Pat Riley, Alonzo Mourning and Hurricanes Football chief of staff Ed Reed, among others.
"That speaks volumes about the accomplishment, and obviously he had to have the numbers behind it to do it," Kershaw said of Diaz's inclusion in an extraordinary class. "But those numbers, from what I've heard from his former student-athletes, are based on who he was and what he meant to his athletes. They talk about his love for them, and how they were 'his boys' or they were 'his girls.' They talk about how much confidence he instilled in them and how much he believed in them. As a coach, those are the things I really look at."
This year's class have careers spanning from 1970 to current and represent six different sports – swimming, basketball, hockey, football, baseball and golf.
"This class represents some of the most impressive accomplishments attainable: members of their respective sports Halls of Fame, World Champions, All-Stars, major champions and Olympic medalists," Florida Sports Hall of Fame president Tim Ramsberger said. "We're extremely excited to be able to honor them as they are inducted into the Florida Sports Hall of Fame."
Diaz, who was tapped into Iron Arrow – the highest honor attained at the University of Miami – and selected to the UM Sports Hall of Fame in 1995, coached the Hurricanes to four top 10 NCAA Championships finishes and ended in the top 20 at the NCAA Championships 11 times. His men's teams won three national independent championships (1974, 1977, 1982), while his 1975 women's squad won six individual national titles – the most ever by a Hurricanes team in a single year. Olympic champion Greg Louganis, as well as Jesse Vassallo, David Wilkie, Matt Gribble and others combined to total more than 50 All-America honors under his tutelage.
Under Diaz' direction in 1973, Miami became the first college in the United States to offer women swimming scholarships. Two years later, the Hurricanes women's swimming & diving team won the first of back-to-back AIAW National Championships.
From 1970-1985, Diaz was more than just the head coach of the Miami Hurricanes swimming & diving program – he was a father-figure to countless student-athletes who achieved success under his guidance.
Kershaw said the weight of Diaz's legacy is something that he carries with him every day.
"It means a ton. It's an honor and it's a big responsibility," Kershaw said. "Being in that role, and putting the Xs and Os aside, honing in on the people is what's important – and that's what Coach Diaz proved time and time again. Knowing the Xs and Os, and the wins, the losses, the performance and accomplishments – they all come from your relationships with people, and not the other way around."
The 59th Florida Sports Hall of Fame induction ceremonies will take place in 2021 in South Florida. Exact date and location will be announced later. For more information, visit www.FlaSportsHOF.org.