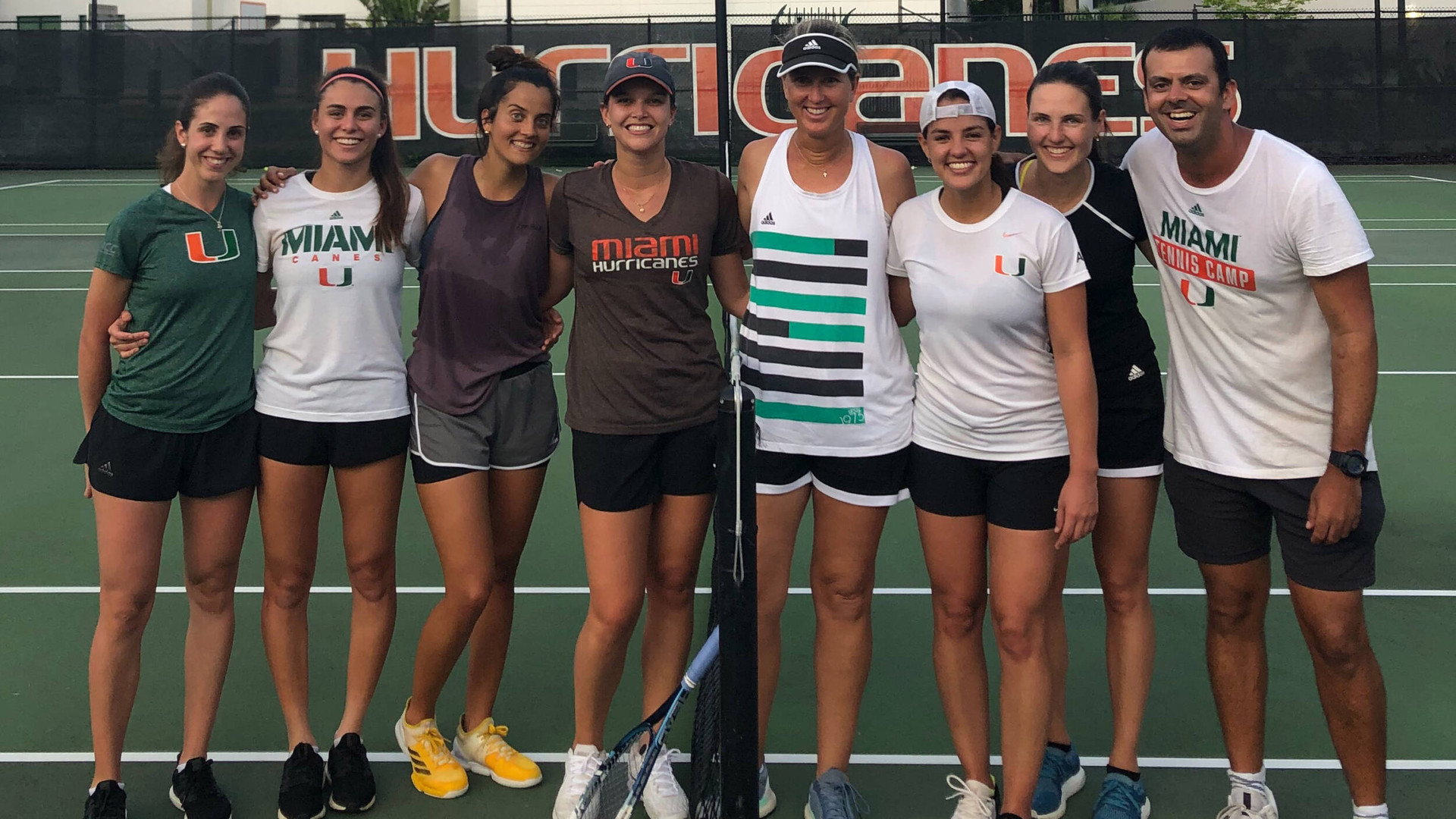 CORAL GABLES, Fla. – It makes sense the idea came from Melissa Bolivar.
Of many recent University of Miami women's tennis alumnae still in South Florida, no one looks to get on the court more than Bolivar.
"She's always down to play," former teammate Clementina Riobueno said. "She's the one who's texting everyone in the group, 'Hey do you guys want to play? I'm ready to play. Let's go, let's go.'"
Bolivar frequently played in Key Biscayne, Fla., with some of her Colombian friends on Saturday mornings and started inviting Riobueno and others she competed with in college to join.
Then, last summer, she came up with a plan to get just her fellow Hurricanes together at the Neil Schiff Tennis Center.
"I just thought that there are a few of us here in Miami from my years at The U and then there are other girls from the generations after that are in Miami and that still enjoy playing tennis and that we have been playing tennis since we graduated," Bolivar shared. ". . . I just thought it might be cool to play at UM since we all like those courts and [it would] make it fun, just like a night exercise and to stay in touch with each other."
After running the concept by Miami head coach Paige Yaroshuk-Tews and others in the athletics department, Bolivar organized the first "alumni night" on June 25, 2019.
Bolivar (2010-14), Riobueno (2012-16) and Lina Lileikite (2011-15) were the primary consistent participants each Tuesday night, with Monique Albuquerque (2012-15) another key member.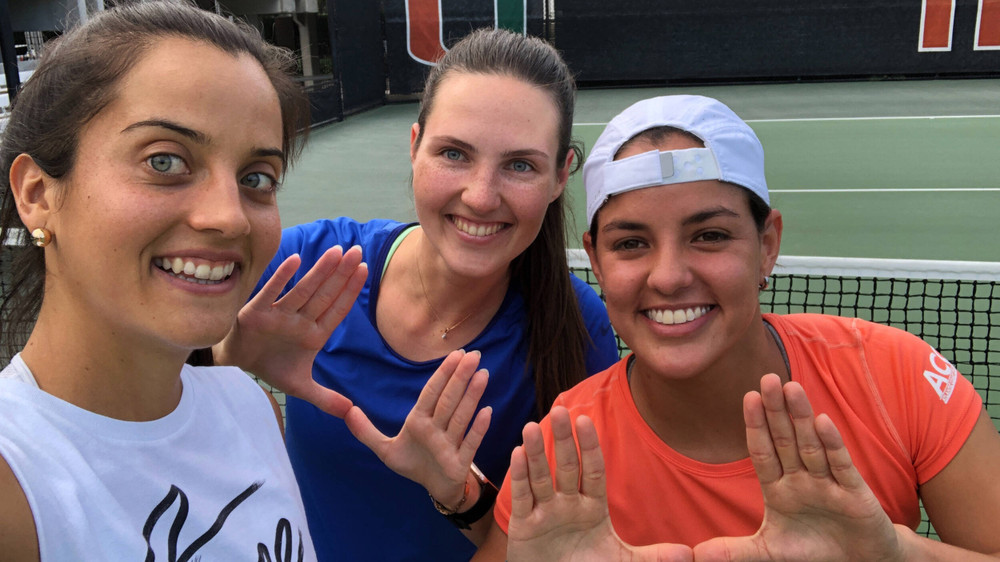 Numerous other Miami alumnae such as Silvia Fuentes (2014-17), Ana Madcur (2015-19), Yolimar Ogando (2014-17) and Daniella Roldan (2017-19) have participated. The group even shifted to an alternate day and time so Stephanie Wagner (2012-16), who lives in Germany, could take part when she came to town.
Yaroshuk-Tews and her former assistant, Alex Santos, who coached many of those players, have also joined.
"I love it. Those are my favorite courts," Bolivar said. ". . . It's just, every time we come together, we reminisce on stories and experiences. It's good to keep up with them and know what they're doing, how work is going, how their life, friends and family [are doing]. It's great. It brings great memories."
Riobueno, a 2014 ITA All-American who calls the get-togethers "super special," jokingly concedes they do not quite have the same stamina they did as collegians, but that does not detract from the enjoyment whatsoever.
"It's funny because after . . . an hour-and-a-half, we're done," she said with a laugh. "We used to practice, what, three, four hours? So, that part is crazy, but it still is fun and we make it work."
Beyond exercise and the amusement of playing on the courts they competed on as collegians, the weekly outings serve another purpose.
Albuquerque, Bolivar, Lileikite, Riobueno, Wagner and Brittany Dubins (2010-14), who lives in Spain, are all in a WhatsApp group chat. The alumni nights help keep the chat active and the former teammates in touch, even if not all of them are actually at the courts together.
"We try to FaceTime and even send a few pictures . . . Every time I play with Meli, we send pictures and say hi," Riobueno said. "Or sometimes we just see an old picture from the team and we just send it over to that group and just [say] like, 'Hey guys, do you remember how many laps we ran because you didn't do this right or whatever?' So, we use that group chat a lot."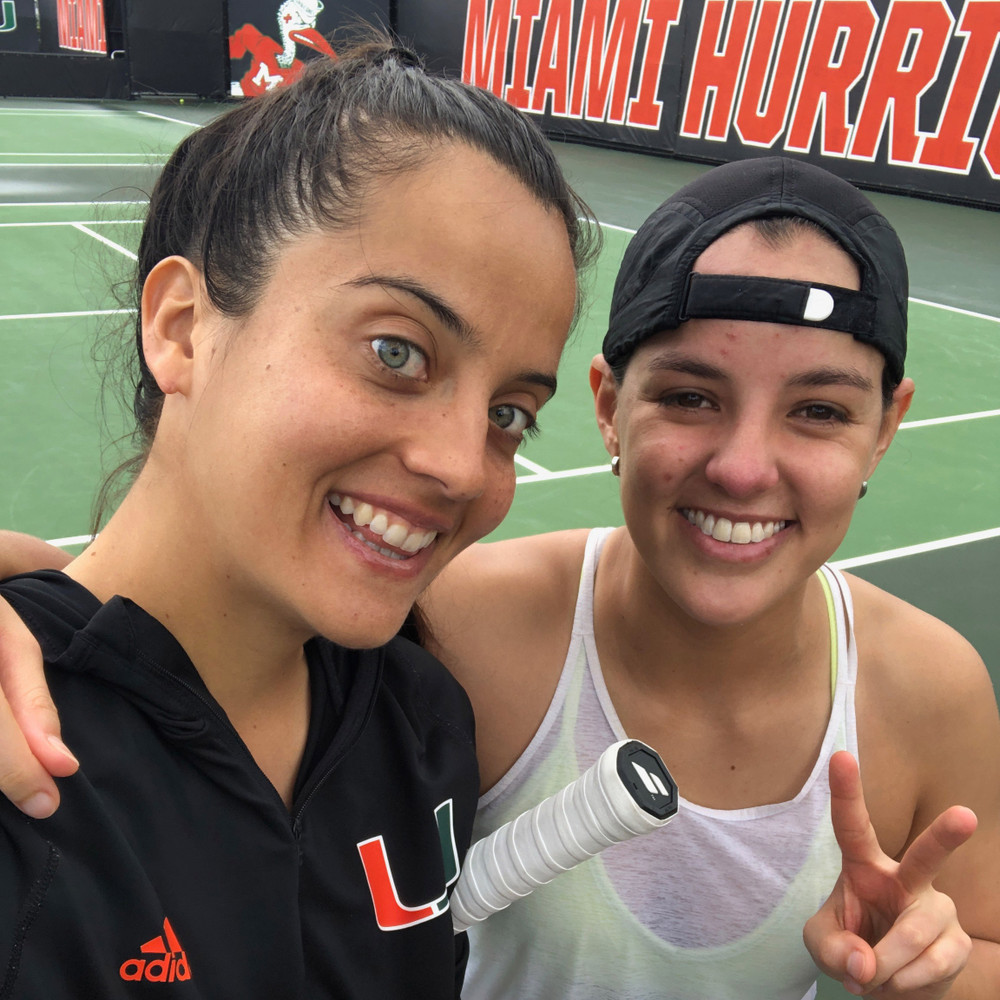 In addition, the alumni nights, which eventually switched to Thursdays, have served as a way for the former players to connect with the current ones. While never mandated to attend, members of the 2019-20 team such as senior Estela Perez-Somarriba came by on occasion.
Sometimes it was just to chat, while other times it was to join in. One night in particular, nearly the entire squad showed up at the courts to hit with the people whose footsteps they are following in.
"Since we also go to the matches and go and cheer them on, it's way better when you know the girls," Riobueno shared.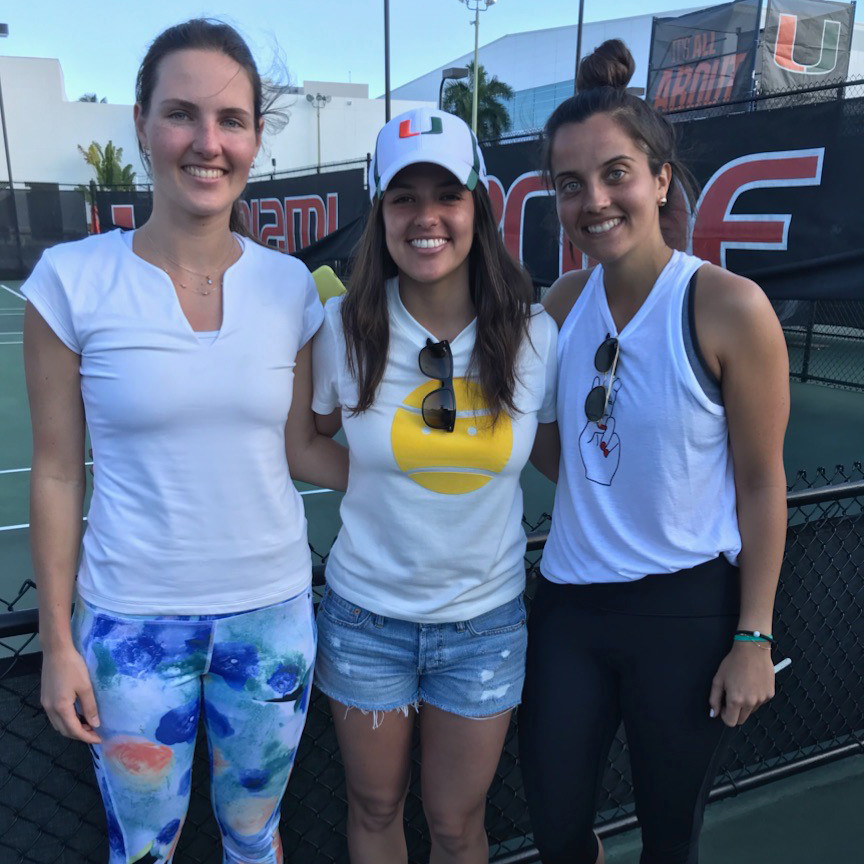 For Yaroshuk-Tews, having her former players return to the Neil Schiff Tennis Center speaks to the bond they share both with her and their alma mater.
"It's always nice to have alumni affiliated with your program and your school. It says a lot about our relationship," she said. "All those girls have been very special athletes at Miami. Now they're in the business world and they're doing well. It's just nice to see them out there."
The COVID-19 pandemic put a stop to alumni nights in March, but tennis is fortunately an ideal sport for social distancing. Thus, Bolivar and Riobueno have continued to play together elsewhere on a weekly basis for much of the past five months.
"I just thought it might be cool to play at UM since we all like those courts and [it would] make it fun, just like a night exercise and to stay in touch with each other." -Melissa Bolivar
They are still, however, anxiously awaiting the opportunity to go back to the place they made so many memories as collegians.
"The courts are beautiful and it's home," Riobueno said. "So, definitely looking forward to [returning] and I can't wait for this whole pandemic to slow down or disappear, to get back to the courts."
The college career of every alumni night participant was filled with big wins and major success, both individually and as a team.
The accolades and victories, though, are not the only things that come to mind when they reflect on their tenures as Hurricanes.
"I think about the competition, the grind," Bolivar said. "I don't know, to me it was just super fun to have tough matches and grind it out with my team, screaming, yelling, pumping each other up, winning."
Riobueno echoed a similar sentiment to Bolivar. For her, the nostalgia is what makes the alumni nights so wonderful.
"Honestly, family. That's what I miss the most," Riobueno said. "I miss being around the girls all the time. Just, those are my sisters. [I miss] hanging out with them all the time . . . and that's why I enjoy playing with them."