Kelley Gibson: Purpose and Passion
Understand your purpose.
It is a phrase that Kelley Gibson has exemplified throughout her basketball journey. Understand your purpose as a player, understand your purpose as a coach, understand your purpose in the community.
Gibson's purpose on the basketball court began in 1983 in the small town of Easton, Md., situated on the eastern shore of the state.
The youngest in a family full of male brothers and cousins, Gibson grew up playing every sport imaginable, including football, baseball and basketball. You name it, she played it. But there was something about basketball that drew her in.
"I just loved the game," Gibson said. "We used to go the park to play or figure out how to create a court at home with a milk crate. We just had fun and competed."
The competition was tough for Gibson because, most of the time, she played against the local boys. Those pickup games set the tone for the rest of her career, as she had to bring intensity and drive in order to stay in the game. Competing against opponents that were bigger and stronger than her pushed Gibson's game to another level, a level that elevated even further in high school.
Entering Easton High School, Gibson's purpose was to be the best basketball player that she could be. Her grit and determination helped her team to a pair of state titles and earned her the school record for points at 2,220.
Despite her athletic achievements in high school, growing up in a small town had one downside; the town did not have an Amateur Athletic Union (AAU) team. While people in the surrounding area knew Gibson's name, the AAU circuit is where a majority of the collegiate scouting took place. So, during her sophomore year in high school, Gibson's assistant coach set her up with an AAU team in Annapolis, and that is when Gibson's stock took off.
"No one really comes to recruit on the eastern shore of Maryland because we are not a hotbed," Gibson said. "Once I started going to camps and playing AAU basketball, letters started coming in."
One of those letters came from a school just across the bay, the University of Maryland. Gibson's exposure to the ACC began early, as she grew up watching the Terrapins compete in the conference. Not only did Maryland compete in one of the best women's basketball conferences, but it was also situated close to a metropolitan area, yet far enough from home to satisfy Gibson.
However, it was on a visit to Maryland's campus that Gibson's mind was ultimately made up.
The date was February 11, 1992. The top-ranked Terps were playing host to the No. 2 Virginia Cavaliers in front of a then-ACC-record crowd of 14,500. It was an all-out battle between the two best teams in the nation, led by a pair of Hall of Fame coaches. Virginia ended up leaving Cole Field House with a 75-74 victory, but the excitement of the game had left its mark on Gibson.
I remember being in Cole Field House and thinking 'man, this is it,'" Gibson said. "I fell in love with the coaching staff, the players and the idea of staying home. It was the perfect fit."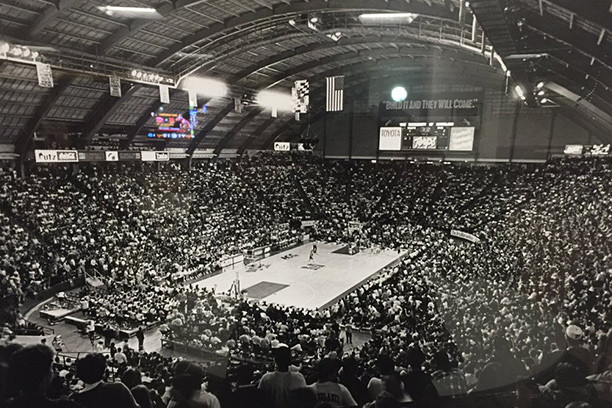 In 1995, Gibson was part of a class that was projected to do big things at Maryland. Unfortunately, Gibson's college career would be filled with adversity, beginning with an anterior cruciate ligament (ACL) tear in her right knee just three games into her freshman campaign. With four years of basketball still in play, Gibson worked to come back stronger than she was prior to the injury.
Her hard work paid off as Gibson dominated on the court the following season, averaging 12.2 points, 2.7 assists and 1.7 steals per game to earn a spot on the 1996 ACC All-Rookie Team.
Gibson's basketball career was finally progressing in the right direction. Until it wasn't.
On January 30, 1997, in a game against Florida State, Gibson went down on a baseline drive, tearing the ACL in her left knee. At this point, with two ACL tears in three years, Gibson started to question whether or not she should move on from basketball.
"That was really a pivotal point in my career just because I really had to dig deep and say, 'okay, let's do it again,'" Gibson explained. "At the end of the day, basketball is a game that I love, so I rehabbed and got back, ready to play another season."
With her sense of purpose renewed, Gibson's redshirt junior year went by without any issues and she was looking forward to improving her draft stock during the 1998-99 season, with the hopes of getting an opportunity to play in the recently created WNBA.
However, adversity would strike once again as Gibson faced the third injury of her college career, tearing her right ACL again in a pickup game during preseason workouts. With her sights still set on the WNBA, Gibson aggressively rehabbed her knee and was back on the court come December. As the lone senior, Gibson knew she had to step up and be a leader on a very young team.
It was during the time that she spent sitting out with her ACL injuries that Gibson's coaching hat first came on.
"I saw so much from the coaches' eyes during those sit out years and I could understand what they were trying to communicate with the team," Gibson said. "I looked forward to being that person in the locker room telling the players, 'No, this is what the coaches are saying.' That final year especially taught me a lot about being more vocal and how to help my team be successful."
Despite knowing that she wanted to be a coach, Gibson had a dream to chase first: playing in the WNBA.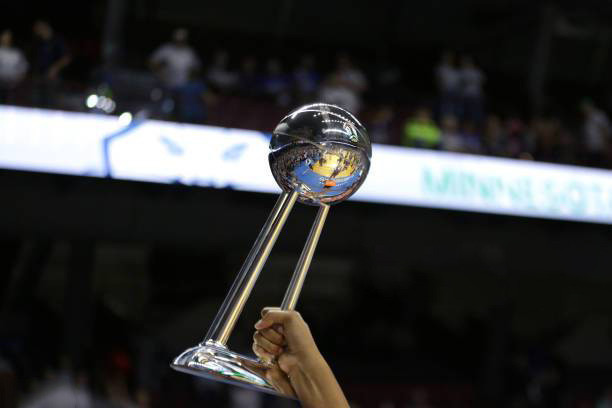 Following a tough senior season, Gibson knew that the WNBA Draft was not in the cards, but that did not deter her. The guard packed her bags and moved up to New York, getting a job to pay the bills, while continuing to train and work on her game. Gibson played in a variety of summer and competitive leagues to stay sharp, in addition to participating in free agent camps put on by her agent. It was at one of these camps that her life changed.
"[My agent] calls me up and said 'Houston is really interested and you have an opportunity to go down to training camp, but you have to be ready in a couple days,'" Gibson said. "She gave me the odds and the situation, but I didn't care. I said 'let's do this,' and I went down to Houston."
Gibson was joining a Houston dynasty that had just won three straight WNBA Championships and was anchored by a core of Sheryl Swoopes, Cynthia Cooper and Tina Thompson.
Like any rookie, Gibson was understandably nervous, going up against "two of the best players in the world at her position," in Swoopes and Cooper. But veterans like Thompson and Tammy Jackson soon took Gibson under their wings and showed her how to compete at a championship-level every day.
"When you enter an environment where the standard is championships, you ultimately have to meet it," Gibson said. "The league is so competitive and there are limited roster spots and limited teams, so you have to come and do your part. Because I was undrafted I had to work extra hard to compete."
Gibson's purpose in the WNBA became clear that season; come to practice, be a sponge, and leave your blood, sweat and tears on the court every day. Despite seeing limited minutes on the court with the Comets, Gibson knew that her role on the team was pivotal, as she provided stiff competition for Swoopes and Cooper every day at practice. The hard work paid dividends at the end of the season when the Comets cut down the nets in the 2000 WNBA Finals.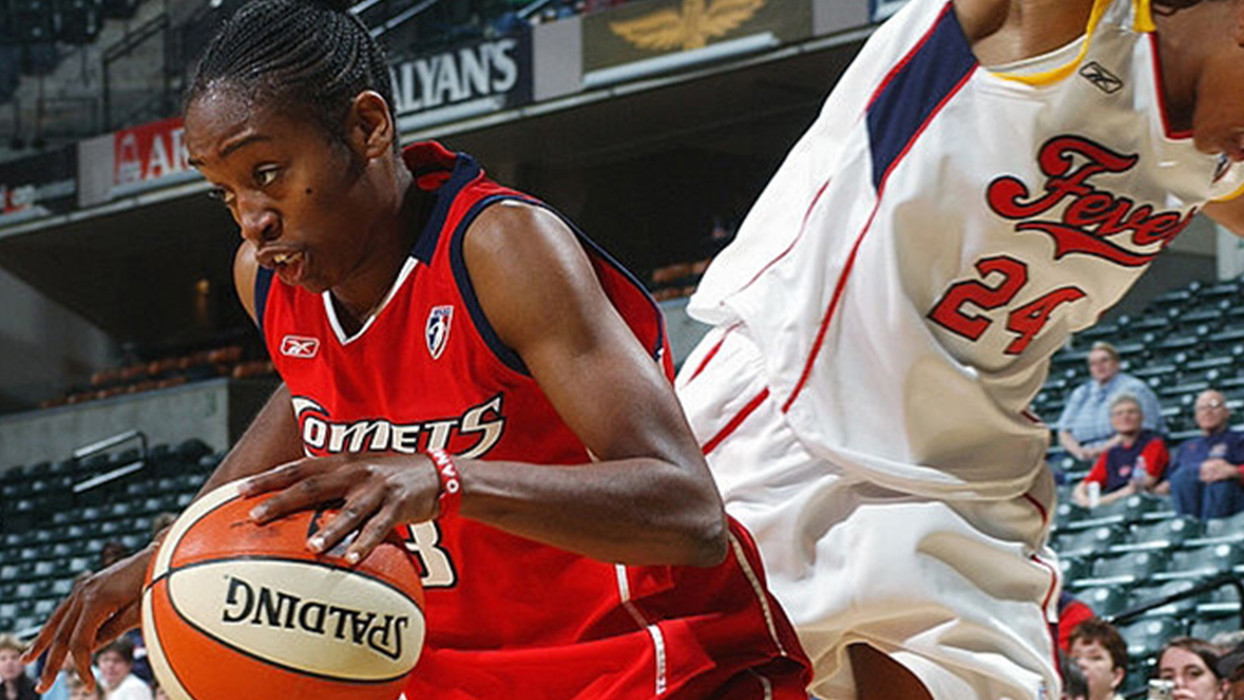 Over the next three seasons with the Comets, Gibson continued to excel in her role as a member of the "blue machine," a name coined by Houston's head coach Van Chancellor. The "blue" part of the name referred to the color of the practice jerseys Gibson and the subs wore when playing against the likes of Swoopes, Cooper and Thompson.
"We took pride in guarding some of the best players in the country," Gibson explained. "Coming in and just competing every day, we just had fun."
One of the other members of the "blue machine?" Current Miami assistant coach Octavia Blue.
"We literally gave those Hall of Famers a run for their money," Blue said. "Kelley was a super competitor, but also a great teammate."
While she was on the Comets, Gibson took the opportunity to learn as much as she could from her all-star teammates like Cooper. One of the ultimate blessings, in her opinion, was being able to see Cooper's work ethic around the game of basketball.
"Cynthia was the Kobe [Bryant] of that team," Gibson said. "She had that type of fierce competitiveness and her work ethic matched it, which is why she was so special."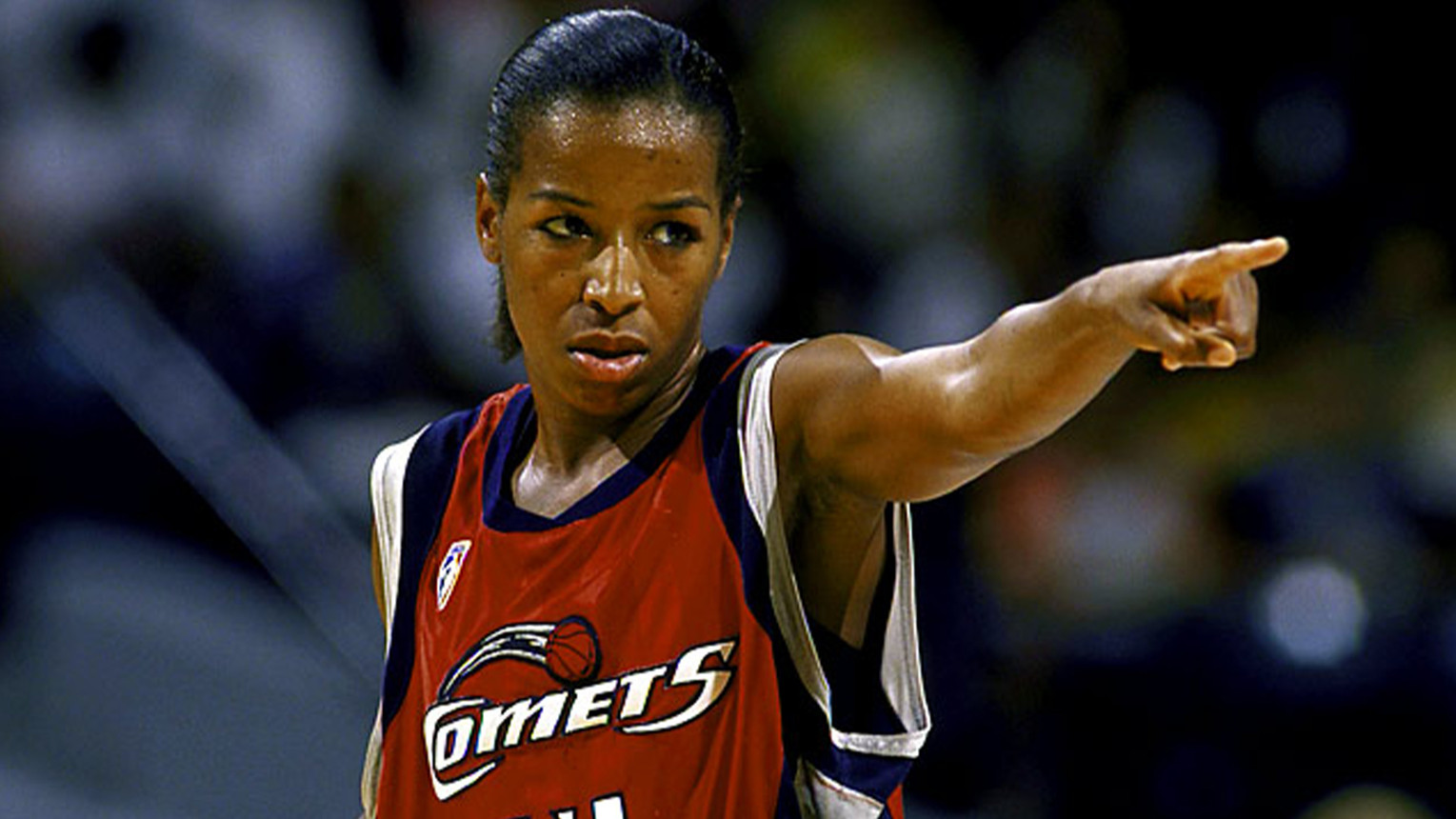 Gibson recalls how the team would practice at 11 a.m. each day, but Cooper could be found in the gym around 8 a.m., getting shots up, conditioning and working on her skills. She would work up a good sweat and then compete equally as hard in practice that day.
According to Gibson, Cooper really set the tone for what a professional looks like and that is something that Gibson shares with the players she coaches. It's about the process, it's about the grind.
In addition to her stint in the WNBA, Gibson also played a few years overseas, spending time in both Israel and Russia. Her years overseas taught her adaptability and the willingness to be uncomfortable in order to grow as a person.
Finally, in 2005, Gibson turned her attention to her next purpose in life. Coaching.
She spent the 2005-06 season as a graduate assistant at American University in Washington, D.C., which was the perfect transition role into the world of coaching.
"That transition year when I was a grad assistant allowed me to be involved but not have the stresses of being a full-time coach," Gibson said. "I was able to see all of the behind the scenes action and how recruiting works, which allowed me to really transition smoothly into the profession."
Over the next few years, Gibson worked her way up the coaching ranks, with stops at UMBC, Maine and USC, growing as a coach and mentor along the way.
As she was developing her coaching style, Gibson kept in mind the lessons that she learned from her Hall of Famer coaches, Chancellor and Chris Weller.
"Van was the ultimate manager," Gibson explained. "He knew when to keep it light and he knew when to come in and bring the hammer down. He understood what this experience was about and I was very blessed to have such an authentic coach."
Weller was a phenomenal teacher, according to Gibson, especially on the fundamentals of the game. Gibson witnessed how Weller worked to develop young woman on and off the court, which is something that Gibson always strives to do with her players.
Her success in developing players was evident during her stints at Syracuse and Rutgers, as she successfully coached seven future WNBA draft picks, in addition to numerous players who earned roster spots on teams overseas.
Still a player at heart, Gibson takes pride in being a "players' coach." She has a unique ability to connect with the players that she mentors because she has been in their shoes and knows what it takes to win at a high level. But more than that, she just loves the players and loves the game.
"I didn't want to let a player down if I didn't do my part in terms of pushing them to be the best player that they can obviously be," Gibson said. "I always say that you have to reinforce, but then you have to reconnect. They have to know that you love them."
She not only pushes her student-athletes to be better players, but also to be better leaders and better members of society. For Gibson, nothing is more rewarding than seeing one of her players walk across the stage at graduation, knowing that she was a small part of their journey.
Gibson's motivations as a coach lie squarely in the area of player and character development. Because of this, a phone call from Miami women's basketball head coach Katie Meier directed Gibson toward her next purpose in life.
"Katie reached out to me about her assistant coach opening and that phone call was everything," Gibson recalled. "Katie is all about the players. The premium she places on player development is what I am really looking forward to. We are in this profession to serve the kids and to help them become better players and better people."
On Meier's end, what really sold her on hiring Gibson was speaking with players that Gibson had coached in the past.
"They described a coach who had a lot of tough love, a coach who was very available and a coach who served their dreams, their needs and their wishes," Meier said. "Every person who I talked with spoke to how Kelley pushed their games to the next level."
When Gibson steps onto UM's campus next week, it will be with a sense of purpose; she is here to develop players, she is here to win, but most importantly, she is here to enjoy the process.