San Nicolas: "I Want To Leave My Mark"
For Carmen San Nicolas, there was only one option.
The recruiting process for the Murcia, Spain native was unlike any other student-athlete on the Hurricanes roster. There were no campus visits – official, unofficial or even as part of a family vacation.
San Nicolas relied on just one form of communication: the "old school" phone call, all conversations held with the head coaches of each of the 30 or so programs that were recruiting her.
And after countless hours on the phone, and having narrowed her list to 10 schools, there was one program and one individual that stood out: the University of Miami and head swimming coach Andy Kershaw.
"I had no idea what a good school was," San Nicolas recalled. "What's the NCAA? What's the difference between Division I and Division II? I had no idea at all. I talked to the coaches. That's it. I didn't talk to the team, I didn't take any recruiting trips. I just talked to the coaches.
"Definitely, Andy was the reason why I came here. I feel like we really shared some values and he was the one."
Much has changed for San Nicolas, whose first trip to the United States was for her freshman year move-in in 2017. She had only one suitcase and was amazed by the views of her new home on the drive to campus from the airport.
She called the recruiting process "overwhelming," but said something about Miami just clicked.
"I don't remember what it was exactly, but it felt like magic here. I said, 'I'm going there.'"
Fast-forward three years later, and the once wide-eyed Spanish international will serve as one of Miami's most impactful swimmers and a team captain in her final year at The U. A year ago, she was second among point-getters for the Hurricanes and made school history with the ninth-fastest finish in the 200-yard freestyle (1:48.74).
"You can't build a team without someone like Carmen," Kershaw said. "Someone who is loyal, is totally devoted, is competitive, is passionate, who loves the sport, loves the team – loves everything. And in the moments when it's tough, she's still in it. She's still there for her teammates."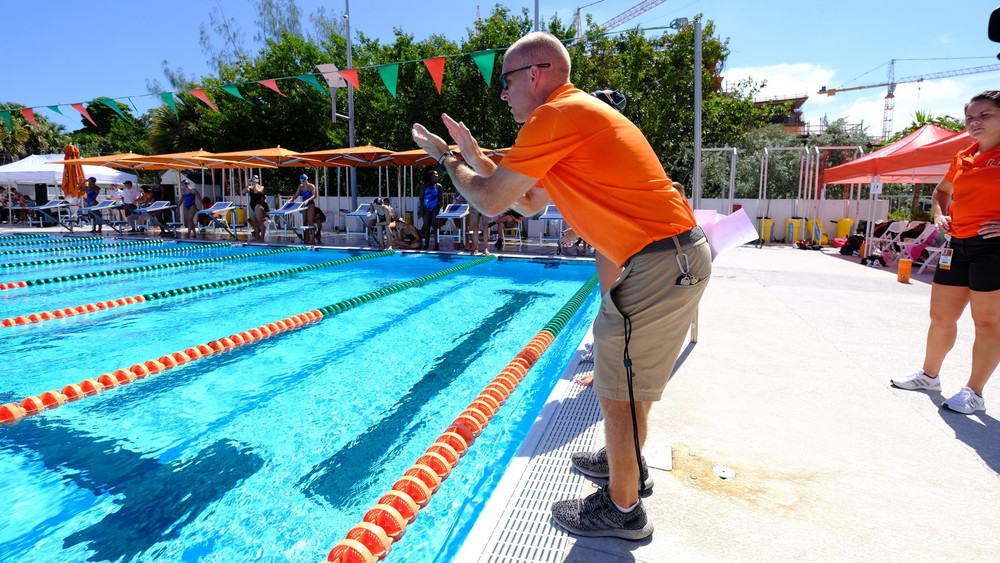 Like many student-athletes, San Nicolas had moments of struggle with the transition in her first year as a collegiate student-athlete. But a trust level in her coaches and teammates helped elevate her over the last years.
"My first season didn't go as well as I was expecting," she said. "I had been swimming long-course and I didn't perform like I wanted. I trusted the coaches and that's the key. I know they know much more than I do."
One of those teammates she looked to was Claire McGinnis, a year older than San Nicolas but one of her closest friends. McGinnis spent this past season as a team captain, and said she saw qualities in San Nicolas that she knew would translate to a successful career.
"She is probably the most adaptable person I've ever met," McGinnis said. "I think that's the best word to describe Carmen. Whether it's in regards to school, a social setting, the athletic side of things – whatever setting she's in, she is able to adapt to the situation and make the best of it."
Kershaw agreed with McGinnis' assessment.
"Carmen is able to accept her mistakes as part of the process and piles up the numbers of successes," he said. "There's no doubt that that's a reason she has been able to have the relationships she has had and the success she has had. She's not overanalyzing every situation. She's looking at the big picture, trusting the process and knowing in the end, that it's going to pay off."
Distance from home has always been tough for San Nicolas. When her mother, also named Carmen, was surprised by her friends in Spain for her 50th birthday with an airplane ticket to Miami, the Hurricanes team was treated to paella and a weekend full of smiles during the First Chance Meet in 2019.
"My mom is a little crazy, so all of my teammates joked, 'Now we understand where you're coming from,'" San Nicolas said with a laugh. "The key is to have an open mind and try to understand where everybody comes from. It's a family. I miss my family so much. This is my family here."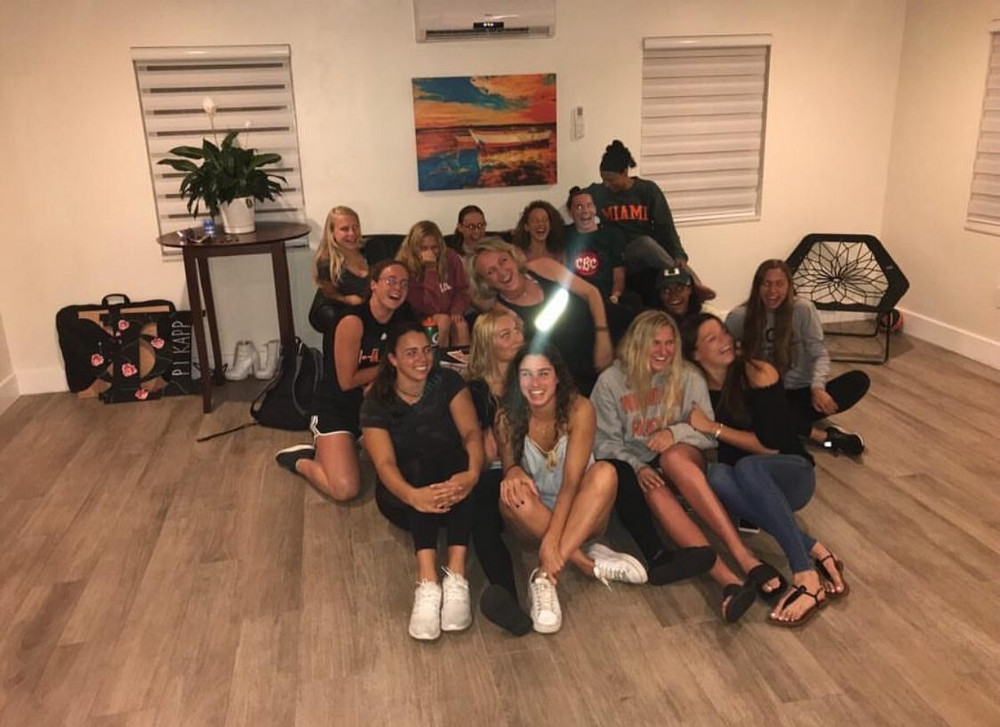 Kershaw said that, more than any of her skills or progress in the water, San Nicolas' improved leadership ability has impressed him most.
"She had a tendency to keep some of those things to herself at first and just assumed people were going to do it," he said. "She has grown a lot in the sense of helping teach other people how to get to where they need to be, or getting in their face when that's needed.
"She knows how to handle those different moments, whether she should guide or whether she should be in their face and say, 'Get it together.'"
Unsurprisingly, then, San Nicolas was selected one of two swimming captains at this year's virtual banquet, a sign of deep-rooted admiration and respect from teammates and coaches.
"I think Carmen is going to be really great as a captain, because people are going to look up to her and trust what she's saying because everybody gets along with her and everyone really respects what she says," McGinnis said. "Her ability to adapt and her ability to understand so many different people are some of her strongest qualities and I think going to make her a really good captain."
For San Nicolas, the honor left her speechless.
"I can't even describe it. After all we've been through, I want to have a great season. The last one, I don't want to think about it," she said. "I want to be a good leader as a captain. I want to leave my mark, make sure people remember my name. I cannot put it into words. It means so much. I'm so proud. Some of the captains before me were basically my best friends. I admire them, learned a lot from them, and I want to be that person for the rest of the team."