From the Bottom to the Top 300
CORAL GABLES, Fla. – Stephanie Wagner had to start somewhere.
That somewhere was the very bottom.
After five years in South Florida—four as a star for the University of Miami women's tennis team and one as its student assistant coach while pursuing a master's degree—Wagner returned to Germany in May 2017.
After initially moving back to her homeland for family reasons, Wagner soon decided she wanted to give professional tennis a try.
"I didn't really have a good German ranking anymore since I didn't play any national tournaments. Plus, I didn't have any points, none, no WTA points," Wagner said. "It makes it really hard to get into tournaments if you have both a [very bad] German ranking and no ITF ranking. So, I basically started playing the qualifications of the smaller tournaments and then you slowly gain some points and you move up the rankings."
The first step for Wagner was to "get in shape." Then, her initial foray into resuming her career then featured simply playing some club matches in Berlin.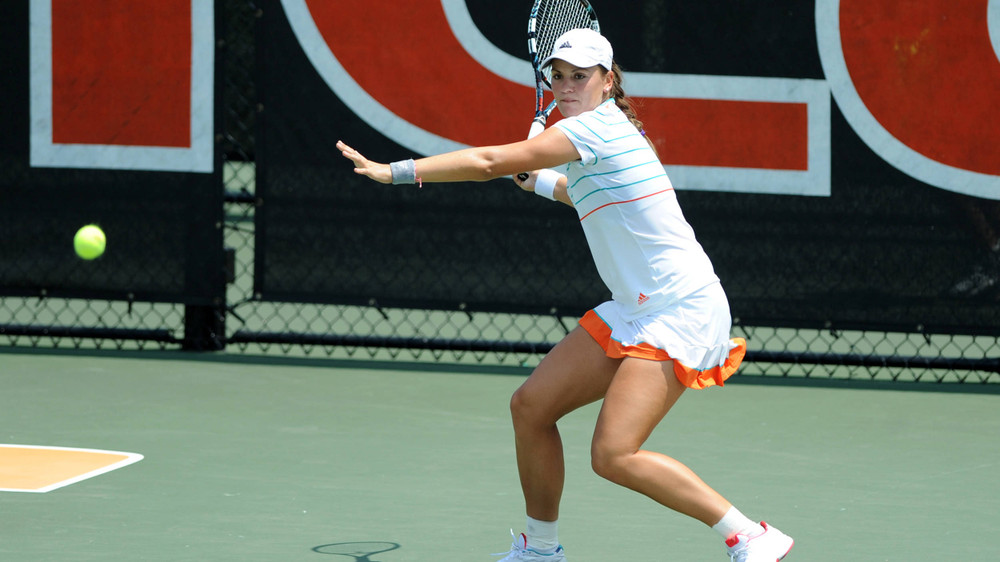 One of her teammates was a nine-time ITF doubles champion, Syna Goellner, whose husband, Marc, is a former top-30 player on the ATP tour, as well as an Olympic bronze medalist. Despite her lack of ranking stature at the time, Wagner caught the eye of the talented couple, who soon became her new coaches.
"That's when everything started to get better. Because I didn't have a coach really, I didn't really know where to train. So, they said, 'Come to Cologne and see how it goes and if you like it,'" Wagner said. "Well, I'm still here. I really enjoy training with them. And that's when everything started, it was 2017, end of the year, I think, when I moved there and I started to play."
Cologne, about 300 miles west of her hometown, Amberg, is where Wagner truly began her pursuit of a professional career.
After entering the rankings in September 2017 for the first time since 2012, Wagner jumped nearly 200 spots over the next few months and closed the year at No. 880.
She continued to ascend in 2018, but before an injury to her right foot sidelined her for several months.
"A break like that kind of right at the beginning of your career basically is annoying because you're kind of grooving in and then you're out for an injury, but it teaches you a lot," Wagner shared. "Emotionally, it can be really draining."
Even with the setback, Wagner made massive strides up the rankings list during the year and ended 2018 at No. 497 in the world, an increase of 383 spots.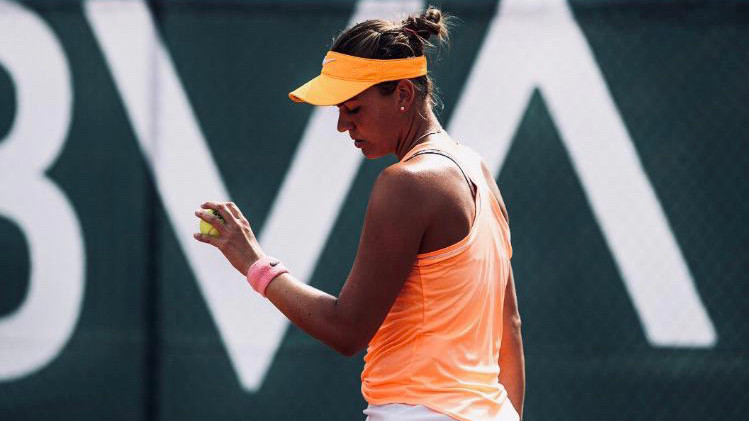 Her success extended into 2019, a year in which she competed in tournaments in 13 countries across three continents.
"I've seen so many beautiful places and I've met so many wonderful people," Wagner said. "The sport is teaching you every day how to be strong and tough and resilient. It's truly amazing what can happen in one year and 2019 was, for sure, one of the best tennis years I've had so far."
One of Wagner's 2019 highlights was her first top-100 win, a 6-3, 4-6, 6-4 decision over Tatjana Maria on July 31 at the Liqui Moly Open Karlsruhe in Karlsruhe, Germany. Maria, a fellow German, is a former top-50 player who was then ranked No. 73 in the world.
Despite dealing with new injuries, this time to her left foot, late in the year, Wagner finished 2019 at No. 271 in the international rankings.
"It's been, for sure, already a rollercoaster because . . . I was a really good college player, one of the best, but I didn't think that two years from then that I would be top-300. I never thought it would go that fast and that I had the quality to be there, but then I had the right coaches who always believed in me from the very beginning," Wagner said. "I didn't have one point and [Marc] said, 'In one, two years, you will be top-300, no doubt. You're that good.' So, that obviously helps a lot with the self-confidence and the belief. If you have a support system like my family and obviously Marc and Syna, it helps a lot with your own belief. Then you start to play better and the results are coming and you climb up the rankings and then slowly you believe that you can actually make it."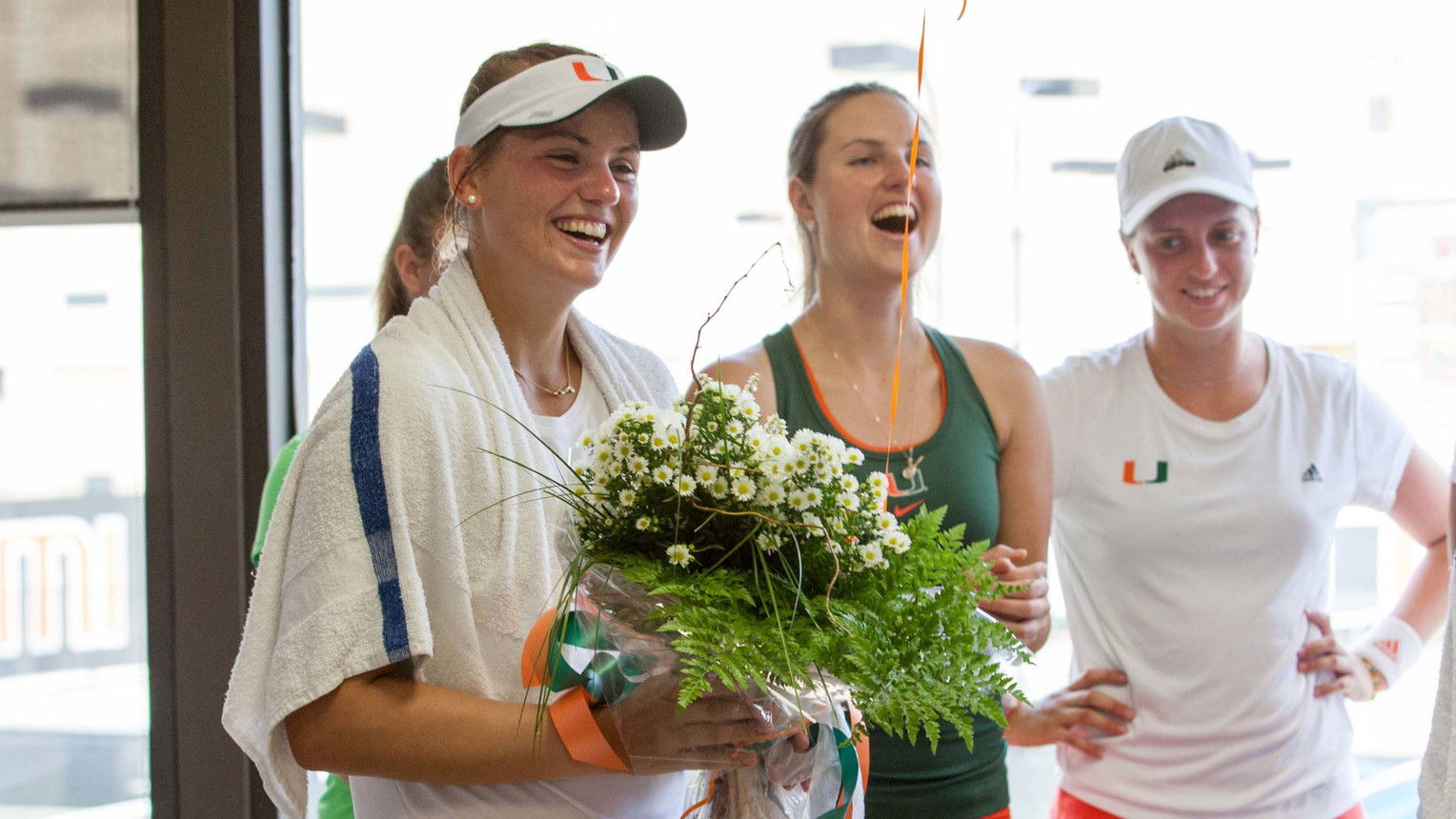 Wagner after breaking Miami's career singles wins record in her final home match
Wagner has peaked at No. 265 in the WTA rankings, making her one of eight former NCAA-era Miami standouts to enter the top 300. Her mark is the third-best of anyone to play for Paige Yaroshuk-Tews during her time as Miami's head coach, which dates back to 2002.
Yaroshuk-Tews, who helped guide Wagner to three ITA All-America accolades during her dazzling Hurricane career, echoed some of the same sentiments about her prized pupil's achievements on the WTA circuit.
"I don't think there was ever a doubt that if Steffi got with the right people moving forward that she could kind of transition to the pro ranks in a solid fashion and I think she's done that. She's still got a long way to go in order to make a living and to stay out there and, I think, do what she really wants to do, but I don't think that it comes as a surprise at all," Yaroshuk-Tews said. "I think that Steffi's game and Steffi's work ethic [are impressive]. And then, she found some good coaching, she found a good situation that fits her personality and fits her very well. I'm happy to see that she's been having the success that she's been having. She's improved certain aspects of her game; I know she's been working on some things and they've been proving to pay off."
Wagner is currently No. 270 in the world, her ranking frozen for months, along with that of every other player, due to the COVID-19 pandemic.
Despite dealing with some lingering inflammation in her left foot, Wagner has been diligent about working out during the halt in competition. She borrowed a stationary bike from her friend and has been using that, along with going for walks, doing yoga and stretching.
"I was a really good college player, one of the best, but I didn't think that two years from then that I would be top-300. I never thought it would go that fast and that I had the quality to be there."
Whenever play resumes, Wagner hopes to be ready and she knows what she would like to accomplish in the next portion of her career, even if some of that is not exactly quantifiable.
"The next steps are the [qualifying rounds] of the Grand Slams, for sure. And since I played for UM and since . . . [Miami is also] definitely my second home, I've been there for so long and have such a strong connection, my dream and my drive is to one day maybe play at the Miami Open," Wagner said. "I think that would be so cool. Let's see if that happens. That's definitely one of my goals, but I want to see how far I can get.
"I don't really want to put a number or a tournament as the ultimate goal," Wagner continued. "I want to see how far I can get with the tennis that I'm playing and how much more I can develop and get better because, especially in the physical aspect, there is so much more room for improvement. Since I've always kind of been in and out because of injuries I think if I get my body stronger and fitter, I think there is still a lot of jumps I can make in the rankings."
Asked what she needs to do in order to reach those lofty aspirations, the 2015 NCAA Singles Championship semifinalist talks mostly about her mentality and her effort.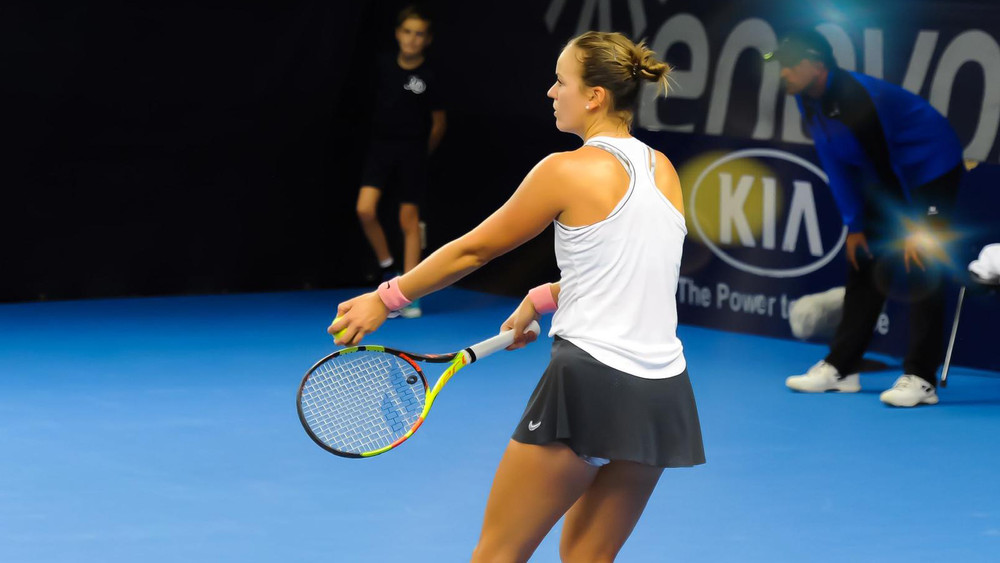 While she acknowledges she needs to enter, roughly, the top 240 in the world rankings to get into Grand Slam qualifying play, Wagner feels that is most attainable by controlling what she can.
"It's basically staying in the present and focusing on what I have to do with a tennis ball, where I have to play the tennis ball and not thinking about it in terms of numbers and rounds," Wagner explained. "It's more like what I have to do on court to win the match and [not think], 'Oh, if I win this round I get 25 points and I jump up in the rankings.' That's the worst [thing] that you can focus on."
As evidenced by her interest in playing in the Miami Open, Wagner has deep ties to the Magic City.
"I don't really want to put a number or a tournament as the ultimate goal. I want to see how far I can get with the tennis that I'm playing and how much more I can develop and get better."
Although she was a four-time All-ACC honoree who departed school with the most singles wins in program history, Wagner's South Florida memories extend well beyond the success she had there on the tennis court.
"It was just a big family. The team and the coaches and the relationships we had amongst us girls was special because we would always hang out together," Wagner said. "I don't think there were many teams that had this deep relationship. If it was Lina [Lileikite] or Sinead [Lohan] or Meli [Bolivar], we would always have dinner, study together, spend the weekends together. That's what made us special, for sure, in these years as a team . . . I think this is what Paige was really good at, she brought us all together, always. She always made sure we were getting along and we're hanging out and spending time [together] because it's really important to a team that you feel that bond."
The bonds she developed off the court were certainly exceptional, but Wagner also feels her time in Miami also helped develop her as a player. She credits Yaroshuk-Tews and her staff for quite a bit, including that they "taught [her] to be tough."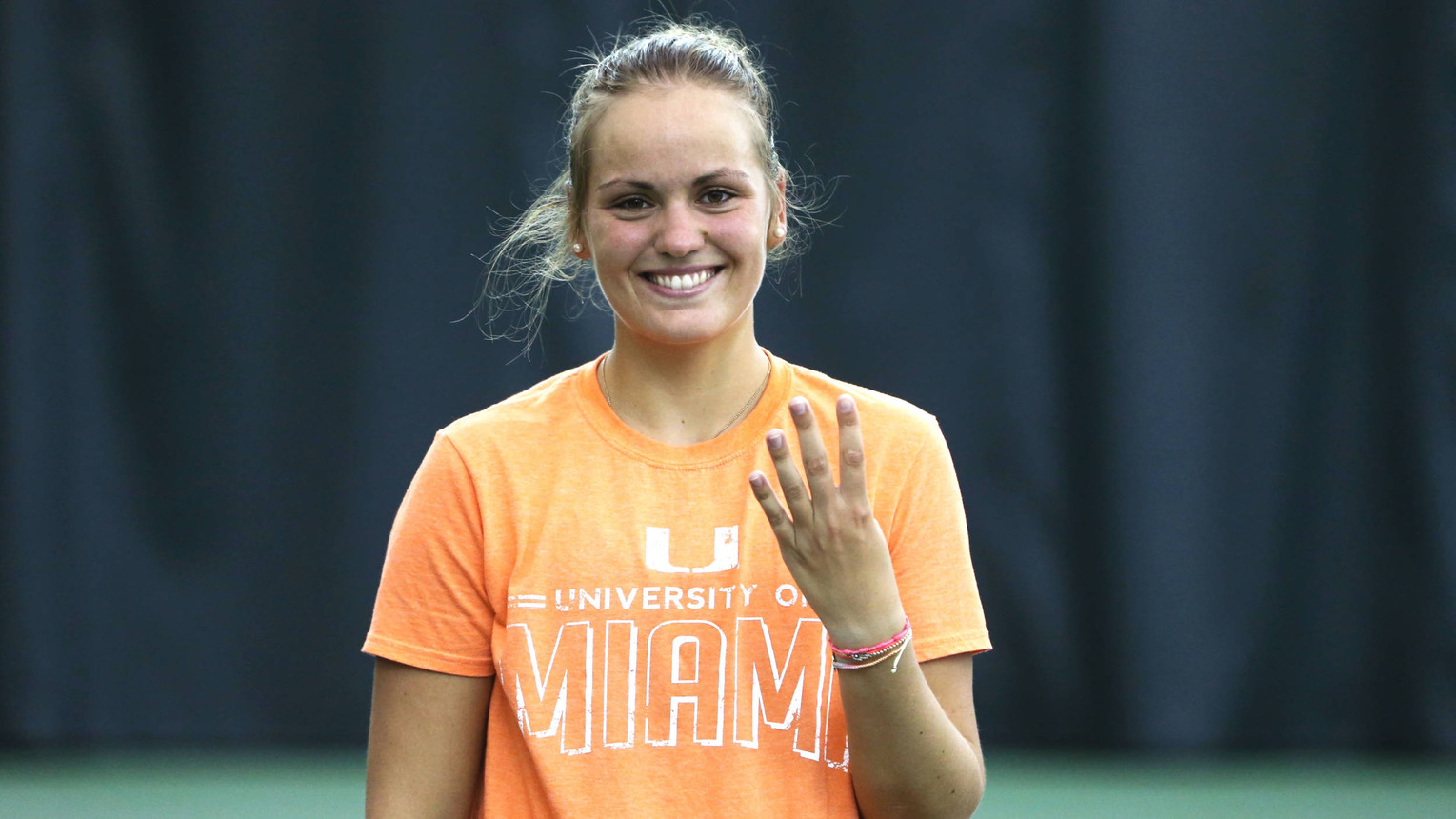 In 2015, Wagner earned the seventh NCAA Final Four berth in program history
Yaroshuk-Tews, meanwhile, vastly enjoyed coaching Wagner, whom she stays in touch with to this day, and agrees that her game progressed during her time at the Neil Schiff Tennis Center.
"I think I pushed her to the limits. I think I drove her a little bit crazy. I think I knew how to get into her tougher, make her more resilient, make her understand things about herself that maybe she didn't realize prior," Yaroshuk-Tews said. "She got more disciplined, she got fitter. Steffi Wagner is just such a great example of the kids who come to Miami and blossom. She loves Miami. She loves our athletic department. She loves her friends. She loves working. She was a sweet kid off the court. She was the perfect kid to come into Miami and do great things."
"It was just a big family. The team and the coaches and the relationships we had amongst us girls was special."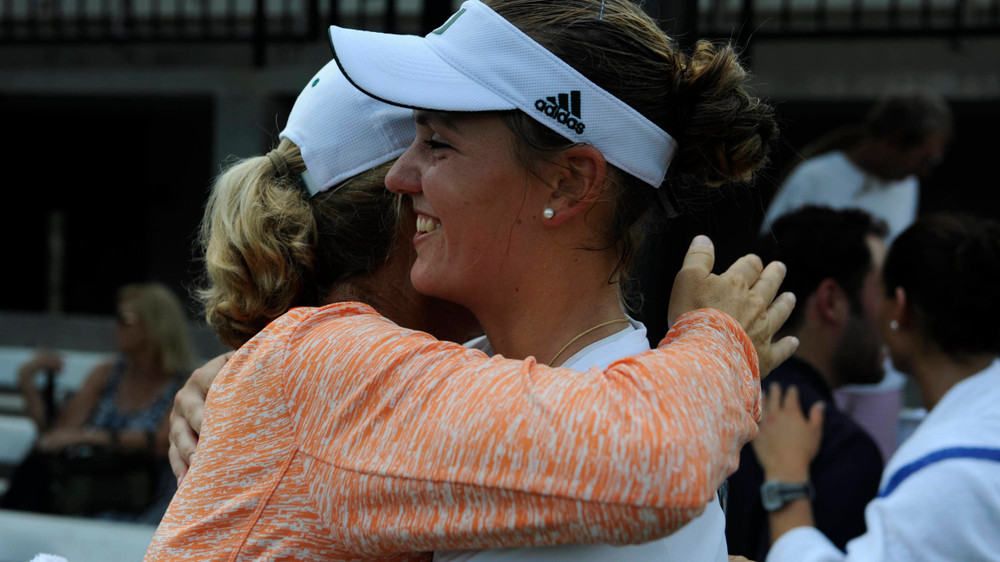 Not only did she do those great things in college, she continued to do so afterwards.
Now a rising standout at the professional level, Wagner hopes her success will eventually bring her back to compete in the city she cherishes so much.
"I love Miami and UM, obviously," Wagner shared. "I always say that those have been the best five years of my life and if I had the choice to do it all over again, I would do it exactly the same way."