Kylliainen's Unwavering Passion
For a 23-year-old swimmer on the world's biggest stage, the choice was clear.
It was the morning of the opening ceremony at the 2016 Summer Olympics, and Tanja Kylliainen's Finnish teammates encouraged her to skip the pageantry at Maracanã Stadium in Rio de Janeiro.
With an early start time at the pool looming, the six hours of standing and walking around the night before the competition would be counterproductive, her teammates said.
For Kylliainen, who fell short of her dream by a tenth of a second during the last Olympic cycle, missing her first opening ceremony wasn't even an option.
"I thought, 'This is the only time in my life that I'm going to be able to experience this,'" she said. "I went and I loved every second. It was just me and the coaches and, of course, other [Finnish] athletes – no swimmers, but from other sports. I was on cloud nine.
"When I'm happy, that's when I know I swim fast. If I feel like I missed out, that's not when I'm in my top competitive mode."
Still brimming with energy and emotion from the night before, Kylliainen was on the verge of tears in the infamous 'ready room' the next morning, feeling "a little nervous" but "at peace."
The excitement in her voice is palpable as the race replays in her head.
"I had gone through [the race] so many times, it was a demon for me," she said. "'I hate this event long-course.' 'I can't put it together.' For some reason, I was able to let go at the one moment it mattered. I feel very lucky to have one of those perfect swims."
Seeded last in the 400-yard IM, Kylliainen set the national record in the event with a time of 4:45.33 in Finland's first swim of the 2016 Olympics.
"Everyone who has ever followed me or supported me through my career, they were there for me," she recalled. "I was beaming. I dove in and remember every kick count, every stroke count. It was just…freeing."
That same passion is what Andy Kershaw saw early in the process when Kylliainen interviewed to become Miami's assistant swimming coach two years later in the summer of 2018.
"There's so many things you're looking for and so many different tools you're thinking of," he said. "You want them to be a great on-the-deck coach. At the same time, you want them to be a great role model for the team. You want them to be a great person and someone you enjoy working with.
"But the one that stood out to me the most was making sure we had someone that could really buy in to the culture and help with the culture and embody that. That was the top quality."
Kylliainen did not have any collegiate coaching experience on her resume. She had coached a club team during her undergraduate career at Louisville, including an up-and-coming high schooler named Zorry Mason.
What Kylliainen did know, however, was the difference between the team atmosphere of collegiate swimming and the individual-focused international scene was stark – and she took it personally.
"In college, my biggest motivator was swimming for the team, for the greater good. I didn't care that I had to swim on a relay and then two minutes later, and still tired, I was swimming my best event," she said. "Being the runner-up at NCAA Championships in that relay, that was the highlight of that session for me, not the fourth-place finish a few minutes later.
"When we would go to the world championships, there were Finnish swimmers who would say their stomach would hurt before a relay so they wouldn't hurt their individual events. That never sat well with me."
Kylliainen had been an ACC champion, an NCAA All-American and an accomplished, record-setting Olympian. More than any personal-best time or trophy, however, it was her strong feelings about the importance of team dynamics at the collegiate level that struck Kershaw during the hiring process.
"She came with the least experience – essentially no college coaching experience and very little club experience," he said. "When her name came through in the application pool, I recognized it vaguely and thought, 'Was this the short girl running around the deck at ACCs kicking everyone's butt?' Turned out it was her. Once I had my first phone call with her, there was a connection there. I really felt that team culture piece and her excitement to be a part of that and buy into that."
Mason was reunited with Kyllainen on campus the day before her freshman classes began in the fall of 2018.
"It's absolutely amazing. I still remember the day that she called me, the summer going into my freshman year, to tell me she accepted the job. I jumped out of my chair and was almost in tears, because I loved having her as a coach. I love her as a person, as well. I think it's kind of cool that because she coached me when I was in high school on my club team, that she can follow me to the end of my career."

Zorry Mason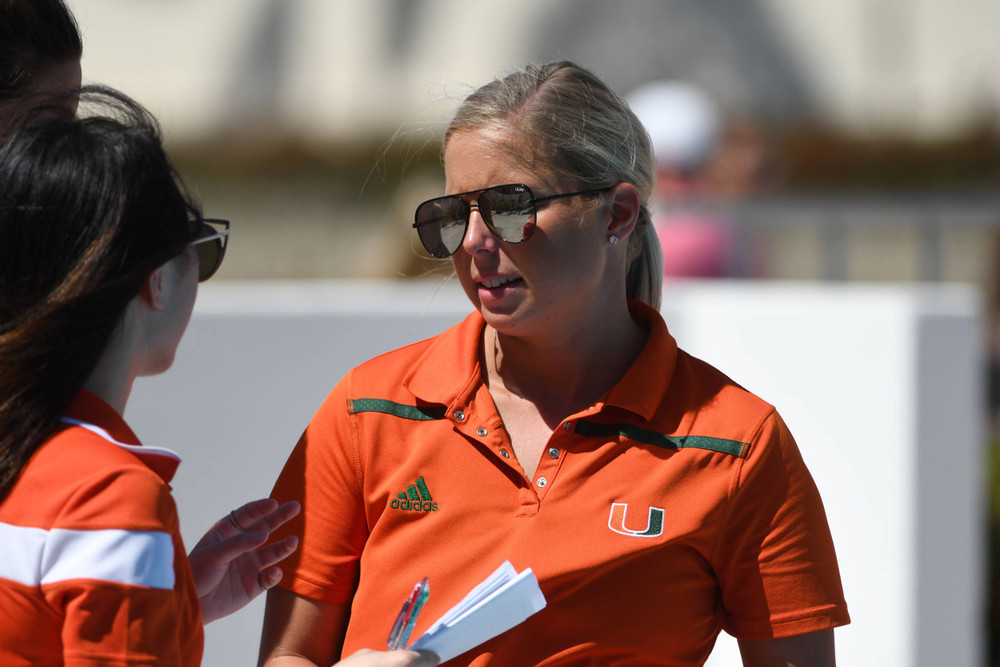 Kyllainen, like many of Miami's talented swimmers who hail from all across the globe, had dreams of representing her country at the Olympics. Kershaw has served on the Team USA Olympic staff for the last two cycles.
When she was going through the recruiting process herself, Kylliainen had narrowed her list down to five schools – including four ACC programs. But part of the reason she chose Louisville was the emphasis on international competition, and Kylliainen has carried that into her coaching career.
"I think that really speaks to the growth of our program," she said. "Getting girls to come in that have goals outside of the short course season, and being able to share that with them. From an experience standpoint, a lot of our swimmers ask, 'Should I go to European championships? Does it fit into our schedule?' Andy and I are both big proponents of, if you have the opportunity to represent your country, it's one of the greatest honors you can possibly earn."
As Kylliainen prepares for her third year on staff, it's safe to say Kershaw is thrilled with how the hiring unfolded.
"She came in with the ability to relate to the swimmers so well," he said. "The relationships she builds interpersonally, those are so great. That's something that she already has. It's hard to grow. She is extremely eager and wants everything right away, which is a great thing from a young coach."
The resume of the 27-year-old – growing up in Towson, Md., spending summers and part of her senior year of high school in Finland, dominant on the collegiate and international scene – has paid dividends on the recruiting trail.
Collectively, Kershaw and Kyllainen attempt to identify who will succeed at The U as they search the globe for the next wave of Hurricanes, with the goal of watching women succeed both at NCAAs and on the international scene.
"Tanja is very good at saying, 'Yes, this person wants to come and they're talented, but are they going to buy into our culture? Are they going to be able to fit in well here and be the person we want them to be and impact the other people on our team the way we want to impact them?'
"That's a harder thing to identify and has been equally as valuable."
Now, alongside Kershaw, she finds herself on the other side of the pool deck, coaching, supporting and mentoring the Miami women.
"It has been absolutely awesome. I love how much of a family it is. I love being able to mentor these girls – that's my favorite part of coaching," she said. "I get to do it through swimming. Being able to watch them develop and grow and become mature, strong, independent young women…I love that part of it. I think seeing the breakthroughs in what they've been able to achieve when they think they couldn't, and knowing I played a small role in thinking they could do these crazy things, that's been my biggest accomplishment."
The school record-holder in the 200-yard IM, Mason says that Kylliainen has played a critical role in her development ever since her club coaching days.
"I remember looking up to her. When she started coaching, our group got really excited. She added a lot of fun to our practices, and really cared about what type of practices we were doing," Mason said. "She was the one got my IM to where I am right now. She made a really big impact on me, and I'm very grateful for having known her during [club] and being coached by her in college."
For Kyllainen, stories like Mason's are the reason she has the job she does.
"These girls are badass and I get to be a part of that. I get to challenge them. I think they're appreciative that I am tough, but know that I love them," Kylliainen said. "I think our relationship is something that is really special and I don't take for granted. The influence I have in the four years that they're here, it means everything to me."