This Week in Hurricanes History: Slaying Goliath
CORAL GABLES, Fla. – Two days after leading her team to the biggest upset in the history of collegiate tennis, Paige Yaroshuk-Tews thought she was about to lose her job.
"I'm doing my work and my phone rings and I'm like, 'Miami tennis.' And there's a woman that says, 'Hi, Coach. [Florida Athletic Director] Jeremy Foley would like to speak with you if you have a moment.' My heart starts [beating] so fast," Yaroshuk-Tews said. "I'm like, 'Oh my God, I'm going to get fired. I let these kids climb the fence.'
"He was unbelievable. He said, 'Coach, I never like to see the Gators lose, but it was an unbelievable match that you played the other night. I want to congratulate you and I want to wish you the best of luck moving forward.' And that's it. And we hung that banner . . . in our locker room for a while to remember this win. I don't think anybody from Florida even cared [about the sign], to be perfectly honest with you, but it was a pretty funny story."
That sign was the large "Women's Tennis Today" banner that hung outside the Alfred A. Ring Tennis Complex in Gainesville, Fla. There, entering the 2004 NCAA Team Championship, the top-seeded Gators had not lost in over two years, notching 32 straight home victories.
The No. 1 overall seed had reached the NCAA final the past 10 years, including six times with Florida holding that chief position. Furthermore, Florida went into the postseason as the reigning national champion, riding a 40-match winning streak after going undefeated for nearly 14 months.
"One of the girls, I don't know who it was, said as we were driving in for our first practice, 'Hey, Paige. If we beat Florida, can we take that freaking sign down? So sick of the sign.' And me, of course, I'm like, 'Yeah, of course, if we beat Florida you can do whatever you want to do,'" Yaroshuk-Tews remembers with a laugh. "So, we beat them and we're going out of the facility and I forget. And all the girls are like, 'No, no, no, no, no, no. Pull over.' And we take the banner and the girls roll it up and we put it in the van."
While it might have seemed far-fetched when the idea was initially mentioned, it became reality on May 15, 2004, when the Hurricanes stunned Florida in a victory that shocked the tennis world and changed the trajectory of the Miami program for years to come.
* * * * * * * * * * * * * * * * * * * * * * * * * * * * * * * * * * * * * * * * * * * * * * * * * * * * * * * * * * *
The Hurricanes' triumph over Florida remains, 16 years later, the only time in the history of the NCAA Team Championship that the top seed failed to reach the Sweet 16. In fact, no other women's top-five seed has come short since the NCAA went to the 64-team format in 1999.
How Miami got to the point where it was able to make such remarkable history begins with a team yoga session.
With her BIG EAST Tournament championship-winning team ranked No. 23 nationally in her third season at the helm, Yaroshuk-Tews knew they were likely headed to Gainesville for NCAA action. Just two years prior, Miami also went there for NCAA play and watched the top-seeded Gators cruise to a 4-0 second-round win on their way to the NCAA final.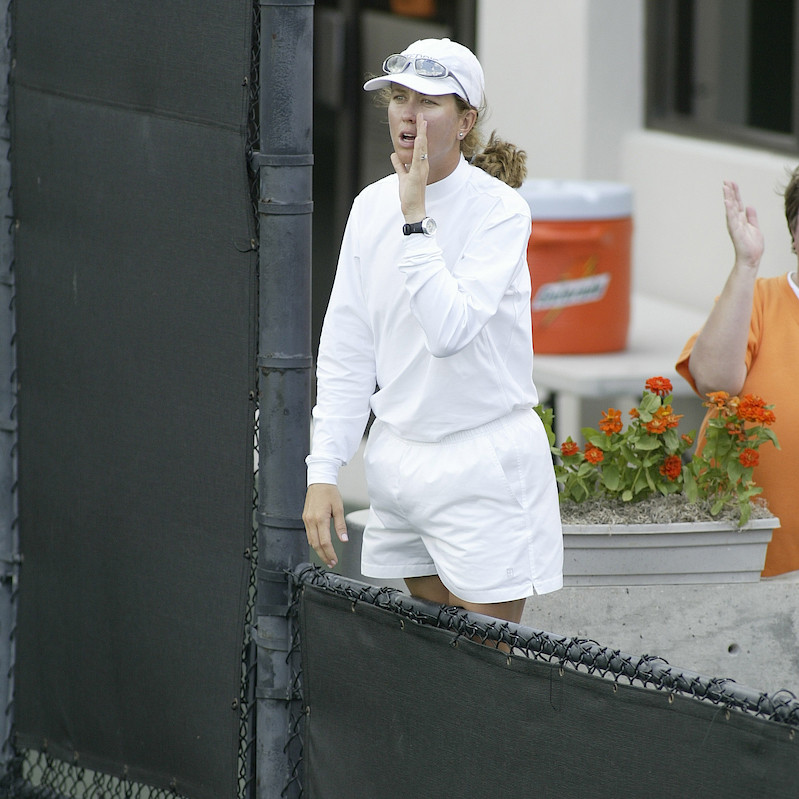 Knowing the team would be disheartened when it officially learned Florida would be the destination, Yaroshuk-Tews pulled her star player aside.
Megan Bradley, a junior ranked fourth nationally, was called upon, preemptively, to change the mood. Yaroshuk-Tews told Bradley that the way she handled the news would largely dictate how her teammates took it.
Once it was official, Yaroshuk-Tews, not knowing how Bradley would react, walked into yoga and relayed the word. Then, Bradley took over.
"Everybody was kind of a little dejected and Megan just started lighting the girls up. She said, 'We might as well not even go if we're going to have these reactions,'" Yaroshuk-Tews recalls. "Megan said to the girls, 'You know what, guys? You got my point.' She told the girls, 'You have my point' and after she said that, I want to say that Audrey Bañada, a freshman, said, 'You got my point, too.' And before we know it, we've got a group of girls believing, 'Okay, we've got half the match down now.'"
Bradley, 30-4 at that point in a season that ended with her becoming the first Hurricane to reach the NCAA Singles Championship semifinals in 16 years, used her personal mindset for the greater good of the team.
"Coming from my individual success, I think that I was able to have a different perspective of like, it doesn't matter that they're number one. None of this matters. All that matters is that we have a chance to play," Bradley said. "I also, just in general, don't take a defeatist approach to anything. It's just not in my personality and so I think, for me, also, I always approached all my matches in that I knew I could beat anyone in the country and so I wanted the team to know that they were going to be able to count on me to have at least one point. It wasn't an attempt to be an arrogant situation, but more like a, 'Well, we know we can get one point. There's no reason why we can't get four.' I think that was kind of the concept behind that."
Even with motivational speeches and heightened confidence, the Hurricanes still had a massive test in front of them.
The Gators were the No. 1 overall seed for the 12th time in 18 years, including the 10th in a 14-year span. They had advanced to the Elite Eight 17 consecutive seasons and to the Final Four in 16 of them, winning four national titles in the prior 12 years.
Meanwhile, Miami had just one Sweet 16 berth during those same 12 campaigns and had not defeated the Gators since 1986, suffering 22 straight losses.
While some on the team, including Bañada, were unaware of much of the history Miami was up against, others, such as junior Staci Stevens, knew just how unlikely a proposition it was for the Hurricanes to pull this off.
"We had the confidence, like, 'Let's go for it,'" Stevens said, "but I don't know if we actually thought it was going to happen."
* * * * * * * * * * * * * * * * * * * * * * * * * * * * * * * * * * * * * * * * * * * * * * * * * * * * * * * * * * *
The relationship Yaroshuk-Tews had with Bradley that allowed the coach to know she could count on her in that vital moment can be traced back several years.
Originally from Columbia, Mo., Bradley moved to Miami during her high school years to take on stronger competition. The daughter of a former MLB All-Star, Phil Bradley, she was one of the best junior tennis players in the country and had incredible natural ability.
"One of the girls, I don't know who it was, said as we were driving in for our first practice, 'Hey, Paige. If we beat Florida, can we take that freaking sign down? So sick of the sign.' And me, of course, I'm like, 'Yeah, of course, if we beat Florida you can do whatever you want to do." -Paige Yaroshuk-Tews
In addition to training in Key Biscayne, Fla., with USTA Player Development, the organization she now works for, Bradley connected with Yaroshuk-Tews. She does not remember exactly how it happened, but the two started hitting together and she even began going to Yaroshuk-Tews' brother, Ernie, for fitness instruction.
"There was no doubt that I was a talented tennis player, but where the doubt came in was how much I was really going to commit, especially when I was younger," Bradley said. "And Paige, she just knew how to get the most out of me. It wasn't at that point even that it was really stroke related or technique related. It was much more just kind of emotional."
Nevertheless, Bradley says Yaroshuk-Tews did not even try recruiting her to Miami as "it was so outside of the realm of possibility" she would go there. Rather, Bradley knew she wanted to go to UCLA, Yaroshuk-Tews' alma mater, coincidentally.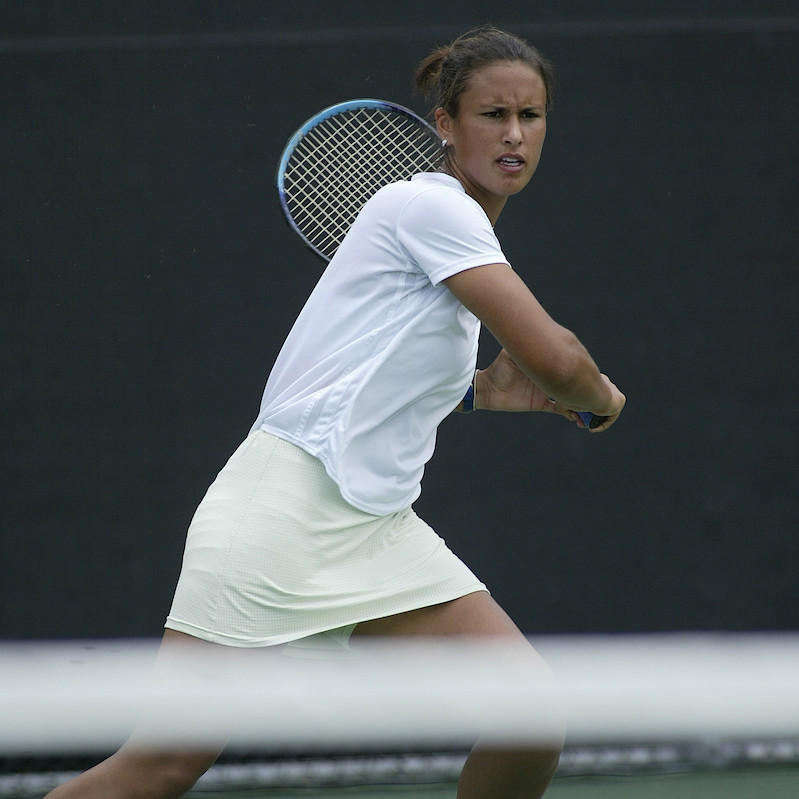 She matriculated in the fall of 2001 and turned in a splendid freshman campaign, earning ITA All-America honors and helping the Bruins to the Elite Eight. However, she decided to leave Westwood and then elected to make another move to Miami.
"After the one year, I was going to transfer, it was like, 'Alright, I know that this works with Paige,'" Bradley said. "And at the time, that's what I was looking for. I was looking for a coach who'd really take me to the next level and that's what she did."
On Yaroshuk-Tews' end, to say landing someone like Bradley was important would be an understatement. She was a different caliber of player than the ones who had come to Coral Gables in the past decade-plus and was already an accomplished collegian.
However, more than her on-court skills, Yaroshuk-Tews knew she was getting an individual whom she could build around off the court.
"When she transferred, I remember her release coming through a fax machine and I was like, 'Holy crap, now we're moving.' Because I had the kid that . . . I trusted in the locker room," Yaroshuk-Tews said. "So, I had the kid that was not only a really good tennis player, but she was [tough]. She came into Miami tennis and she wasn't there to make friends.
"She transferred from UCLA, where she was surrounded by phenomenal athletes and she comes to Miami to get better herself, but she's surrounded by kind of second-tier athletes and she wasn't going to have anything to do with it. She told these kids all the time, what to do, how to do it. She was very friendly with Staci, she was very friendly with Audrey, but her main objective was not to make friends. Her main objectives were to help me and to help herself."
In helping her coach, Bradley helped her teammates and helped Miami get to a position where it could slay Goliath.
* * * * * * * * * * * * * * * * * * * * * * * * * * * * * * * * * * * * * * * * * * * * * * * * * * * * * * * * * * *
Before facing Florida, Miami met South Alabama in the Round of 64 and made quick work of the Jaguars, notching a 4-1 decision. The Hurricanes, after taking the doubles point, got singles wins from Bradley, Bañada and sophomore Melissa Applebaum.
Entering the Sunshine State showdown with Florida, the odds were stacked against even the two players who guaranteed their points to their teams.
Although one of the finest players in the country, Bradley was set to face a foe, Alexis Gordon, ranked two spots above her at second nationally. Meanwhile, Bañada had a dazzling 28-2 mark at the time, but her opponent, Lindsay Dawaf, was a former top-10 player sporting a perfect 20-0 record.
Yaroshuk-Tews still felt confident in both of them, but knew there was a third, the one who lost against South Alabama, who would be especially important.
"After the one year, I was going to transfer, it was like, 'Alright, I know that this works with Paige.' And at the time, that's what I was looking for. I was looking for a coach who'd really take me to the next level and that's what she did." -Megan Bradley
"I knew Megan could win because, in my opinion, Megan could beat anybody in the country. So, yeah, she was playing Gordon, who was obviously a very good player whom she had history with, but my money is on Megan Bradley," Yaroshuk-Tews explained. "And Audrey Bañada, quite honestly, she probably had no idea that Lindsay Dawaf was undefeated. I felt good about that match, too, because I had traveled Europe with Lindsay Dawaf when I worked for the USTA. I knew her on a personal level. I knew her strengths, I knew her weaknesses. I felt pretty good about that one. I knew Mari Toro was going to show up with like camouflage gear; she hated Florida more than anybody else I've ever met.
"The one that we needed was Staci and the one that was just really struggling going into the tournament was Staci. So it was like, everybody loved Staci, [but] Staci was in a little bit of a funk and we needed her."
Not only did Bañada not know in 2004 that Dawaf was undefeated, she did not know to this day that the two-time ITA All-American had an unblemished ledger. As the Hurricanes' lone freshman, the North Miami Beach, Fla., native simply did not have the same understanding of the numbers and the situation some of her teammates did, something that proved quite valuable once the match came.
As for Stevens, she went into the contest with Florida with a new mindset to flip her recent struggles when her team needed her most.
"It doesn't really matter what happens because we were supposed to lose," Stevens said. "So, I kind of didn't have any pressure. I didn't put any pressure on myself and maybe that's why I played better."
Her mentality would pay off big-time for the Hurricanes.
* * * * * * * * * * * * * * * * * * * * * * * * * * * * * * * * * * * * * * * * * * * * * * * * * * * * * * * * * * *
"The thing that I remember the most is just the energy of the Florida facility," Bradley said of her recollection of the match. "They had a sold-out crowd and there is just no way that anyone thought we were going to be able to upset them."
A total of 564 people filled into the stands on that Saturday night in Gainesville. It was a massive crowd for collegiate tennis, well beyond the size Miami was used to seeing throughout the season.
While the Hurricanes had a solid contingent of fans, including Paul Dee, Miami's esteemed then-athletic director, nearly everyone there was cheering against Florida's rival to the south.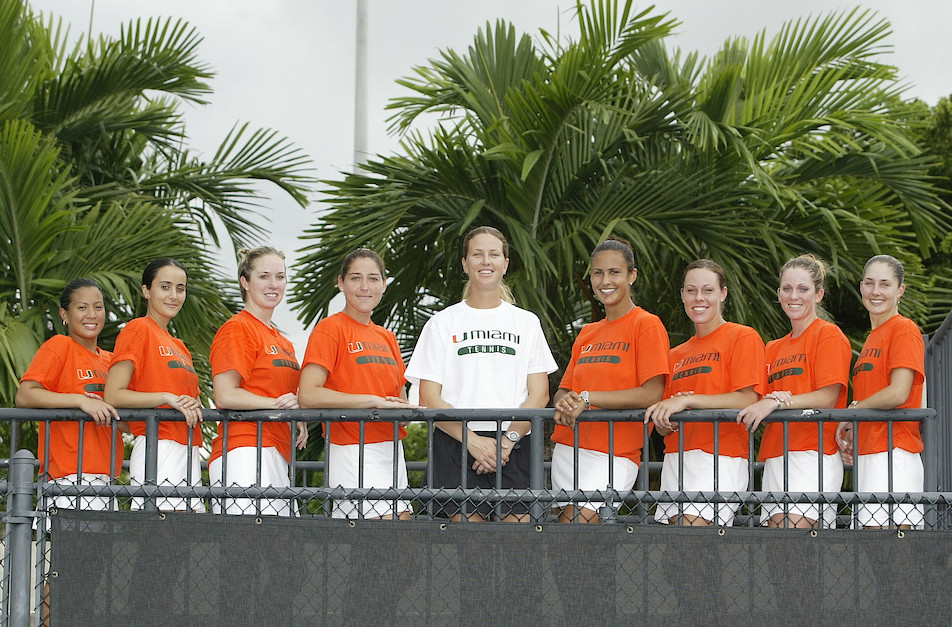 Miami's first task in silencing the home crowd was to somehow find a way to take the doubles point. Florida, however, had taken the opening point 27 consecutive times, dating back to 2003 NCAA Team Championship play.
Applebaum and Bradley, ranked No. 30 nationally, got Miami off to a strong start by rolling to an 8-4 win against the fourth-ranked duo of Gordon and Julie Rotondi, the latter a close friend of Bradley.
Florida pulled even when its other top-20 pair, Jennifer Magley and Zerene Reyes, won its 21st straight match, a narrow 9-7 victory over Stevens and senior Sara Robbins.
On court three, Bañada and Toro were climbing back from a huge deficit. After trailing 0-4 and 1-5, they rallied for a 7-6 lead against Boglarka Berecz and Nina Suvak. They then fell behind, 7-8, but rallied back to force a tiebreaker, in which they dropped the first two points before taking the next five, en route to a 9-8 (7-3) victory.
The Florida pair had multiple match points, but Miami responded to each one of them before ultimately winning. One of those points, though, certainly stood out as particularly important.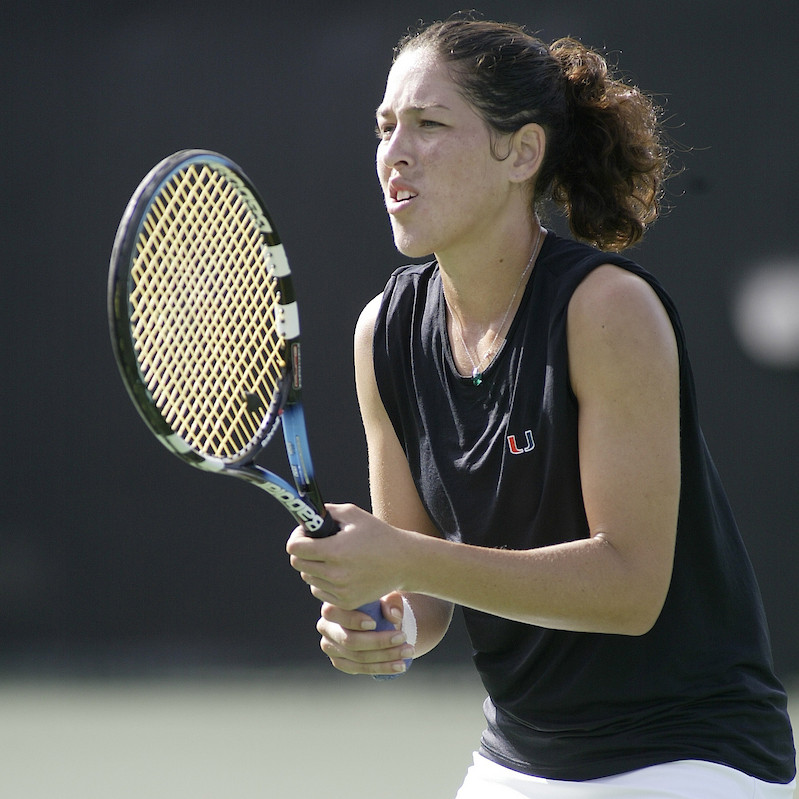 With the Miami duo at the net, the Gators lobbed a ball over their heads, sending Toro into a sprint towards the baseline. The crowd began to erupt, thinking the point was sealed, but Toro somehow got there.
Yaroshuk-Tews remembers it as a 'tweener, while Bañada remembers it as a shot across the left side of her body, an understandable difference in recall after 16 years. However, what they agree on is both how impressive it was and how vital it was.
"When Mari Toro hit [that shot], with confidence, match point down, I kind of looked at [assistant coach] Dave Anderton, like, 'This might be our day. We just have to have fun now,'" Yaroshuk-Tews said.
"I think looking back, yes, that was a very big turning point," Bañada added. "That shot was just kind of crazy. We were just kind of crazy. We were a bunch of crazy girls that didn't really [get] intimidated by who they were and I think that makes the biggest difference when you can walk on the stage like that."
When Bañada and Toro clinched, things began to change even more. The Hurricanes were 17-0 on the season when winning the doubles point and could sense the upset was a very real possibility, even though it was still a tall order.
"Knowing that you have to get three instead of four changes the entire dynamic," Bradley said. "You also have to think, too, there's this other thing that's happening on the other side where it's like, we don't know that we can win [beforehand] and they're thinking that they're just going to sweep us."
As much as the point was essential, Yaroshuk-Tews thinks the mentality Miami displayed was just as imperative as its tennis.
"I think what I recognized the most is that Florida was a little shocked that we weren't backing down. Florida . . . they've got a certain quality about them and Miami came in there and we were pushing them around. We weren't letting Florida push us around," Yaroshuk-Tews said. "And I think, outside of tennis—and even [Florida head coach Roland Thornqvist] has expressed that—that was a little surprising. So, when we won the doubles point and when our girls are in their face and our girls are kind of doing to them what they typically do to other kids, I think they were a little taken back, more so by our presence than by the tennis."
Even with all that, Miami still needed to find a way to get three singles wins from a roster featuring one ranked player against a roster boasting six.
* * * * * * * * * * * * * * * * * * * * * * * * * * * * * * * * * * * * * * * * * * * * * * * * * * * * * * * * * * *
The Gators off to a strong start in singles play, as No. 72 Rotondi leveled the score with a 6-4, 6-0 win against Robbins, but Miami quickly countered.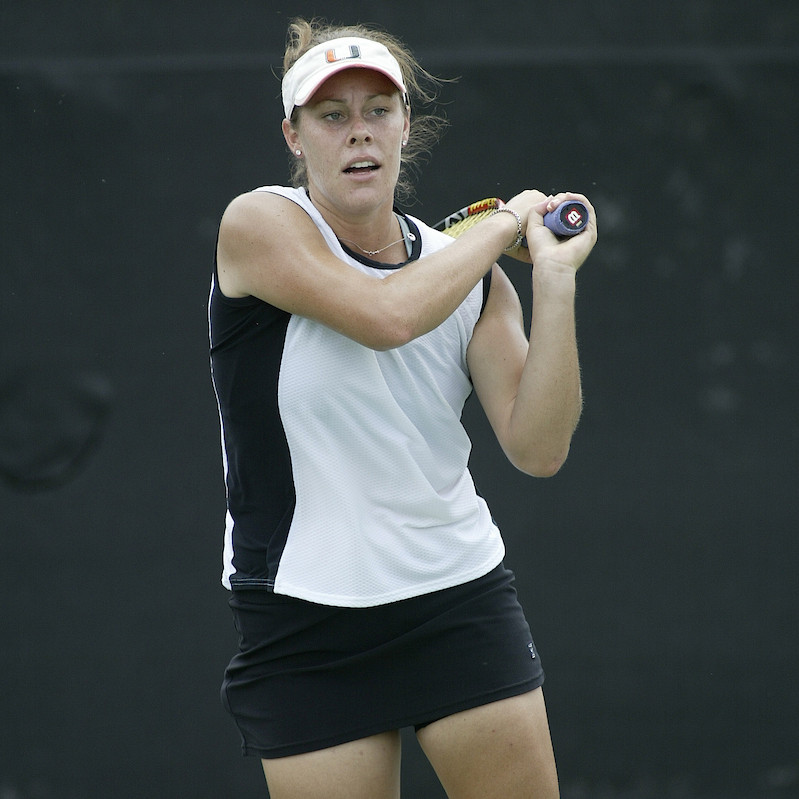 Just minutes later, Stevens put Miami back on top. Tabbed by her coach as the player who needed to come through, she did just that after her change in approach entering the match.
The Hammond, La., native, who picked the Hurricanes over nearby LSU, tallied a win in the biggest moment of the season.
"She was really good, but I played like the best match of my life," Stevens recalls. "I remember being like, 'Oh my God, I'm not supposed to beat this girl and I beat her!'"
Stevens is not the only one who recalls it as the best match she ever played, as Bañada independently had the same memory of her teammate's 6-3, 6-4 triumph over No. 82 Berecz.
"We were supposed to lose. So, I kind of didn't have any pressure. I didn't put any pressure on myself and maybe that's why I played better." -Staci Stevens
Shortly thereafter, it was Bradley who earned a point for Miami, making good on her promise from just days earlier. Her identical 6-3, 6-4 result, this in the top-five clash, extended the Hurricanes' edge to 3-1.
"Roland Thornqvist will even tell you, he has never been a part of a match with one player playing such an important role. Megan was on court one, playing her match and screaming at every single one of her teammates the entire time, bellowing," Yaroshuk-Tews said. "She was on a mission; the rest of the team followed."
Miami's lead, though, did not last long, as the Gators tied the match at 3-3 within the next 20 minutes. No. 66 Reyes topped Toro, 6-1, 6-3, and then No. 19 Magley defeated Applebaum, 6-3, 6-3.
All eyes then turned to court five, as did all legs.
"I remember a visual in my mind because I was on the . . . first court in the corner. The fans were all spread out, but I still had more than a set to go," Bañada said. "It was in the middle of my second set when it came down to my match. And so you can see the crowd come all the way over. Everything emptied and there was just a big crowd on the corner of the stadium seating."
Bañada took the first set, 7-5, against No. 116 Dawaf, including breaking at 5-5 in a 22-point game with eight deuces. She then dropped a 2-6 decision with all the focus on her court.
Despite the setback in front of the largest crowd she had ever seen at a college tennis match, Bañada did not lose faith in her ability to earn the victory.
"The way I had it in my mind was always that you had to outplay me to beat me. So, those type of things don't phase me for too long. When we go into a third set, it's just like another day at the office," Bañada said. "It's not something I've never experienced before. I think the benefit that it came down to was that I had no clue what was happening."
* * * * * * * * * * * * * * * * * * * * * * * * * * * * * * * * * * * * * * * * * * * * * * * * * * * * * * * * * * *
All season long, Anderton was the on-court coach for Bañada, helping drive her to remarkable success in year one for both of them at Miami. Yet, for whatever reason, that day it was not clicking between the two of them.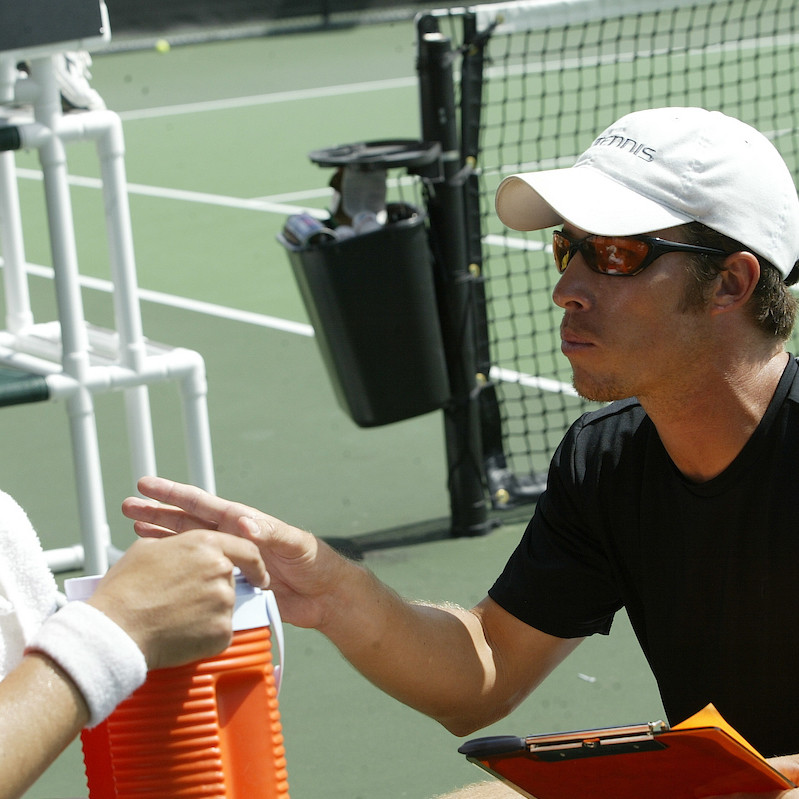 So, Anderton, an eventual ITA National Coach of the Year in 2007, told Yaroshuk-Tews she needed to take over and coach Bañada for the final set.
"He looked at me and he was so adamant, he was like, 'You are taking this set. I'm not coaching, she's not listening to me, she's shut me out,'" Yaroshuk-Tews remembers. "And I was shocked because those two had, and still have, a great relationship. They worked really well together.
"I looked at him and I was like, 'Dave, I haven't coached her in like four months.' Behind Audrey's court, all the fans are cheering, Audrey's sitting by herself on the court for a couple minutes, we're arguing . . . for a couple minutes [about] who's going to take her. He finally looks at me—and he would call me Paiger—and he was like, 'Paiger, she's all yours.' And I just kind of took a deep breath and I went out there."
Once Yaroshuk-Tews, the 2004 BIG EAST Coach of the Year, gave in and walked to the court, the next step was to invoke a new strategy against a player whom she, as aforementioned, knew so well.
Despite Bañada looking at her like the idea was "freaking insane," Yaroshuk-Tews had her standout rookie come in and take the ball on the rise on every single one of Dawaf's second serves.
Insane or not, it worked. Dawaf began to log double-faults and Bañada continued to stack breaks in the final set.
Bañada, however, was cramping. Due to right ankle surgery, she was unable to do the same type of conditioning as her teammates. She did not run the perimeter of campus with them, do sprints on the track or even jump rope on hard surfaces.
However, in this moment, her team needed her, no matter her conditioning or her physical pain.
"Just remember vividly Audrey Bañada and just her being so steady and just how nervous we all were," Bradley recalls. "It's one thing when you think that maybe you have a chance and then when you get to the point where you're there and you're about there and it's about to actually happen, just the nerves are just completely overwhelming."
While Yaroshuk-Tews coached Bañada, who continued to swap breaks with Dawaf, she instructed Anderton to manage the rest of the team. If they had those nerves, like Bradley said, it became Anderton's job to ensure they did not show it.
"Dave was told, 'Make sure the girls look confident, make sure the girls don't look nervous, make sure the girls look like they're expecting to win this match,'" Yaroshuk-Tews said. "Because the only people Audrey has to look at is her team and I'm kind of big about that, we can't look nervous in those moments."
Following the bevy of breaks, the match concluded with three consecutive holds. Bañada ended the trend for a 5-3 lead and then served out the match minutes later.
Facing an undefeated senior in what proved to be the final match of her career, Bañada logged a 7-5, 2-6, 6-4 decision to seal the incredible 4-3 upset. Fighting through cramps, she played four hours of tennis that day, 1:25 in doubles and 2:35 in singles.
"The way I had it in my mind was always that you had to outplay me to beat me. So, those type of things don't phase me for too long. When we go into a third set, it's just like another day at the office." -Audrey Bañada
"We knew Miami was a good team and they played very, very well," Thornqvist said after the match. "There's no question that the better team won today. They took care of some opportunities in doubles that we didn't. We knew that they were a feisty team, but they're also a very skilled team and I want to congratulate them."
Although Thornqvist, one of the most accomplished coaches in tennis history, has led the Gators to three national titles since that 2004 setback, Bradley says he still talks to her about that match. In fact, Yaroshuk-Tews was in his office in Gainesville years later and saw on the wall a framed newspaper story about the loss. Thornqvist, for whom she has deep respect, told her he used it for motivation.
As sweet as the victory was for the Hurricanes, it was a crushing moment for their bitter rival.
* * * * * * * * * * * * * * * * * * * * * * * * * * * * * * * * * * * * * * * * * * * * * * * * * * * * * * * * * * *
Even after sending her teammates into jubilation with her clinch, Bañada did not quite understand the gravity of what she and her team had just pulled off.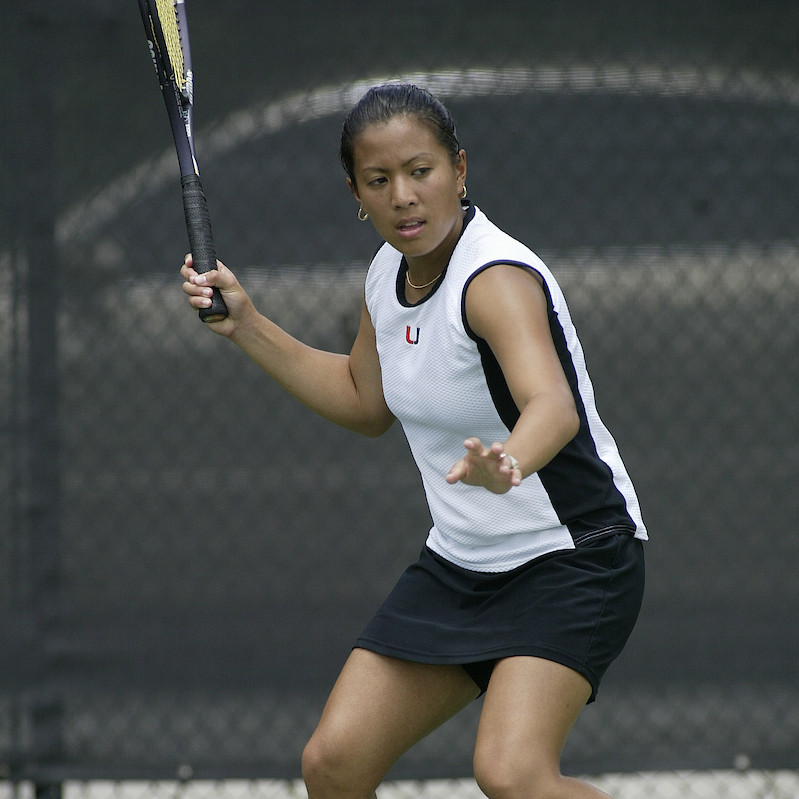 "I had no clue what was going on. When I shook hands, everyone is going crazy and they're crying," Bañada said. "I was happy I won a match and it's a long one, it's UF, it's our rivalry . . . and we don't like Florida, [that] type of thing. To me, it was [just that] we won a match."
"So many times I've asked myself, 'Do we win that match if we're playing with a kid that's a sophomore in the deciding position?'" Yaroshuk-Tews said. "Because they understand the magnitude of the situation more than Audrey."
Stevens' feeling on the win only drives home Yaroshuk-Tews point even more.
"It meant more to win that match than to win NCAAs," she said. "That's just how big it was. It felt like we had won the national championship."
Eventually, Bañada, who frequently relives the story of this match with her children, learned something that helped her understand just how big a victory it was, too.
"When you go and . . . watch what school you're going to play for Regionals, they have this whole show," Bañada said. "I guess the lady had said, 'UF is supposed to win the whole thing and I would eat a tennis ball if they didn't' or whatever. That's kind of a funny story. I guess it was that big a deal. They were really a dynasty at the time."
* * * * * * * * * * * * * * * * * * * * * * * * * * * * * * * * * * * * * * * * * * * * * * * * * * * * * * * * * * *
After clinching the win around 9 p.m., Yaroshuk-Tews and Bradley went to a press conference where all they could do was laugh when presented with the historical numbers they upended.
Once finished there, they packed up their gear and met up with the rest of the team, it was time to eat.
Well, first it was time to take the banner. Then it was time to eat.
"Paige was like, 'You guys can eat anywhere you want. What do you want?' And we're like, 'Steak 'n Shake.' Because Paige was always so crazy on eating healthy," Stevens said. "So, she was like, 'I don't care. We can go to Steak 'n Shake and you can get whatever you want.' So we pigged out at Steak 'n Shake after. That was the most vivid memories I have, taking down the sign and pigging out at Steak 'n Shake."
The next day, the Hurricanes drove back to Coral Gables, enjoying the win, yet also needing to refocus on their next match.
Just five days after its stunning triumph, Miami was set to play No. 16 Tulane in Athens, Ga., in the Sweet 16.
"Trust me, we enjoyed it, but you've got to get back on the horse real quick or you look like a real idiot," Yaroshuk-Tews said. "You can't go beat the number one [seed] in the country, have this great third-round match in front of you and then lay an egg. So, that was kind of what we needed to make sure to put into their heads."
The Hurricanes certainly did not lay an egg, as Stevens again came up big, clinching a 4-3 victory to send Miami to the Elite Eight for the first time since 1986.
There, the magical run came to an end, as the Hurricanes came up on the short end of a 4-3 decision this time, falling to UCLA by that same score for the second time in 2004.
Nonetheless, the season was a rousing success. The Hurricanes finished 20-4 with all four losses away from home, including three by 4-3 margins. They also notched a final ITA ranking of No. 15 nationally, their top mark since 1991.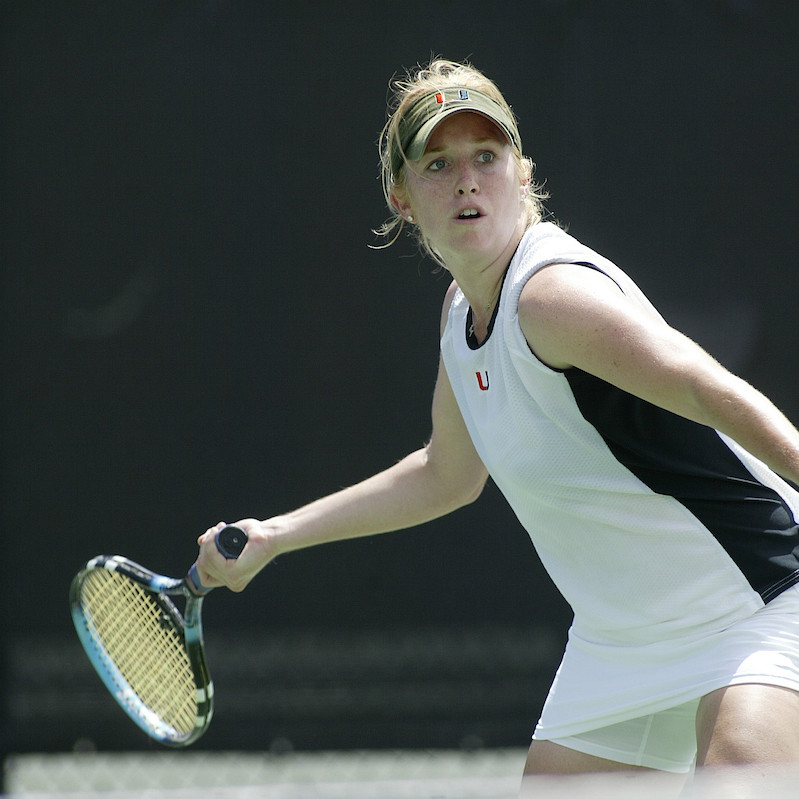 "There was a level of accountability with all of us that no one was letting anyone kind of get by," Bradley said. "We were a team where, if you showed up and you were struggling on the track, you were going to hear about it from somebody."
That mentality was the beginning of a "turning point" to Bradley, one that was cemented when the Hurricanes stunned the Gators.
* * * * * * * * * * * * * * * * * * * * * * * * * * * * * * * * * * * * * * * * * * * * * * * * * * * * * * * * * * *
Entering the tournament, Yaroshuk-Tews told her team if they were fed up with going to Gainesville for NCAA action, the way to stop the cycle was to win that match.
Her words proved true, as Miami hosted the opening two rounds each of the next 12 years. It also transformed into one of the nation's premier programs.
The 2004 season started a streak of 13 consecutive top-15 finishes, seven of which were in the top 10. It was also the first of 13 trips to the Sweet 16 in a 15-year span and the first of eight Elite Eight berths in a decade, all staggering numbers.
In 2006, with Bañada and Applebaum helping lead the charge, Miami went all the way to the NCAA title match for the second time in program history and first since 1985.
Much of that success can be traced back to that glorious spring evening in Central Florida.
"We showed the country that we're here to play with the big dogs. We're not just here to be this hard-working team that isn't able to win the big match," Yaroshuk-Tews said. "If you want to take that next step in sports, you've got to win the big matches, you've got to win the big games, you've got to show up in the big moments . . . There's a huge difference in sports between a team that does it all the time and a team that just does it once in a while. But, this team changed Miami tennis, period."
That 2006 team also featured a superstar at the top position in Audra Cohen. She, like Bradley, left South Florida for college—in Cohen's case, it was for Northwestern—and then turned in a dazzling freshman campaign before deciding to transfer back home.
In 2007, Cohen won the first NCAA Singles Championship crown in Miami history, as Bradley's trip to the semifinals of the tournament was the first of nine such berths by a Hurricane in 16 years—tied with Stanford for the highest total since 2004.
The most recent such run culminated with another national title, claimed by Estela Perez-Somarriba in 2019.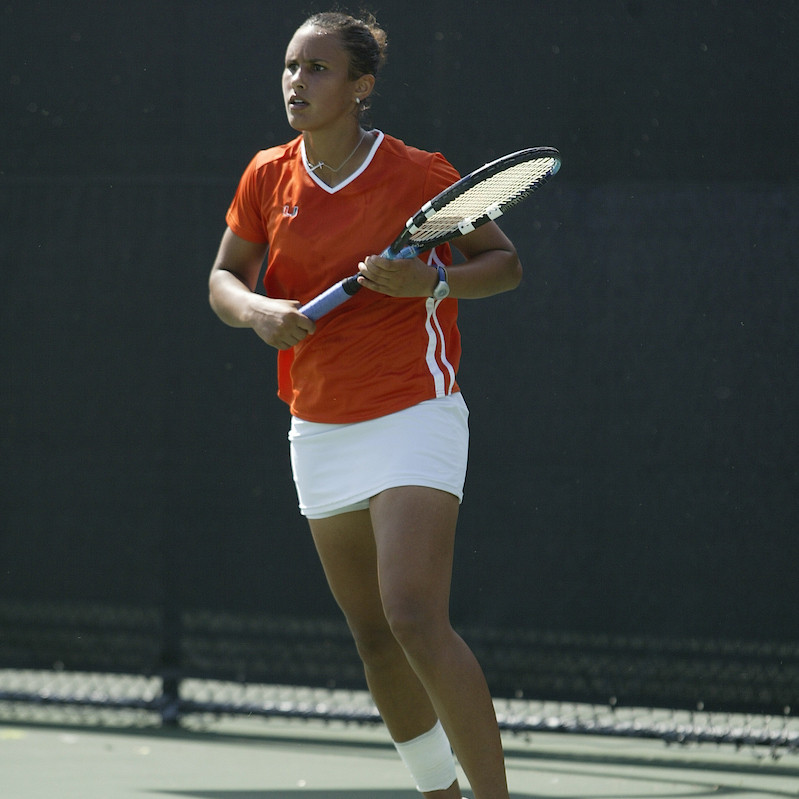 "I think people who were a higher caliber [saw that they could come to Miami]. I transferred to Miami because I knew that Paige could help me personally develop into a really good player," Bradley said. "I consider myself to be kind of the guinea pig. It wasn't that I was so good that I just carried the team. We were able to use me as an example that Paige was the kind of coach who could develop individual players, but also integrate them into the team because, ultimately, college tennis is a team sport.
"And . . . it was between Florida and Miami when I was deciding to transfer and I kind of thought to myself, 'Yeah, it would be great to know you're definitely going to win a national championship during your time there, but how much better is it to know that you could be a catalyst for a new tradition of excellence at a school?'"
It is for that very reason Yaroshuk-Tews thinks Bradley is the most important player in Miami history, an opinion certainly validated when surveying the ebbs and flows of the program over time. It all changed when Bradley came to Coral Gables and it has stayed that way to this day.
However, it was not just about Bradley. She may have been the star, but she was far from alone in shifting the narrative about the Hurricanes.
"I think there is no way that I would have had the success that I had individually without Staci, without Audrey, without Melissa, without Mari. None of that would've happened without the people that I was surrounded with," Bradley said. ". . . I think all of them played a critical [role in the] success of the team and of who I am now, to this day, and who I was then. I was just really lucky to be part of that team."
Bradley and Stevens departed Miami in 2005 in the top five of Miami's career singles victories list and still rank No. 11 and No. 16, respectively, to this day. Bradley, a three-time ITA All-American at Miami, went 44-2 as a senior in 2004-05, setting a single-season wins record that still stands.
She also won ITA National Player of the Year, the first of three straight seasons a Hurricane did so, as Cohen followed suit in 2006 and 2007.
"We showed the country that we're here to play with the big dogs. We're not just here to be this hard-working team that isn't able to win the big match. If you want to take that next step in sports, you've got to win the big matches, you've got to win the big games, you've got to show up in the big moments." -Paige Yaroshuk-Tews
Meanwhile, Bañada also turned in one of the most illustrious careers in Hurricane history. Her 110 singles wins upon graduation gave her a share of the program record and now place her tied for sixth.
A 2005 ITA All-American in doubles, alongside Bradley, Bañada still holds the Miami record for career doubles wins (119) and is tied for first in single-season doubles wins (38). The latter is a mark shared with Applebaum, who similarly developed into an ITA All-American, giving Miami five such total honors among players on the 2004 roster after earning just three in the prior decade.
"UM was like hovering at 27, 32, 27, 32, 35 [in the national rankings when I got there] and they could never break through that. And after that match of beating [the Gators], we hovered at like an average of 10," Bañada said. ". . . I look back and I'm like, it was that big because then everyone else wanted to be a part of it. I think when I look at it now and I just see where the rankings are and I'm watching, I'm like, 'Man, I can't believe I was part of that big turning point."
Additionally, Bañada, Bradley and Stevens, the three who spearheaded the upset at Florida, all returned to Miami as a volunteer assistant for Yaroshuk-Tews after their playing days ended, helping pass along all they learned to the next generations of Hurricanes.
* * * * * * * * * * * * * * * * * * * * * * * * * * * * * * * * * * * * * * * * * * * * * * * * * * * * * * * * * * *
For Yaroshuk-Tews, the victory over Florida meant more than simply making history.
She labels that match as "100 percent" her top memory from a 23-year coaching career that includes 19 seasons in charge of the Miami program, due to the impact it had on her players.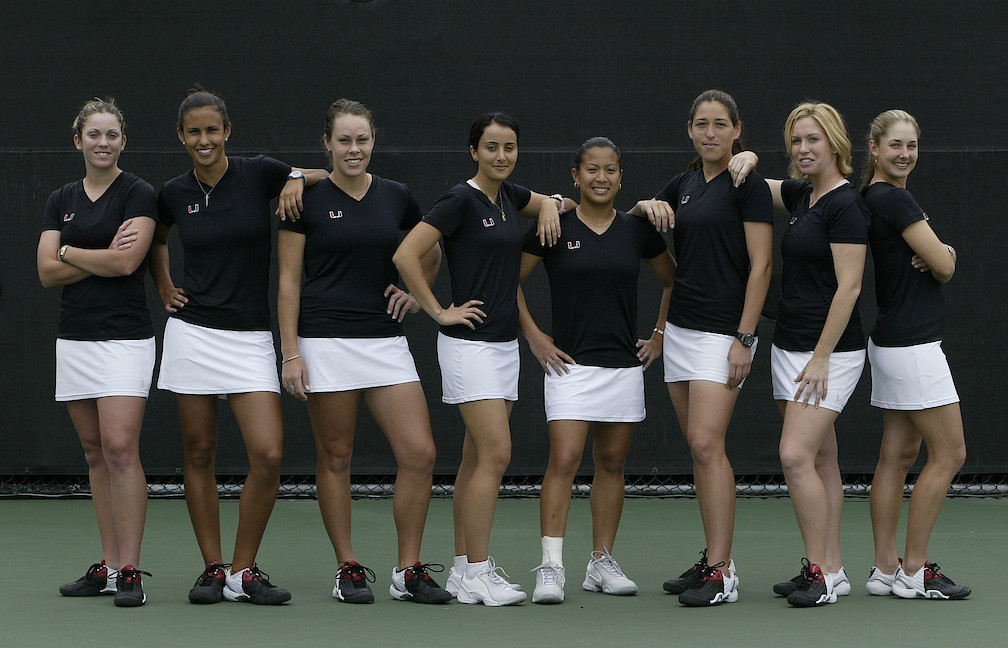 "It was the biggest match that we had ever won, [but] it's not necessarily about winning the match, it's just about the story behind it. That's why I love sports, that's why I coach, that's why I played, for those moments," Yaroshuk-Tews said. "If you were to ask Staci, Megan or Audrey, 'What are your top three memories in college tennis?' It's not going to be rankings, it's going to be, 'We went into Florida and took them down. We weren't supposed to do that.' On paper, we weren't as good as them.
"It was like, 'Wow, I took a group of kids, I helped them believe in themselves, believe in each other and believe that they could do something that they truly didn't think they could do.' And [you can do that] by just keeping their nose down [while also] tweaking just things that are completely within your control—your attitude, how you walk, how you get in somebody's face, how you show them that you're not afraid," Yaroshuk-Tews continued. "All these little things that maybe some of the kids at four, five and six didn't really believe in, they're like, 'Wow, we did it, this worked.' So, for me, it was just so rewarding as a coach. It wasn't about the numbers, none of that. It was just satisfaction that these kids trusted me and they went in there and they accomplished something that was so cool for them."
Just as their coach suggested, Bañada, Stevens, Bradley and all do indeed consider the win their favorite memory from college tennis.
And while 16 years later, none of them know what happened to that Gator tennis banner, all of them remember how they felt the night they took it down.