This Week in Hurricanes History: A Comeback for the Ages
CORAL GABLES, Fla. –  Eleven years ago, the University of Miami men's tennis team took the Linder Stadium at Ring Tennis Complex in Gainesville, Fla., looking to seek revenge on its in-state rival.
A season removed from dropping a 4-1 decision to Florida in the second round of the 2008 NCAA tournament, the Hurricanes were once again in position to upset a top-10 Gator team.
However, months prior to the top-25 NCAA tournament matchup, a rocky start to the 2009 spring campaign placed the Hurricanes three-year postseason streak in jeopardy.
Following a season opening, 4-3, home victory over Florida Atlantic, Miami dropped six of its next 11 matches to sit at .500, 6-6, midway through the regular season.
A second-half surge turned things around, as Miami won seven of its final eight regular season contests, beginning with back-to-back road victories against North Carolina and Duke. The Hurricanes' lone defeat during the eight-match-stretch came in a back-and-forth, 3-4, setback versus top-ranked Virginia.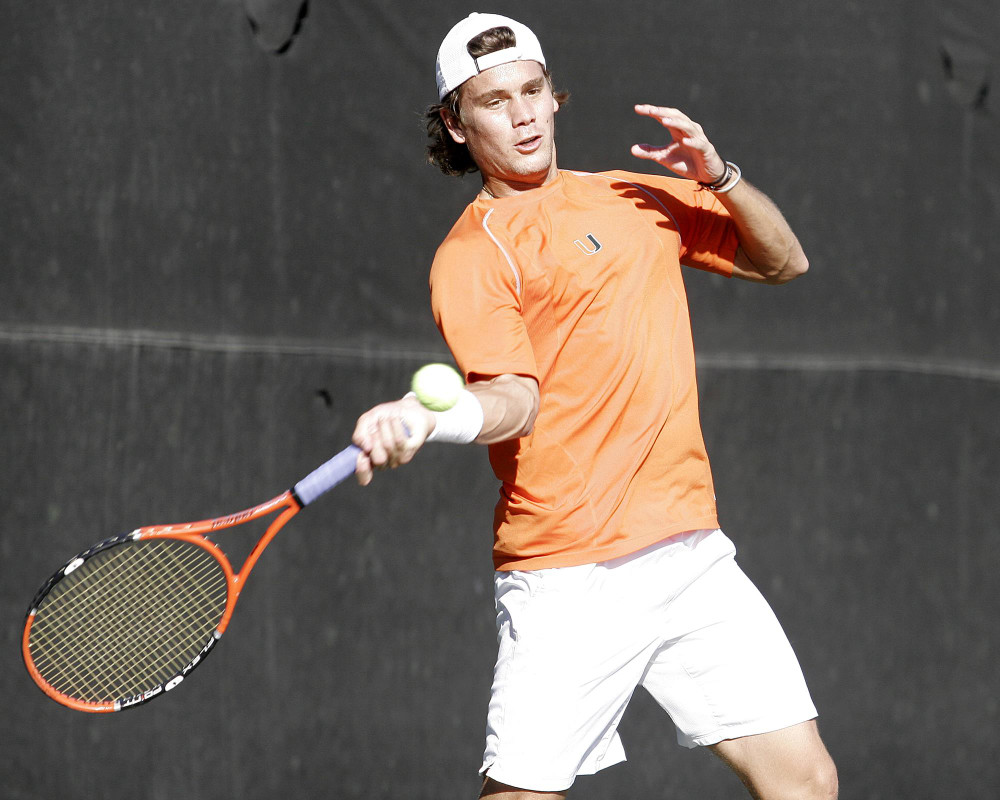 Looking back on the team's late season surge Daniel Vallverdu explained how the team was young and they needed time to grow as a unit.
"Obviously for me coming into my senior year, it was a big deal to try and lead the team the best way possible and try and finish my four years at UM the right way," Vallverdu said. "We had a few young guys that had just come in, so I think it took a few of the guys some time to get adjusted to playing college tennis. The upperclassmen, including myself, would try and help as much as we could and we were able to turn our season around. And obviously, going on that run really helped us to be quite confident going into the NCAA tournament."
With a 14-8 mark heading into the opening round, the 22nd-ranked Hurricanes cruised past No. 54 Columbia, 4-0, to set up the rematch with Florida.
"Playing Florida, for us, was definitely one of the highlights of our season and something we really looked forward to. And obviously, the more time you spend at UM, for the juniors and seniors especially, you understand the importance of that matchup," Vallverdu said. "…Losing to them in Gainesville a season before was obviously in the back of our heads and for me, I didn't want to end my collegiate career losing to them again. So, beating Columbia was big because that gave [me] one last opportunity to go up against Florida."
However, following a dominating doubles performance by No. 10 Florida, the Gators claimed singles victories at the fourth and sixth position, to jump out to the commanding 3-0 lead in front of their boisterous home crowd.
As the Florida sun beamed down on the UF courts and temperatures surpassed 90 degrees, a trio of the final four remaining Hurricanes competing dropped their opening sets. And for Miami's pair of seniors, David Rosenfeld and Vallverdu, their collegiate careers were hanging in the balance.
"Playing college tennis is one of the toughest things, to be competing and at the same time following your teammates scores. So, obviously, after going down a point right after doubles and then being down in most of the matches right away, that is never the way you want to start a match, especially against Florida, on the road. So, to be honest, at that time, I wouldn't have had my hopes to high on us being able to win that match."

Daniel Vallverdu
However, the tides began to turn when Rosenfield got Miami on the scoreboard with a 4-6, 6-2, 6-0 victory over No. 33 Alex Lacroix at the No. 2 position.
Moments later, sophomore Christian Blocker kept momentum going with a 6-4, 1-6, 6-2 win at No. 5.
Entering the weekend recovering from a toe injury, Vallverdu, ranked No. 13 at the time in singles, explained how he almost didn't suit up, but is very happy former Miami men's tennis head coach Mario Rincon convinced him to compete.
"I think Mario did a great coaching job, pushing me to play and kind of taking a little bit of the pressure away by saying, 'Look, these are your final matches. Just go out there, try your best and whatever happens, happens,'" Vallverdu said. "I'm glad he pushed me because my point against Florida was quite valuable in the end."
In the top-25 singles matchup, Vallverdu dropped his opening set against No. 23 Carlos Cueto, 4-6. The Valencia, Venezuela, native then quickly turned things around and tied the overall match at 3-3 with a 4-6, 6-2, 7-5 victory.
"For me it was quite a special match, because I actually knew Carlos since we were quite young. We used to practice together back in Spain, so, I definitely did not want to lose that match (laughs). And I definitely did not want to lose that match, knowing we were a point away from tying it," Vallverdu said. "So, obviously, winning before getting to a tiebreaker was important. I think it gave a boost to [sophomore] Carl [Sundberg], to feel like, now, now we are literally just one step away. So it was very important for me to close out that match before getting to a tiebreaker. And personally it was a very special moment to be able to contribute to the team and not let them down."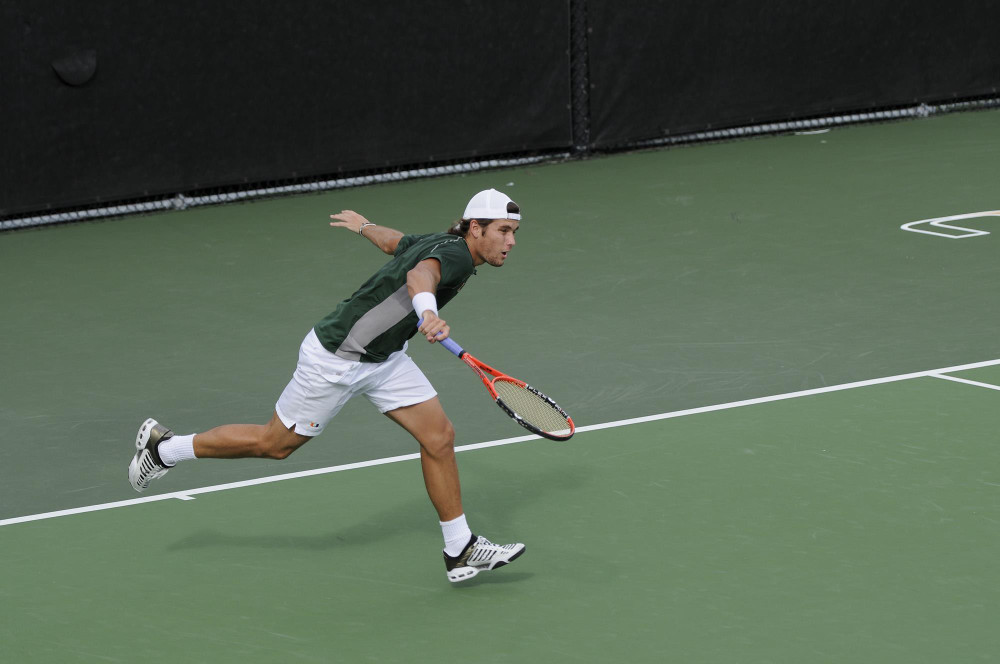 With the focus then moved to the battle at the No. 3 position between Sundberg, an All-American in 2008, and Antoine Benneteau, a trip to the NCAA Round of 16 was on the line. Benneteau claimed a tight first-set 7-6, but Sundberg came back to even it up with a 6-4 second-set win. With the match on the line, it was all Sundberg in the third set, as he clinched the victory for the Hurricanes with the strong 6-1 decision.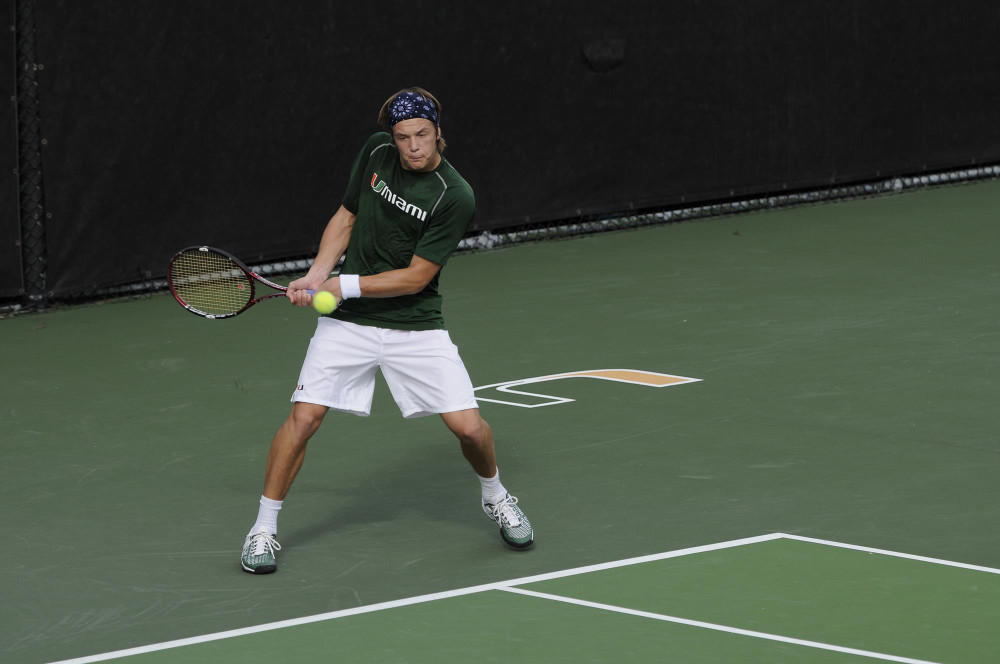 "That match against Florida was a bit of a roller coaster, going down 3-0 pretty quickly, we were not in the best position possible, but I think a few of the guys were able to step it up and turn it around," Vallverdu said. "That was quite the highlight for us, to reach the Sweet 16 after beating Florida on the road. A very special win. And again, I think the coaches did a great job of getting us ready and getting us focused."
The 4-3 come-from-behind win at Florida is one of just 13 times in the NCAA's 64-team format—since 1999—that a hosting top-10 seed did not make the Sweet 16. In addition, it marked the third time in program history the Hurricanes advanced to the Round of 16.
No. 22 Miami 4, No. 10 Florida 3
Singles
1. #13 Daniel Vallverdu (UM) def. #23 Carlos Cueto (UF) 4-6, 6-2, 7-5
2. David Rosenfeld (UM) def. #33 Alex Lacroix (UF) 4-6, 6-2, 6-0
3. Carl Sundberg (UM) def. Antoine Benneteau (UF) 6-7, 6-4, 6-1
4. Joey Burkhardt (UF) def. Keith Crowley (UM) 6-1, 2-6, 6-2
5. Christian Blocker (UM) def. Johnny Hamui (UF) 6-4, 1-6, 6-2
6. Jeff Dadamo (UF) def. Ignacio Taboada (UM) 7-6, 6-4
Order of finish: 6, 4, 2, 5, 1, 3
Doubles
1. #16 Benneteau/Burkhardt (UF) vs. #38 Vallverdu/Rosenfeld (UM) 3-6, unfinished
2. Dadamo/Hamui (UF) def. Sundberg/Crowley (UM) 8-5
3. Cueto/ Lacroix (UF) def. Simon/Taboada (UM) 8-1
Order of finish: 3, 2